The Nike Metcon 5 and Reebok CrossFit Nano 9 have both been on the market for a few months now, so I figured it was about time to highlight each of them in an epic showdown. One of the most frequently asked questions I receive on our cross training shoe review videos is,
"Which shoe is better? The Metcon 5 or Nano 9?"
My answer is then always a follow-up question,
"How do you train and what do you need them for?"
The reality is, both of these shoes are phenomenal for cross-training, however, they each have their own list of pros and cons. For this reason, I've broken this comparison article into multiple sections catered specifically to performance, construction, how the shoes fit, and so forth.
Reebok CrossFit Nano 9

Heel-to-Toe Offset: 4mm
Outer Construction: Flexweave
Stability Rating: 4/5
Comfort Rating: 4/5
Price: $130

Nike Metcon 5

Heel-to-Toe Offset: 4mm
Outer Construction: Haptic Print
Stability Rating: 5/5
Comfort Rating: 3/5
Price: $130
Construction
Reebok CrossFit Nano 9
The Nano 9 utilizes Reebok's Flexweave material for a majority of its outer construction. As opposed to previous Nano models, this model's Flexweave is designed to be somewhat more flexible and has a slight give to it. The mid-foot and heel each have a TPU wrap the extend upwards, and this is used to replace the previous plastic heel cup.
Similar to the Reebok Nano 8, this 9's Flexweave is separate from the shoe's boot and internal construction layers. On the lateral side of each shoe, there's Reebok branding with the vector logo. The midsole in this model has a foam layer in the forefoot and the outsole has a split to separate the heel and forefoot.
Nike Metcon 5
The Metcon 5's outer construction features a haptic print which is similar to what was used in the Nike Metcon 4 XD. This material doesn't have a ton of stretch to it and does a great job at resisting friction and abrasion marks. Towards the heel, there's a shift from the haptic print to a synthetic padded material which encloses the boot.
There's a rubber outsole layer that extends and wraps over the medial and lateral sides of the shoe. This layer is much more pronounced compared to previous Metcon models. The Metcon 5's insole has a split between materials and the heel is made to be slightly more stable, while the forefoot insole is a bit softer.
Better Durability Option: Both are durable and their construction is thoughtful and sturdy.
Fit & Feeling
When it comes to fit and feeling, both the Metcon 5 and Nano 9 have been reworked from their predecessors.
The Reebok CrossFit Nano 9 has a slightly slimmer toe box compared to the Nano 8. The model feels a bit more like a traditional fitting training shoe now compared to the wide nature of the Nano 8 and 7. You can still splay the toes well in this model, however, it is noticeably tighter compared to the 8.
The Nike Metcon 5 has a slightly wider toe box compared to the Metcon 4. One of the issues some athletes had with the Metcon 4 was how slim the model was, so Nike tried to make this shoe slightly wider. It's a lot easier to splay the toes in, but note, it's still a slim fitting shoe so if width is a concern, then I would highly recommend trying this model out before buying if you can.
Prefer a wider fitting shoe? Nano 9
Prefer a slightly slimmer shoe? Metcon 5
Best for Lifting
Don't get me wrong, both of these models are stable under weight, but the Metcon 5 takes the win for stability.
The Metcon 5 has a firm rubber outsole and has minimal midsole material, which makes it incredibly stable under heavy weight. To add to the shoe's overall stability, the heel has a firm TPU layer that limits compression.
The Nano 9 is stable, but in this model Reebok has built in a firm foam midsole layer under the forefoot. This midsole addition, while not as stable as the 8, makes this model much more accommodating for a variety of activities outside of lifting, so it's a give and take.
Most Stable Option: Nike Metcon 5
Best for HIIT
Love HIIT workouts? Same, and I have some thoughts on these models.
Being up front, I truly do like both shoes for HIIT training, but for different forms of HIIT workouts. If you're doing more running, jumping, and agility work, then I'd recommend looking into the Nano 9. The foam forefoot midsole addition makes this model a great pick because it's not incredibly uncomfortable to jump in and has some reactivity to it.
For HIIT workouts that have more bodyweight exercises, lighter lifts, and agility work, then I'd recommend going for the Metcon 5. This model fits very athletically and provides a ton of stability, so if you're getting fatigued, this shoe will help keep you grounded.
In reality, both of these shoes will work well in all forms of HIIT workouts, but those are my personal preferences with each shoe.
Cardio-Based HIIT: Reebok Nano 9
Lifting-Based HIIT: Nike Metcon 5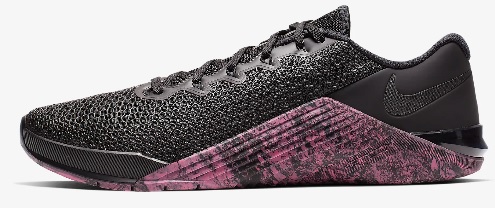 The Nike Metcon 5 has a 4mm heel-to-toe offset and an outsole designed to provide the maximal stability under heavy lifts.  
Price
Unfortunately, these models are both relatively new to the market, so you'll be hard pressed finding awesome deals on them. There are a few deals here and there, but as of now, the prices are pretty consistent with one another.
| | |
| --- | --- |
| Shoe Model | Standard Price |
| Reebok CrossFit Nano 9 | $130.00 |
| Nike Metcon 5 | $130.00 |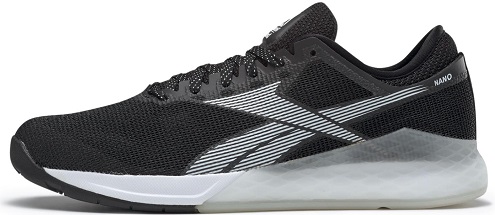 The Reebok CrossFit Nano 9 offers a newly constructed midsole for comfort and a reworked outer Flexweave to improve performance and comfort in cross training workouts.
Which Shoe Is Best?
When it comes to the best shoe, think about what you need the shoe for, then make your selection from there.
If you want maximum stability and a slightly slimmer shoe, then opt for the Nike Metcon 5.
If you want a wider toe box and a model that can accommodate for nearly every workout ask, reach for the Reebok CrossFit Nano 9.
Hopefully this comparison provided some insights into which cross-trainer will suit your needs best. At the end of the day, these are both really solid shoes and their differences come down to the nuances in which you want to use them!