The Nike SuperRep Go training shoes are a model designed to accommodate high intensity interval training (HIIT). These shoes, unlike other cross trainers I've reviewed, are more versatile in nature and are best in places like class settings or agility focused workouts.
In this review, I took the Nike SuperRep Go training shoes through a variety of workouts to explore their pros, cons, performance, construction, sizing and fit, price, and more. What I can say after my review, is that this budget-friendly HIIT shoe is a must check out for those that want a consistent shoe designed for workouts that include ample light weight exercises, bounding, and agility work.
Nike SuperRep Go Pros
Lightweight outer construction that is breathable and versatile.
Reactive midsole and outsole provide bounce and stability in multiple movements.
Budget friendly option for the HIIT loving individual.
Nike SuperRep Go Cons
Not ideal for heavy lifting, which makes sense because they're not designed for that.
Light outer construction might have durability issues down the road, but this is speculative based on initial workouts.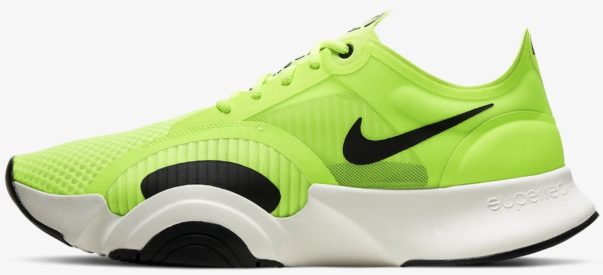 These shoes are perfect for HIIT workouts and for lifters that want a versatile, budget friendly option!
Nike SuperRep Go Performance
To test the Nike SuperRep Gos I put them through a variety of tests that are somewhat similar to what I do for all of our cross trainer reviews. The only test that was omitted in the protocol was the heavy lift tests that I usually do consisting of squat, deadlifts, and power cleans.
In the HIIT style workouts that I put these through, they held up really well. The midsole, while not insanely stable, was stable enough to support lighter dumbbell movements and bodyweight exercises. Additionally, out midsole provided a nice reactive feeling when hopping on two legs and one.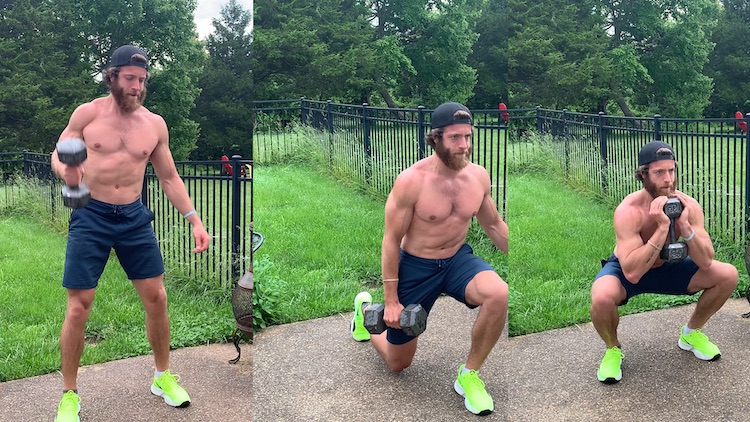 When performing lighter runs these shoes were okay. I'd give them a solid 7/10 when it comes to running in the 3-5 mile range. They certainly weren't terrible or uncomfortable, but you have to keep in mind that they're not designed for longer runs. This is why I tested them for shorter runs and compared them to both dedicated running shoes and cross trainers.
On a day-to-day basis, these shoes were an okay option if you want to wear them out and about. I wore them on dog walks and they were solid and around the house. Granted, I wouldn't want to wear them everyday if you want to keep around for a long time, but they do work on a daily basis.
If you care about how these shoes perform in HIIT and class settings, then these shoes are solid. However, these are not the best options for doing HIIT workouts that involve a ton of sprint or running work in them.
Construction
The construction of these shoe are somewhat "no frills" in nature and are pretty simplistic. The midsole is composed of a high-density that is relatively thick and has medial and lateral that extend outwards to promote stability during lateral movements. There's a rubber outsole that covers the heel and balls of the feet.
The outer construction is composed of mesh and synthetic materials that are breathable and layered throughout areas that need the most support. Towards the toe, there's a mesh layer that has air holes for ventilation and on the lateral portion of the shoe there are two additional layers for support.
The mid-foot in enclosed with a lighter mesh and the heel is slightly reinforced like the lateral and medial sides of the shoe. Overall, I never noticed any heel slip with the slightly heavier constructed heel.
There are five eyelets that run up the shoe and the top eyelet is reinforced for durability purposes.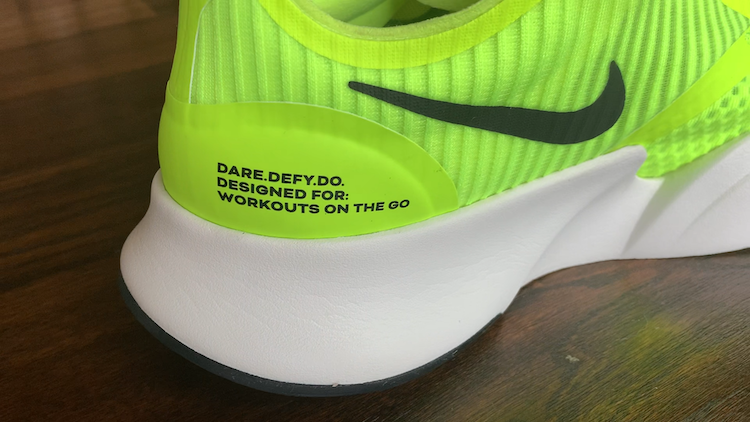 Sizing and Fit
The sizing for this model is true-to-size. I wear a size 10 and these felt perfectly fine with a fair amount of room in the toes. However, I do think if you're normally pushing on the larger end of Nike shoes, then it would be wise to potentially go up a half size.
Price
For the Nike SuperRep Go, you can expect to pay around $100.00 USD. Overall, this is a pretty fair price for what this shoe has to offer, especially if you're on the market specifically for a HIIT style training shoe.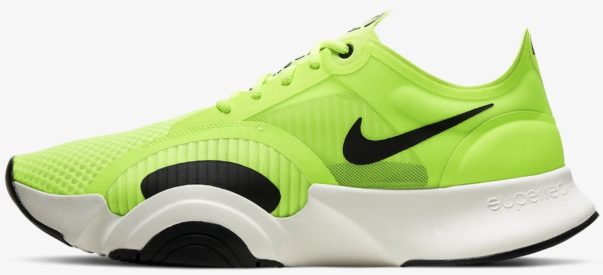 These shoes are perfect for HIIT workouts and for lifters that want a versatile, budget friendly option!
Wrapping Up
All in all, I like the Nike SuperRep Go training shoe. It's not my normal Nike Metcon that I love, but this shoe was solid for what it had to offer. If you need a shoe that is budget friendly for classes and casual workouts, then this model might be worth looking into.