NOW Sports is a division of NOW Foods, a very well established Illinois-based company that was founded 50 years ago. The line has expanded to include a vast amount of products, including pet vitamins, essential oils, beauty products, and supplements. We wanted to take a look at Kre-Alkalyn Creatine, a product that they claim could be more effective than you standard creatine monohydrate. Let's take a look at the ingredients.
Shop NOW Sports HERE on Amazon.
NOW Sports Kre-Alkalyn® Creatine Ingredients
The main ingredient is Kre-Alklayn®, which is also called buffered creatine monohydrate. One serving size is two pills, which contain a combined 1,500 milligrams of creatine.
The other ingredients are just cellulose and silica (which are probably used as anti-caking agents) and magnesium stearate, a "flow agent" that helps to keep the product from sticking to the machinery in the facility.
The capsules themselves are made from beef gelatin, so this may make the product off limits for some users.
Pills got your fancy? Check out our favorite creatine caps.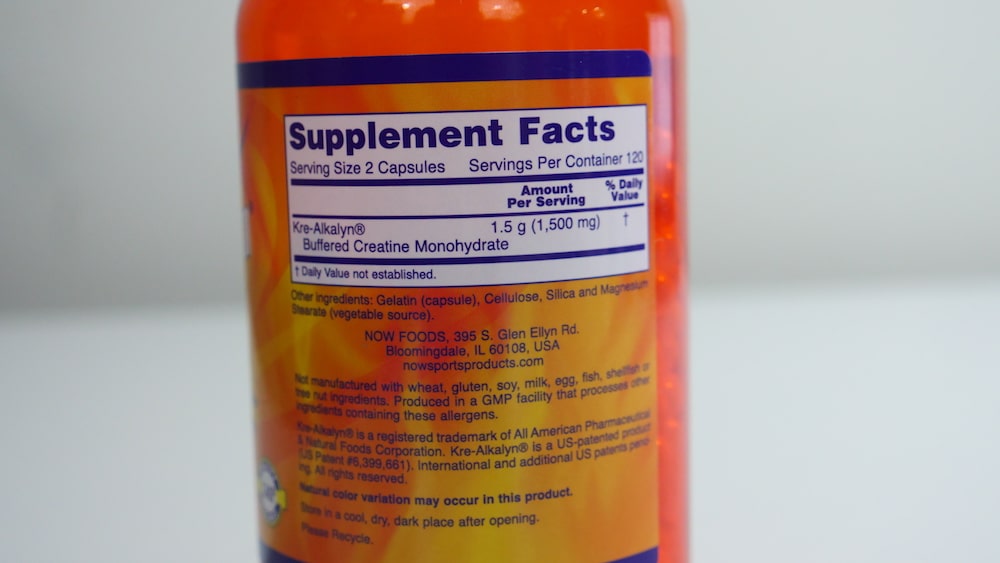 NOW Sports Kre-Alkalyn® Creatine Ingredients
So what is Kre-Alkalyn? It's a patented form of creatine monohydrate that, as you may have gathered from the name, was made to be more alkaline, or basic. The idea is that because of it has a higher pH, less of the creatine will break down into the less useful creatine byproduct creatinine, and more will go to the muscles. In short: buffered creatine is meant to absorb more effectively than regular creatine monohydrate, which is why the serving size is so small. (NOW Sports recommends 1.5 grams, while a typical dose of creatine monohydrate is 5 to 10 grams.)
There are very few peer reviewed studies to back up this assertion. I could only find one double blind trial from 2012, published in the Journal of the International Society of Sports Nutrition, that firmly concluded Kre-Alkalyn isn't better at improving muscle creatine content or strength or anaerobic capacity, even if it's supplemented at the same amount as monohydrate.
That said, it's possible that buffered creatine may be easier on the stomach than the non-buffered kind, which can cause cramps among some people.
It's also worth pointing out that this product has been made in a GMP facility, which stands for Good Manufacturing Practices. That means NOW abides by regulations enforced by the U.S. Food and Drug Administration that ensure a measure of purity, so that's a layer of quality control that some consumers may find reassuring. However, NOW Sports does note that the same facility contains common allergens like gluten and tree nuts. This may be an issue for folks with very sensitive allergies.
NOW Sports Kre-Alkalyn® Creatine Price
You can pick up 240 pills — 120 servings — for $23. That comes to 19 cents per serving or 12.7 cents per gram of creatine. That's a lot more expensive than regular creatine monohydrate, which is usually around 3 or 4 cents per gram.
However, if you're buying Kre-Alkalyn because the regular stuff gives you cramps, you'll be glad to know that it's cheaper than creatine hydrochloride (HCl), another form of creatine that's known for improving stomach problems. HCl is usually between 20 and 50 cents per gram, so you may find Kre-Alkalyn to be well priced if you're approaching it from that angle.
The Takeaway
There's not a ton of evidence to support the notion that buffered creatine absorbs more effectively than the standard, cheaper creatine monohydrate, which also has dozens and dozens of studies supporting its effectiveness. It's more likely that, as the study linked above shows, that it absorbs about as well as the normal kind.
That said, as a form of creatine that reduces digestive discomfort, Kre-Alkalyn is a lot cheaper than creatine hydrochloride, so this may be a great option for you if that's your concern — particularly since it's made in a GMP facility.