While a lot of massage gun companies boast a full line-up of products, OPOVE focused on delivering a smaller line of products. Their main massage gun the OPOVE M3 Pro is pretty popular in the world of fitness, and it's a product that OPOVE continues to improve and revolutionize.
The main benefit that drew my eye with the OPOVE M3 Pro was its price tag. From afar, the specs look eerily similar to some competitors's more expensive massage guns, so why was the price so low? In this OPOVE M3 Pro, I explore that exact question. I wanted to know how this massage gun performed to others on the market.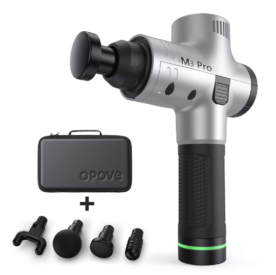 This massage gun delivers a quality performance that is hard to match for its price. The multiple attachments and slightly quieter motor make it a great pick for every fitness enthusiast.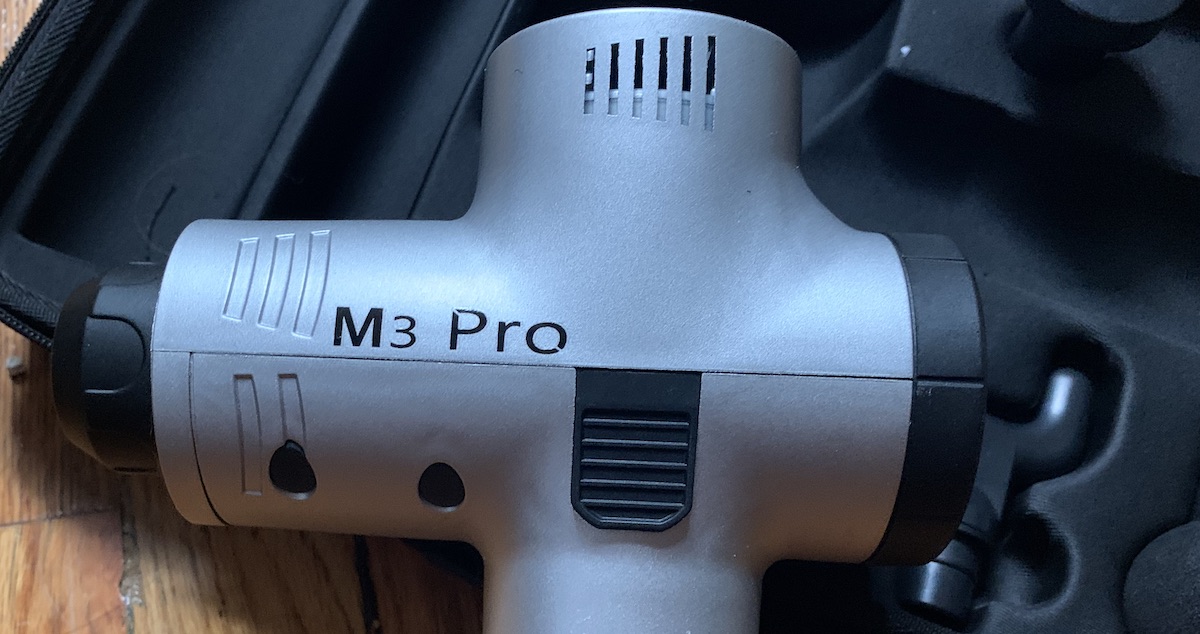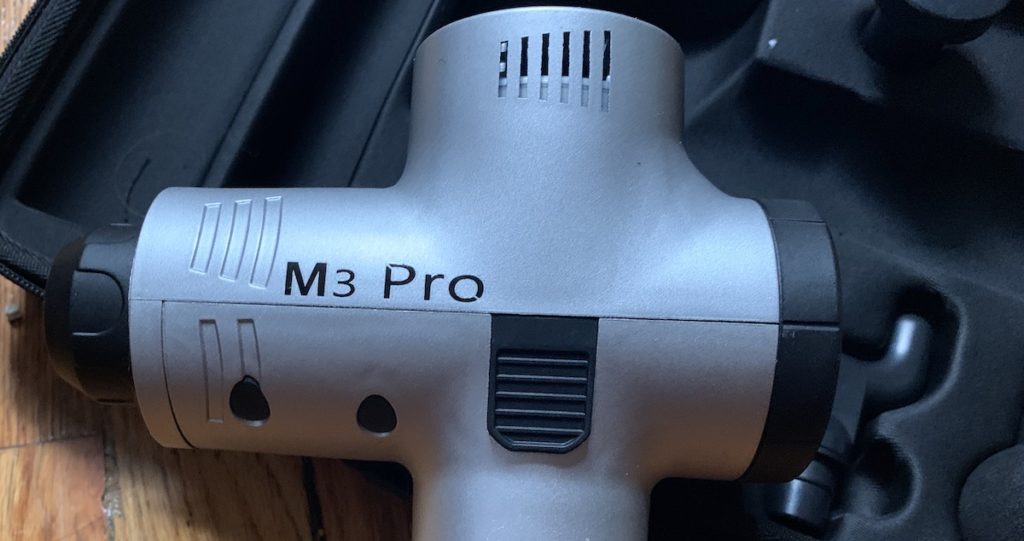 Who Should Buy the Opove M3 Pro
Trainers and fitness professionals who need a manual massage gun for clients.
Budget friendly lifters looking for additional recovery tools.
Gyms looking to add more recovery tools for members.
Who Shouldn't Buy the Opove M3 Pro
The casual lifter that doesn't understand the "why" behind using a massage gun.
The lifter or athlete that has a very tight budget.
Price
For the Opove M3 Pro, you can expect to pay around $199.00 USD. For a massage gun that has the M3 Pro's specs and features, this is a pretty good deal. A lot of similar massage guns in this space are priced for $100-200 more, and there's not a whole lot the Opove model can't do that the more expensive options can.
If you're on a budget and have been seriously considering a massage gun, then the Opove M3 Pro is certainly worth looking into.
Performance
All in all, I thought the OPOVE M3 Pro performed fairly well across the board. The first major callout that I personally loved was the slightly longer battery life. With a battery that can run up to three hours, this product tops some fellow competitors on the market relatively easily.
Another pro to the OPOVE M3 Pro's performance was the multiple head attachment matched with its three speeds. When selecting the different speeds there are three levels you can select from.
Level 1: 1,800 RPM/Min
Level 2: 2,400 RPM/Min
Level 3: 3,200 RPM/Min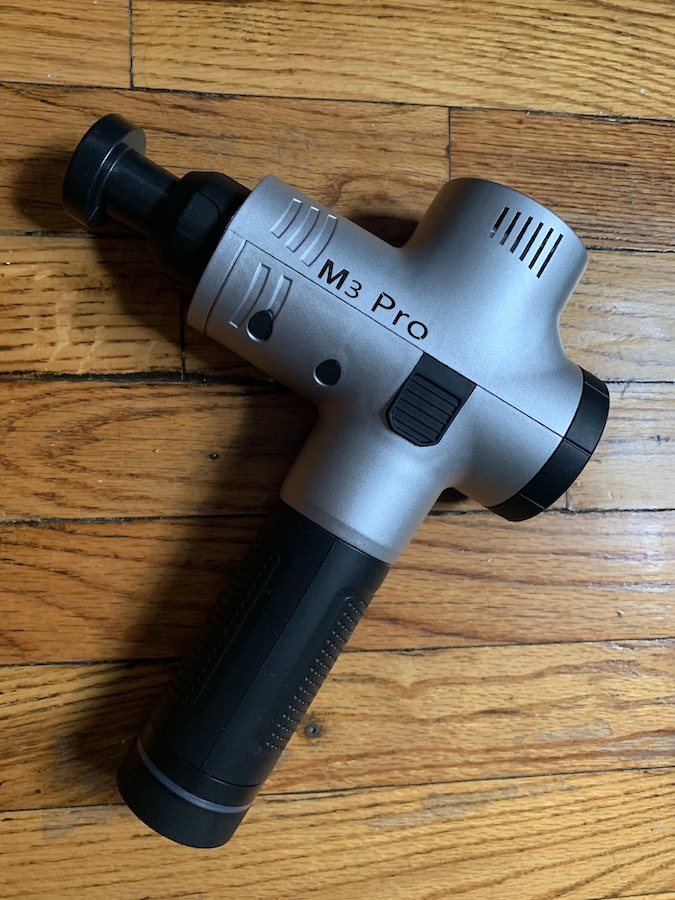 I would use this massage gun for warm-up use and to help accelerate the mobilization of joints like the ankle, then I would use the lighter level for post-workout recovery purposes. Overall, I was a fan of this massage gun and what it provided for the price.
Build Quality
The OPOVE M3 Pro has an all-around okay build quality. When it's providing a massage at full speed it feels solid and well put together, which was my main concern when reviewing this product. Some of the more budget-friendly massage guns can rattle when they run at full speed due to poor construction, but the OPOVE M3 Pro didn't have any of these issues, which turned me into a fan of this massage after being initially skeptical of the lower price.
The M3 Pro has a 24V brushless high-torque motor with Quiet Glide™ technology and it does an adequate job at providing power without causing the top of the gun to feel "loose" and it stays quiet. The handle feels sturdy and attached to the head very well, which is huge since this product is slightly more light weight than similar products and it has a lower price tag.
Features
The OPOVE M3 Pro comes with a solid list of features that are worth noting before you buy. Here are some of this massage gun's top features below!
Three different speeds.
Multiple head attachements.
3-hours of battery life.
Quieter than some other products.
Quiet Glide™ technology
Anti-drop shell.
Lightweight design.
Carrying case.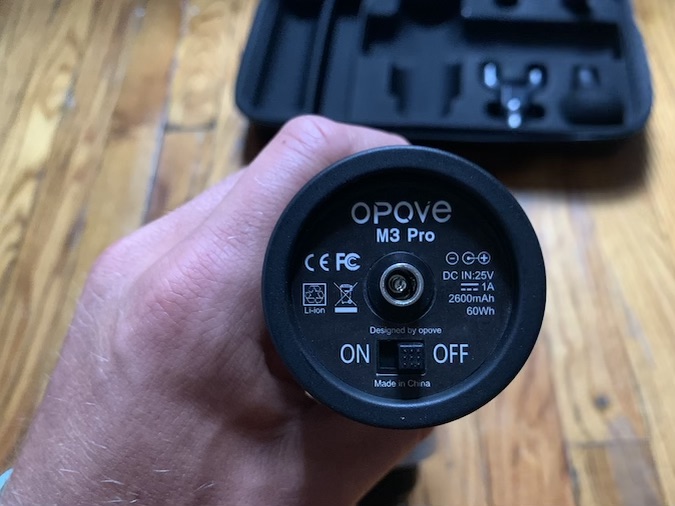 M3 Pro Specs
Here are a few notable hardware specs that come with the OPOVE M3 Pro.
24V brushless high-torque motor.
Lithium-ion battery.
Nylon 66 and glass fiber outer.
Total Weight: 2.2 lbs
Places to Buy
For those interested in buying an OPOVE M3 Pro massage gun, you can visit a couple main sites to do so. You can check out OPOVE's site to pick up an M3 Pro, or Amazon.
How Massage Guns Can Help Recovery
When it comes to massage guns, you'll see a lot of different opinions on them. Some lifters say pass on them due to their price, however, that doesn't help answer the question, "Do they actually have benefit?"
Now obviously that's a loaded question, but at the end of the day massage guns can provide some benefit for recovery and training. Percussive therapy, the style of massage provided by massage guns, is useful for assisting with mobility and recovery efforts. Manual therapy has continuously been suggested to be beneficial for athletes when it comes to prep, performance, and recovery. In fact, this 2008 study pointed out that a lot of research and practical users under appreciate the benefits that massage can have on athletic performance. (1)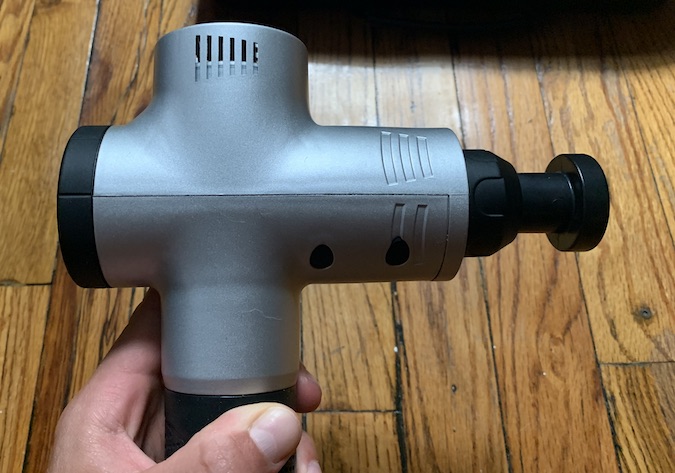 OPOVE Information
On OPOVE's site, they point out that the "OP" in their name stands for optimization. They use this ideal as the forerunner for dictating their products and company mission statement.
Warranty Information
If you purchase a M3 Pro massage gun and it has a defect or problem with workmanship within a year, then you can send it it for repair free of charge. Note, this is only for product defects, not mishandling or abuse to the product.
Returns and Refunds
OPOVE products can only be returned within 45 calendar days of purchase if they've been purchased through OPOVE's site. If the box has been opened, then OPOVE will charge a 10% fee.
Contact Information
The OPOVE team can be contacted through their site and their hours of operation are as follows: 9:00AM to 9:00PM from Monday to Friday (except holidays and weekends).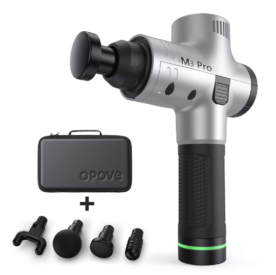 This massage gun delivers a quality performance that is hard to match for its price. The multiple attachments and slightly quieter motor make it a great pick for every fitness enthusiast.
FAQs
How much does the OPOVE M3 Pro cost?
The OPOVE M3 Pro costs $199.00 USD which is slightly lower than some of its direct competitors.
Is the OPOVE M3 Pro worth it?
If you want a percussive massage gun, then the OPOVE M3 Pro is definitely worth it. It's lightweight, cost efficient, and has a silent motor. For many, it's the best of all worlds for percussive therapy and has a budget friendly price.
Does the OPOVE M3 Pro have a warranty?
Yes, the OPOVE M3 Pro has a one year limited warranty for product defects and workmanship errors.