Do you like working out? What about raising money for a good cause? If so, then lace up your Metcons, because OUTAthletics' is hosting its "Love is Love" virtual fitness competition on Feb. 4, 2021. The event will consist of four total workouts over a period of three weeks, and the goal is to bring awareness to and raise money for The OUT Foundation, whose mission, according to their website, "is to remove the barriers that block LGBTQ+ individuals' access and participation in fitness, health, and wellness."
Registration is $15 per entrant and participants are requested to set up a fundraising page on The OUT Foundation's site. The podium finishers from each of the three divisions will receive a "prize pack" — the contents of which have not been specified — and each participant who raises at least $50 for the foundation will receive a "Love is Love" t-shirt.
View this post on Instagram
[Related: 10 Athletes to Watch in the 2021 CrossFit Open]
"Love is Love" Competition
The online competition will have three different divisions — RX'd, Intermediate, and Adaptive. Each workout is designed to be done at home and will not require any equipment. Per The Out Foundation's announcement of the contest, "think push-ups, burpees, air squats, running, etc." Only athletes who believe their workout times will score well enough to place in the top 10 are required to record their workouts using WeTime — a fitness timer application that allows users the ability to record and post videos.
One workout will be released each week on Thursday at 6:00 p.m. EST along with one "floater" workout that can be done at any time during the entire competition. Competitors will have until 11:59 p.m. EST on the Monday after each workout's release to submit their results online.
BarBend reached out to OUT Foundation Communications Director Dan Riviello for the details below about the "Love is Love" competition:
Fundraising Goal
Per Riviello, the overall fundraising goal for the competition is $12,000.
Virtual Competition
In 2020, the "Love is Love" competition took place in Austin, TX and Boston, MA. 2021 will be the first year the competition takes place entirely online. The OUT Foundation Executive Director Eddie Plata said, "While we are really missing our in-person events and interactions, this virtual format has allowed us to expand from our successful in-person competitions in Austin and Boston last year and reach folks all over the country and world — allowing even more people to come together and #SweatForACause!"
Workout Difficulty and Duration
All of the workouts will
equipment-free
and accessible for
adaptive athletes
. The workouts range from
moderate to hard
in terms of difficulty "depending on how athletes wish to modify them."
"Love is Love" Rules
Athletes can perform each workout more than once and submit their best time
. This format is similar to the
CrossFit Open
.
Over 100 athletes have already signed up for the competition. Every registration fee and all donations support the work of The OUT Foundation "where [they] work to provide access and equity to the LGBTQ+ community in fitness, health, and wellness."
In addition to raising money for a good cause, OUTAthletics views this competition as a "nice warm-up for people competing in the 2021 CrossFit Games Open."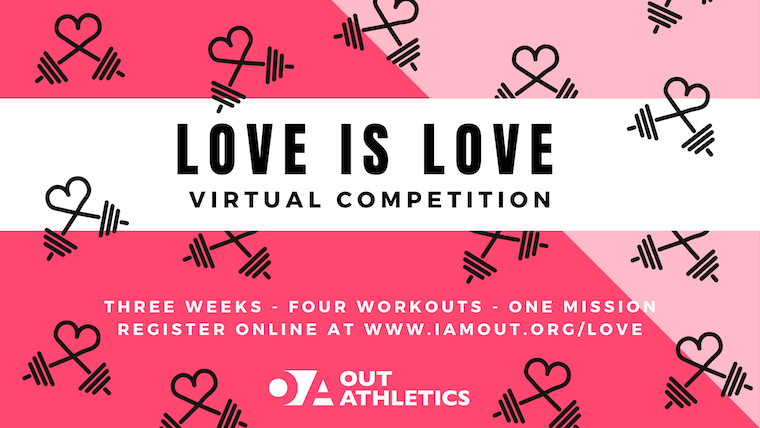 [Related: Burn Fat and Boost Your Work Capacity with Body Conditioning]
Sign Up
Participants can register for the "Love is Love" virtual competition at www.iamout.org/love. Once your registration is complete, the site will redirect you to set up a fundraising page. At the time of this article's publication, $6,977 of the $12,000 goal has been raised.
Feature image from The OUT Foundation's Instagram page: @theoutfdn