How do you get a whole food-based multivitamin? They're not steaming vegetables and putting them into capsules; the process behind Performance Lab's Whole Food Multi is actually far more complicated.
The product, formulated in the United Kingdom and manufactured in the United States by Opti-Nutra, is a very unusual entry in the multivitamin market. The company uses a method called BioGenesis® to create vitamins and minerals from probiotic bacteria and brewer's yeast, which they say makes for nutrients that are closer to the forms of micronutrients you'll find in nature and less like the more common, synthetically made multivitamins that may not be absorbed as well.
We found this product to be a remarkably innovative and well priced way to maintain your intake of a wide range of vitamins and minerals. Here's what we thought.
Performance Lab Whole Food Multi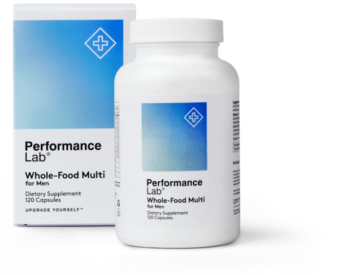 Performance Lab Whole Food Multi
This supplement provides a wide range of vitamins that may absorb more effectively than your standard, synthetic multis.
Performance Lab Whole Foods Multi Nutrition
Here's what you'll find in a four-pill serving of the men's multivitamin. We've arranged this so the nutrient is followed by the percentage of the recommended daily intake.
Vitamin A: 20%
Vitamin C: 100%
Vitamin D3: 250%
Vitamin E: 100%
Vitamin K1 + K2: 125%
Vitamin B1: 533%
Vitamin B2: 235%
Vitamin B3: 100%
Vitamin B5: 200%
Vitamin B6: 200%
Vitamin B7: 100%
Vitamin B9: 100%
Vitamin B12: 833%
Calcium: 1.8%
Iodine: 100%
Magnesium: 4.25%
Zinc: 150%
Selenium: 179%
Copper: 75%
Manganese: 100%
Chromium: 100%
Molybdenum: 100%
There are also a few ingredients that don't have recommended intakes: 150mcg of strontium, 25mcg of inositol, 10mcg of vanadium, and 4mg of boron.
The nutrients are encased in a vegan-friendly capsule and the product is non-GMO, free from gluten and soy, and GMP certified.
[See our complete guide to the best men's multivitamins!]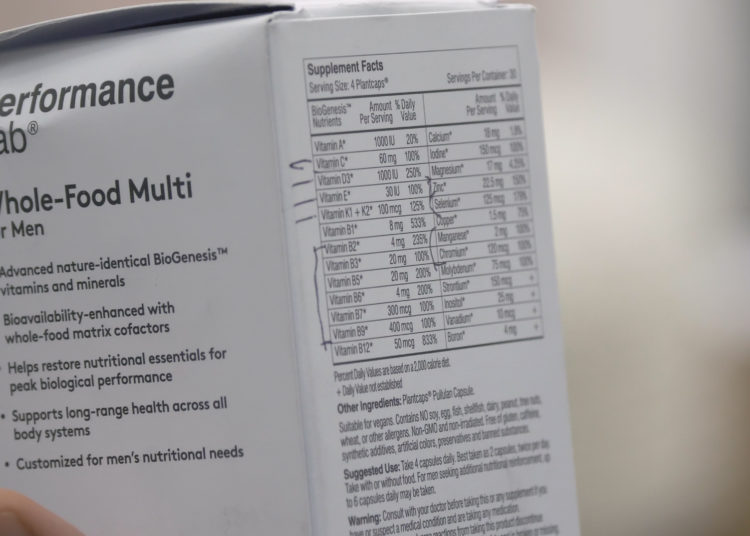 Performance Lab Whole Foods Multi Benefits & Effectiveness
This pill offers a very wide variety of vitamins, although it's not quite as impressive in its spread of minerals, particularly with the low amounts of calcium and magnesium.
But there's a lot to like here. Not only is there a significant amount of common vitamins like Vitamins A, C, E, and B-vitamins, but it also has an impressive amount of Vitamins D and K, which are difficult to meet the recommended intake through whole foods alone. These two vitamins may also act synergistically to improve bone health, so it may be a good idea to have the two of them together in a supplement.(1)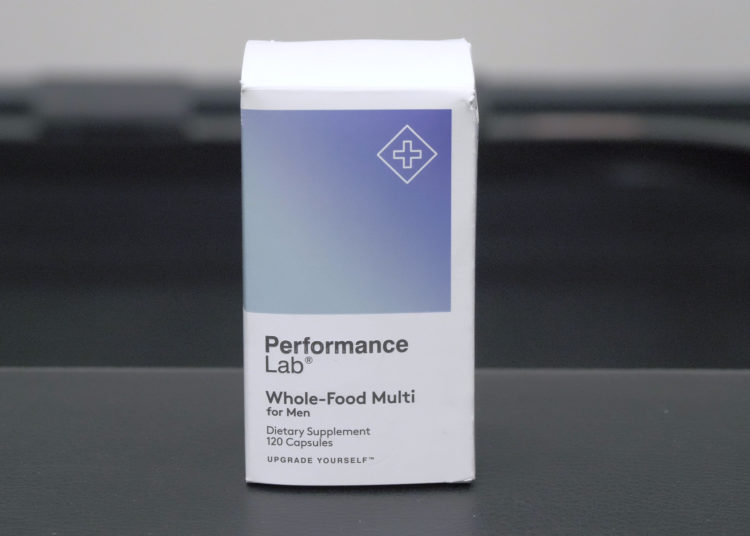 The ingredients that don't have a recommended daily intake — strontium, inositol, vanadium, and boron — may have some extra benefits. Strontium has some connections to bone health, although the link isn't very well proven.(2)(3) Vanadium and inositol may help with blood sugar management and boron has some links to increased testosterone, but the links aren't well established and most research has only seen these benefits at higher doses than you'll find here.(4)(5)(6)
Nonetheless, this is a pretty darn effective vitamin supplement and the way it's produced really merits attention. Performance Lab claims it makes for "enhanced-potency" nutrients that are more "nature-identical" than competitors. It's true that some research suggests that some synthetic vitamins may not be absorbed especially well by the body, and while there's not much research we can point to, Performance Lab asserts that their vitamins, seeded with bacteria in a growth medium, are more readily absorbed.(7) They also claim this gives their product a lower carbon footprint.
Performance Lab Whole Foods Multi Price
One bottle is $40 for a month's supply. That comes to about $1.33 per serving.
I found this to be pretty inexpensive given the labor that goes into the BioGenesis process. Plenty of competitors are over $50 per month; I'm happy with this price.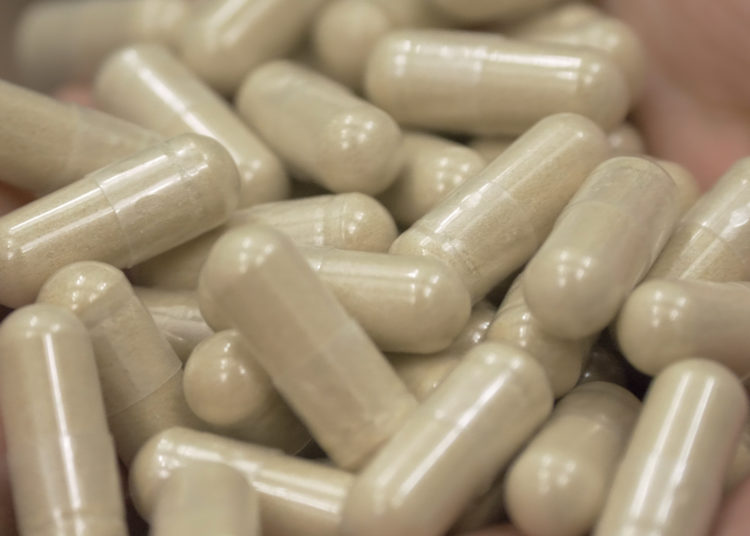 Performance Lab Whole Foods Multi Pros & Cons
Pros
Great array of vitamins.
Not synthetic.
May absorb more effectively than synthetic nutrients.
Well priced.
Vegan and hypoallergenic.
Cons
Low in calcium and magnesium
The website claims the product supplies probiotics, but there's no information about this on the label.
Some ingredients, like boron and vanadium, aren't well established and may not reach effective doses.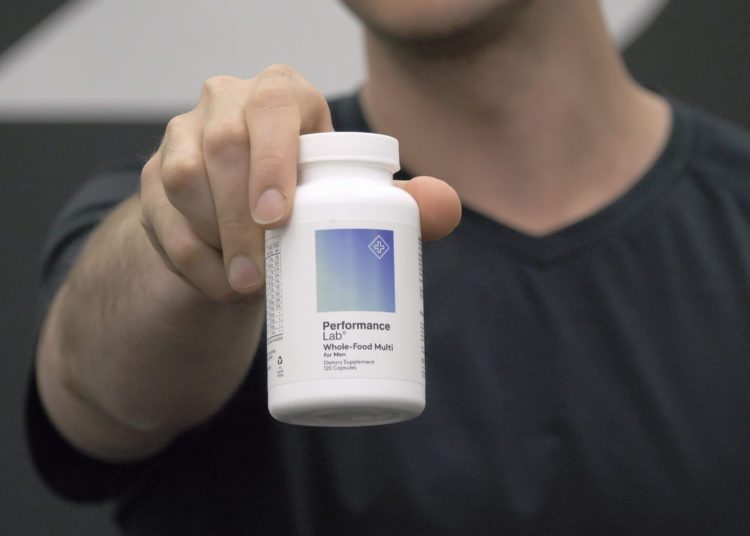 The Takeaway
I'm very happy with Performance Lab's Whole Food Multi. It's well priced, has a great array of vitamins, and it may absorb more effectively than competitors. Now, there aren't a lot of studies we can point to on this, but if you're convinced that natural is the way to go for your micronutrients, there's a case to be made that this is the multivitamin for you. It's not that high in minerals and the extra ingredients (vanadium, boron, inositol, and strontium) don't have a ton of evidence supporting them, but this is still an effective way to get important nutrients.
References
1. van Ballegooijen AJ, et al. The Synergistic Interplay between Vitamins D and K for Bone and Cardiovascular Health: A Narrative Review. Send to Int J Endocrinol. 2017;2017:7454376.
2. Lewington VJ, et al. A prospective, randomised double-blind crossover study to examine the efficacy of strontium-89 in pain palliation in patients with advanced prostate cancer metastatic to bone. Eur J Cancer. 1991;27(8):954-8.
3. Westberg SM, et al. Use of Strontium Chloride for the Treatment of Osteoporosis: A Case Report. Altern Ther Health Med. 2016 Mar;22(3):66-70.
4. Halberstam M, et al. Oral vanadyl sulfate improves insulin sensitivity in NIDDM but not in obese nondiabetic subjects. Diabetes. 1996 May;45(5):659-66.
5. Costantino D, et al. Metabolic and hormonal effects of myo-inositol in women with polycystic ovary syndrome: a double-blind trial. Eur Rev Med Pharmacol Sci. 2009 Mar-Apr;13(2):105-10.
6. Naghii MR, et al. Comparative effects of daily and weekly boron supplementation on plasma steroid hormones and proinflammatory cytokines. J Trace Elem Med Biol. 2011 Jan;25(1):54-8.
7. Yetley EA. Multivitamin and multimineral dietary supplements: definitions, characterization, bioavailability, and drug interactions. Am J Clin Nutr. 2007 Jan;85(1):269S-276S.