Last month, USA Weightlifting, the International Weightlifting Federation (IWF), and Harris County — Houston Sports Authority won a SportsTravel Magazine award for the 2015 World Weightlifting Championships, which were held in Houston, Texas. The 2015 WWV were given the award for Best Amateur Single-Event of the year. (Read more about the award here.)
Just a few weeks later, USAW CEO Phil Andrews traveled to IWF headquarters in Budapest, Hungary to present the award to IWF President Dr. Tamas Ajan and IWF Director General Attila Adamfi. USAW Chairwoman of the Board Ursula Garza Papandrea was not in attendance, although the award was presented on her behalf.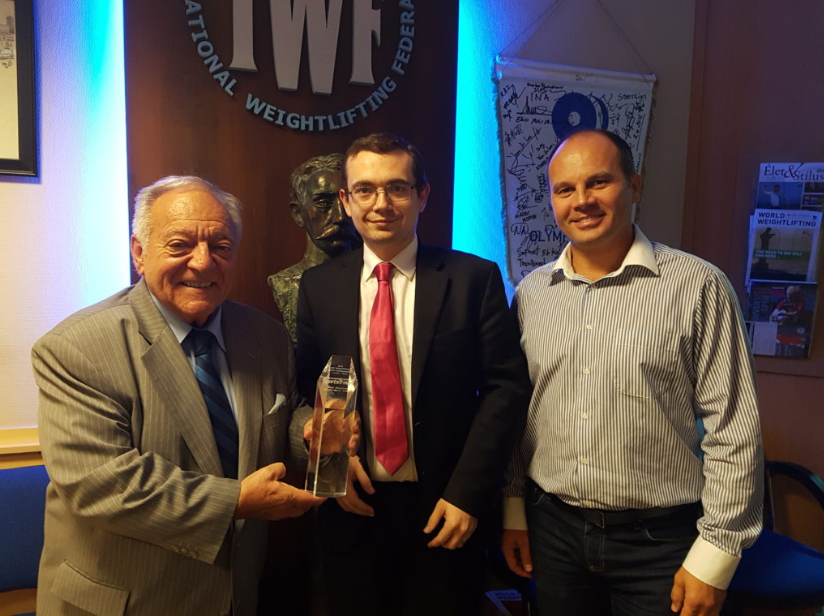 Image courtesy IWF.net
According to the IWF, Andrews had a busy trip:
Mr. Andrews held discussions with all IWF departments in order to enhance the future cooperation between the two organizations.
Andrews, who was named USAW CEO earlier this year and also served as Field of Play Manager at the 2016 Rio Olympics, has had a busy year and headed to Hungary shortly after the 2016 USAW University and Under 25 Championships in New Orleans, Louisiana.