A new powerlifting referee app was recently released by Norwegian powerlifter Stian Walgermo, and it's available for Android and iOS. Today's options for judging parameters can be expensive. This app was designed to be an option for those looking to save money or move away from the sometimes lucrative hand signals at smaller meets. It also allows multiple people to put judging in the palm of your hand.
I spoke to Walgermo about the app, and he mentioned that he's in the process of creating a webpage that will allow the meet director to setup a larger screen that connects to mobile devices to show real time calls. This will make judging lifts faster, easier, and accurate without a delay. He pointed out that this has been the most requested feature thus far.
From what I can see and assess, this app could be useful to a powerlifter in multiple ways. If you're interested in checking out the app, then visit this link.
First, it could be an alternative way to create seamless portable communication between powerlifting judges. For instance, after all refs have made their decisions, then the lights will show instantly on the device that has the view open. So there's no need for the judges to experience any miscommunications.
Second, it might be a way to spark and regulate friendly competition. For example, this app could work for judging friendly competitions within your local gym.
Third, it may help you build a better understanding of what's deemed as a white light competition lift. You can assess those around you, or track other judge's calls to build your perception of white light lifts. Plus, Walgermo has in red, blue, and yellow cards with explanations for international lifters.
From the site there's a few distinct features that are shared, which include..
Create new meets (free until 31th of august)
Judge a meet
Show lights
Show statistics for meets
Show reason for failures (rules)
My main concern with this app was it's ease of use. To help you out, I created a step by step guide, which is shared below.
1. Download
Visit your Apple App Store or Google Play Store and type in something such as "powerlifting referee," and you'll see an app that looks like the photo below. It was created by Stian Walgermo, so if you're not seeing that author, then you're in the wrong place.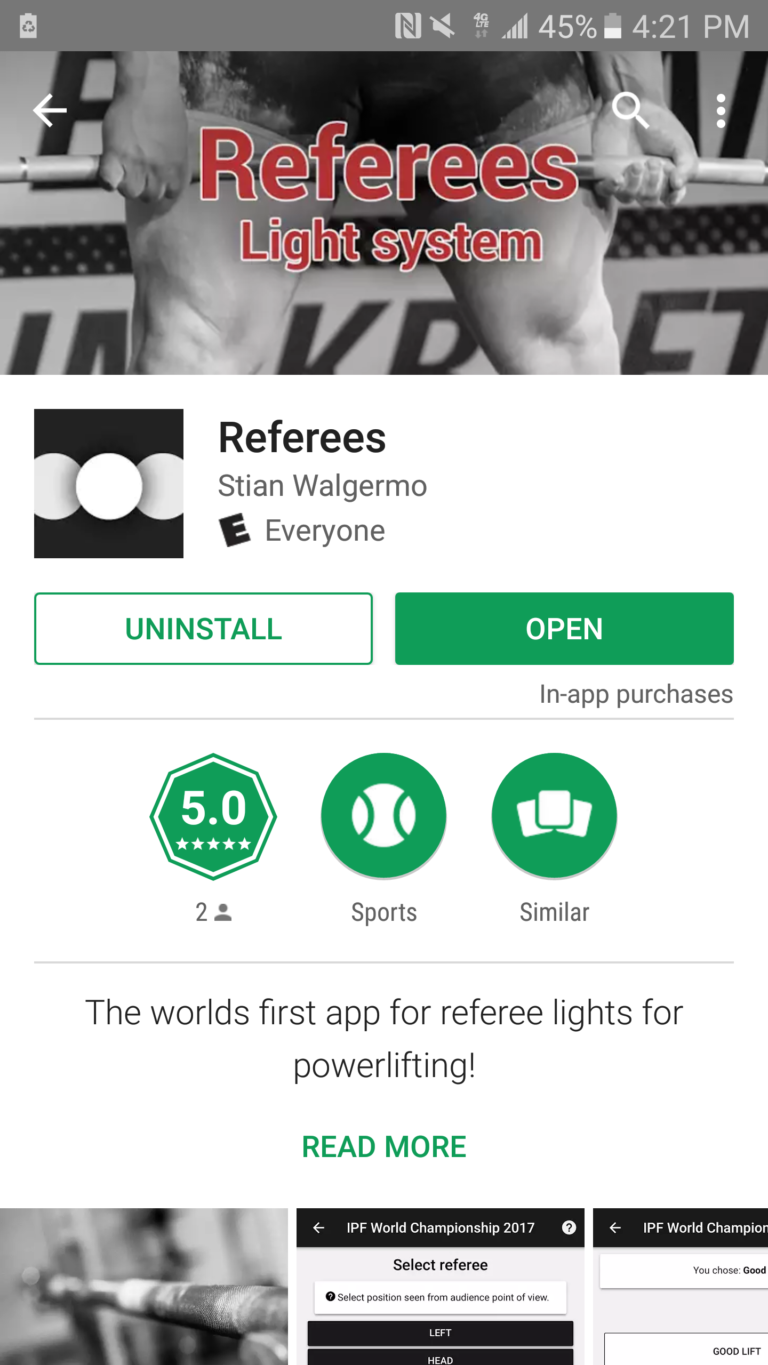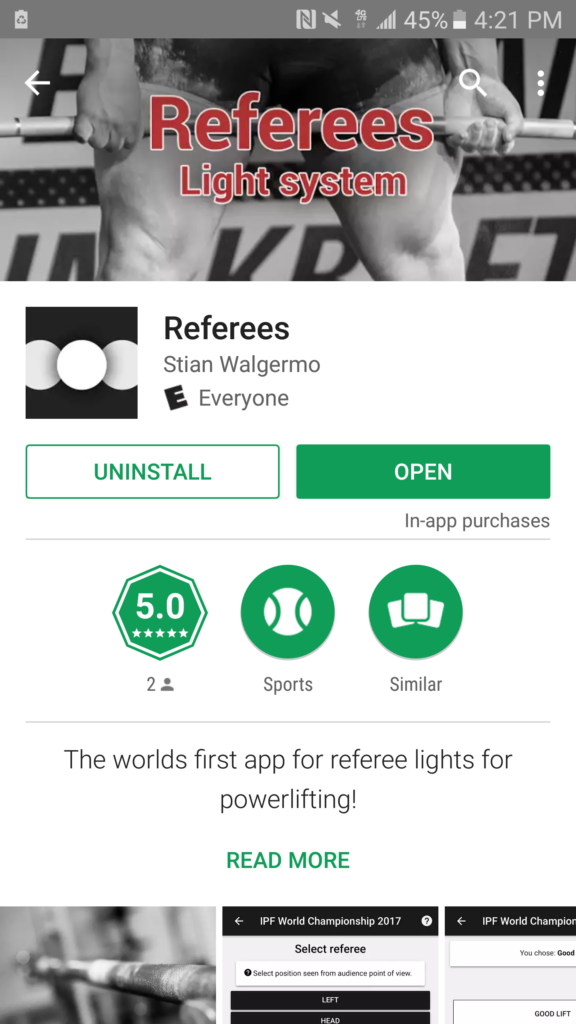 2. Creating and Selecting an Event
After you've downloaded and opened the app, then you'll be presented with two options: New Event and Select Event.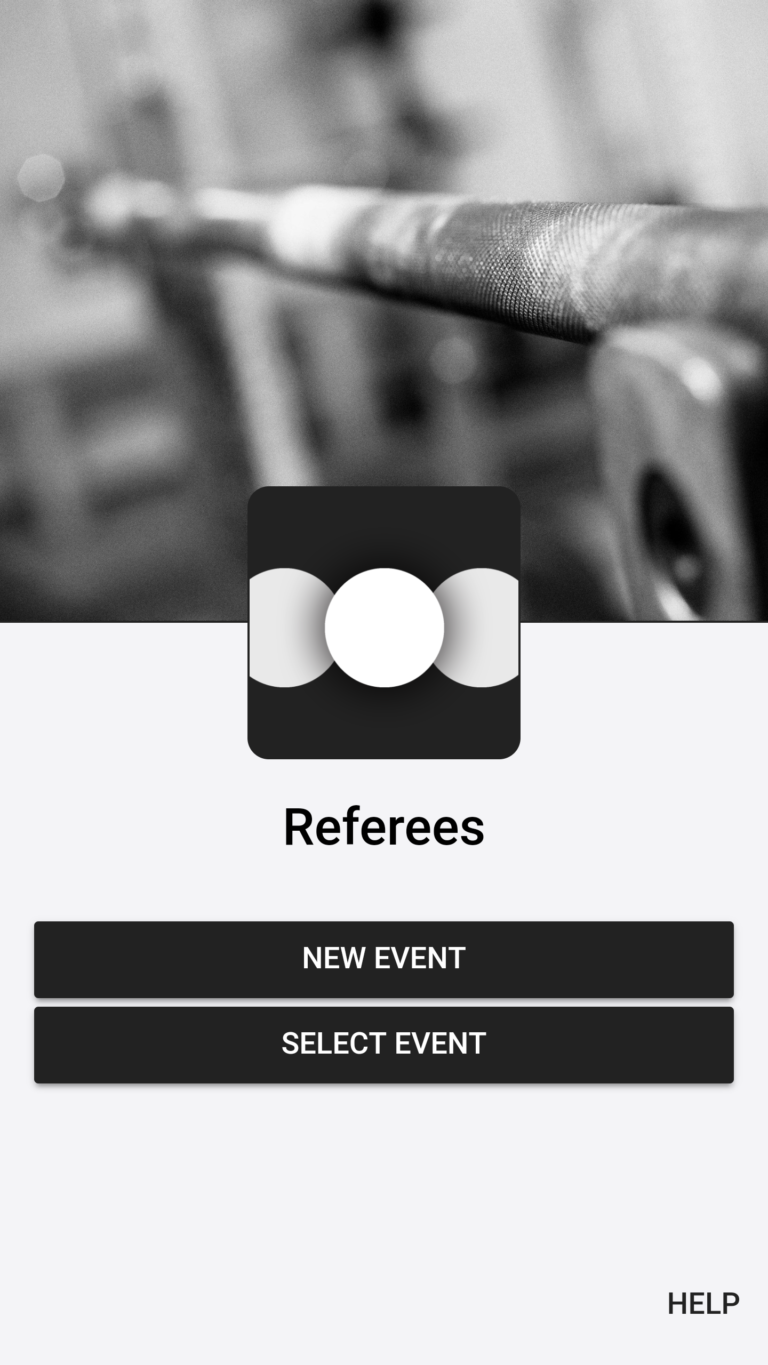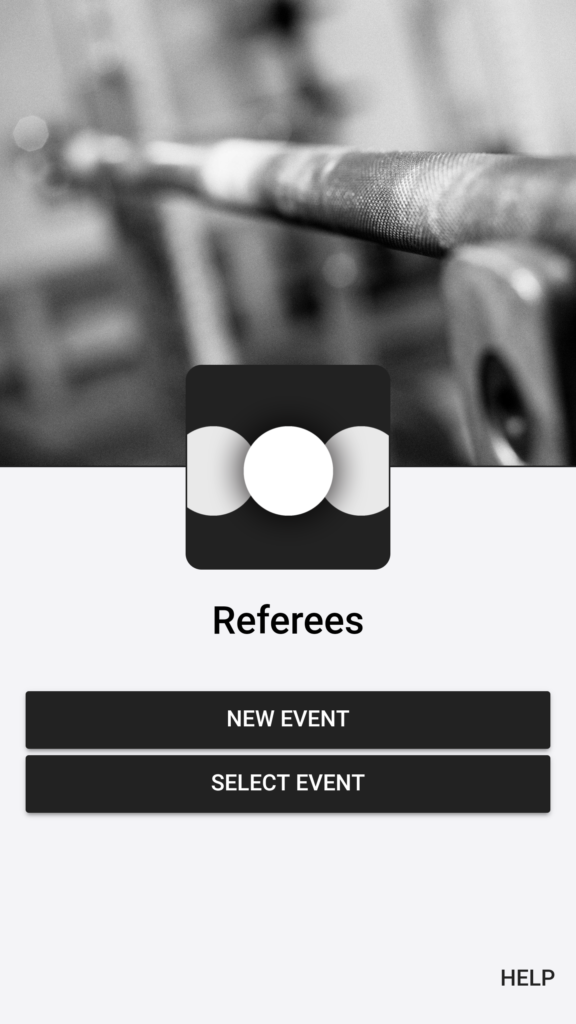 If you're a meet creator or director, you'll choose to create a new event, which you'll then by prompted to plug in your information (name of event, organization, contact info, and password). For judges, you'll press "select event" and find your corresponding meet with the password provided by the creator.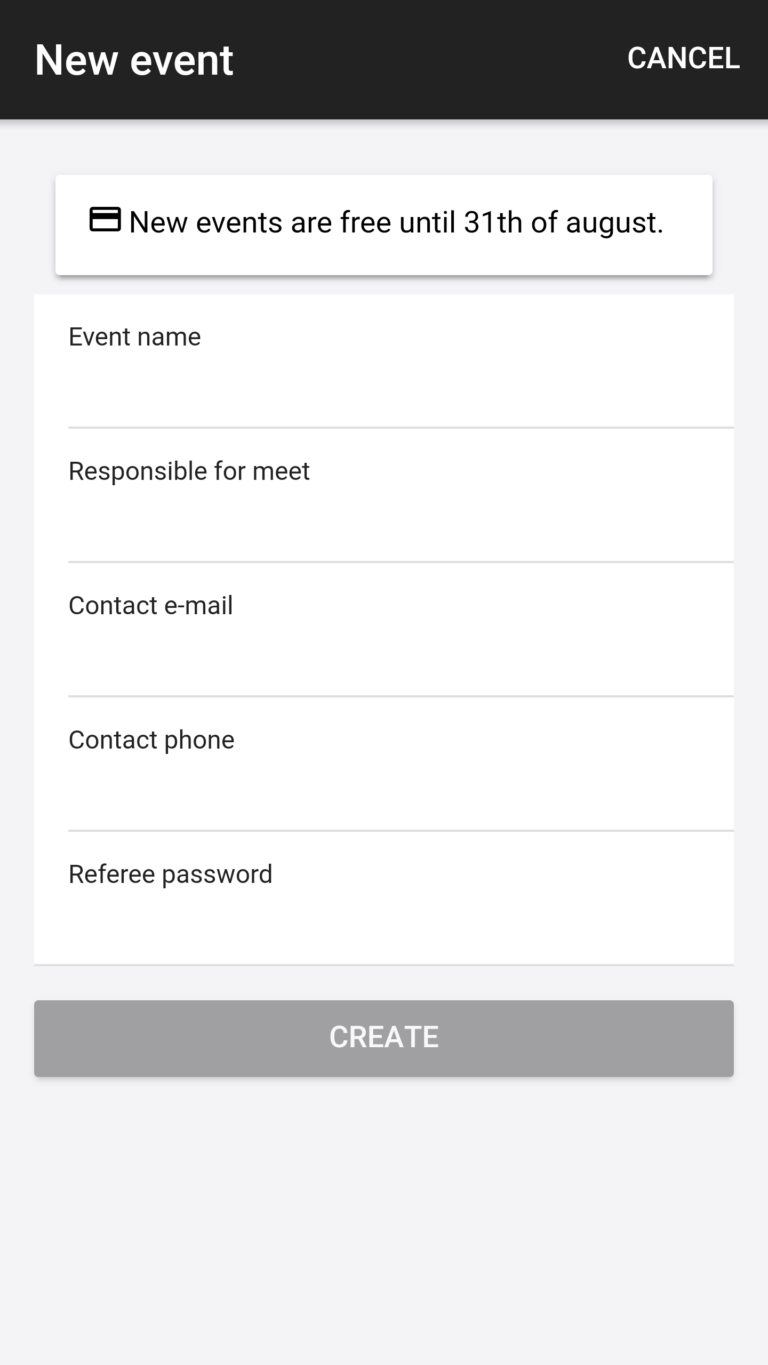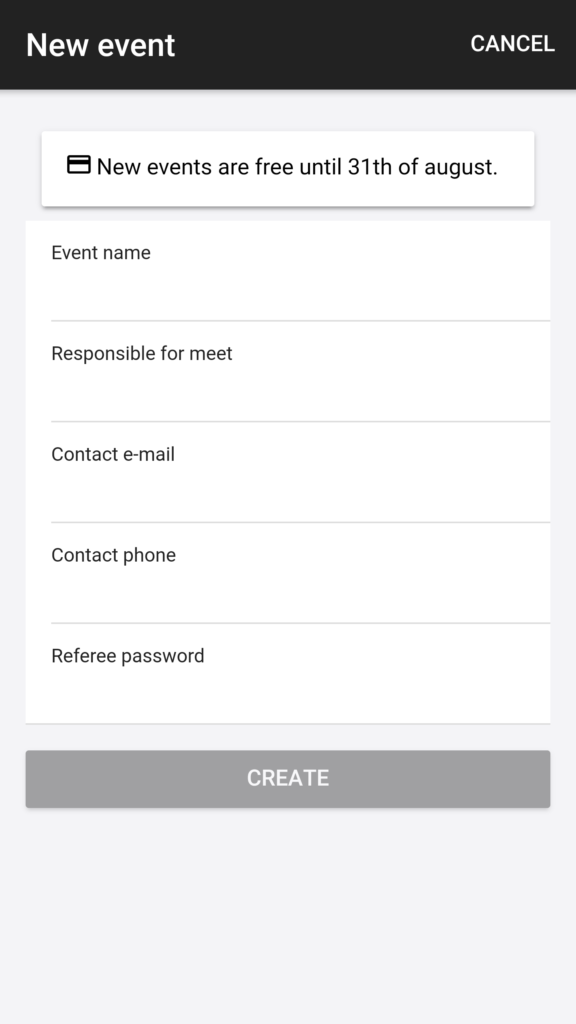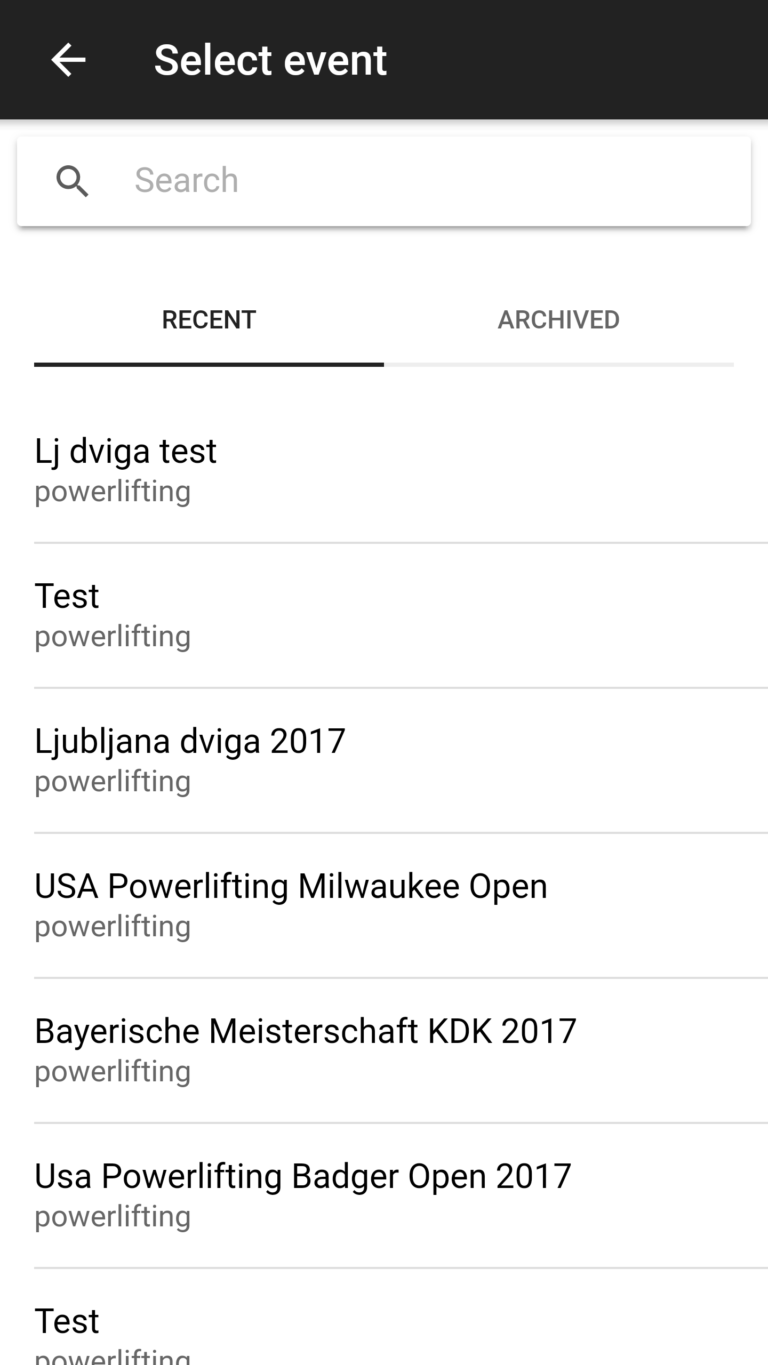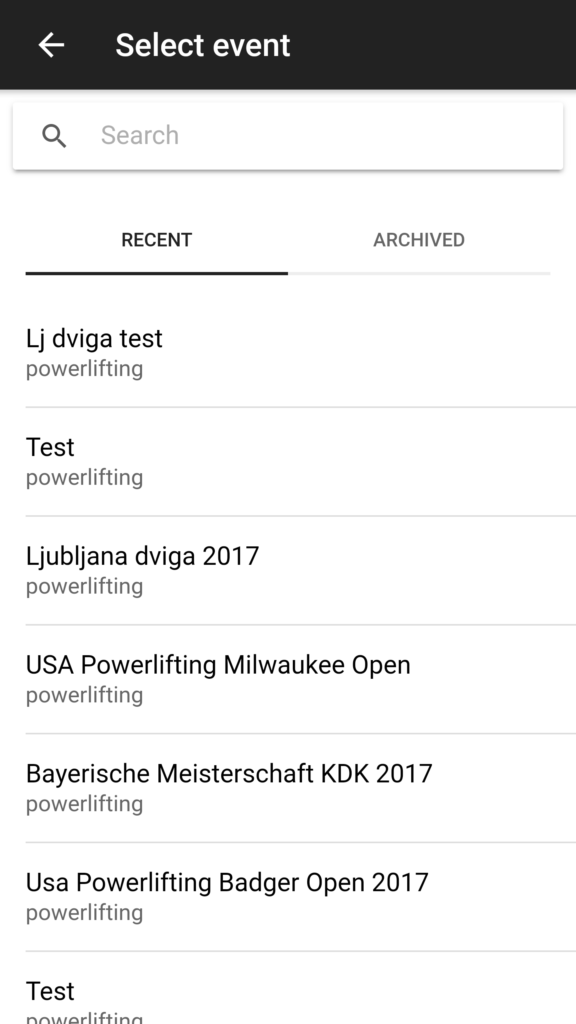 3. Judges Setup
Once you've selected your event and entered your password, then you'll arrive to a screen that looks like the one below. This is where you'll select the judging position you plan on observing from.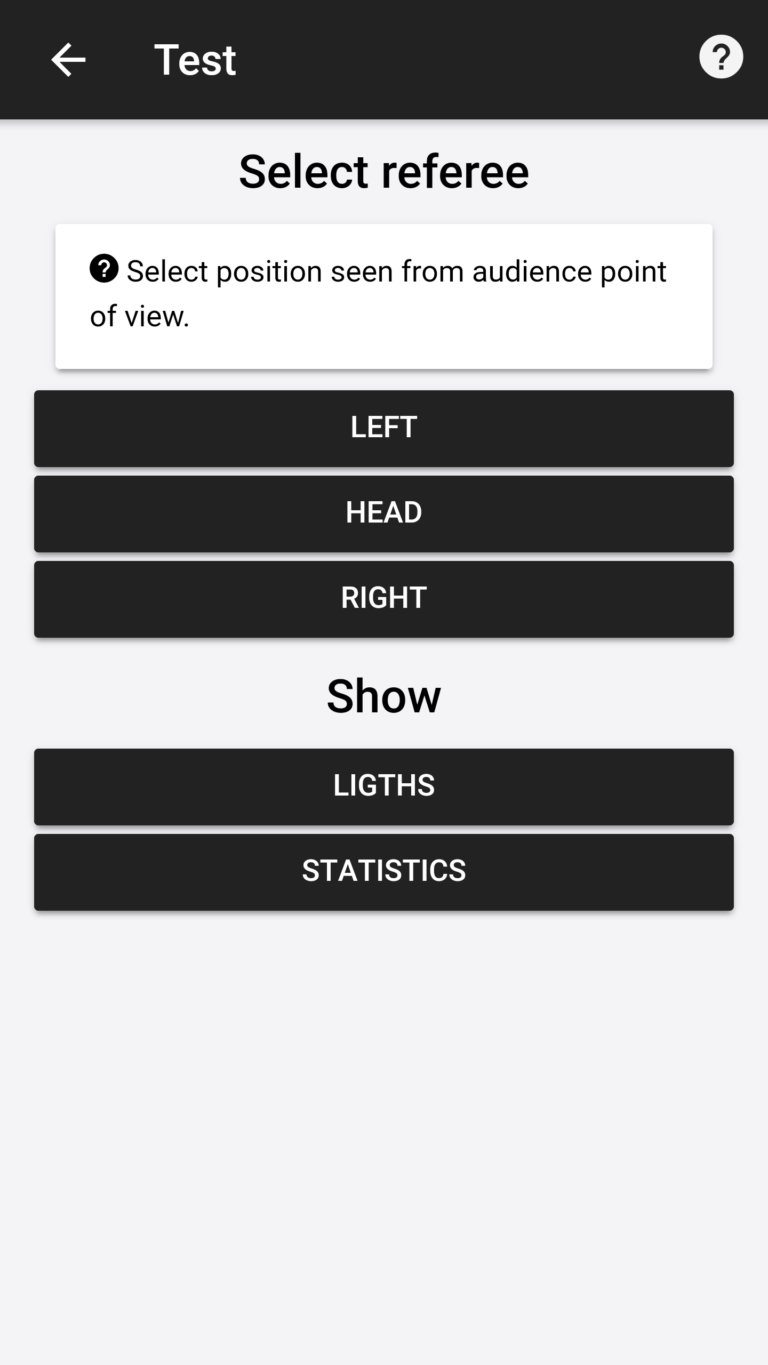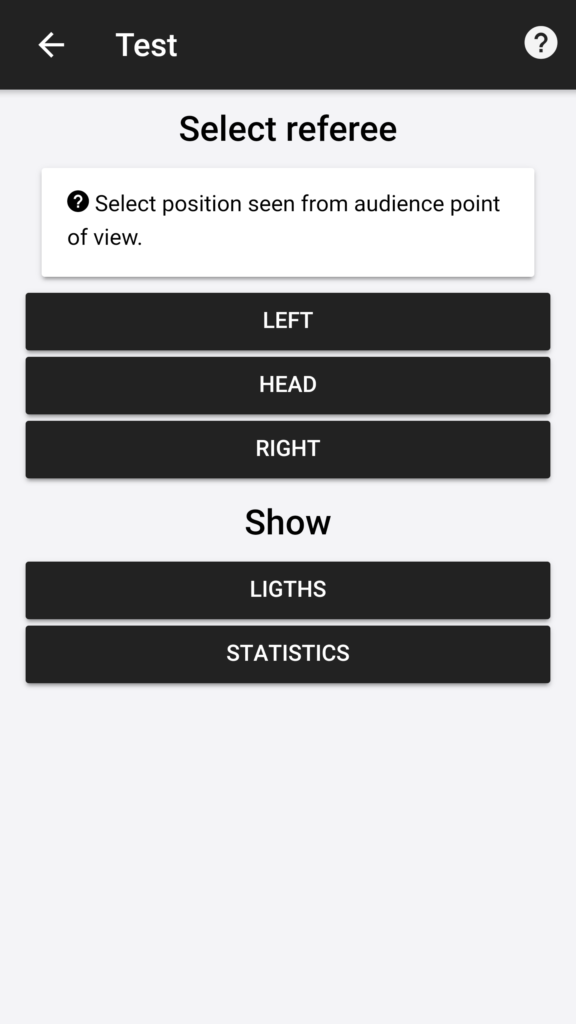 When you've selected which judging station you'll be heading, then you'll be brought to a screen like the one below to the left. Once you've seen the lift, you'll input your call and wait for the other judges to finish. After every judge has finished making their call, then you'll press the "Lights" button (shown below) and be presented with the final calling, which is shown on the right.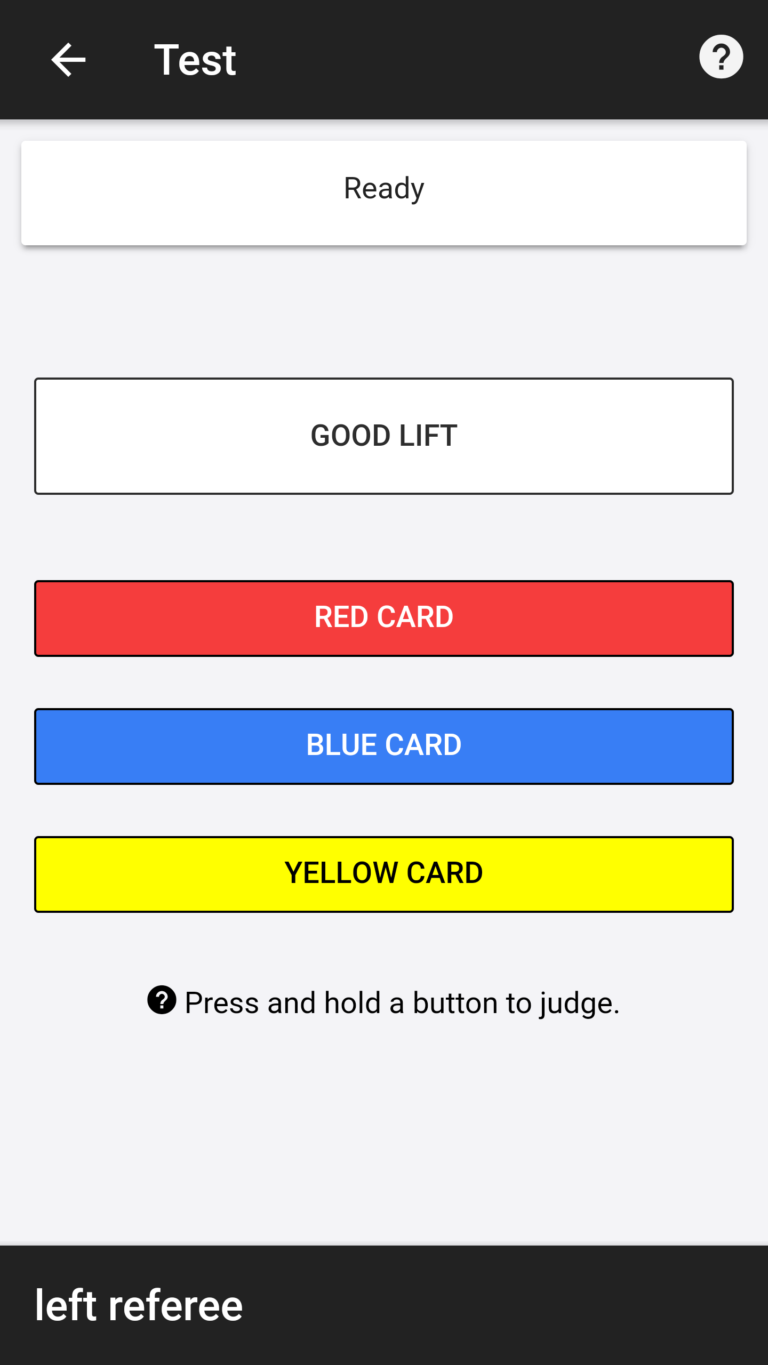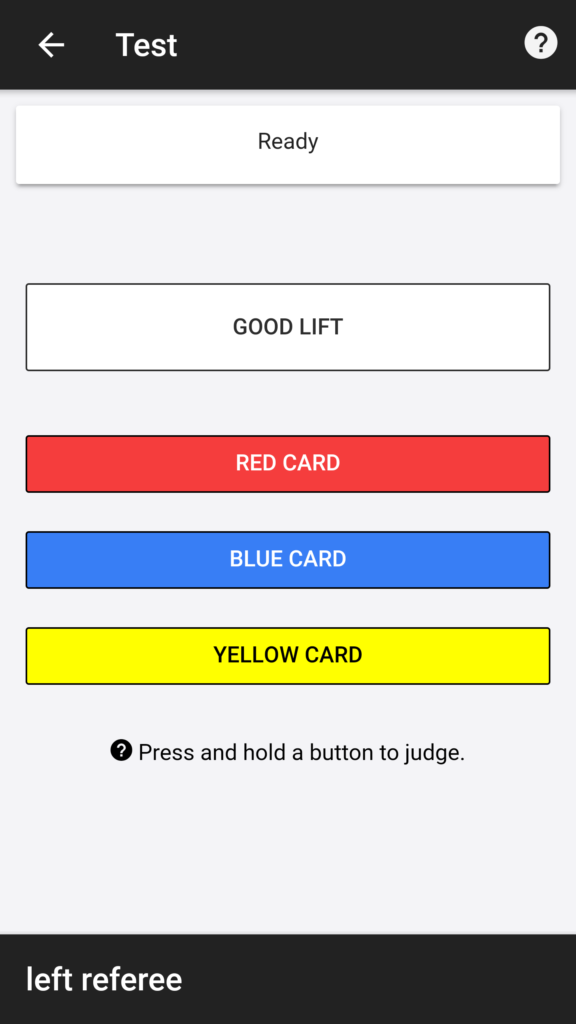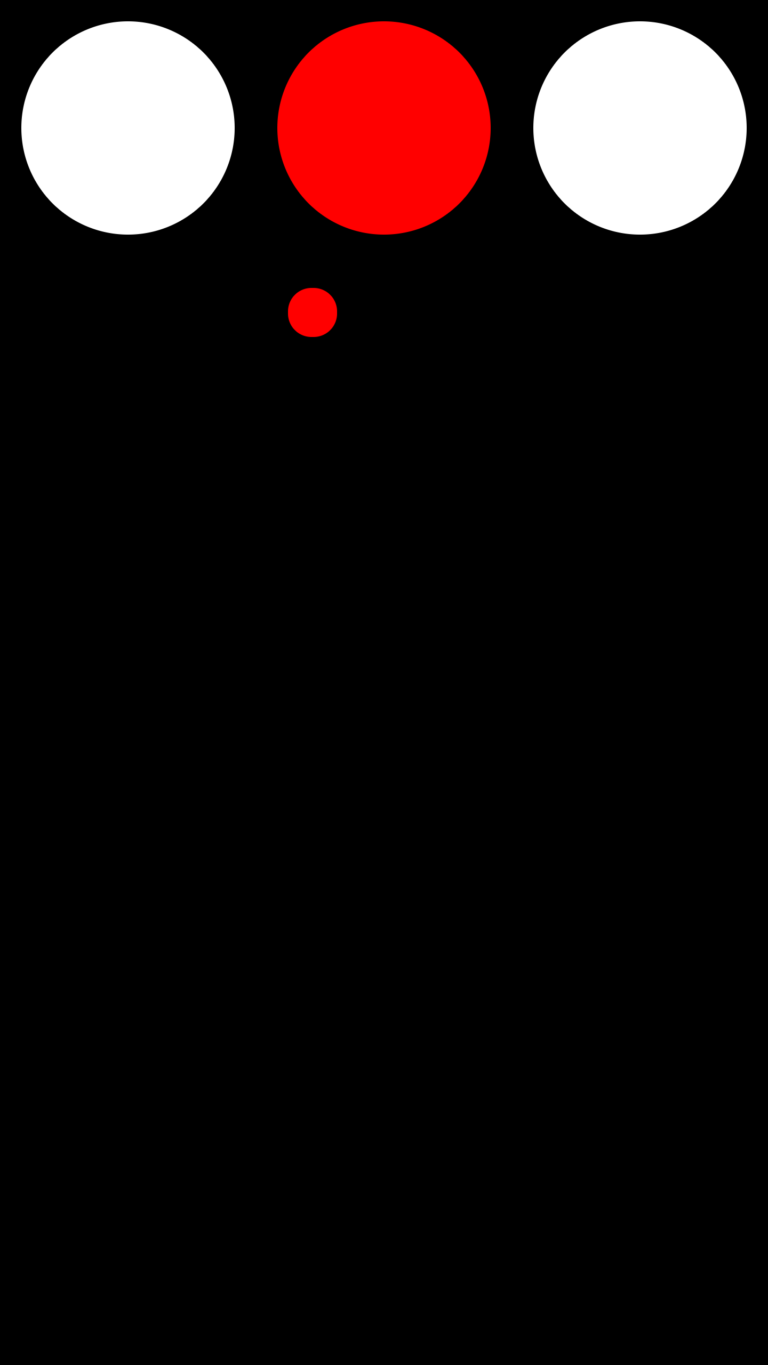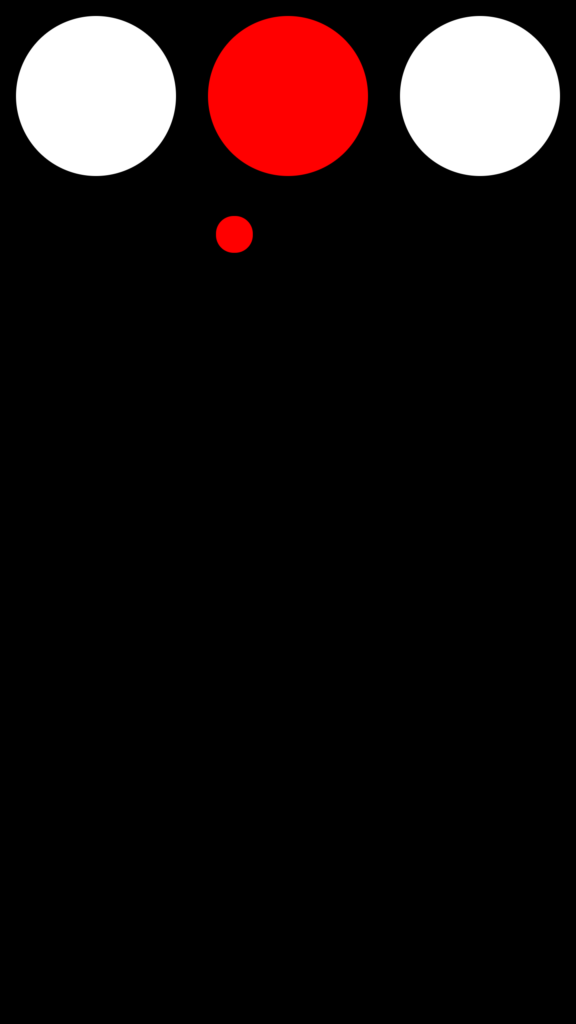 The creator is Norwegian, which is why there are red, blue, and yellow card options. There's an explanation of each card's calling too if you're interested in using them.
4. Statistics
A cool aspect about this app is that it tallies up calls and creates graphs to show percentages. I think this could be useful for training purposes, judging discrepancies, and noticing trends.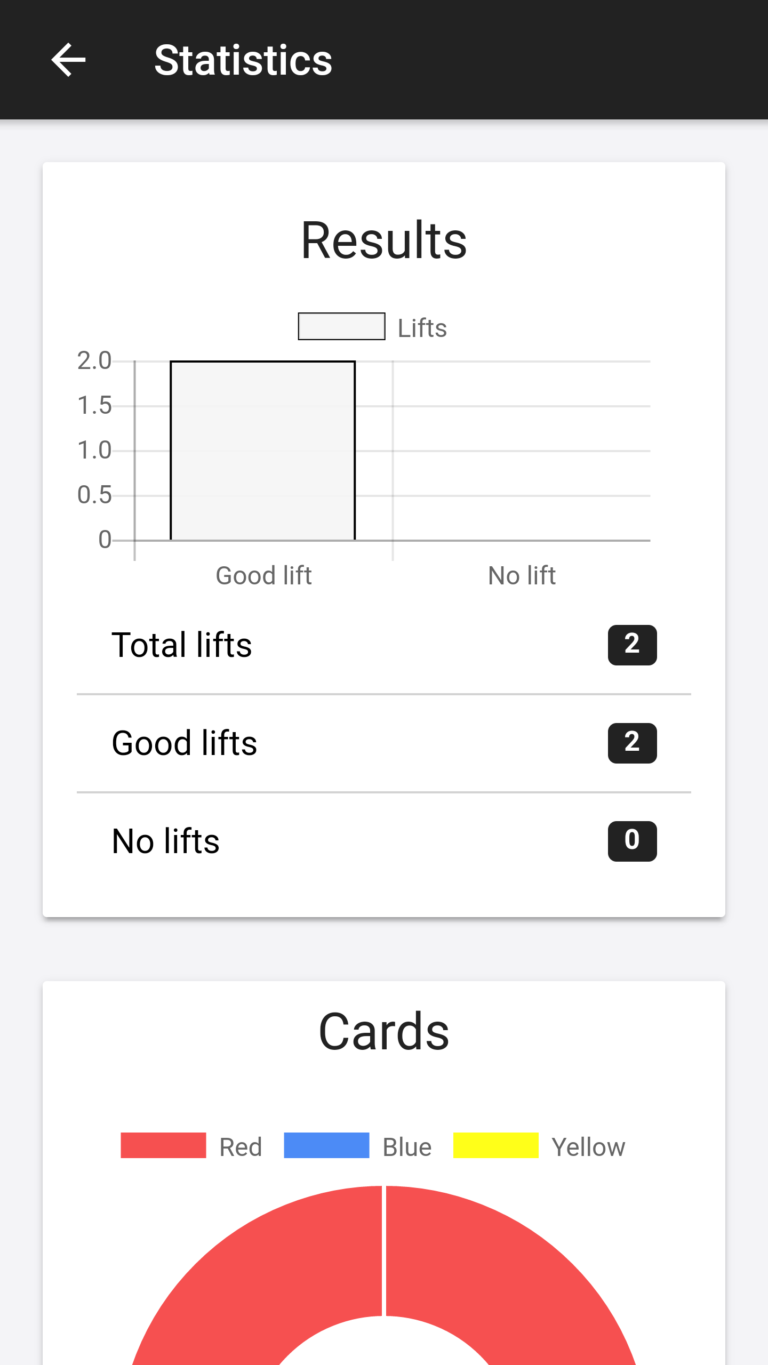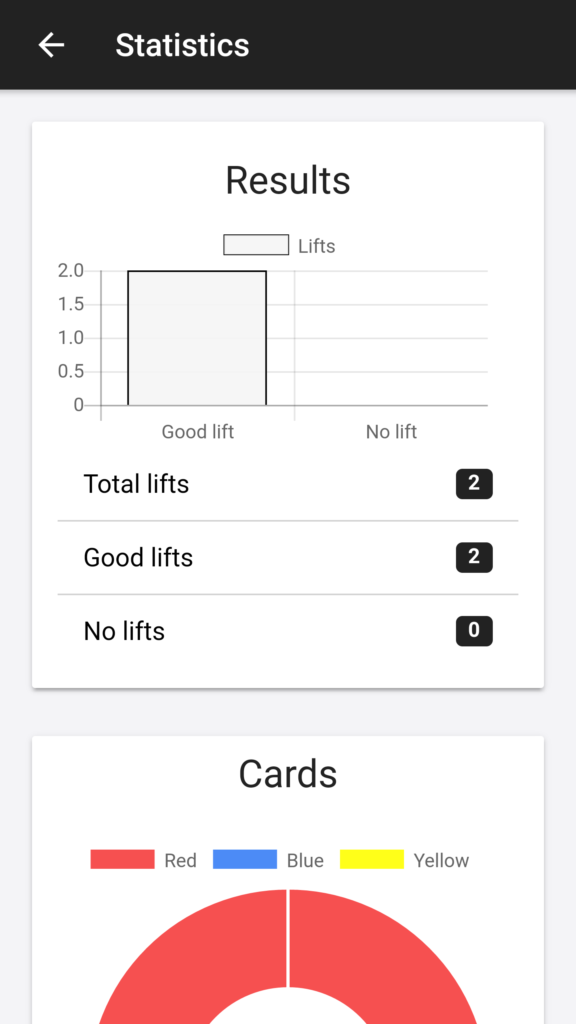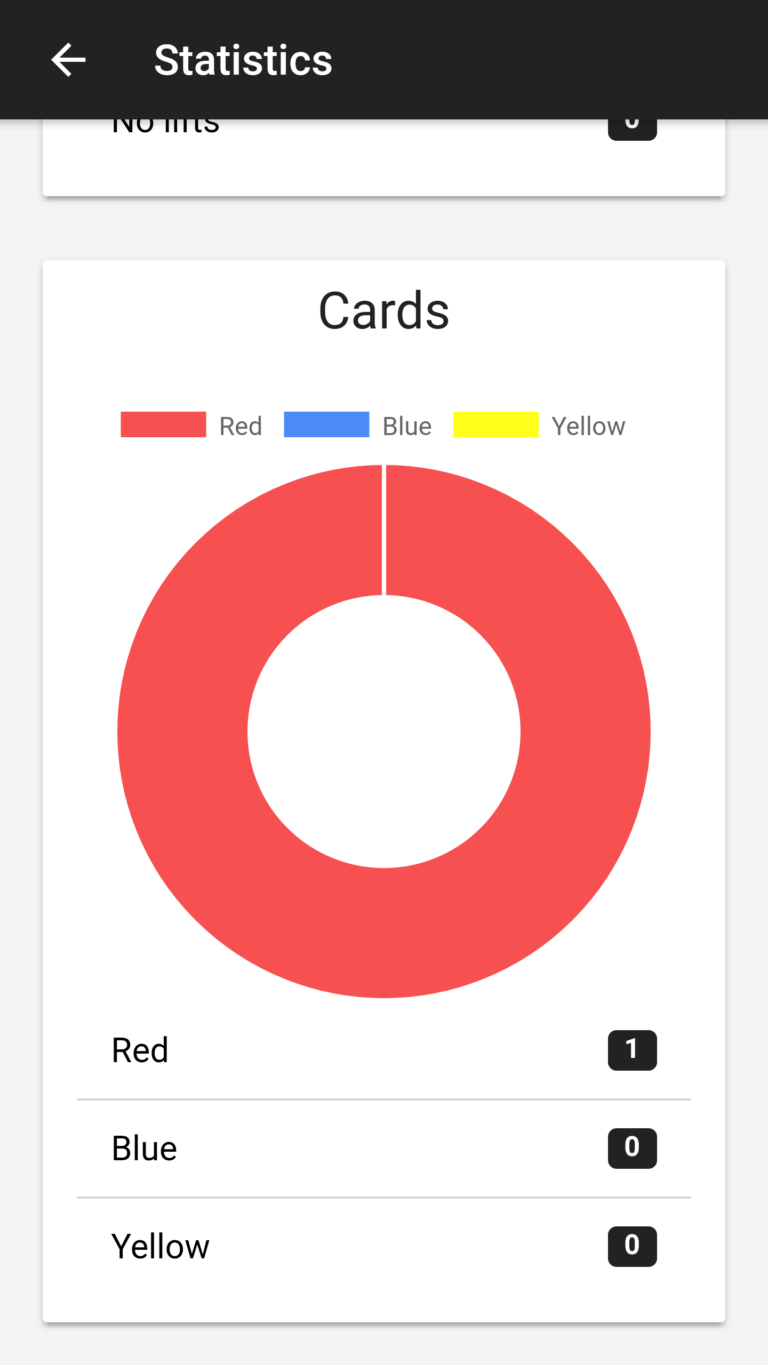 Final Word
I think this app is cool when it comes to creating a simple method for handheld judging. This app has uses that a regular judging system can't create. Plus, it's relatively simple to use and understand, plus anyone can have access to it.
What are your thoughts? Do you think this could be a useful tool for competition and training purposes? 
Feature image screenshot from Referees Light System in Google Play Store by Stian Walgermo.