We receive free products and receive commissions through our links. See
disclosures page
.
The Reebok Nano cross training shoe line continues to evolve with the launch of the brand new Reebok CrossFit® Nano 9. Reebok's latest Nano model has had quite the makeover compared to its eight predecessors, and for many athletes, this makeover was long overdue. The Reebok CrossFit Nano 9 has a release date slated for June 12th and I've been putting them to the test to help you decide if they're worth investing in.
In the Nano line, every odd numbered model receives sizable updates to improve performance and wearability. A few notable updates that have been made to the Reebok CrossFit Nano 9 include:
New Flexweave outer construction
Split outsole
Added midsole
From my initial tests and assessments, these construction changes have all improved the shoes' ability to perform not only in the gym, but also in a day-to-day setting. If you're looking for a Nano model that can handle both heavy weights and provide comfort on a daily basis, then the Reebok CrossFit Nano 9 might be worth checking out.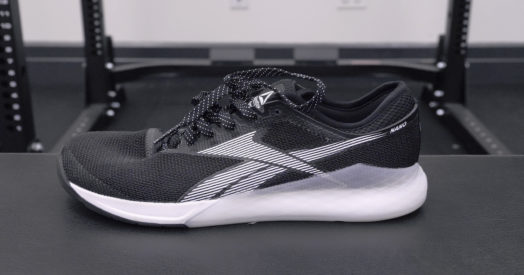 The Reebok CrossFit Nano 9 offers a newly constructed midsole for comfort and a reworked outer Flexweave to improve performance and comfort in cross training workouts.
Why I Like the Reebok CrossFit Nano 9
Split outsole construction for comfort and reactivity.
Redesigned Flexweave to move with and accommodate for all of the foot's actions.  
Reworked midsole and heel construction. 
What I Didn't Like About the Reebok CrossFit Nano 9
Bunching of forefoot material when pulling the shoe tight.
Construction
Outer Construction
The Reebok CrossFit Nano 9's outer construction received a very welcomed update to the Flexweave material. For this model, the Flexweave was designed to be slightly more maneuverable and accommodating compared to the standard Flexweave, and has a little more give and stretch to it. The Flexweave itself wraps similar to how it did on the Nano 8 to create an outer, light weight bootie-like construction.
Toward the toe, there is an additional layer of material to protect the shoe breakdown during heel dragging movements like burpees. On the lateral side of the Flexweave, the Reebok branding has changed to a vector compared to the previously used delta symbol. The heel-to-toe drop is 4mm, which is similar to the Nano 8.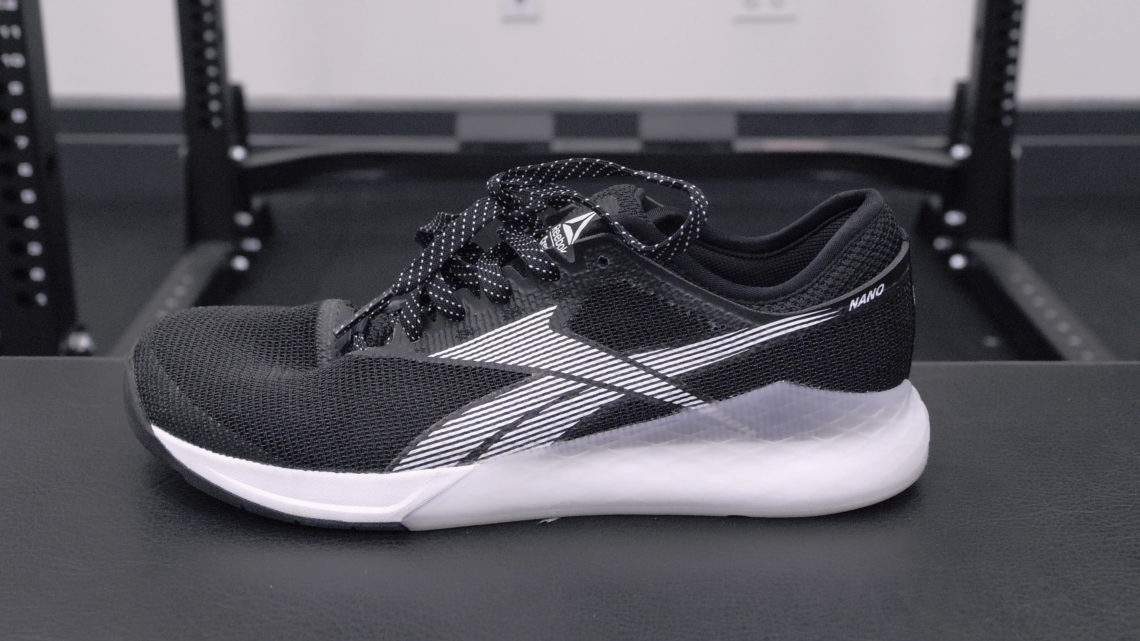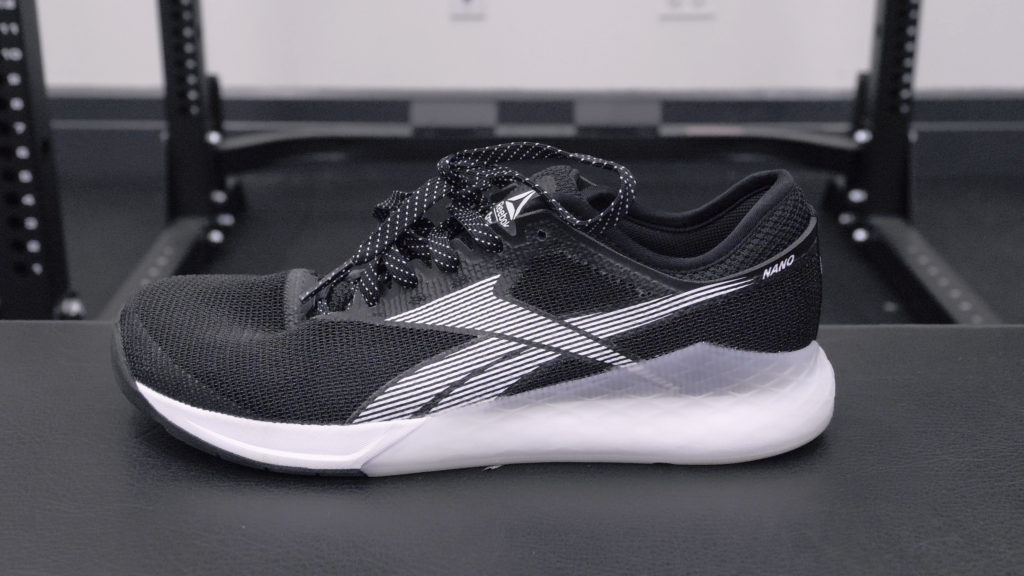 Mid-Foot and Heel
There are six eyelets running up the mid-foot of the Nano 9, and these eyelets have a design similar to what the Speed TR offers. The eyelets are reinforced and the tongue on this model is designed to be slightly wider and padded for additional protection from activities like rope climbs. The sixth eyelet extends slightly higher than the first five, which is useful for additional ankle stability.
The heel's construction on this model has a similar bootie design to the Nano 8. The inner heel cup/support feels slightly higher compared to the previous Nano model and the posterior portion of the shoe does an adequate job concaving and resisting any form of heel slip.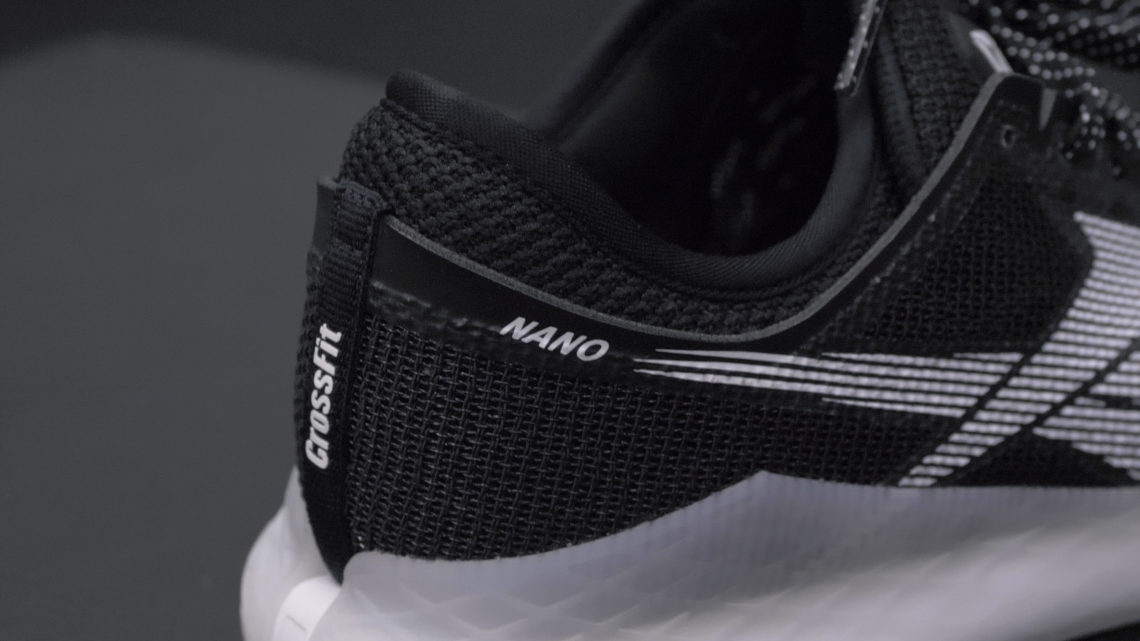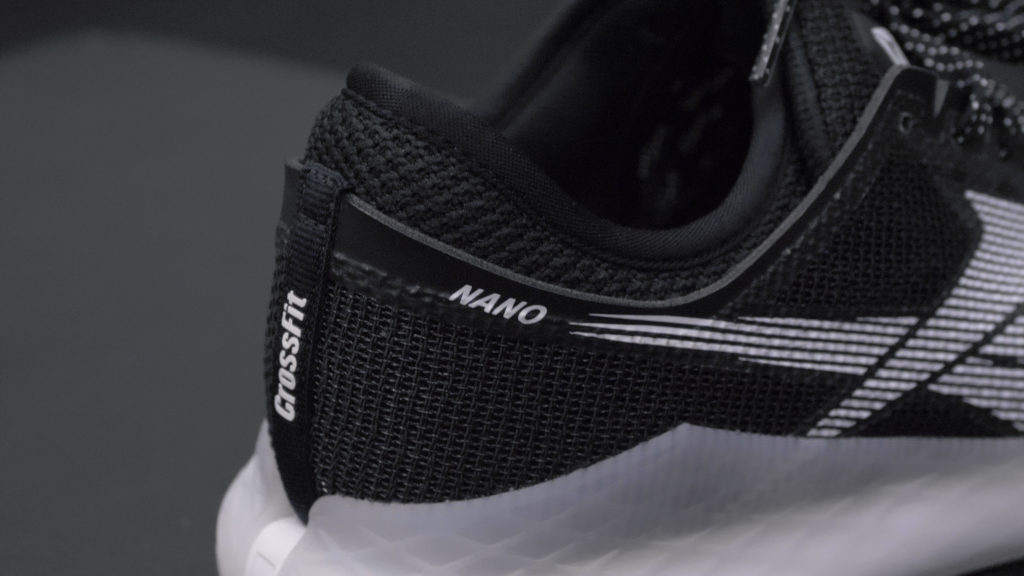 Midsole and Outsole
The midsole on the Reebok CrossFit Nano 9 has been reworked to support the shoe's overall comfort. The midsole material towards the toe feels like a supportive EVA foam, and has a fair amount of reactivity to it for comfort and supports seamless toe flexion. 
The mid-foot of the lateral and medial side of the shoe has a TPU layer that extends from the outsole and wraps over the midsole for additional support and durability. On the back of the heel, the TPU splits and this is done to support this shoe's goal or comfort and stability. Personally, I was a fan of this construction change and didn't notice an impact with the heel's stability.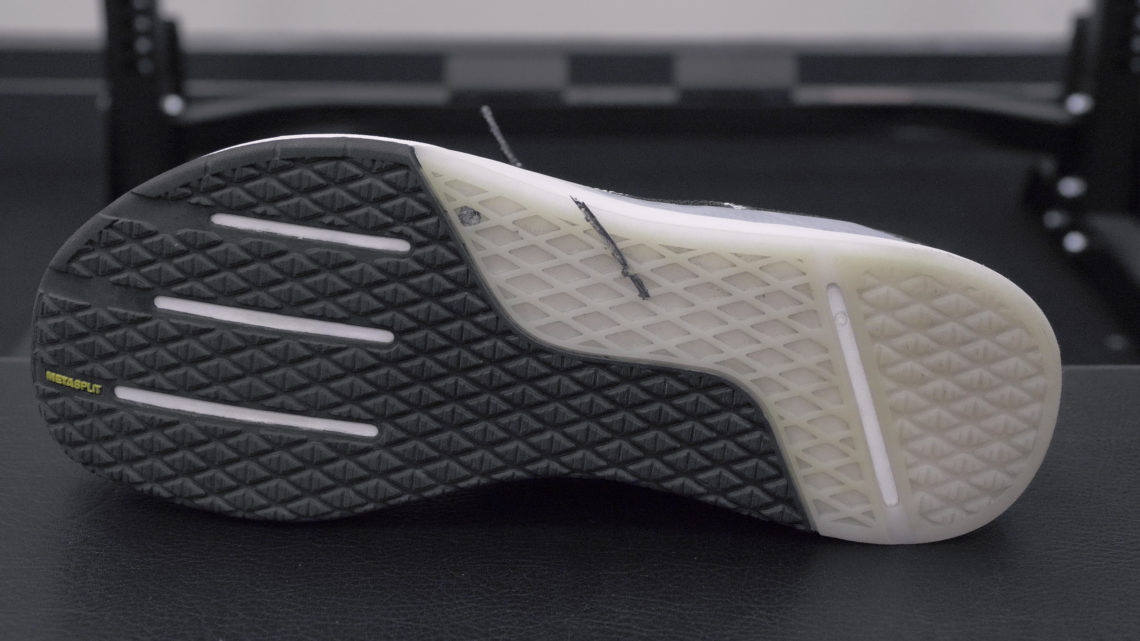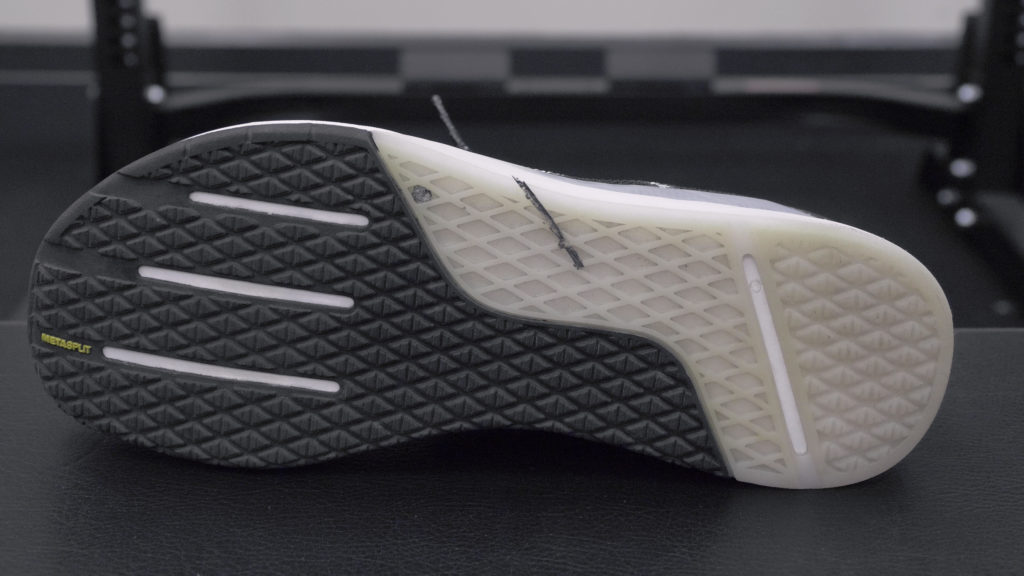 One of my favorite construction changes on the Reebok CrossFit Nano 9 is the split outsole. There is nothing inherently wrong with full material outsoles on cross training shoes, however, I did think the split in this model's outsole made it much more comfortable for longer runs. For example, there was never a ton of slap on the forefoot when doing sprints. This lack of slap could also be credited to the Metasplit design Reebok uses (the three lines above).
Performance
With every pair of cross-training shoe, I always perform the same regimen of tests to accurately gauge and compare models. My first test is focused on comfort and wearability. How do the shoes hold up on a daily basis? For this test, I wear the models on my commute that consist of roughly walking 1-3+ miles. The second test I use focuses on the stability of the cross training shoe under heavy weight in the squat and deadlift. The final tests include reactivity and maneuverability tasks. For example, I note how the shoe performs during various plyometric and cardio-based activities.
Below, I've included a quick chart of some of the movements I use to assess performance, comfort, and stability. Every category receives a 1-10 score with 10 being the best of the best for a section.
| | |
| --- | --- |
| Movement Test | Rating + Note |
| Back Squat (Up to 315 lbs) / Deadlift (up to 455 lbs) | 9/10 — Very limited signs of compression |
| Box Jumps and Side Shuffles | 8.9/10 — Reactive and maneuverable |
| Sprints (HIIT Workout) | 9.3/10 — Outsole limits slap and midsole is reactive |
| Walking to Work | 9.2/10 — Overall comfortable and breatheable |
Reebok CrossFit Nano 9 Performance Perks
Overall, I've enjoyed training in the Reebok CrossFit Nano 9 and haven't noticed any major pitfalls with the shoe. As a whole, I think the design is intuitive to promoting comfort, stability, and maneuverability. In the squat and deadlift, these shoes perform well and resist compression similar to other stable cross trainers. On runs and jumps, the split outsole and softer midsole offer a reactive platform that can accommodate for pretty much any task you throw at them. My favorite performance trait in the Nano 9 is the slightly thinner cast they used in the model (it's designed slightly slimmer).
Reebok CrossFit Nano 9 Performance Drawbacks
Personally, I didn't find any major drawbacks with the Reebok CrossFit Nano 9. However, I did have one nitpick with a minor construction detail and this shoe's performance. The forefoot bunching was a bit annoying when trying to really pull the shoes tight. It didn't hinder performance, but I did notice it with my toes.
What CrossFit Athletes Had to Say
Annie Thorisdottir: I was a big of the 4, a bigger fan of the 6, and an even bigger fan of the 8. I was so excited when this shoe came out and it had all of the construction traits that I loved about the 8. However, my favorite part of this model is that the midsole is a little bit softer and I can run longer distances in them. I really like that I don't have to over think my shoes now when it comes to my workouts. 
Rich Froning: I've had this shoe for about three or four months and it's almost indestructible. I've climbed the rope probably 200+ times in the pair I have, and usually you get the material that starts to breakdown on the outsole, but this model barely has any breakdown. I also love that I don't have to think about what I'm training and then pack my shoes accordingly, or feel limited in what they can do. It's crazy to see how far this shoe line has come since the first Nano model. 
Durability
It's tough to provide a full in-depth assessment of this shoe's durability, as it hasn't been on the market for too long. One way we can subjectively assess this shoe's durability is by looking at other Reebok models that have good durability ratings, then comparing them to this one. Overall, I think the Nano 9 has construction traits to make it last. For example, it has the additional TPU wrap, strong outer Flexweave, and strategically placed additional material on the toe.


In my tests, I didn't notice any immediate red flags for durability. When I spoke with Rich Froning about this model, I made sure to ask specifically about the durability. He stressed that the durability of the Nano 9 was one of the best yet for Nano models, and that he's tested them over the last few months. 
Price
The price for the Reebok CrossFit Nano 9 comes out to $130.00 USD. This price is in line with other new Reebok Nano models and cross trainers on the market. If you're interested in the latest and greatest, and also want a shoe that's the jack of all trades, then the Nano 9's price could be justified.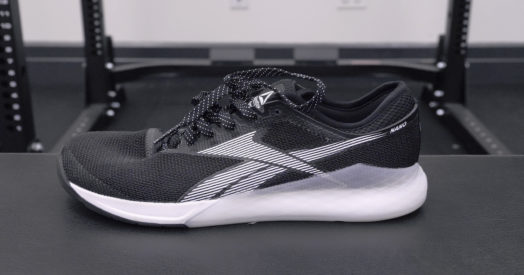 The Reebok CrossFit Nano 9 offers a newly constructed midsole for comfort and a reworked outer Flexweave to improve performance and comfort in cross training workouts.
Wrapping Up
All-in-all, I have to say, I'm a fan of the new Reebok CrossFit Nano 9. Often times, I'm hesitant of new cross training models that make a ton of promises, but the Nano 9 has held true to a lot of the reworked construction feature's goals. I like the new outer Flexweave construction, reworked midsole, and split outsole. I think they accommodate for performance and comfort well. My only real gripes with this model include cosmetic details.
If you're looking for a new all-in-one kind of shoe and like the latest, then the Nano 9 will be a great bet for you.