We receive free products and receive commissions through our links. See
disclosures page
.
Research suggests that over a third of Americans take multivitamins every day and with such a saturated market, it's not surprising there's such a wide variety of multivitamins you can buy — and they're not all the same.
For one, most micronutrients come in many different forms: some are cheaper, but they might not absorb as well. Some are expensive, but needlessly so. And then there are the capsules in which you get the nutrients: they can cause digestive distress, they might break apart too early, or too late…
These are the factors that Ritual wanted to focus on when they created their new men's multivitamin: they wanted ingredients that are traceable, absorbable, and friendly on sensitive stomachs.
The offering we're looking at today is the Essential Multivitamin for Men aged 18 to 49. (They have a separate multivitamin for the 50+ crowd.) The company sent us a 30-day supply of 60 tablets to try out, and in this review we're going to be discussing:
Editor's note: The content on BarBend is meant to be informative in nature, but it shouldn't take the place of advice and/or supervision from a medical professional. The opinions and articles on this site are not intended for use as diagnosis, prevention, and/or treatment of health problems. Speak with your physician if you have any concerns.
Ritual Essential Multivitamin for Men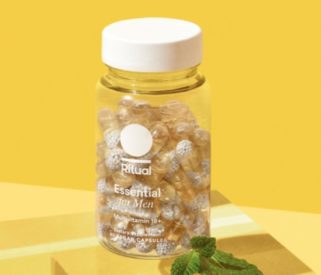 Ritual Essential Multivitamin for Men
A handsome multivitamin that delivers a range of nutrients men tend to fall short on.
What's in Ritual's Essential for Men?
Research suggests men are worse than women at eating enough fruits, vegetables, and whole grains.(1) Ritual writes on their site,
According to recent data, men are falling short on key nutrients like magnesium, vitamin A, vitamin D, and more. (…) And that's why multivitamins can be important: to help fill nutrient gaps in your diet.
So Ritual identified the ten nutrients they put in their daily multivitamin based on the reams of research they cite throughout their site.
Here's what you'll get in a pill, where it's from, and why it might be useful.
Omega-3 Fatty Acids (330mg, vegan DHA sourced from algae)
Sourced: Saskatoon, Canada
These fatty acids have links to reducing inflammation and supporting brain, vision, and heart health. It's extremely rare to find plant-based Omega-3s; the only place to get high quality, readily absorbable, vegan Omega-3s is the same place fish get them: algae. Other vegan Omega-3s, that you'll find in nuts and seeds, come in the form of ALA, which the body absorbs poorly — we lose about 90 percent in the digestion process.(2)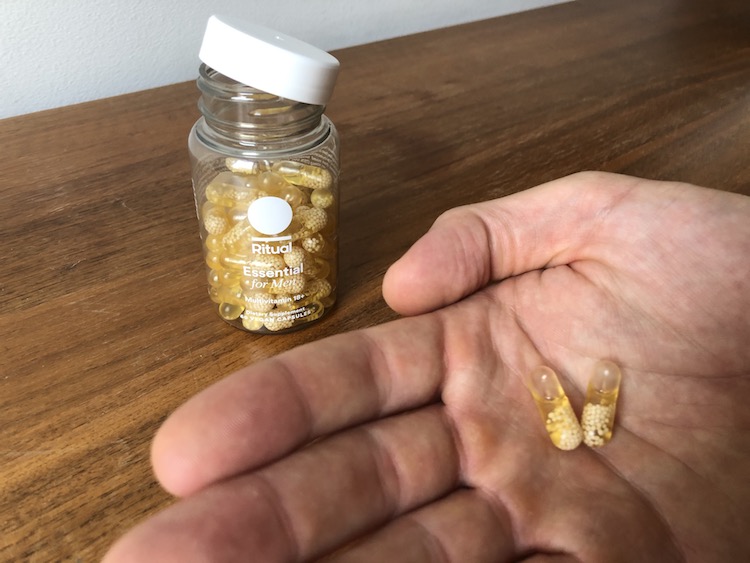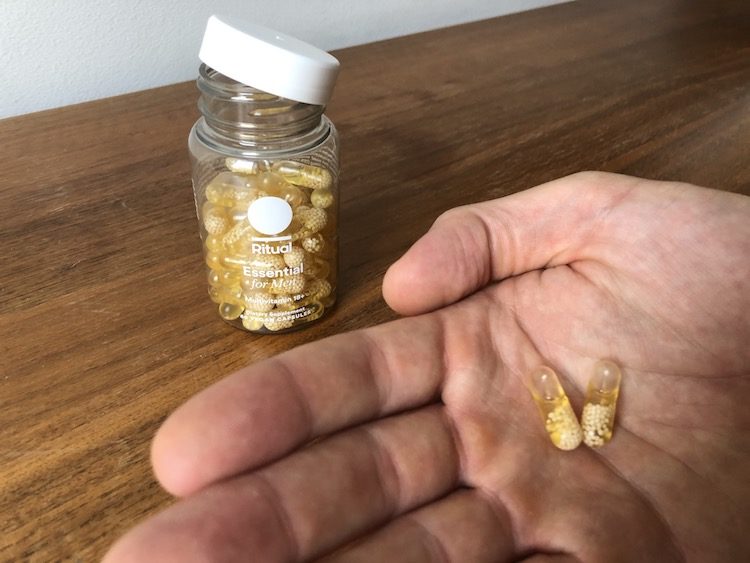 Vitamin A (180mcg/20% RDI, retinyl palmitate)
Sourced: Sisseln, Switzerland
This vitamin may support vision as well as normal immune function. Men require more daily Vitamin A than women, and Ritual uses retinyl palmitate, a form that may be more effective than the more standard alpha- or beta-carotene.(3)
Vitamin D3 (2000 IU/250% RDI, vegan, made from lichen)
Sourced: Nottingham, UK
Many people run low on Vitamin D because you get it from the sun, and we don't tend to spend much time outside naked anymore.(4) Sufficient amounts have been linked to healthy levels of testosterone, supporting normal immune function, and it also appears to be support bone health as it may help calcium to get deposited on your bones, just like…
Vitamin K2 (90 mcg/75% RDI)
Sourced: Oslo, Norway
Fiendishly hard to find in whole foods — K2 is mostly found in fermented foods and organ meat — this vitamin seems to be synergistic with calcium and Vitamin D for bone support. It appears to help deposit the calcium on your bones, as well as maybe supporting heart health and skin health.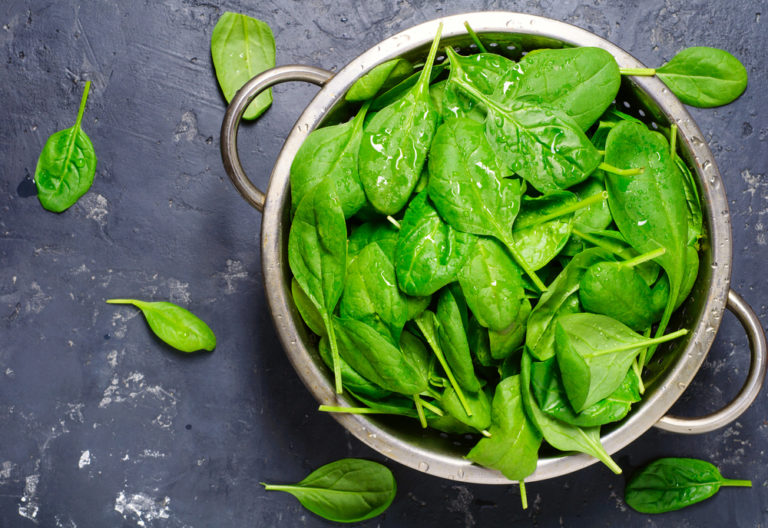 Magnesium (30mg/7% RDI, chelated magnesium malate)
Sourced: Ogden, Utah
Found in large amounts in leafy greens and legumes, magnesium helps with higher quality sleep, relaxation, and improved muscle function.
Zinc (2.4mg/22% RDI, chelated)
Sourced: Ogden, Utah
Zinc may support normal immune function, testosterone production, along with supporting vision and bone health. Men have a higher recommended intake of zinc than women, and given the possible links with hormonal health, it's often a priority for men.
Folate (200mcg/50% RDI, methylated 4th generation folate)
Sourced: Pisticci, Italy
This is a B-vitamin which plays a role in DNA methylation and red blood cell formation. Interesting fact: about a third of guys have a genetic variation that makes it harder to use folic acid, the form you normally find in supplements, so Ritual uses methylated folate instead.
Vitamin E (6.7mg/45% RDI, from mixed tocopherols)
Sourced: Buenos Aires, Argentina
This is an antioxidant with links to skin health, as well as a reduction in oxidative stress. (All antioxidants help to do so.)
Vitamin B12 (8mcg/333% RDI)
Sourced:, Brideport, Connecticut
One of the major functions of this vitamin is to make DNA for new cell growth. An insufficient intake of B12 can mean less energy and stamina.
Boron (0.7mcg)
Sourced: Momence, Illinois
This is not an essential nutrient — at least not at this point in time — but it might help with joint health and bone health. It seems to help to reduce the amount of calcium you excrete in your urine so that more of it makes it to your bones.(5) (Yes, there's a very big emphasis on bone health with this multivitamin.) Some people think boron helps with testosterone production, but research isn't very reliable at this stage.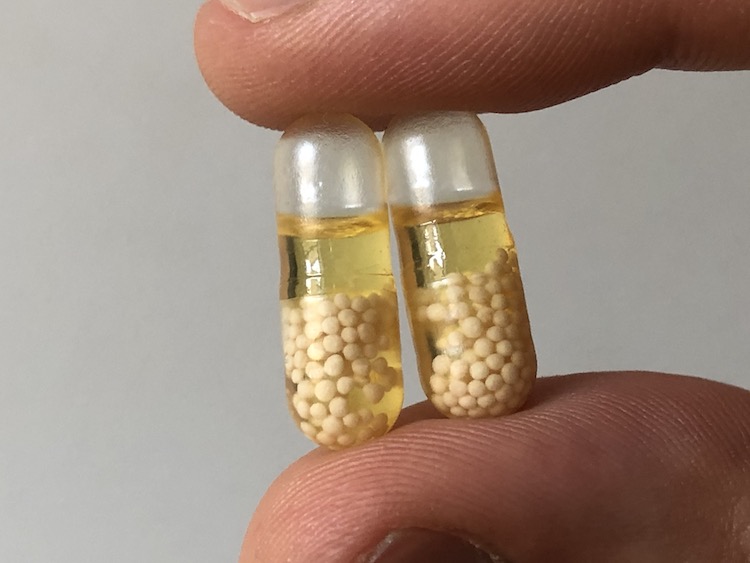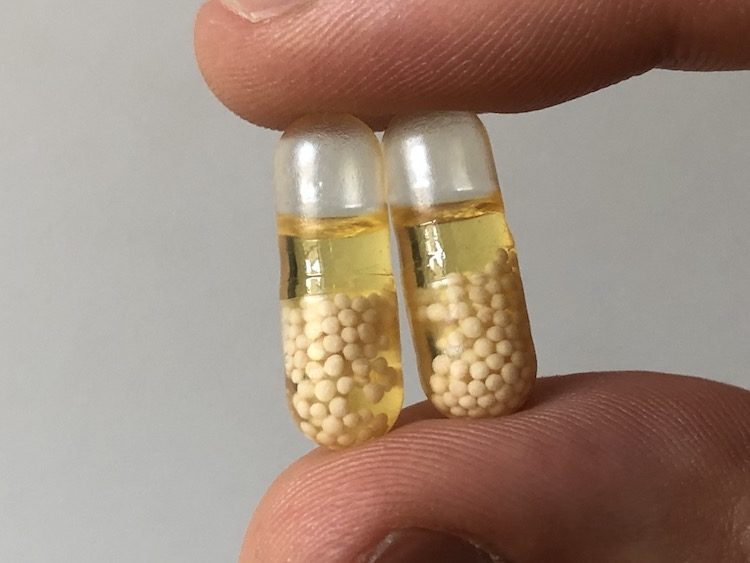 What Is Ritual Missing?
It's worth noting that there are at least two dozen essential vitamins and minerals out there — some say there are thirty-one, some say twenty-six, but let's say there are at least twenty-four.
In Ritual, you're getting eight vitamins and minerals and two ingredients that aren't essential micronutrients: boron and Omega-3 fatty acids.
So Ritual doesn't have every essential nutrient, just the ones they think you, as a man, might need more of. This is fair enough: relatively few people need to supplement with extra Vitamin C or extra Vitamin B5, which is called pantothenic acid because it's present in almost everything you eat. (Pan is a prefix meaning 'everything' in Greek.)
That said, I would have liked to see more of some nutrients. We wrote out the amount you'll get in each serving above, and you might have noticed there's just 7 percent of the recommended daily intake (RDI) of magnesium. That's probably the biggest letdown with the product, but there's also 22 percent of your daily zinc and 330 milligrams of Omega-3s — normally, people supplement with one or two grams of Omegas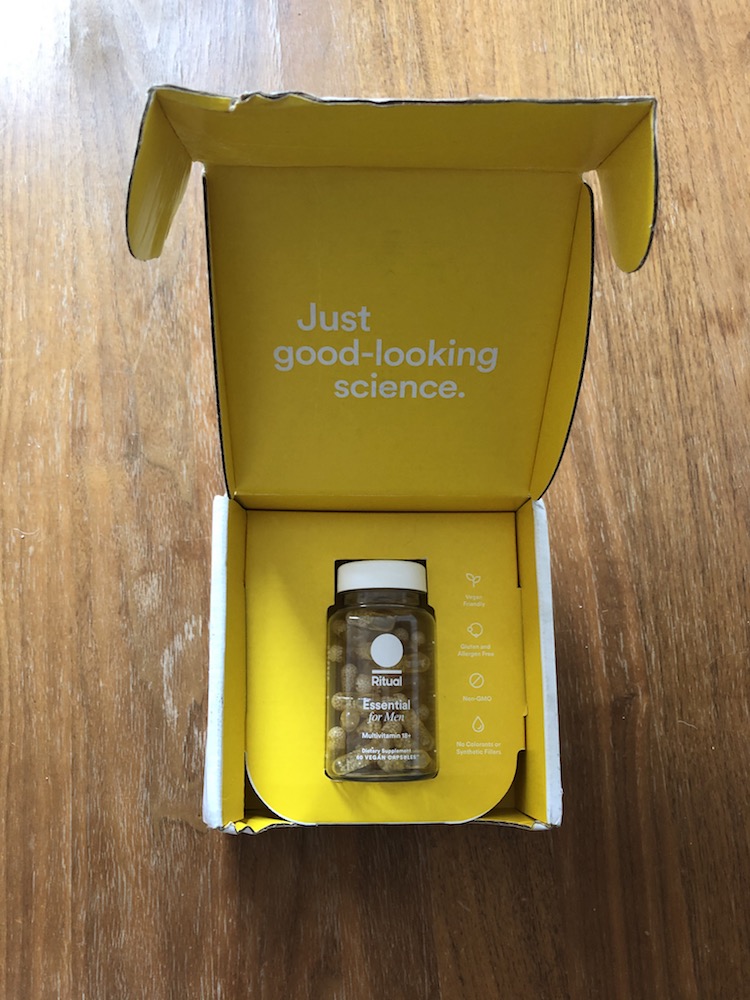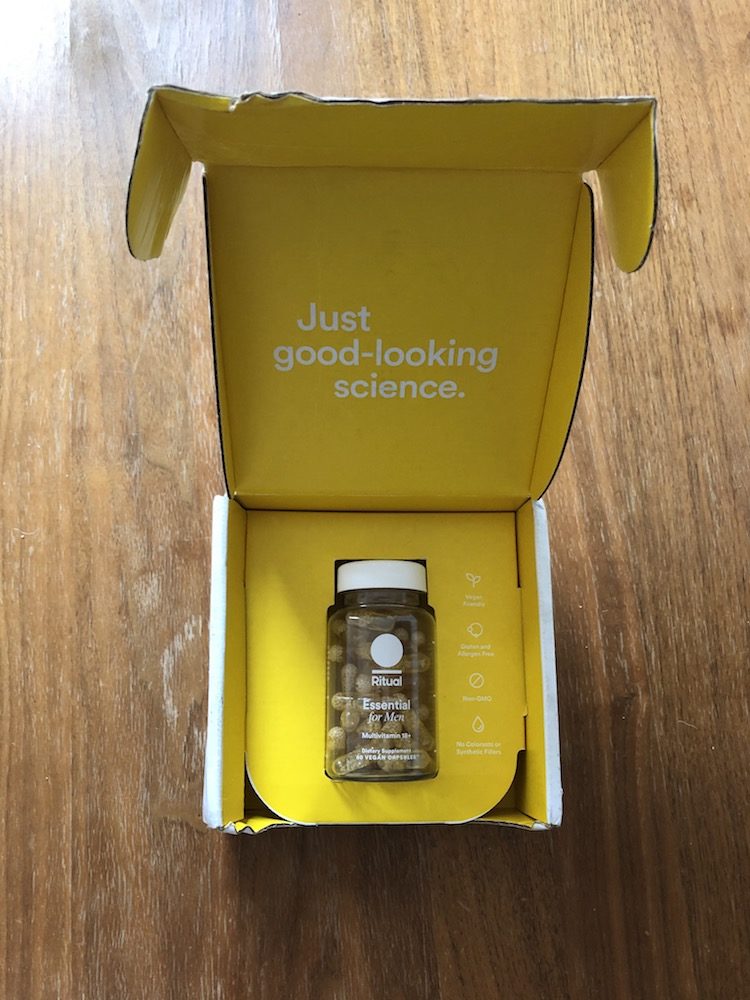 What Makes Ritual Different?
There's a big emphasis on transparency and digestibility. For transparency, you're told how much there is of every nutrient (no proprietary blends here) and even where it was sourced.
For digestibility, there are a couple of things to point out. First, the capsule: everything is contained in a slow-digesting capsule designed to bypass the stomach and dissolve in the small intestine. This might improve the absorption and reduce the chances of experiencing digestive discomfort if pills tend to give you an upset stomach.
Second, the nutrients themselves: most are in unusual forms that might be more easily absorbed. Examples include chelated magnesium malate instead of the popular magnesium oxide, which is cheaper but much more likely to be eliminated in diarrhea; the vitamin E is in mixed tocopherols, which might mimic the Vitamin E you get in whole foods better than the more standard alpha tocopherols; the methylcobalamin form of B12 might be more active than regular cyanocobalamin, and so on.(6)
The focus on digestion and absorption is what really differentiates this product in the market.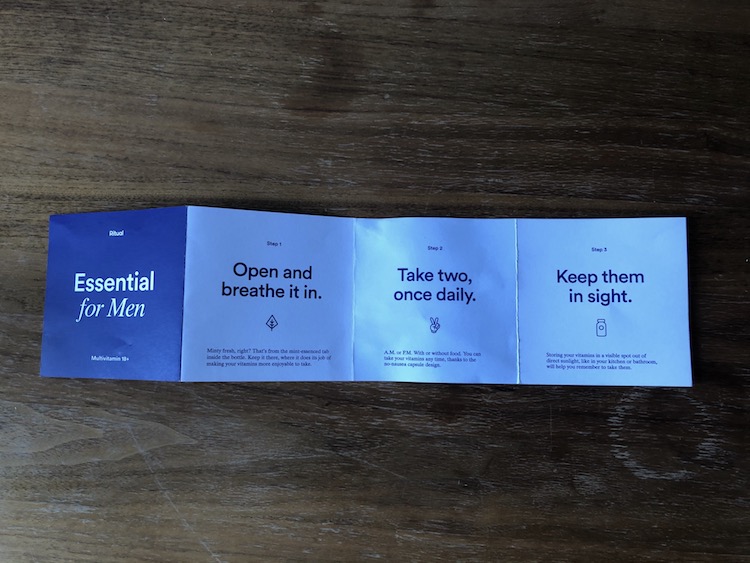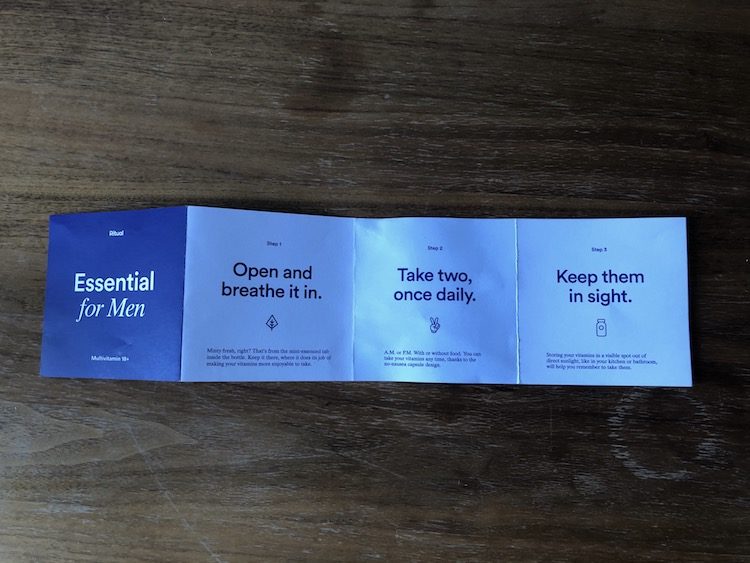 Ritual Essential for Men Price
A month's supply will run you $30, or $1 per day. Given the more expensive versions of these nutrients, this is actually very reasonably priced — the average vegan Omega-3 product costs more than this, and Ritual delivers a suite of other nutrients as well.
Ritual Essential for Men Pros & Cons
After trying out this product and giving the ingredients list a lot of thought, these are the pros and cons I identified.
Pros
Many people run low on many of these nutrients; the selection of these ingredients is clearly well researched.
Ritual takes care to source absorbable forms of these nutrients.
The capsule may digest and absorb more easily due to the slow-digesting capsule.
It may be a good pick for those with sensitive stomachs.
The bottle contains a tablet of food-grade peppermint to give it a surprisingly enjoyable smell and taste.
It's rare to find vegan Omega-3s or vegan Vitamin D, but Ritual has made a totally vegan-friendly supplement.
Cons
This is a relatively simple multivitamin in that there are only eight essential vitamins and minerals in here — it's not the most comprehensive product on shelves.
Ritual is relatively low in magnesium, zinc, and Omega-3s.
The bottle isn't childproof.
The capsules contain cellulose and non-GMO corn, which some try to avoid in their supplements.
It's not a customized multivitamin. Some brands tailor the nutrients they send you based on a questionnaire about your diet, but Ritual is "one size fits all."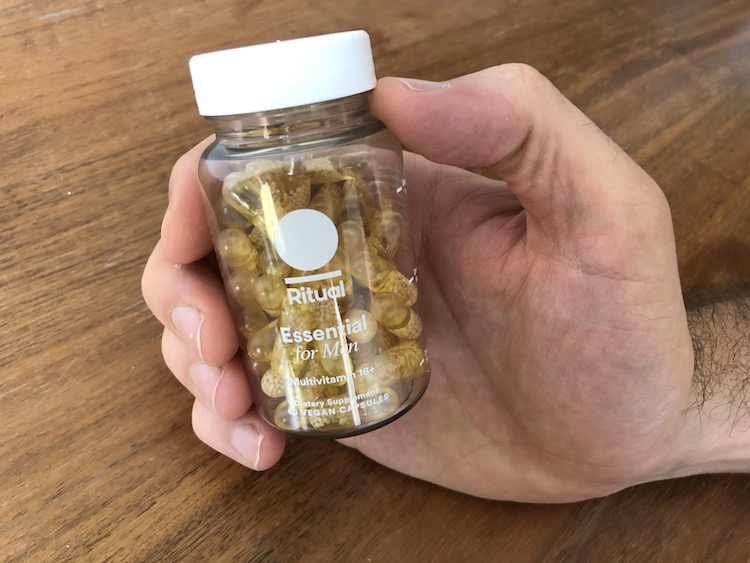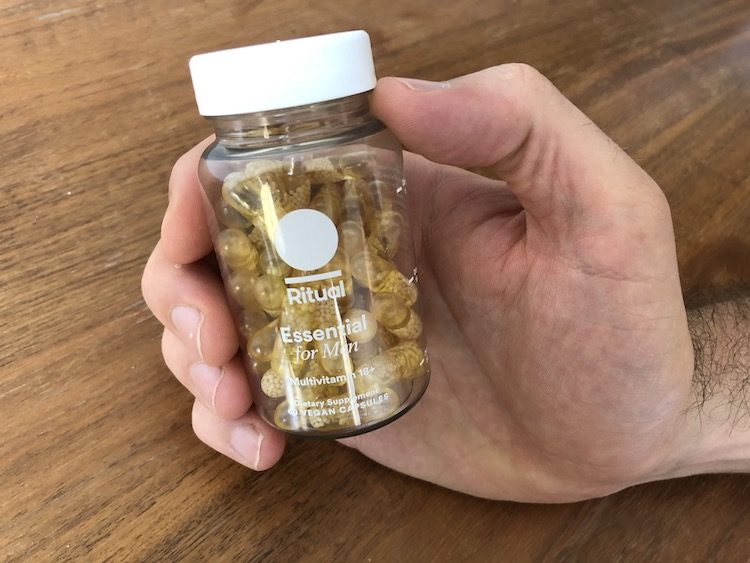 The Takeaway
Ritual has made a surprisingly cost-effective multivitamin that looks great, smells great, and delivers highly absorbable nutrients in a well-designed capsule. I would have preferred more magnesium and zinc, but it's true that you don't need to supplement with every single micronutrient under the sun. There's plenty of Vitamin D and a decent amount of Omega-3 and K, and given the value, this could be a desirable multivitamin for some people.
References
1. Reedy, J et al. Evaluation of the Healthy Eating Index-2015. J Acad Nutr Diet . 2018 Sep;118(9):1622-1633.
2. Davis, BC et al. Achieving optimal essential fatty acid status in vegetarians: current knowledge and practical implications. Am J Clin Nutr . 2003 Sep;78(3 Suppl):640S-646S.
3. Pizzorno, L. Nothing Boring About Boron. Integr Med (Encinitas). 2015 Aug; 14(4): 35–48.
4. NHIS – National Health Interview Survey Homepage. (2020, March 16). Retrieved from the CDC.
5. Ginde, A et al. Demographic Differences and Trends of Vitamin D Insufficiency in the US Population, 1988–2004. Arch Intern Med. 2009 Mar 23; 169(6): 626–632.
6. Wolf, G et al. How an increased intake of alpha-tocopherol can suppress the bioavailability of gamma-tocopherol. Nutr Rev . 2006 Jun;64(6):295-9.
Ritual Essential Multivitamin for Men
Per Day: $1
Pros
Nutrients are highly absorbable
Focuses on hard-to-obtain nutrients
Well priced
Capsule may be friendlier on sensitive stomachs
No proprietary blends
Cons
Relatively low in magnesium and Omega-3
Doesn't contain most vitamins and minerals
Bottle isn't childproof
Not customizable