There's no shortage of multivitamin brands popping up on my Instagram feeds that promise to amp-up my health-game one supplement at a time. But thanks to their aesthetically pleasing packaging, millennial-focused marketing, and less-is-more approach, there are two brands I see more than any others: Ritual and Care/of.
As part of a larger mission to invest in my wellness and boost my workout recovery, I decided to try both supplements out. While both supplements are subscription-based, wildly Instagrammable, and transparent about ingredients, they come with a few differences. The main difference is their ingredients, which is ultimately reflected in user experience.
Right off the bat, it's important to note that that Care/of is customized— which means what's in your daily packet may be different than what's in mine. On the other hand, Ritual Essential for Women is the same product for every user—which means what you get will be the same as what I get.
In this women's multivitamin comparison article of Ritual and Care/of, we'll discuss a few important points. First, I'll walk you through the experience of the initial purchase, then I'll go on to break down the difference in ingredients, and share what I see as the benefits and drawbacks of each after taking each for a full month. Hopefully, by the end of this article, you'll have a better idea of which women's multivitamin— Ritual or Care/of— would best serve your individual health needs and goals.
Ritual Essential for Women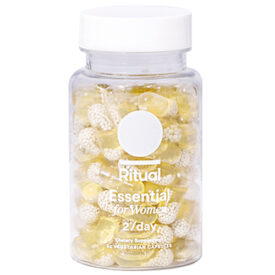 Ritual Essential for Women
A subscription-based multivitamin with incredibly transparent ingredient sourcing, easy-to-take capsules, and a minty scent. Each dose only contains nine ingredients. 
Best Personalized Multivitamins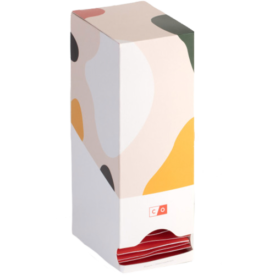 Care/of creates custom multivitamin packs based on a user's response to their online quiz. Each pack can include a variety of supplements tailored to the user.
How We Compare
So what methodology are we using to determine which women's supplement is the best? What we first need to do is clarify that what we're really trying to do is help you figure out which product is better for your specific needs. For example, one may appeal more to the chronically-stressed or avid-exerciser, while the other may be more beneficial for the average joe (er, jane).
[Check out our full list of the Best Women's Multivitamins on the Market!]
Maybe you're vegan. Maybe you're all about herbs and Ayurvedic medicine. Maybe your digestive system has a tough time with iron. All of these factors will come into play for which you ultimately choose. So anything listed as a pro or con isn't A Rule. Instead, it's to point out what may be a potential pro or con for a consumer.
Note: Multivitamins shouldn't be seen as replacements for a healthy diet or medication. It's always a good idea to talk to your doctor before beginning a new fitness, nutritional, and/or supplement routine. Individual needs for vitamins and minerals will vary. The list below simply includes our favorite brands and shouldn't be taken as medical advice.
Ingredients
Again, Care/of is customized for each user. The ingredients in my Care/of daily packets were quite different than the ingredients in Ritual. This isn't necessarily a good or bad thing, but below I'll list the ingredients in my personal Care/of packet and Ritual.
Company Transparency
And as much as we care about ingredients, we also care about where those ingredients are coming from, how they're sourced, and if the ingredients in a form that are bodies know what to do with. There's nothing worse than spending green on a supplement, only to feel like it's either not delivering what the label says or going right through you.
[Read our full Care/of Vitamins review.]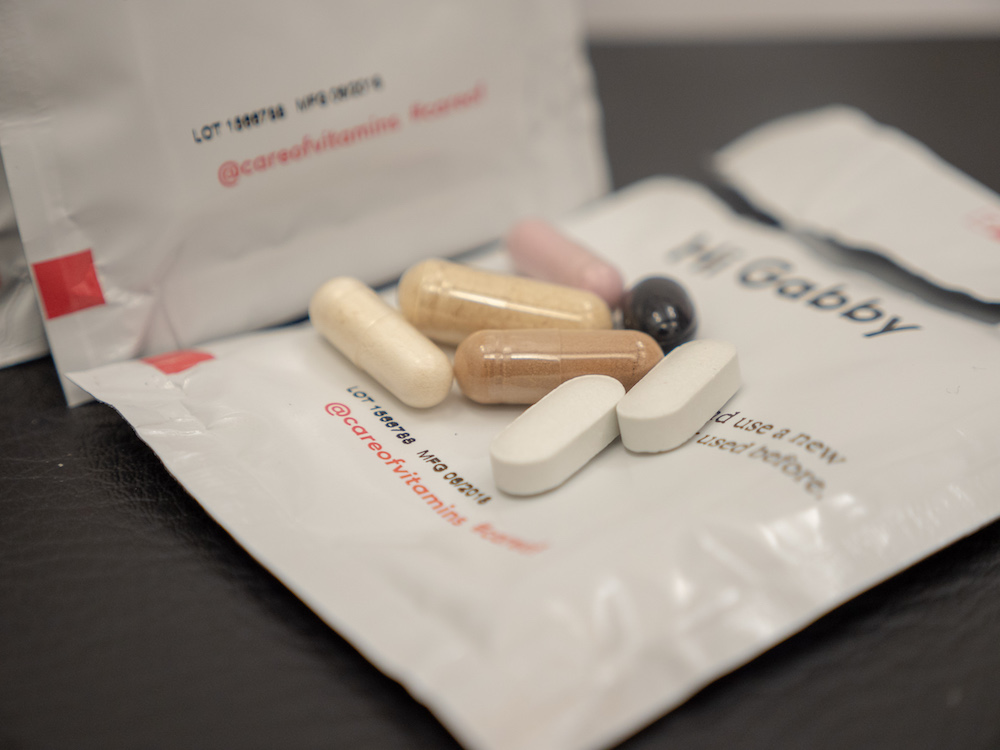 Additives
Almost every supplement and vitamin out there has a few extra ingredients for the pill capsule itself, or coating. This isn't a value judgement as most are objectively harmless. But later in the article I'll point out the extra ingredients in both Ritual and Care/of.
User Experience
I a multivitamin tastes or smells like a trashcan, I'm not going to take it consistently. I'm also not going to take it consistently if it gives me fish-burps, upsets my stomach, or turns my pee a brilliant shade of orange (a sign that my body isn't absorbing the ingredients). If the multivitamin doesn't give me indigestion that's a big plus. If multivitamin doesn't get stuck in my throat when I swallow, that's another plus.
[Read our full Ritual Essential for Women review.]
Effectiveness
Well… do they work?! For this comparison, I took both Ritual and Care/of for one month. I took Ritual one month, took nothing for a month, then took Care/of for a month. Below I'll share a bit about what I did and did not experience during my 30 days of each. Of course, you may have an entirely different experience with the supplements.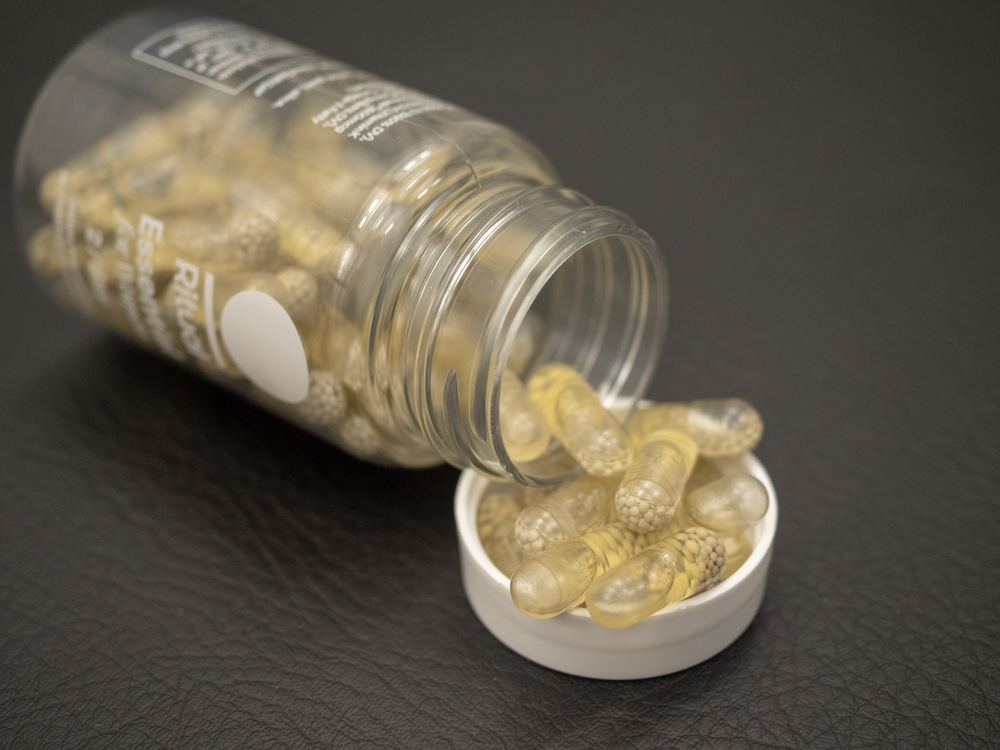 Price
In the multivitamin space, there is a lot of variation in cost per serving. The prices vary based on ingredients, where the ingredients are from and how they are sourced, the brand, and the type of payment model they use (subscription vs. single unit), which I take into account when deciding whether or not the price is reasonable.
The Companies: Ritual vs. Care/of
The initial purchasing experience of Care/of and Ritual was quite different because while both are a vitamin delivery service, Care/of sends its customers customized packets with supplements based on their answers to a few questions about goals, lifestyle, and values. Like I've said,, that means that what ingredients I get in my Care/of delivery is different than what you might get. Ritual on the other hand is not customizable. Instead, Ritual has one women's daily vitamin called Essential for Women which all Ritual users take.
Ritual
Ritual Essential for Women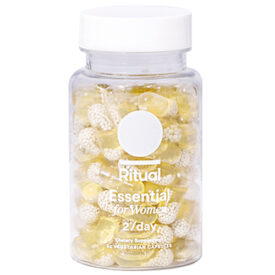 Ritual Essential for Women
A subscription-based multivitamin with incredibly transparent ingredient sourcing, easy-to-take capsules, and a minty scent. Each dose only contains nine ingredients. 
The time between when I decided to try Ritual and when my first shipment was on its way was approximately six minutes. I set up an account where I gave easy-to-answer info such as my email address, address, and credit card. Badabing, badaboom.
Care/of
Because Care/of sends you customized vitamin packets based on your answers to their get to know you quiz, you have to take the get to know you quiz to see what they'll actually be sending.
Best Personalized Multivitamins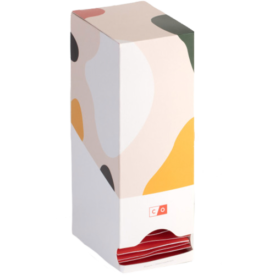 Care/of creates custom multivitamin packs based on a user's response to their online quiz. Each pack can include a variety of supplements tailored to the user.
Sure, that makes sense. But it also means you need a bit of time to thoughtfully answer their questions to get ingredients that you'd actually benefit from. In my experience, the quiz took about ten minutes.
The first questions was, "What's your name" (which is information Ritual also requires you provide), but after that the questions were anything but run-of-the-mil. The rest of the quiz touches on four categories: basics, goals, lifestyle, and values (which includes info about your specific diets/eating plan, allergies, and perceived sleep quality.) An example includes: Is your stress: 1) Causing fatigue (deadline keeping you up at night). 2. Feeling burnt out (built up everyday stress). 3. Neither.
After I finished up the quiz, Care/of took me to their list of ingredients that they recommended based on my answers to the quiz. From here I had the option to modify the selection if I wanted. I choose to trust this quiz (reminiscent of a teen magazine) and ordered my month supply.
From clicking the brands URL to pressing order, the whole process took about fifteen minutes.
Ritual Vs. Care/of Ingredients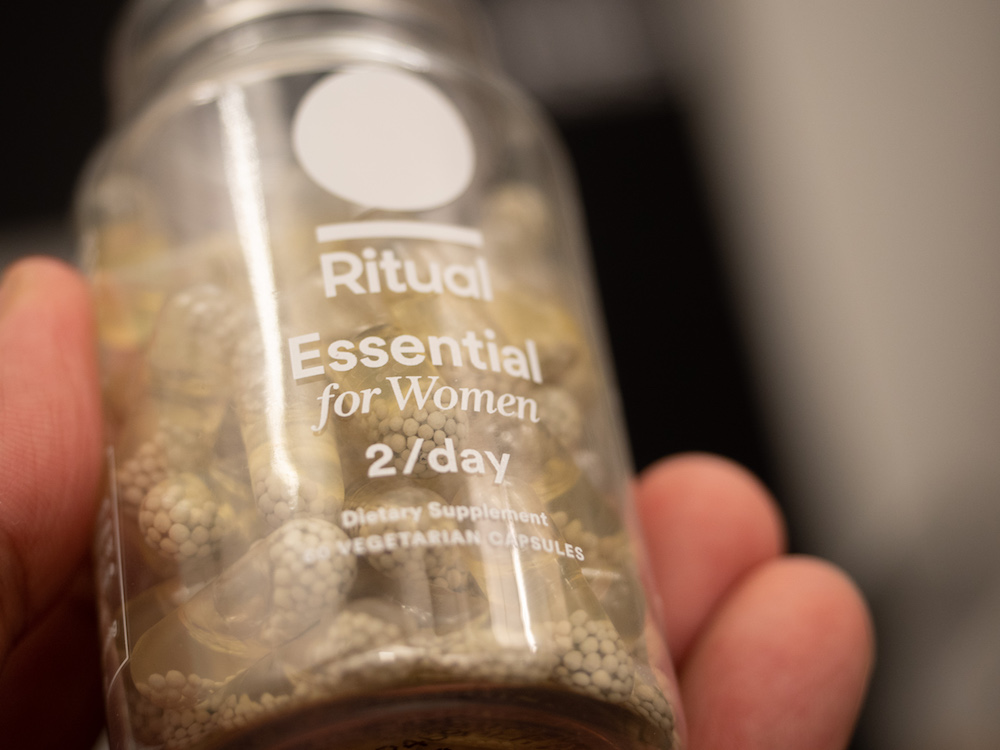 Care/of offers over 30 different supplements (including vitamins, herbs, minerals, probiotics, speciality supplements, and quick sticks) which they may recommend for your personal packs depending on your answers to the quiz. My personal "Made for Gabby" blend contained 6 ingredients. I'll outline what was in my personal pack below, but it's important to note that your mix will be different. Ritual has only one multivitamin called Essential For Women which always contains the same 9 ingredients.
You'll notice that only two ingredients are in both: Magnesium and Vitamin D. First I'll compare the amount and effectiveness of each of these two ingredients in Ritual and Care/of. Then, I'll break down the other ingredients in each.
Both Care/of and Ritual contain Vitamin D. Vitamin D is involved in almost everything we do like supporting immune health, reducing inflammation, regulating the way your body uses insulin, helping athletic performance, supporting sexual health, improving mood, and even aids in more efficient weight loss. While Vitamin D, is known as the "sunshine vitamin", relying on the sun as your primary vitamin D source isn't realistic, especially in the winter. Because it's tricky to get Vitamin D from food, many people opt for a supplement.
Interestingly, when I took Care/of before bed I noticed that I had hard time falling asleep each night, which I thought was from the Vitamin D content. Yet, Ritual has twice as much Vitamin D content as Care/of (2000 IU compared to 1000 IU) and I didn't experience any bed-time jitters when I took it in the pm. While I can't say for sure why this would be, I suspect it has to do with the type of Vitamin D used.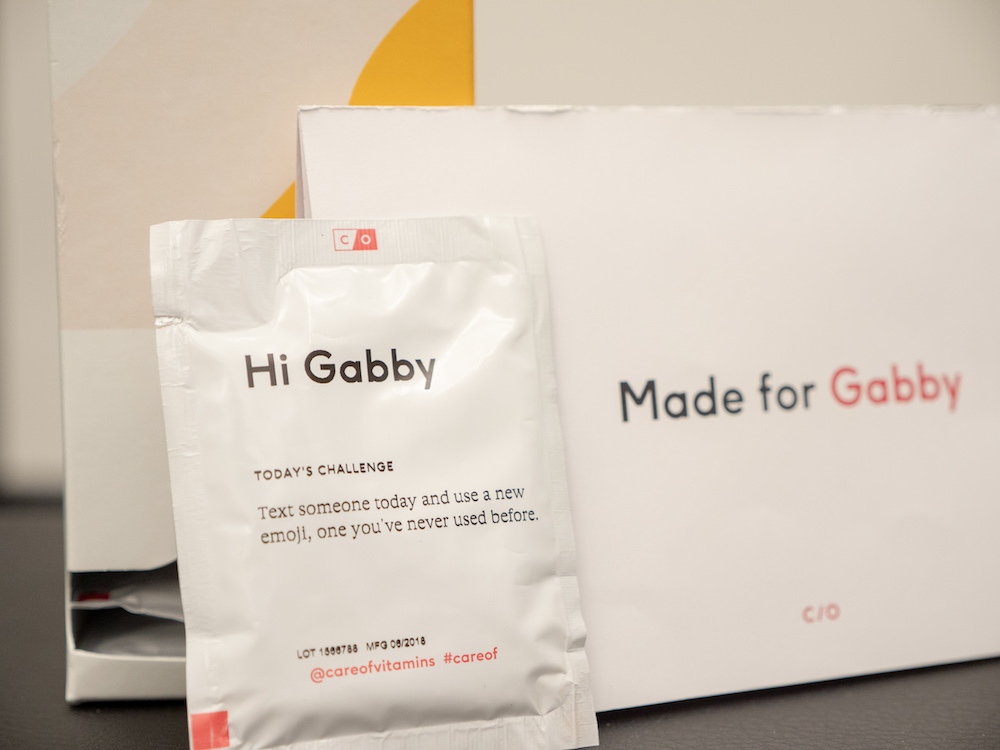 Care/of uses a Vitamin D that is fermented with probiotics and organic foods, which they say makes it easier for your body to digest and absorb. Ritual uses Vitashine™, the world's only Certified vegan D3 ingredient made from a UK-sourced lichen.
The other ingredient in both is Magnesium. Magnesium is a mineral with some serious perks: stronger immune system, healthier heart and bones, and reduced stress. In my opinion, it's ability to help fight stress is its number one perk. Here's how it works: when you're stressed, your body's natural magnesium store gets used up, which according to a study published in a Russian journal, can in turn make you even more stressed out.
While you'll notice that Care/of has a few stress-busting ingredients (rhodiola, ashwagandha, magnesium), reduced stressed was the number one effect I felt from taking Care/of. This could be because it has 4 times as much magnesium as Ritual.
Ritual:
Vitamin E 10 IU
Vitamin K2 MK7 90 mcg

Magnesium 50 mg
Vitamin B12 8 mcg

Iron 8 mg

Vitamin D3 2000 IU
Folate 600 mcg
Boron 1 mg
Omega-3 Fatty Acids DHA & EPA 320 mg
Other ingredients:Beadlets (cellulose, corn zein), delayed release vegetarian capsule (hypromellose, gellan gum) silica, natural vanilla flavor, peppermint oil.
Care/of
Ashwagandha 600 mg
Astaxanthin 6 mg
Magnesium 400 mg
Probiotic Blend 5 Billion Active Cultures
Rhodiola 250 mg
Vitamin D 1000 IU
Other ingredients: hypromellose (ashwagandha capsule shell), organic rice hull concentrate, organic rice extract, organix gum arabic, organic sunflower, extra virgin olive oil, the astaxanthin softgel (made of gelatin, water, vegetable glycerin, haematococcus pluvialis extract, d-alpha tocopherols, microcrystalline cellulose, vegetable stearic acid, film coating in the magnesium pill (hydroxypropyl, cellulose, glycerine, silica, organic tapioca maltodextrin, hypromelloses, gellan gum, water, culture media, and beet juice color.
While Ritual contains Folate and Care/of does not, Care/of asks if you are pregnant or trying to become pregnant in the quiz. I suspect that if had answered "Yes" to either, my personalized Care/of packet would have included folate, too.
Additionally while Ritual contains iron, in its quiz, Care/of asks about your specific eating plan. I suspect that Care/of did not recommend an iron supplement for me because I am not vegan or vegetarian and therefore am less likely a deficiency. I also suspect that Care/of did not recommend an Omega-3 fatty acid supplement for me because there was a question about how many times a week you eat fish, and I responded that I eat it at least 2 to 3 times a week.
Ritual Vs. Care/of Transparency
Ritual Essential for Women
Ritual may not use a quiz to decide what to put in your supplement. But apparently, Rituals' in house researchers combed through thousands of studies to find out: what nutrients women are most commonly lacking and which form of the nutrient our body is best able to digest. The resulting product is those 9 nutrients in the form they found is best absorbed in our body.
In my opinion the number one thing that sets Ritual apart is its transparency. Ritual provides where in the world each of the 9 ingredient is from, an explanation of 'why' the ingredient is essential, and the research that explains why each ingredient is in the form it's in, for consumers who want to know more. You can literally find out the exact town and manufacturer of each ingredient.
Care/of
Care/of may not provide the granular details of what town an ingredient comes from, but after you take the quiz, Care/of explains exactly why they're recommending those ingredients by pointing to research and studies.
For more info, on the website, Care/of provides more information on all of the supplements they offer in both easy-to-digest (pun intended) bullet-points, and very in-depth one-pagers that include benefits of that supplement, an explainer on it's particular form, info on who's most at risk for deficiency, and info on dosage, ingredients, and possible allergens.
Ritual Vs. Care/of First Impression
Both Ritual and Care/of work on subscription-based service, which means two things: 1) you're automatically sent a 30-day supply every month. And 2) If after your first month you want to cancel … you have to actually cancel, or you'll get charged for and set another 30 day supply.
Ritual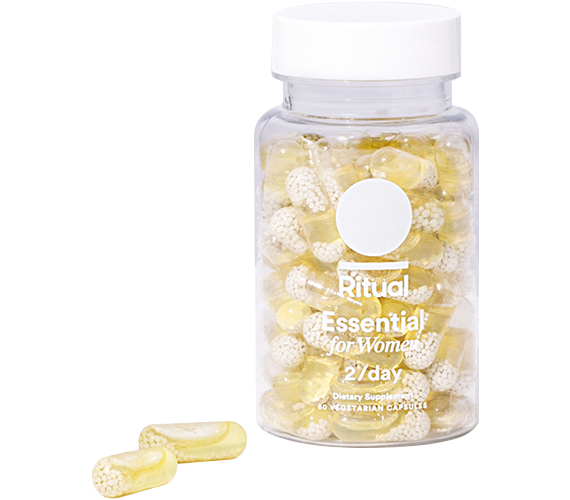 When my first package of Ritual arrived at my doorstep I felt like a little-kid on Christmas (not an overstatement). Delivered in a cute, grammable, and sunshiney yellow package—the vitamin was the most guilt-free thing I'd ever ordered.
Plus, while the instructions are easy-enough—all you have to do is take two pills any time of day with or without food— each delivery comes with a little booklet of instructions reminding you how to take them and what's in them.
Care/of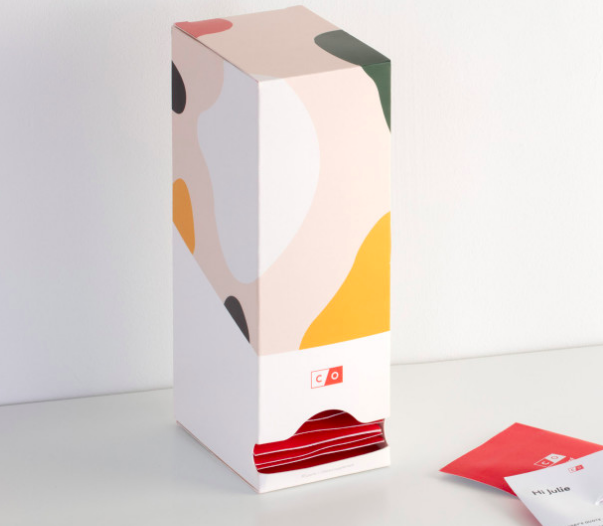 By the time I tried Care/of I had already experienced the delight of receiving an aesthetically pleasing (non-Amazon) package in the mail. But receiving Care/of was just as joy-producing as receiving Ritual.
Inside the box was not only my personalized packs, but also a cute dispensary, a set of easy to read instructions and an outline of my personal ingredients. What can I say? I'm a sucker for cute packaging and user-friendly instructions.
Ritual Vs. Care Effectiveness
Ritual
Ritual is a multivitamin, that means it's not a cup of coffee or shot of espresso. It didn't give me a jolt of energy nor did I notice any other immediate difference.
After taking Ritual every evening for a month, I didn't feel any different. According to Rituals website, this is normal. While many people feel a difference within 1-2 weeks, some, like me, don't notice anything at all.
While I can't say for sure whether or not Ritual is doing anything for me on the inside, the fact that my pee color or odor have not change at all suggest that I'm actually absorbing and using the nutrients in the pills (as opposed to peeing them out).
Care/of
The month before I started taking Care/of I was super duper stressed, which I indicated in my answers to the quiz. And I have to say 30 days of taking my packets later, I am actually less stressed. Maybe it's because I started a gratitude journal a little over a month ago. Maybe it's because my workload has started to become more manageable. Or maybe it's actually from the stress-reducing properties of the rhodiola-ashwagandha-magnesium combo. While I'm not sure exactly what to credit this reduction in stress to, I'm happy for it.
Ritual Vs. Care/of Price
From my experience, multivitamins fall into two camps: multivitamins you can find at your local drug or grocery store that cost $15 to $20 for a month (or even two- or three- month supply), and "designer"multivitamins (like Ritual and Care/of) which are a pricier.
If price is your main concern, I'd go with Ritual, but I'd recommend choosing one based on your health and wellness needs.
Ritual
Ritual is $30.00 per month, or $1.00 per day. A perk of Ritual is that if you aren't happy after your first bottle, Ritual picks up the tab.
Care/of
If you order Care/of the minimum you're going to spend is $20.00. But the more supplements in your personalized pack, the more expensive the monthly fee. My personal recommendations, came to a total of $47.00, which is $1.56 per day. While $47.00 is a expensive for a multivitamin per month, the average price for a 30 day supply of probiotics is $20.00. Considering, I got both a probiotic and a vitamin-mix for the price, I think what I paid is fair.
Wrapping Up
In this article there is no overall winner, as I felt an boost in my overall wellness with both. Ultimately, I preferred actually taking Ritual because there was only two pills (as opposed to seven with Care/of) and the taste was minty. But I did feel that Care/of better addressed and remembered my stress levels.
In some ways, I felt that Ritual was actually a multivitamin, while Care/of was stress-busting cocktail.
| | |
| --- | --- |
| Ritual | Care/of |
| Only 2 pills | Many pills, depending on personal mix |
| Tastes minty | No taste |
| No upset stomach when taken with or without food, could take any time of day | No upset stomach when taken with or without food, needed to take in the morning or early-afternoon |
| Made for the general needs of women | Made for your specific needs, based on your answers to an online quiz |
| $30.00 per month | $47.00 per month, but varied depending on personal mix |
| Transparency: 9/10 | Transparency: 7/10 |
If you need a supplement that will address your unique health concerns and needs, then opt for Care/of. However, those interested with in a multivitamin made for women, then reach for Ritual.