It takes a champ to know a champ — and Ronnie Coleman sees something special in Mamdouh "Big Ramy" Elssbiay.
A fan asked Coleman his opinion on Big Ramy during a recent Q&A, and it turns out that the eight-time Mr. O thinks the reigning title holder is just getting started. Check out the video below:
[Related: Bodybuilder William Bonac Plans to Be Bigger Than Ever at the 2022 Olympia to Dethrone Big Ramy]
Ronnie Coleman on Big Ramy
Coleman didn't mince words when he talked about what could be in Big Ramy's future.
"I got a lot of respect for Big Ramy because he's a big guy who trains hard, works hard, [and] is truly dedicated to his craft," Coleman says in the video. "I think he's probably going to be the Mr. Olympia for the next at least three to four years [because] nobody out there [is] [going to] catch him on size. He's just too far ahead of everybody right now."
In a recent physique update, Ramy put his weight at 337 pounds — with abs — before embarking on his contest prep diet. That's not too far off from prime Coleman, who reached 325 pounds in the off-season.
View this post on Instagram
[Related: Big Ramy Machine Presses 440 Pounds For Reps During Olympia Prep With Bodybuilder Dennis James]
If Ramy were to win four more Olympias, that would put him at six altogether, tying him with Dorian Yates for the third most titles of all time. Phil Heath and Arnold Schwarzenegger each have seven titles. And Coleman is tied with Lee Haney for the most wins at eight.
Ronnie Coleman's 2022 Mr. Olympia Predictions
In a recent appearance on bodybuilder Dennis James's The Menace Podcast, Coleman also gave his thoughts on the 2022 Mr. Olympia as a whole. And much like Phil Heath's predictions from August 2022, Coleman thinks the top three from the 2021 Mr. Olympia will stay the same for 2022.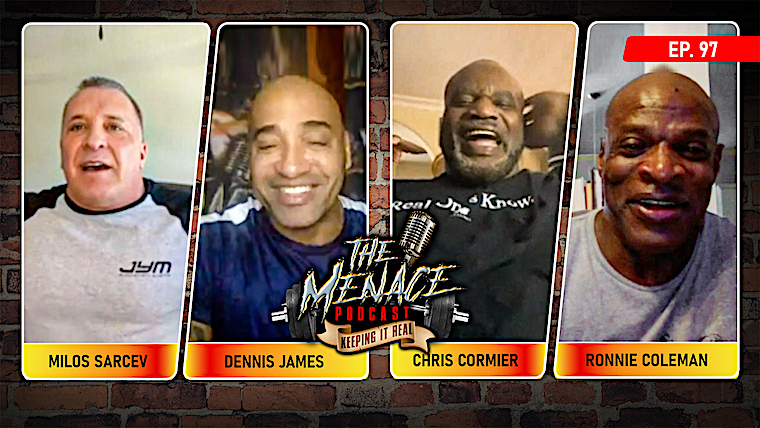 [Related: 13 of the Best Backs in Competitive Bodybuilding]
"I don't see [any] changes between Brandon [Curry], Ramy, and Hadi [Choopan]," Coleman says. "I don't think anyone's beating them."
In 2021, Ramy came out on top, while Curry took second and Choopan came in third. While Coleman doesn't see changes in the top three, he says Andrew Jacked and Derek Lunsford have a shot at shaking up the top five.
View this post on Instagram
[Related: The Best Full-Body Bodybuilding Workout for Beginner to Advanced Lifters]
More 2022 Mr. Olympia Stories
If you're looking for more news about the 2022 Mr. Olympia, check out these stories below:
Featued Images: @ronniecoleman8 and @big_ramy on Instagram