Schiek is an American based supportive strength equipment company. They make equipment for both the serious strength athlete and the recreational lifter. Schiek is best known for their unique cone shape belt design, which is made to follow the natural curvature of the torso. While belts were their first product in this industry, they also make knee straps, gloves, and other supportive gear.
When we received the Schiek Model 6010 Double Prong Competition Power Belt I was pumped to put it to the test. This is one of Schiek's more rigid belts and is designed specifically for powerlifters.
I tested this belt with power and strength movements, which included the deadlift, back squat, and front squat. Since this is a belt geared for the powerlifter, I didn't utilize any Olympic style movements for this review.
Click HERE to see prices for the Schiek Model 6010 Double Prong Competition Power Belt.
Stability
Out of all the leather belts I've tried this was definitely on the more stable side. This belt is 9mm thick, which was thick enough to prevent any form of bending in the belt when the torso flexed or extended. Unlike most of the Schiek belts, this specific belt features the typical cylinder style you see with most lifting belts. Every part of the torso is hugged equally and there's a double-prong stainless steel buckle for maximal abdomen security. This belt's stability is great, but the thicker leather was a little tough on the skin. A newer lifter who isn't performing extremely heavy loads may be turned off by this.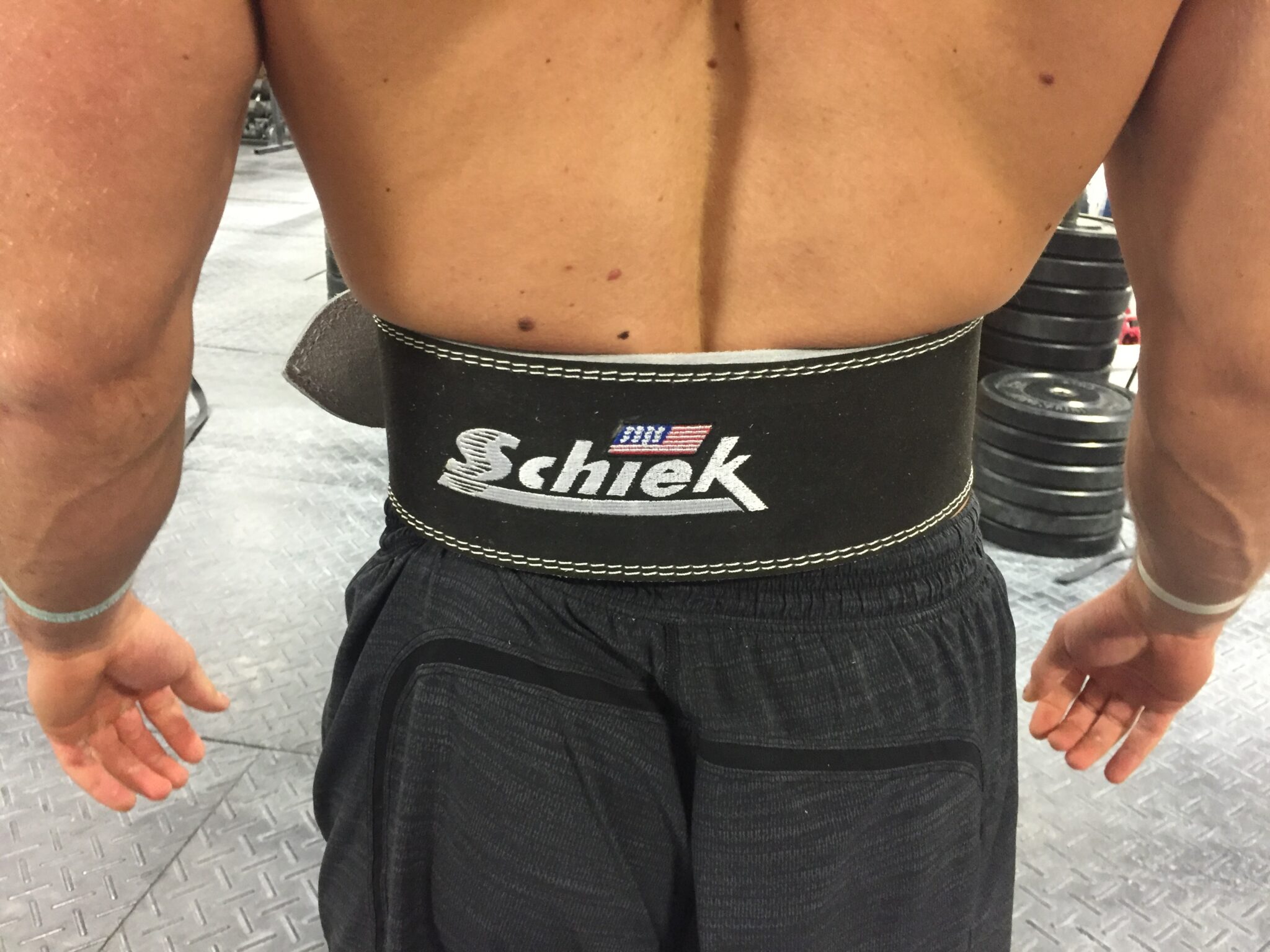 This belt was exceptionally great for back squats. The thick rigid leather was great for maintaining a solid posture whether I tried low or high-bar. I found that low-bar squats were great with this belt. Since there's a little more forward lean in a low-bar squat, then a belt should help distribute force exerted on the back, and I thought this belt did that well. Keeping in mind this is a powerlifting oriented belt, I think this is a key feature with this belt's stability.
Deadlifts also felt pretty good in this belt. Similar to the squats the rigid feeling was comforting when weight started to get heavy. There was never an issue with forward flexion, even if my shoulders began to round in heavy pulls. One potential issue I could see a strength athlete having with this belt is with its specificity. For someone who isn't powerlifting frequently and needs a stable option, then this belt may not be the best choice. This aspect is important to keep in mind for those who need a stable belt for functional fitness workouts or WODs.
(Curious about the best lifting belt for you? Check out our full rundown of the best lifting belts here!)
Comfort
This belt was extremely stable, but not the most comfortable. After using countless belts and testing them I've learned that there's a line that separates comfort and stability. Often times when you're looking for stability you'll have to sacrifice some comfort. This belt was one of the most stable belts I've used, but it wasn't very comfortable or forgiving on the skin. It took about 4-5 lifts to start to feel a little better when it came to the edges digging into my torso.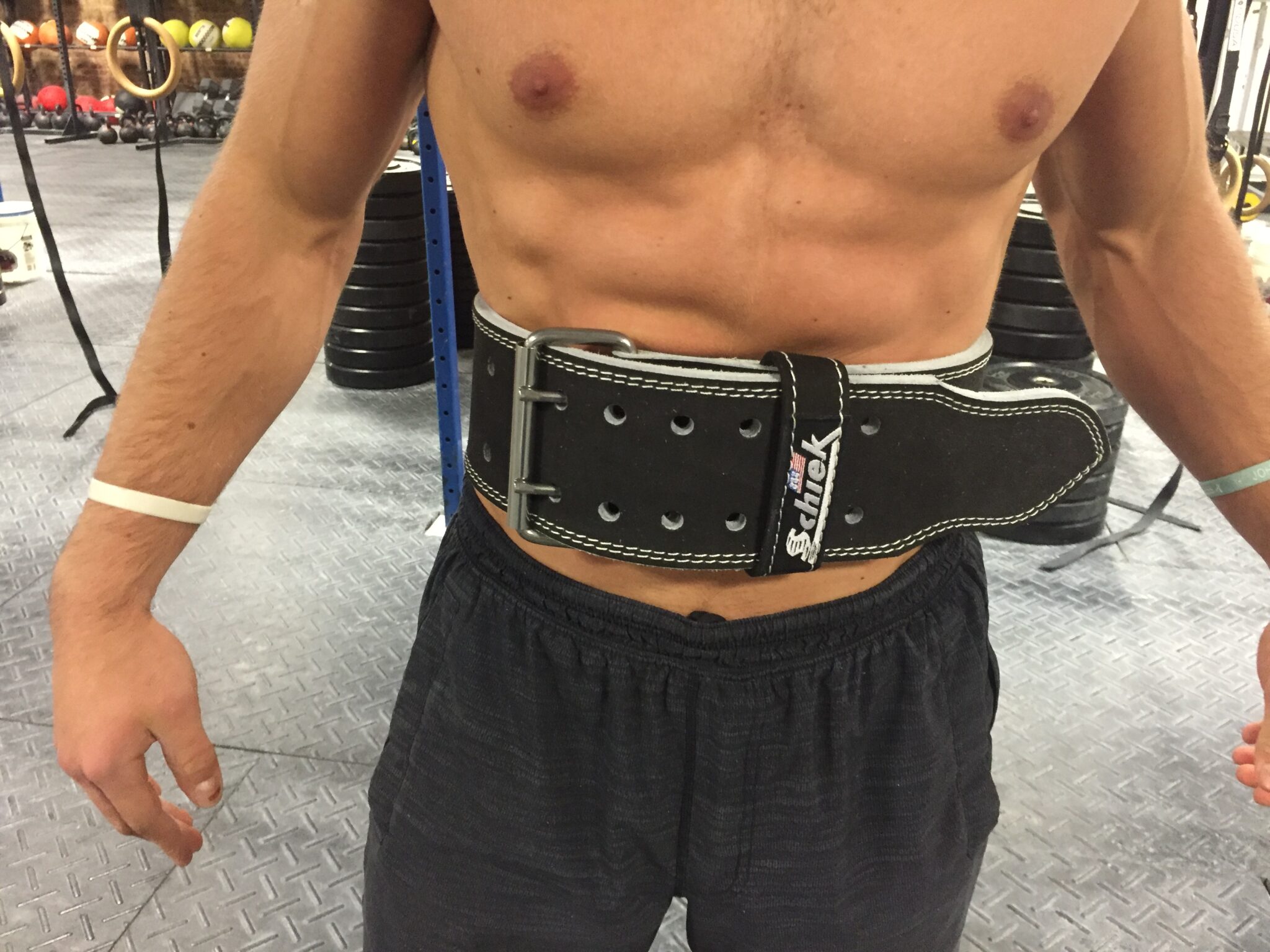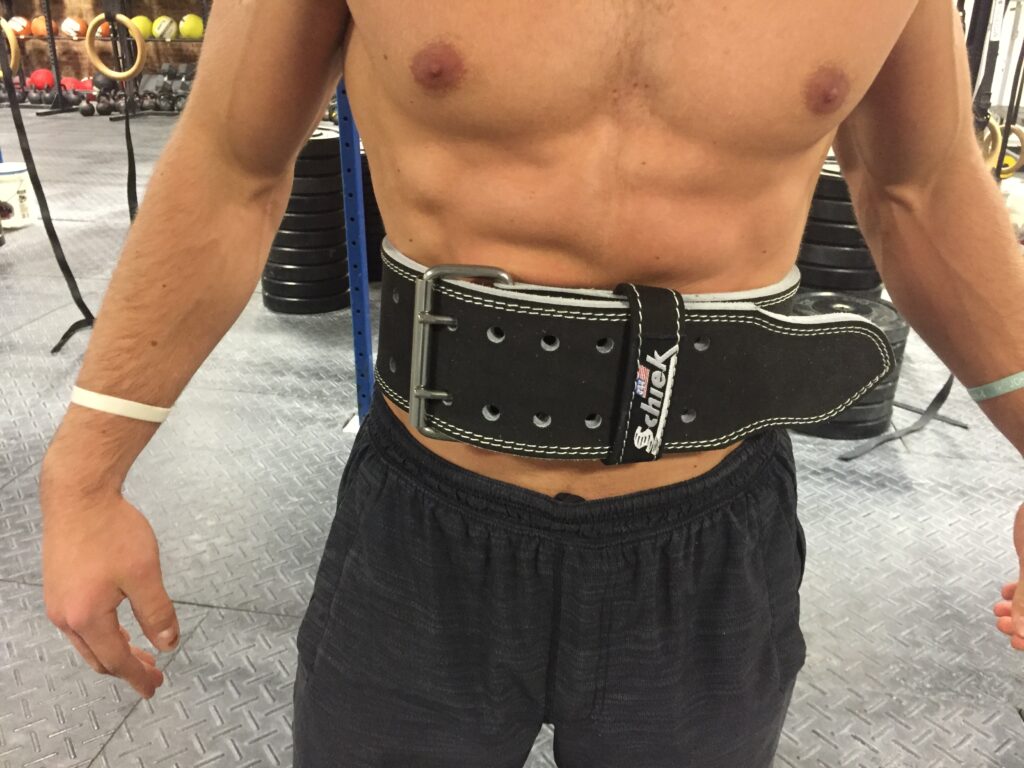 For an elite powerlifter this won't be an issue because tough leather is something this athlete is typically used to. Also, in some cases, a powerlifter prefers a stiffer belt because it ensures that it's going to hold up during lifts. The buckle pinched a little bit, but that problem becomes non-existent once you spend a little time learning how to adjust it for your torso.
Material
The leather Schiek uses for this belt is genuine suede, which is common material used with most leather belts. This type of leather is taken from the underside of hides and can come from a plethora of animals. It's a combination of a softer finish and a tough exterior. Imagine a standard leather boot that has a little bit more of a softer finish. There's heavy double stitching all the way around the belt. This provided the belt with a compact tight finish.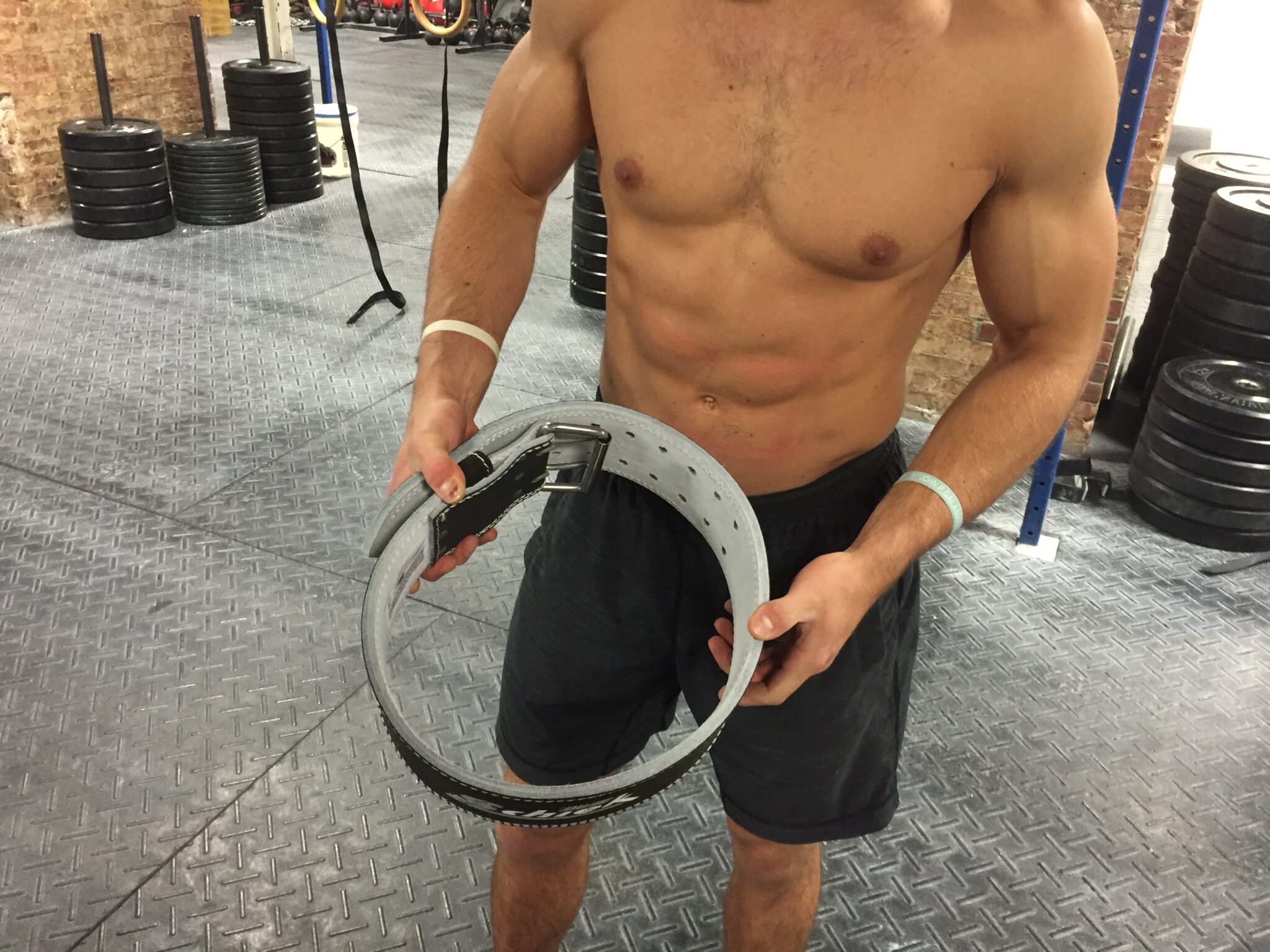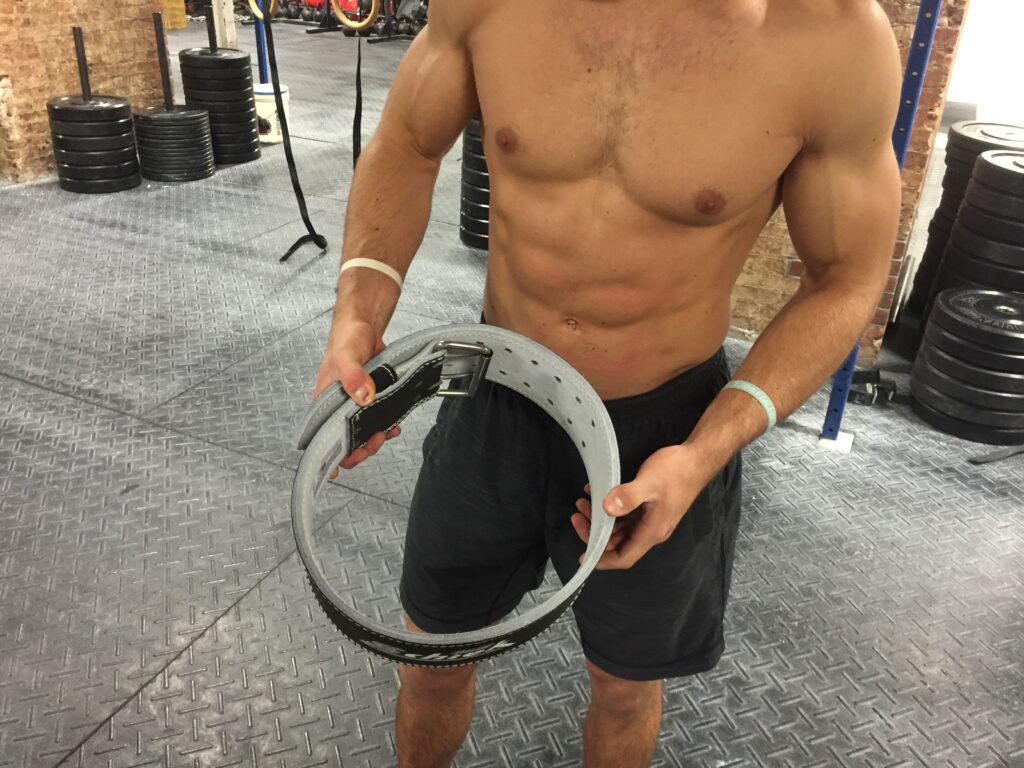 I really liked the materials Schiek used to make up the front of this belt. They use a thick stainless steel for the buckle and it's double-pronged. There are six bolts that hold the front portion together, so it feels tight and compact.
Durability
This belt's stability provided an immediate feeling of durability. The compact suede leather doesn't feel as though it will fray easily, even around the edges like some leather belts can. I liked that there's double stitching around the whole outside of the belt and buckle. Also, unlike some leather single-prong powerlifting belts, I liked that this belt has a double-prong buckle. The buckle itself is thick and stiff, so there it doesn't feel as though the metal will bend easily. In addition, I liked the six bolts that hold the buckle together.
Price
This belt starts at $69.95. Personally, I thought this was a solid price for this belt's specificity. An athlete who's buying this belt more than likely has an idea into why they're purchasing it. This being said, I think the price is fair compared to similar belts of this purpose, which is stability and often powerlifting. On the other hand, if you're a recreational lifter who needs a generic belt, then this price point could be a turnoff.
Final Word
The Schiek Model 6010 Double Prong Competition Power Belt was a stable leather belt that held up well through multiple strength movements. This belt is designed for powerlifting and offers a durable double prong stainless steel buckle. If you're looking for a rigid belt that is pretty affordable, then this belt is a good choice. For the lifter who needs comfort and versatility, they might prefer an option that provides a little more of both of these.
All in all if you're a powerlifter or an athlete looking for a stable rigid leather belt, then this belt may be a good choice for you.