Many lifters know of Schiek because of their weightlifting belts. Since the early 1990s, Schiek has grown to become one of the world's biggest manufacturers of lifting straps, gloves, and other gear. The Schiek Leather Lifting Strap is a single loop strap, which is designed to improve lifts by supporting grip strength.
The difference between the Schiek Leather Lifting Straps when compared to others on the market is in the name itself — the leather. Most cotton straps require time to break in and chafe the wrists due to the new cotton texture, so I was curious to see how this type of leather would fare on the wrists. This particular leather strap has two different textures: soft leather on the inside, and a tougher leather on the external portion.
I decided to put these lifting straps through a battery of movements most lifters would use them for: Deadlifts, rows, power cleans, and snatches.
Schiek Leather Lifting Straps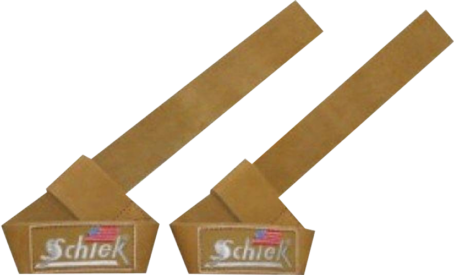 Schiek Leather Lifting Straps
A durable and strong leather lifting strap to resist ripping or premature wear and tear.
[Curious about the best lifting straps for you? Check out our full rundown of the top straps on the market here!]
Feel
The texture of these straps is different than your standard cotton strap. The inner portion of the leather strap was soft and forgiving on the wrist. I never experienced chafing, and they felt supple from the first time I wore them. There was little to no issue with breaking them in. I didn't have to get sweaty a few times before they softened up like most cotton straps need. While the straps were lightweight and easily broken in, they weren't the most secure strap I've ever used.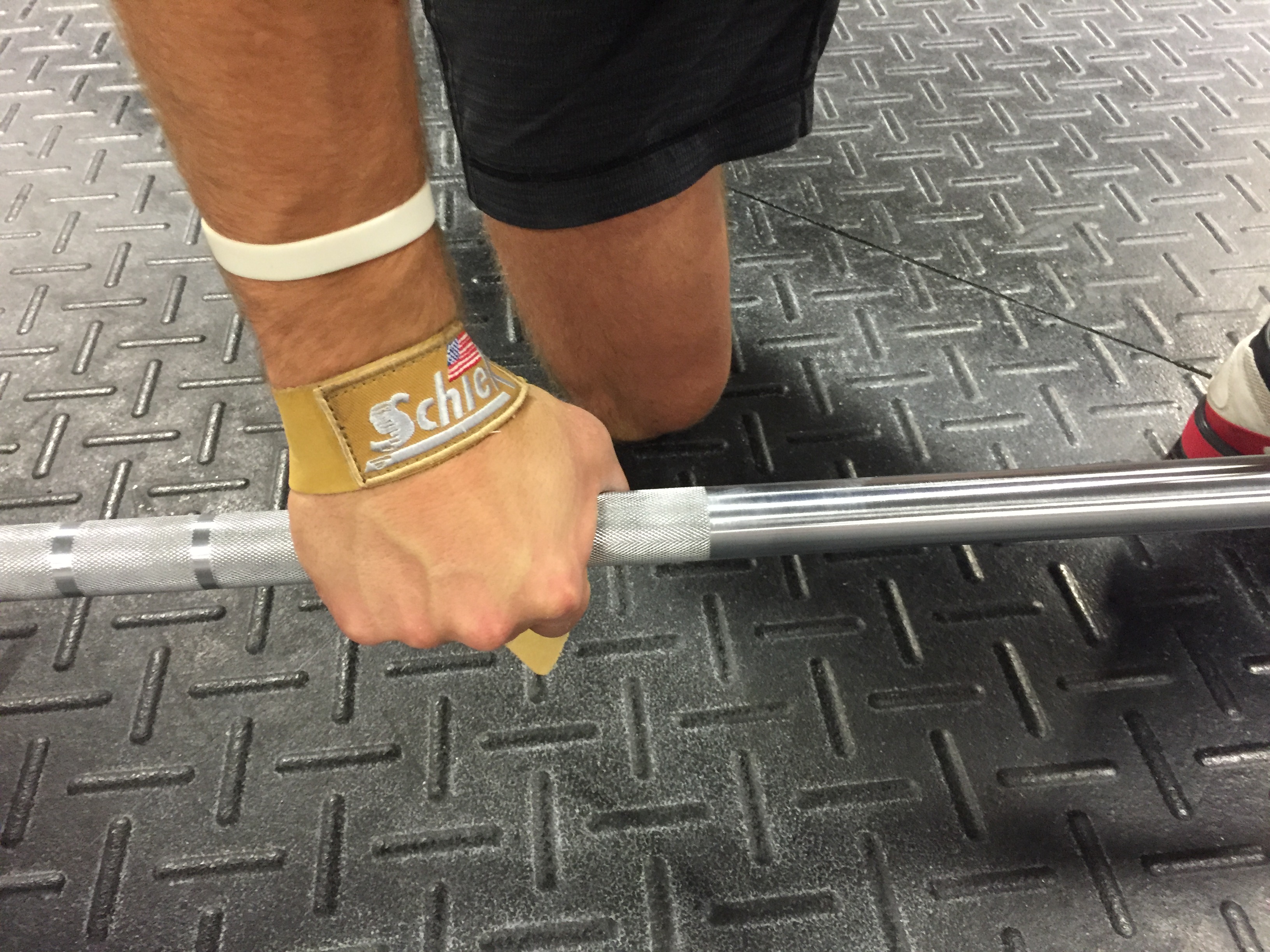 There is one main critique of the Schiek Leather Lifting Straps I have when it came to feel. While the straps were comfortable, when I got progressively more sweaty, the feeling was negated by a strap that slid on my wrist. The inner soft leather didn't absorb sweat like a cotton strap would. This made it difficult to keep the strap in one place on my wrist while being sweaty, and I had to adjust the strap positioning a few times during my power cleans. (Worth noting not everyone enjoys using straps for cleans.)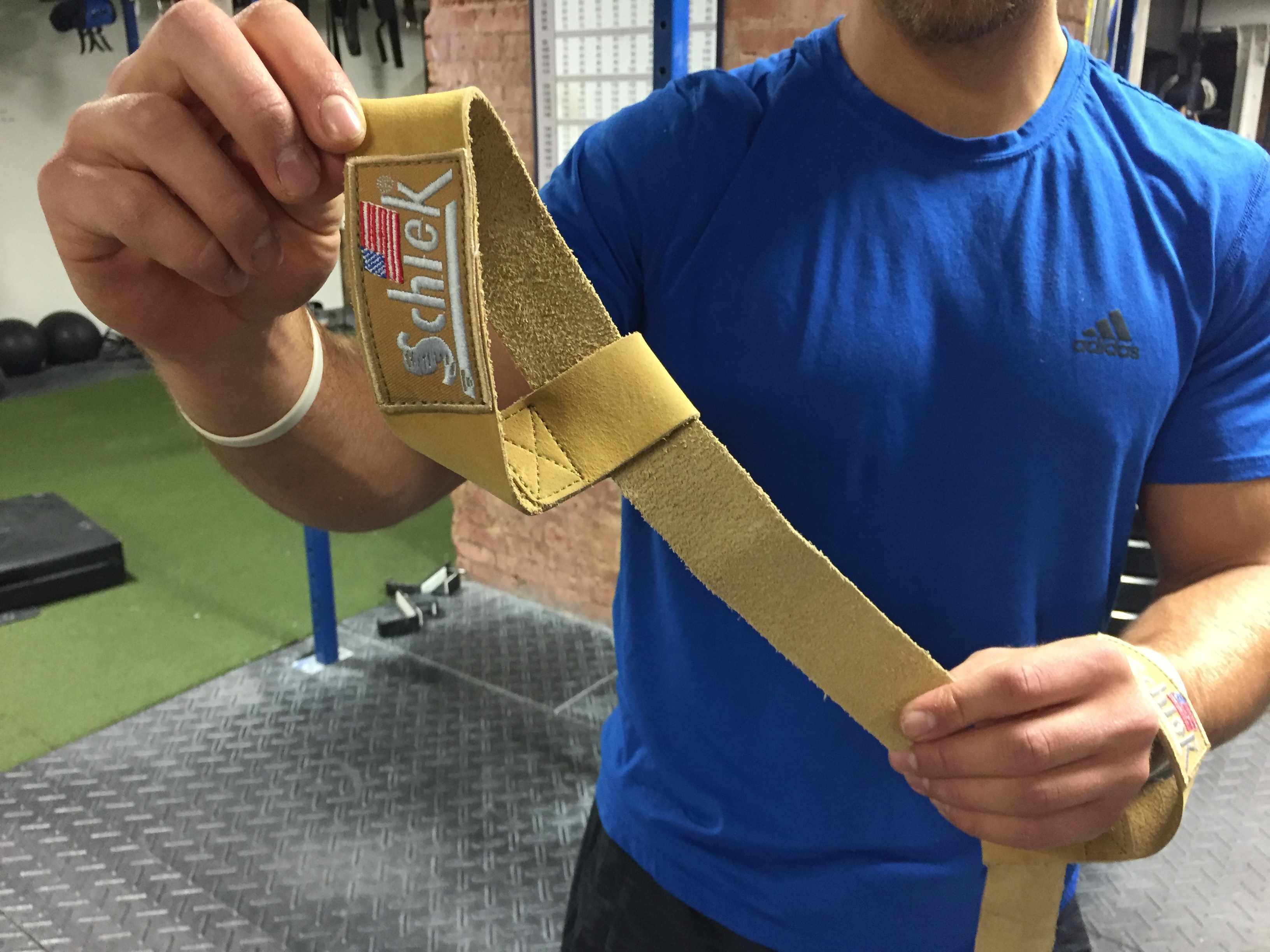 Durability
Initially I found these straps to have an overall durable feeling, even though they're softer and lightweight. Since the external portion of the leather is heavier and tougher than the inside, there was minimal scratching from the barbell. Still, there were a few issues I had with the future durability of these straps.
First, since they're leather, the Schiek Leather weightlifting straps could see progressive usage along with heavy sweating result in faster deterioration. This is due to the leather not absorbing sweat and remaining wet for long periods of time. This could make the leather weaker or more prone to ripping overtime.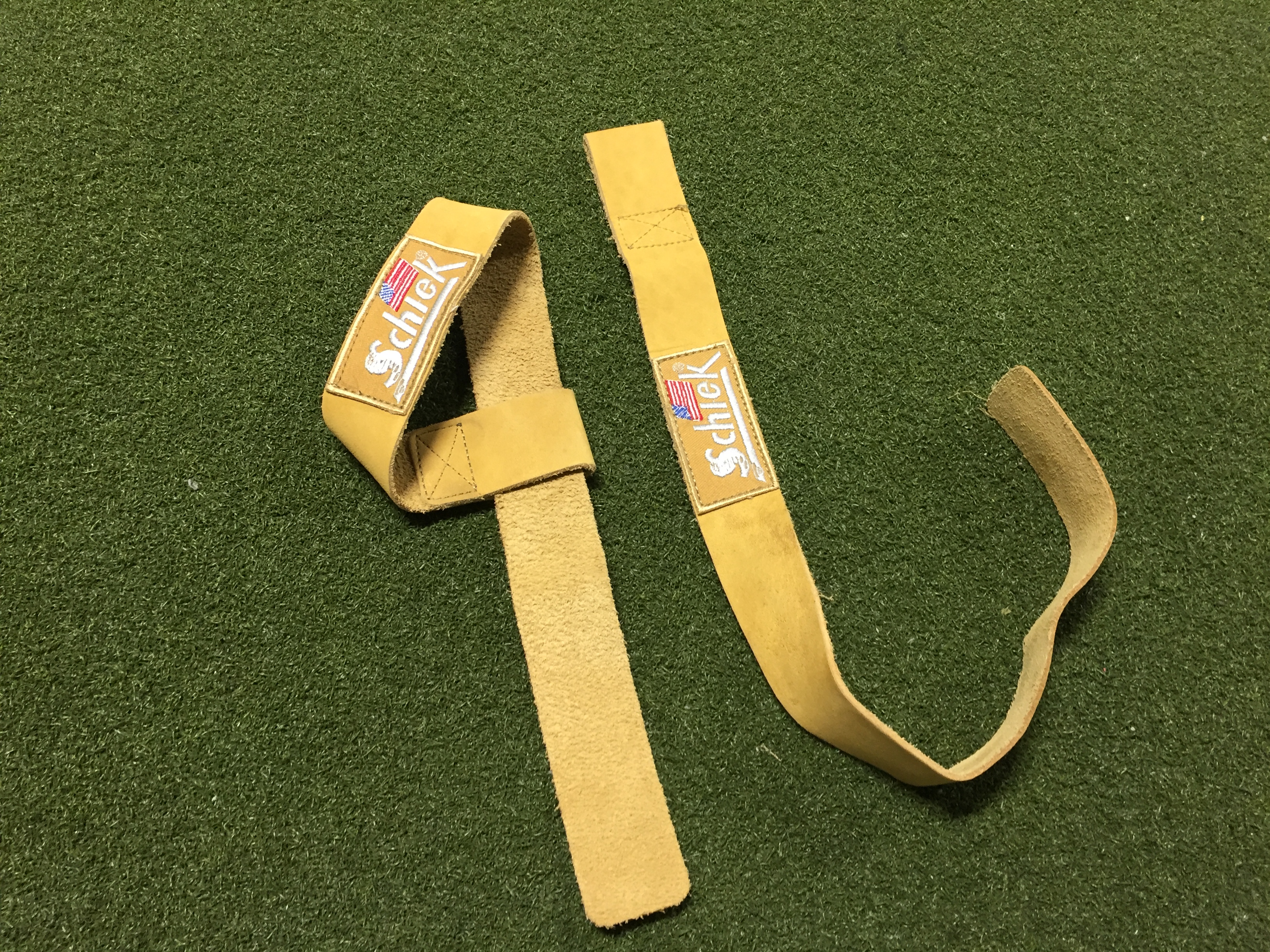 A second issue I could see arising would be fraying of the leather ends. The straps are comfortable on the inside, but over time the inner layer seems as though it might wear a little quicker than a normal cotton strap would. The two leather surfaces might loose some of their grip from progressive knurling friction. Also, the outside tougher layer, much like the inner layer, could begin to fray if not handled properly and taken care of.
Material
If you like the feeling of leather, then you'll probably like this strap. Imagine an all leather wrist watch with a soft leather inside that form fits the wrist. When I had weight in my hand, the leather felt snug and secure on my wrist (except when I got excessively sweaty, as noted above).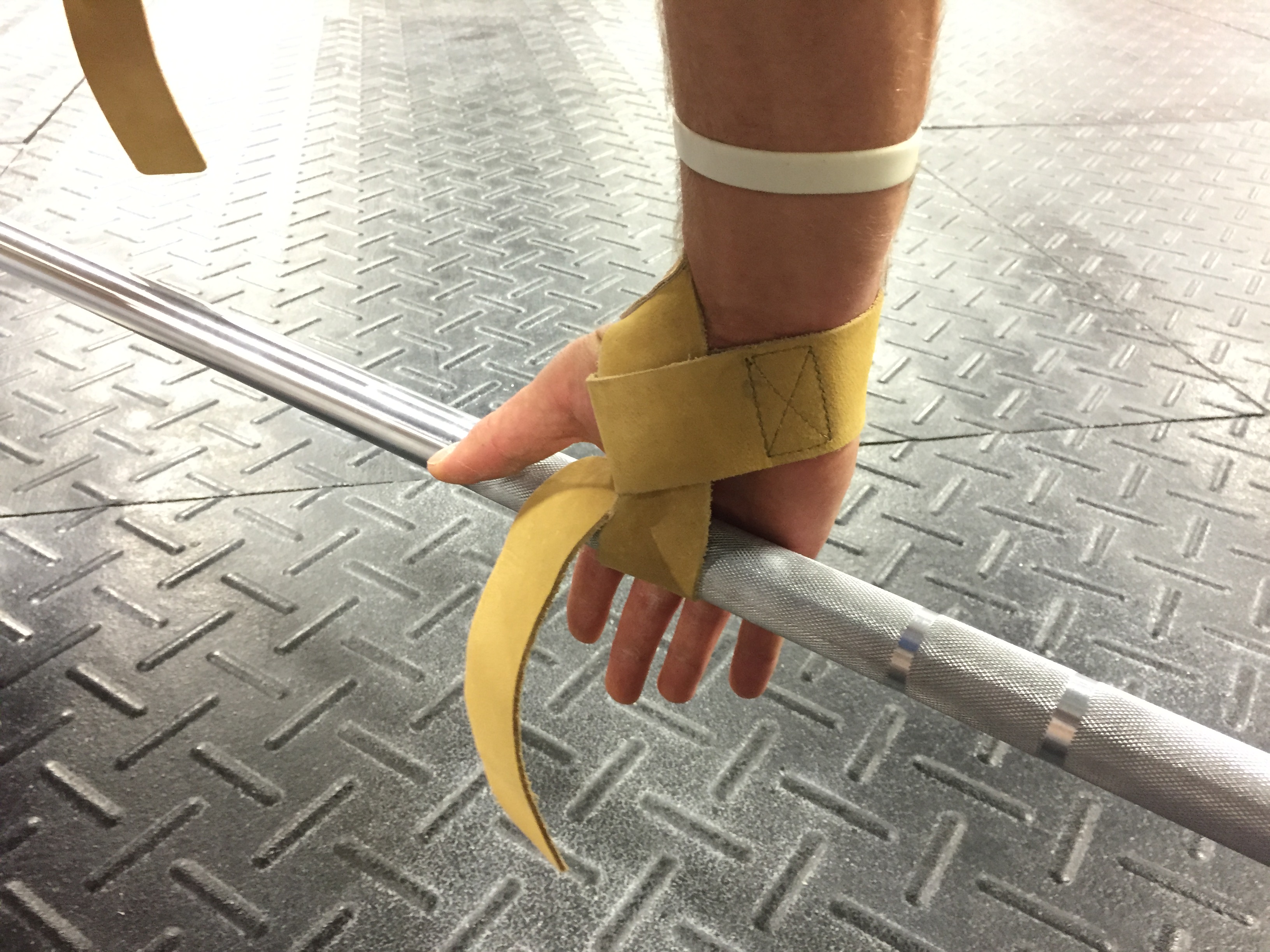 In the snatch, when weight was overhead, the leather fit my hand well, which allowed me to feel the bar better than a normal cotton strap would. The inner and external leather wasn't coarse or uncomfortable. Imagine the feeling of a leather weightlifting belt with more flexibility and soft texture: the leather was tough but forgiving on the skin.
Price
Since the strap is made of heavy leather, you're going to pay a little more for this type of strap. This is a type of strap you buy for the feeling of leather, not necessarily the functionality since most cotton straps will be perform the same.
This particular pair of Schiek Leather Lifting Straps are usually priced at $19.99. While this price isn't outrageous, they're a little more pricey than a basic pair of cotton straps. This could be off putting for the lifter that doesn't care about the texture of their strap.
Sizing
The Schiek strap is made of extra thick leather, is 21 inches in full-length, and 1 ½ inches wide. There's enough leather to wrap multiple times around the bar if you desire a full grip of leather. And whether you have smaller or larger wrists, the 21 inches of leather will allow you to wrap the strap around the bar at least once for optimal security.
Versatility
These were solid straps for the lifter looking for versatility and security. The flexible leather didn't limit my mobility in the rack position, nor did it get in my way when I was rowing. In the snatch, the strap felt as though it was a part of my hand when the bar was overhead. This was a comforting since some straps can take away the feeling of the bar with their material or thickness. Whether you're performing a power movement or something like a deadlift, these straps held up to their test and promise.
Rating 1-5 (5 being the best)
Feeling: 4
Durability: 3.5
Material: 4.5
Price: 2.5
Sizing: 4
Schiek Leather Lifting Straps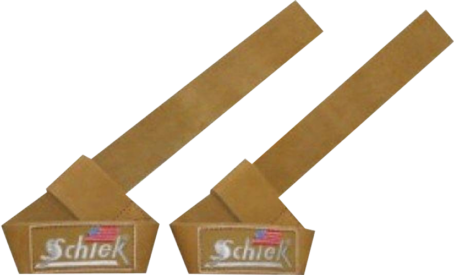 Schiek Leather Lifting Straps
A durable and strong leather lifting strap to resist ripping or premature wear and tear.
Final Word
If you like the feeling of leather, then you may prefer this strap. But if you find yourself sweating a lot during your workouts, you might find issue with this strap's bar security. This could be a serious problem if you're newer to lifting, or have to perform multiple repetitions for time during a workout. Aside from the possible sweating problem, there was never an issue with breaking them in or chafing of the wrist. This strap performed well in both power and slow tempo movements (until there was excessive sweat present), proving to be a versatile strap.
The Schiek Leather Lifting Strap is definitely worth giving a try if you know for a fact you prefer a leather strap. Otherwise, this strap proved to be just as secure and versatile as its normal cotton counterparts.