Schiek is an American based supportive strength equipment company. They were founded in 1991 with the goal of creating a unique and innovative belt for the strength market. They're most well-known for their unique belt designs, knee wraps, straps, and other strength equipment. Most of their products are made and manufactured within the U.S.
Their belts have what's called a cone shaped design, which is different than the typical cylinder design on most belts. The cone shape is supposed to provide a lifter with a more natural fit on the belt. When we received the Schiek Model L2004 Leather Lifting Belt, I was pumped to give it a run for its money. This belt is a firm leather, but is designed to feel natural and be somewhat versatile.
To test the dynamic attributes of this belt I used a combination of strength and power movements, which included the back squat, deadlift, power clean, and front squat.
(Curious about the best lifting belt for you? Check out our full rundown of the best lifting belts here!)
Stability
One thing you'll notice right away with Schiek belts is their unique design. The cone shape provides a thick anterior and posterior portion, while the sides are made skinnier. This extra contouring provides relative stability when the torso is flexing and extending, which is what you want from a belt. I really like how the posterior portion of the belts are contoured and shaped to follow the natural curvature of the back. It's a design difference that I thought made this belt very unique compared to past leather belts I've tried.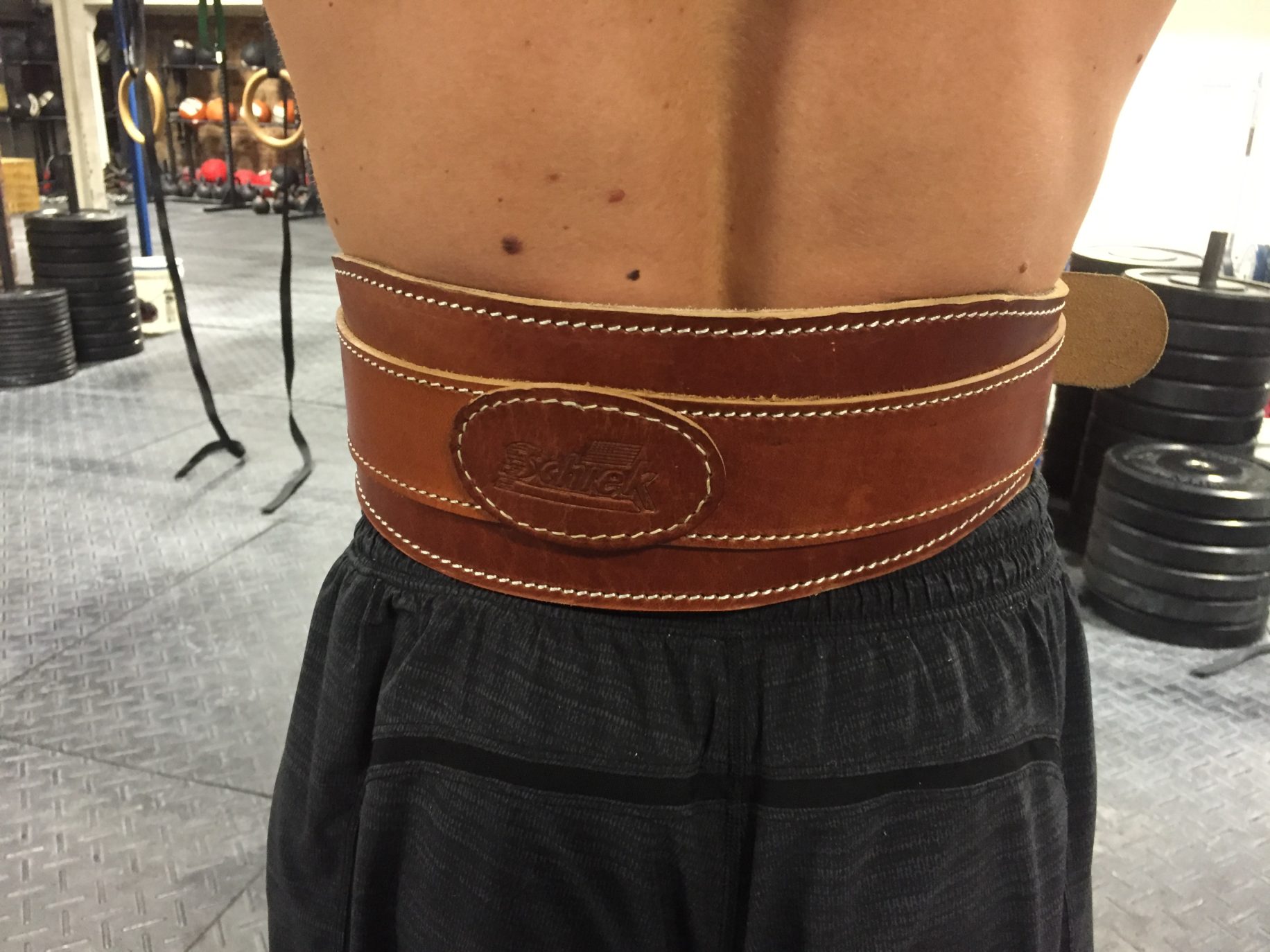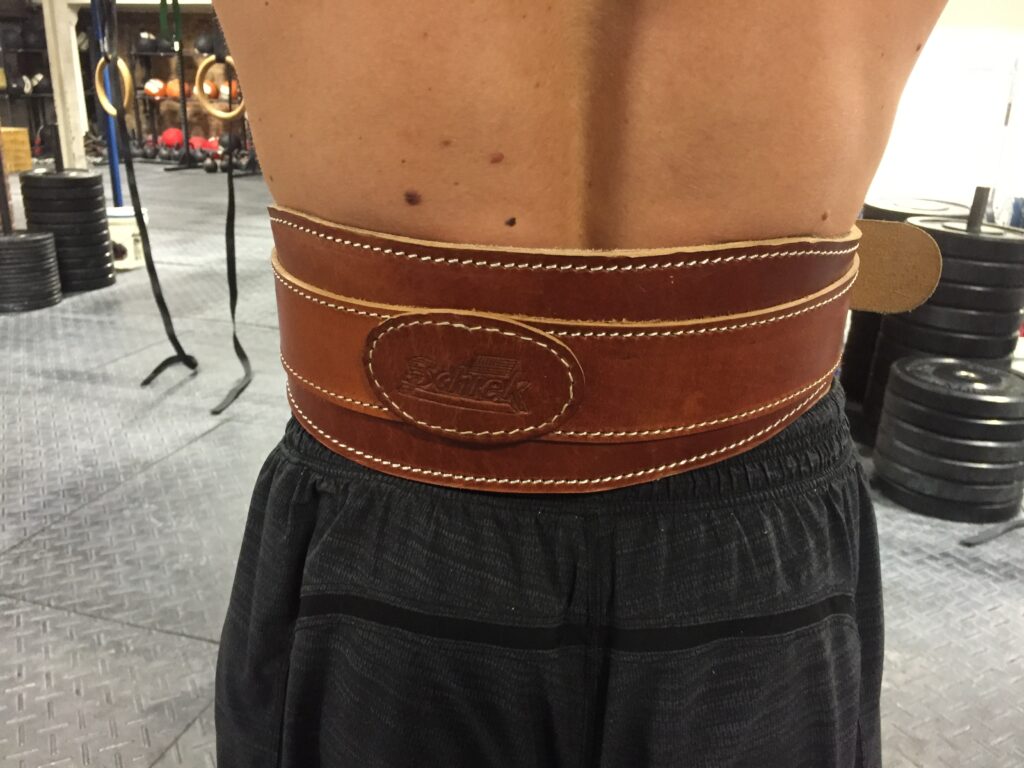 Since there's a thicker anterior portion that covers the abdomen I never had issues with a falling chest in the front squat. This was definitely a positive for me, especially when catching cleans and I'm prone to dropping my chest a little bit. One issue I did experience was the inner layer getting extremely sweaty and sliding a little bit. While this wasn't a huge issue when the belt is positioned correctly, it was definitely something to keep an eye on if you lift shirtless.
The leather Schiek uses is tougher and stiff, which made up for the lack of full cylinder thickness. I liked the belt for strength movements, but power movements took a little adjusting. This belt wasn't as versatile as a nylon belt that's specifically made for WODs or functional fitness workouts, but it still offered some versatility. Another turnoff I could potentially see a lifter not liking is the skinnier sides. Someone who wants a rigid leather belt may want a belt that's equal widths all the way round. When it came to stability, I personally liked this belt, even though I had a few concerns. These concerns are also touched upon in the comfort section.
Comfort
The outside of the belt is a tough stiff leather, but the inner lining is soft and comfortable. I thought it was pretty forgiving on the skin if you lift shirtless, which can be a concern for some with leather belts. One thing that made this belt stand out to me in comfort was the cone design. It was great for stability and comfort. I thought the posterior natural curvature was a nice touch when I deadlifted. There was one issue with the natural curvature and that was the fact that it didn't follow your back when flexing forward, this was discomforting. The thicker abdomen portion made up for this, but it's something to keep in mind.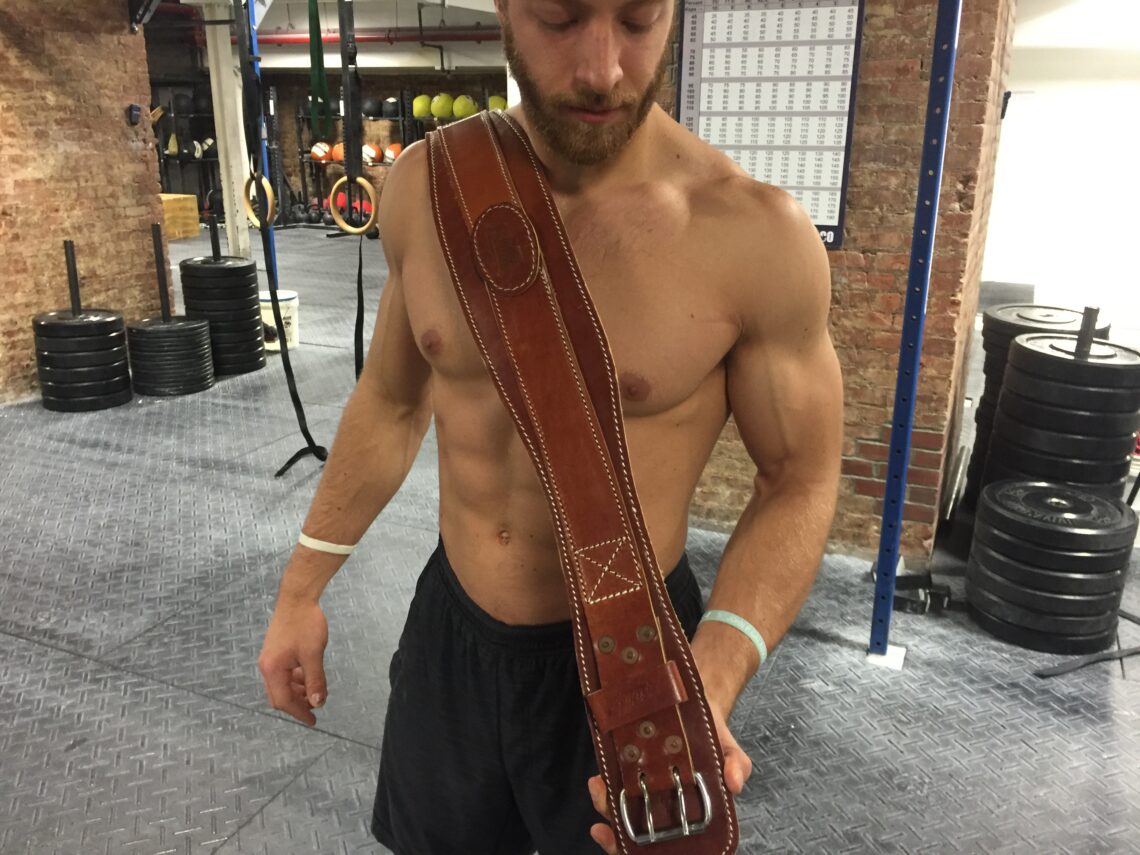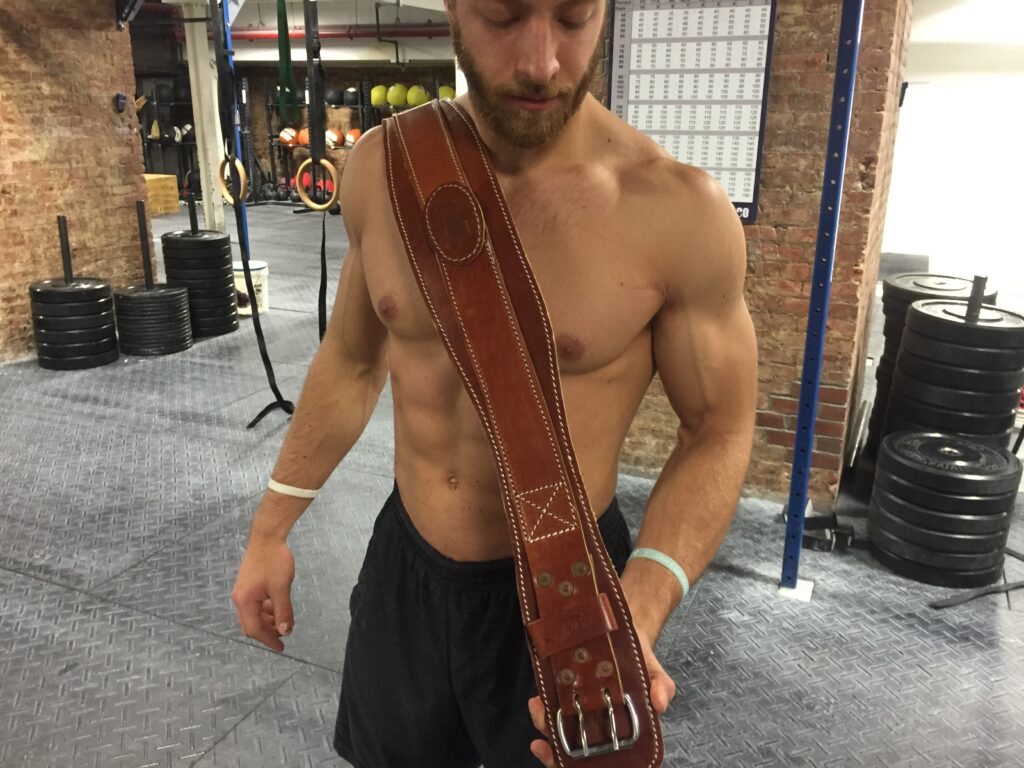 There's an overlap on the strap with a double-prong buckle, so you can pull the belt extremely tight with ease. I liked this feature because it limits the chance of the belt sliding around. There was a little sliding when sweating shirtless, but there was never an issue with the belt hugging over a shirt. Something to keep in mind about this overlap feature is that there was a little pinching at first, but once you figure out how to adjust it right this problem goes away.
Material
There are multiple layers of leather that make up this belt. The front and back are wider than the sides, and the back caps at a 4 3/4″ width. The leather itself is somewhat flexible, but the multiple layers give it a stiff, rigid finish. On the outside there's a thinner leather layer that wraps all the way around, which functions as part of the strap too. I liked this because most belts don't utilize a multi-layer approach like Schiek does.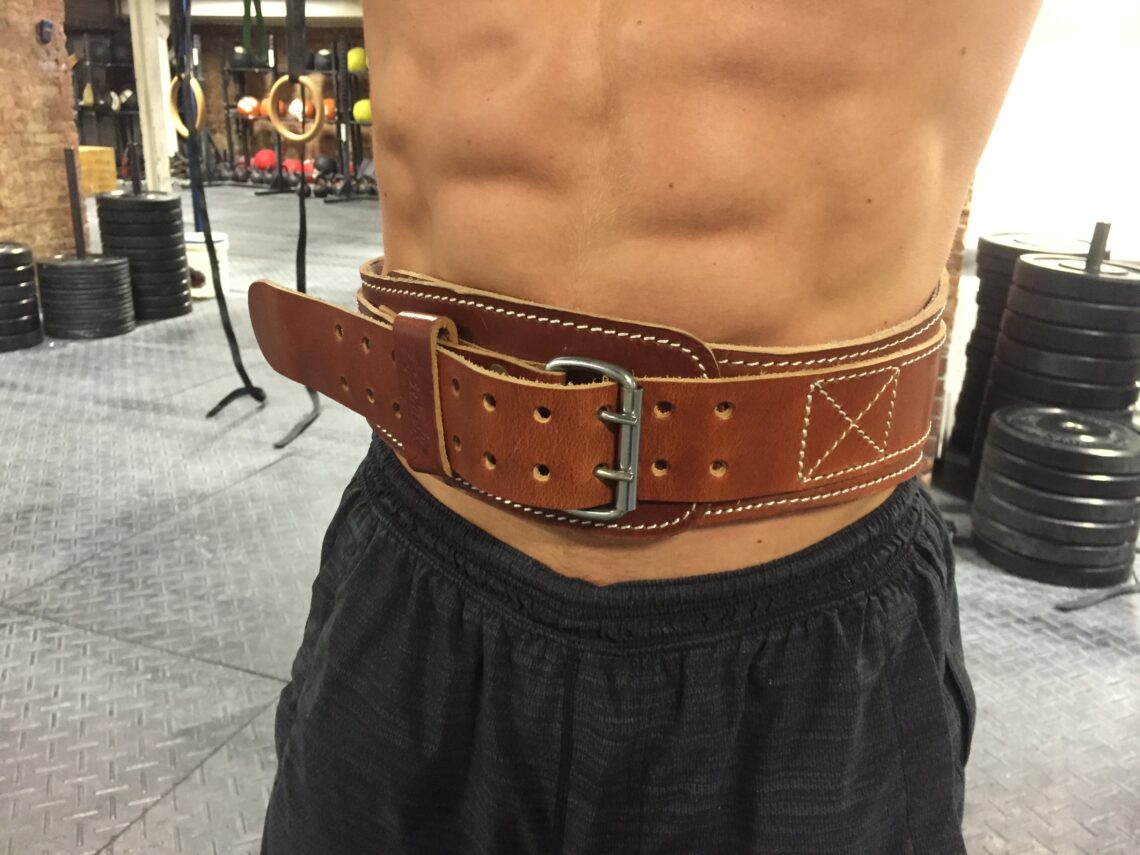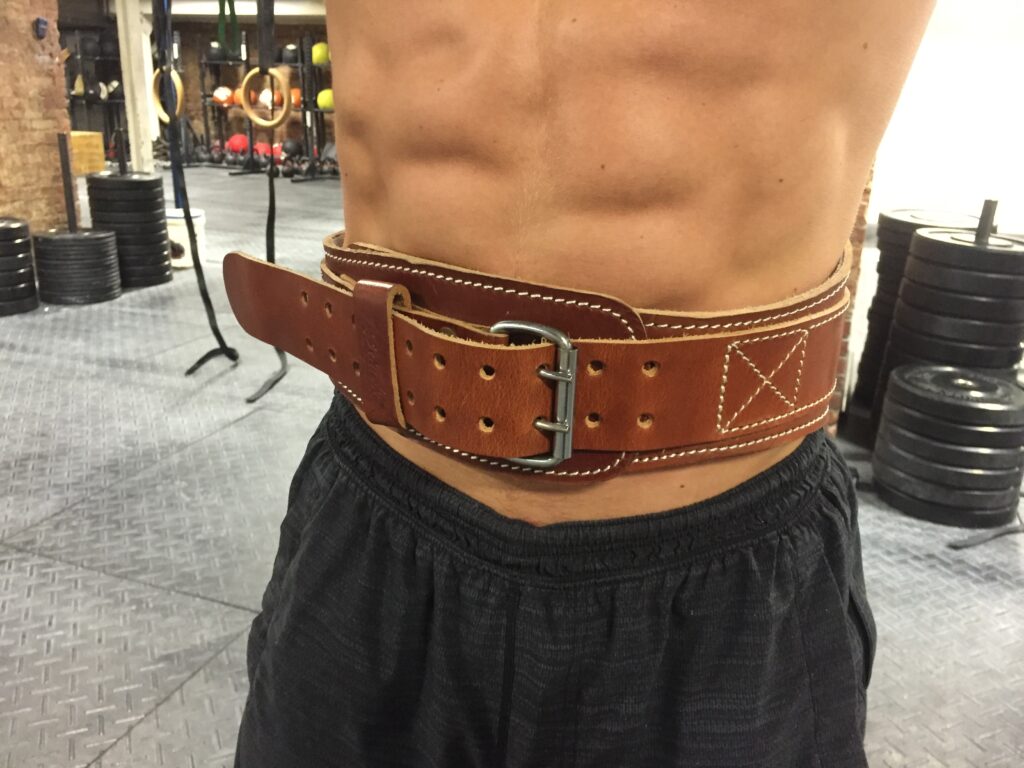 The inner lining of the belt is soft and easy on the skin. On the ends of the top and bottom of the belt it's a little more rigid, so it may take a few lifts to break in. If a belt digging into your ribs is a turnoff, then this may not be the best fit for you. I personally don't see that aspect as a big deal, because a little digging often means the belt is stiff. Also, this belt's cone shape helps you adjust to the stiff leather quickly, as opposed to cylinder belts that are less adjustable.
Durability
I didn't sense any immediate red flags when it came to durability with this belt, but there were a few long terms concerns I had. I liked the stiff leather, as this is a good indication that this belt will hold up for a while. It doesn't feel like it will bend and lose its rigidness fast. Also, I liked the double-prong steel buckle. A single-prong can bend if the belt moves or is set up poorly.
Two future issues I could see possibly arising have to do with the inner leather and the overlapping strap used to buckle in with. The inner lining is soft and single stitched, so I'm worried that this could rip or fray quickly. It didn't feel like it would, but with misuse or lack of care, then I could see it being a problem. Also, the overlapping strap is thinner than the rest of the leather. This made me nervous when consistently pulling the belt as tight as you can and early ripping.
Price
The price of this belt was pretty fair and starts at $59.95. This belt was different when it came to justifying and analyzing the price. It's consistent and somewhat lower in cost compared to other leather belts. It's not a full cylinder, which could be a downside for someone looking for a super rigid leather belt. Yet, the leather is stiff and it's shaped like other versatile belts (tapered posterior and sides), so it can be dynamic with its purposes. For the feeling, rigidness, and possible uses, I thought the price was fair for this belt.
Final Word
The Schiek Model L2004 Leather Lifting Belt was possibly the most interesting leather belt I've ever tried. This belt features a unique cone design that is unlike most belts on the market, let alone leather ones. I liked the thicker abdomen and lumbar padding and how the sides are contoured to naturally fit the obliques. I could see a few potential issues with durability, but other than that aspect, I thought this belt held up well throughout our tests.
All in all, if you're someone looking for a rigid belt that can be used in a versatile manner, then the Schiek Model L2004 Leather Lifting Belt may be a good fit for you.