The Chinese National Games are underway, and the men's portion of the weightlifting competition is in full swing. These Games host a variety of sporting events, and are often considered China's version of the Olympics. Like the Olympics, the Chinese National Games are held every four years. You can check out the women's portion of the weightlifting competition here.
This year's men's 69kg competition was a nail biter until the finish, as Liao Hui and Shi Zhiyong, both legendary Chinese weightlifters, went back and forth until their final attempts. To top it off, both of these lifters went for unofficial world records in the clean & jerk. Check out the YouTube video below that follows these athletes' insane battle.
Both Zhiyong and Hui completed a successful 160kg snatch, so going into the clean & jerk they were tied. Zhiyong opened with a 193kg clean & jerk, and Hui hit a 194kg attempt with a slight struggle.
For the second attempt, Zhiyong called for 198kg and made it. This clean & jerk ties Hui's world record that he set at the 2013 World Championships. Hui, who was now down by 4kg, called for 199kg for his second attempt. Making this would barely edge out Zhiyong's 198kg, and earn Hui with an unofficial world record. He missed the attempt and was red lighted.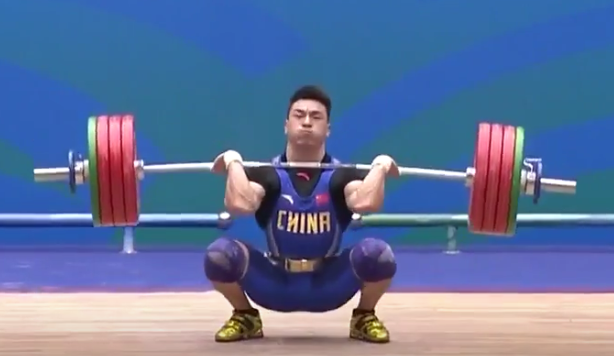 Image Liao Hui 199kg clean & jerk courtesy of camsquatz YouTube channel. 
On Hui's third attempt, he kept 199kg on the bar. Unfortunately, he missed this attempt after he stood up from the clean, but couldn't complete the jerk.
Zhiyong, now sitting in first with a 4kg lead, called for 200kg on his final attempt. This would earn him an unofficial world record by 2kg. Check out Zhiyong's very close 200kg miss with below.
https://www.instagram.com/p/BYlNSLwjsl_/
With a successful 198kg clean & jerk and 160kg snatch, Zhiyong claimed first with a strong 358kg total (1kg behind Hui's current world record). Hui finished in second with a 354kg total after his successful 160kg snatch and 194kg clean & jerk.
Both of these lifters are legends in their own respects. Remember, Zhiyong was the gold medalist from the 2016 Rio Olympics, and Hui — also an Olympic champion — only announced his end of retirement in December 2016. Hopefully we'll continue to see these two push each other and further Hui's current 69kg world records.
Now the question remains, will we see these lifters compete at the 2017 IWF World Championships in November? Two of China's weightlifters who served suspensions for positive doping tests after the 2008 Beijing Olympics Games recently had their appeals denied, which could impact China's presence at the Championships due to an IWF ban. The IWF has yet to release an official statement or decision on the matter.
Feature image screenshot from @iamastrutter Instagram page.