SPRI Products, Inc. is a fitness equipment manufacturer that makes a variety of strength equipment. On their website, they state they're the leading manufacturer of rubberized resistance exercise products. We wanted to test this claim and put the SPRI Kettlebell to a variety of tests.
In this article, we'll take a deep dive look at their 50 lb kettlebell that offers a thick gray vinyl coating. We'll be assessing the construction of this kettlebell, who could benefit, performance, the price, and durability. All kettlebells are similar in design, but they're not all created equal, here's what makes the SPRI Kettlebell different.
Construction
Design & Finish
This kettlebell is constructed with a solid cast iron similar to others on the market. On their site, SPRI doesn't dive into the details of their casting process, which in my opinion, is always a perk to have and I wish they did. This way we could gain a better understanding of if this bell is air and single-cast, as these attributes can shine a light on how this kettlebell will hold up over time.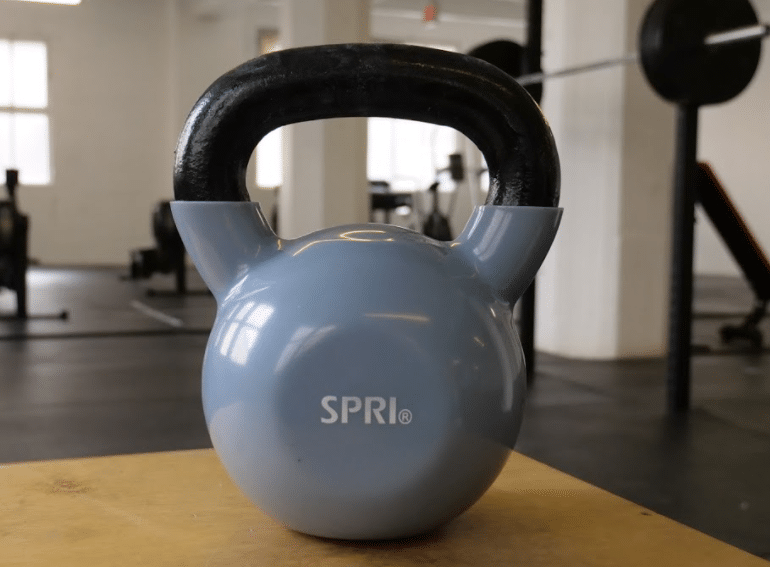 On the outside of the kettlebell, there's a thicker vinyl coating. You'll most often see vinyl coats on kettlebells found in commercial gyms. These coats tend to be a little more forgiving on the body and a gym's floor. Their vinyl coating was firm and didn't give any indication that it would come loose. Some vinyl coated kettlebells have the top portion by the hande loosen up over time, but I didn't sense that with this bell.
SPRI Deluxe Vinyl Kettlebell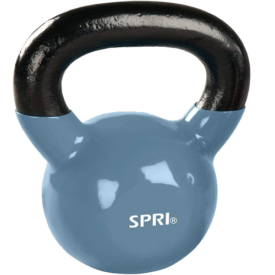 SPRI Deluxe Vinyl Kettlebell
A cast iron kettlebell with a rubber coating to limit forearm impact and to support indoor use.
Handle
SPRI doesn't readily provide the dimensions on their kettlebell's handle, so I can't provide a definitive measurement on the handle's diameter. Although, I thought it felt similar maybe a tad thicker to what competition kettlebell's offer, which is around a 33mm diameter. I thought the handle a good width and multiple hand sizes will work on it.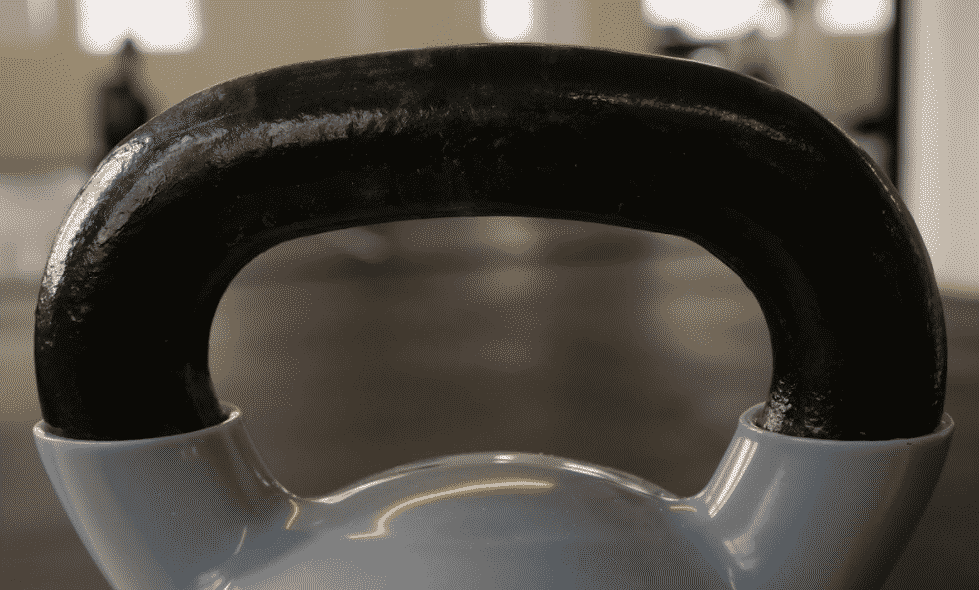 The handle itself is designed to be a little more smooth in the middle for grip comfort. You can feel the difference between the corners of the handle and the top, but the difference is pretty minimal.
Performance
To test a kettlebell handle's ability to perform in multiple settings we use Russian Kettlebell Swings in our review. This is a dynamic movement that's common for kettlebell users and can be performed by multiple fitness levels.
[Like this kettlebell's vinyl coating, but want a different option? Check out our full kettlebell round-up that has multiple coated kettlebells!]
Without Chalk
The grip for this kettlebell was fine without chalk and it was similar to other solid iron bells on the market. As mentioned above, I like the grip's thickness for this kettlebell and think it will work for many users. My only potential beef with this kettlebell is the smoothed down surface on top of the handle. For many, especially beginners, this will be a perk to protecting the hand, but it could be an issue in sweaty settings.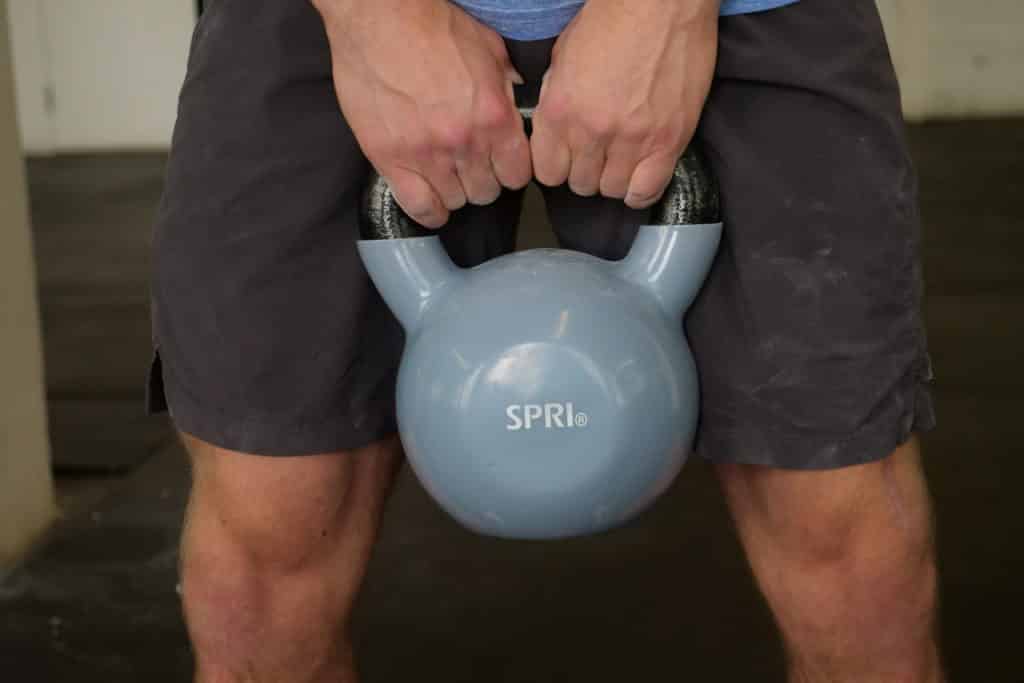 With Chalk
When I used this kettlebell with chalk I thought the same performance notes applied. It was solid, yet I still had a slight beef with the smooth iron. The main difference with this test was that the kettlebell's grip performed a bit better when chalk was initially applied, but had a noticeable drop off when I started to sweat. I don't think chalking up the smooth iron was the best for performance if you're dripping sweat.
Who Could Benefit
Like with every kettlebell, I think any strength athlete could benefit with some form of kettlebell training and conditioning. For this kettlebell specifically, I think two training populations could benefit more than others. First, home gym and gym owners. I think the vinyl coating is a solid choice for protecting your floors and the bell if you work out inside.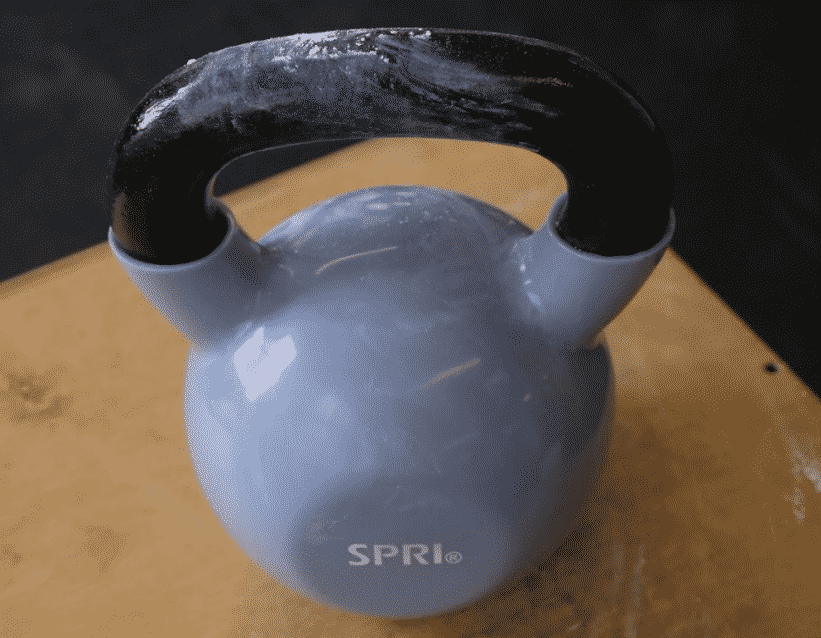 Second, I think true kettlebell beginners will like this kettlebell. The handle is designed to be comfortable on the hand, so you won't have the normal wear and tear from a powder coat. In addition, the vinyl coating somewhat eases impact on the wrist when doing cleans and snatches.
| | |
| --- | --- |
| Benefit to Whom | Rationale |
| Home & Public Gym Owner | Vinyl Coating Will Be Softer On Floors |
| Kettlebell Beginners | Handle Designed to Be Comfortable |
Durability
Throughout all of our tests, I never got the sense of poor durability with this kettlebell. They don't state how their kettlebell is cast, but I think it will last you a while. It never felt like this kettlebell had issues with taking impact either, and I think the vinyl coating helped with this aspect. In addition to the actual bell, I don't think you'll experience any breakdown in the vinyl coating quickly. It's designed pretty thick and form fits the bell pretty well.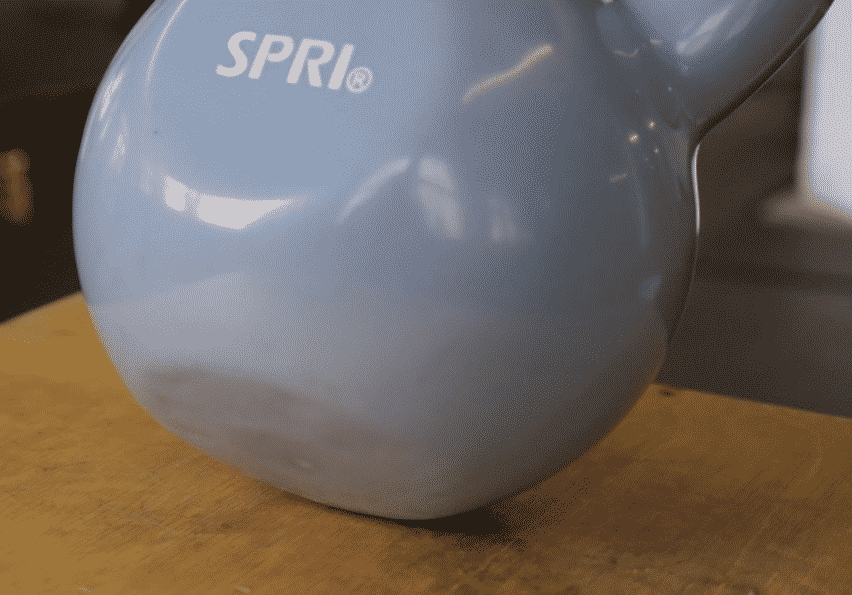 Price
In terms of price, you can expect to pay in the range of $105.00 – $125.00 for this kettlebell for this weight. This is slightly more expensive than other kettlebells on the market at this weight, or close to it (24kg/53 lbs). I get that this kettlebell has additional vinyl coating, but I thought this price was a tad high for a 50 lb bell.
Wrapping Up
The SPRI Kettlebell performed pretty consistently in all of our tests. I like that SPRI attempted to make this kettlebell as beginner friendly as they could with the smoothed down handle and vinyl coating. Also, I think this bell would be a good option for anyone who enjoys working out inside and is worried about damaging their floor. The only real downfall to this bell is the price.
All in all, the SPRI Kettlebell was a solid option for the beginning kettlebell user.