Earlier this month, Stephanie "The Hammer" Hammerman opened up Hammer Driven Fitness, her functional fitness focused gym, in the town of Knightdale, North Carolina.
Compared to other individuals who populate the gym owner space, Hammerman has had a slightly different experience to her fitness journey than most. Hammerman was born with Cerebral Palsy, but has never let that stop her from chasing her dream of becoming a great coach, competitive athlete, proving the scalability of CrossFit for adaptive athletes, and now, owning her own gym.
Hammerman found CrossFit over six year ago and has never looked back. She explained, "I found my love for CrossFit in 2012, wanting to become a better competitive cyclist. The [CrossFit] community embraces you regardless of circumstance. My athletes now make me want to be the best leader I can."
Author's Note: View the photo below on Hammerman's Instagram page — click this link!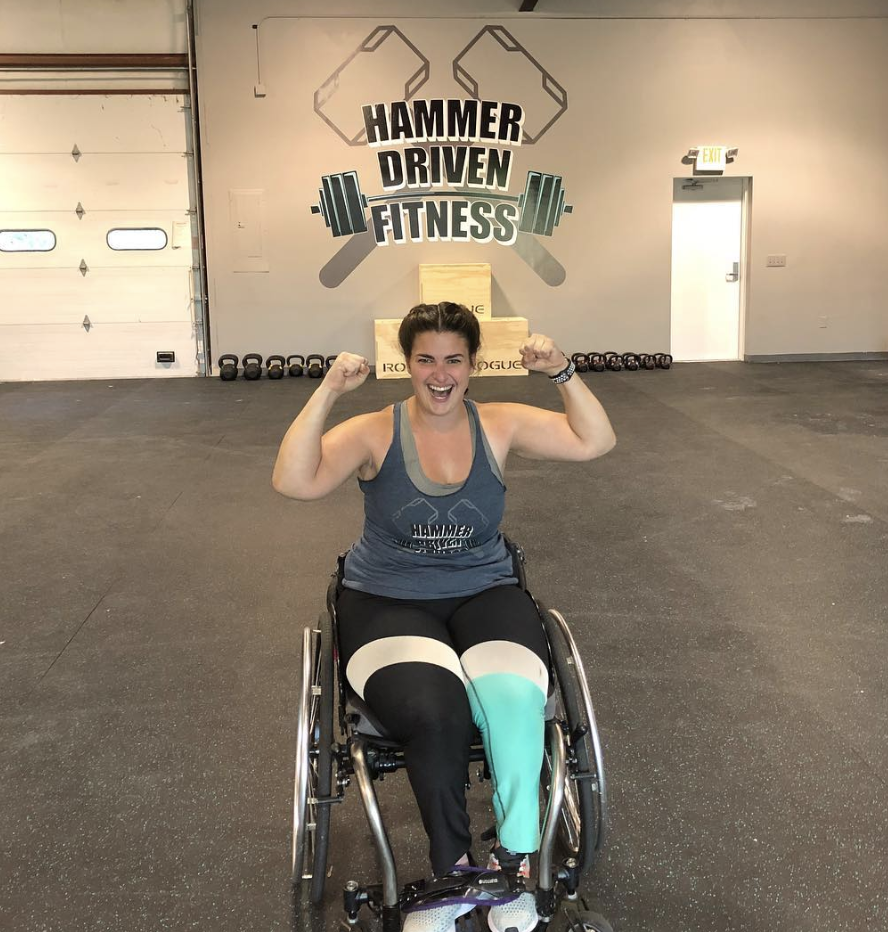 As the first ever CrossFit Level 2 Coach with Cerebral Palsy, she's already a trailblazer in the sport. And while that's certainly impressive within itself, Hammerman has also competed with success in multiple adaptive athlete competitions. Most recently, she competed in the Adaptive Athlete Event at the 2018 Reebok CrossFit Games.
After seeing Hammerman's story shared by the ABC Eye Witness news affiliate in Knightdale, NC, we knew we wanted to learn more about this unique athlete and her journey.
BarBend: How long has the dream of owning your own gym been in the works? 
Hammerman: I have wanted to open my own place for a few years now, but the timing never seemed to align and looking back now I can definitely say I wouldn't have been ready a few years ago. Opening my own space has been an amazing and rewarding challenge. Everyday I am reminded as to why I love my job. I am in the business of changing people's lives and I wouldn't have it any other way.
Video above courtesy ABC 11 Eye Witness News.
BarBend: How has the first week of business been?
Hammerman: The first week of business has been awesome. I knew going in that we were starting from scratch when it came to members so, I'm really happy with the fact that we have 6 founding members within the first few days a business.
BarBend: What's the main goal you have in behind starting Hammer Driven Fitness? 
Hammerman: The goal of Hammer Driven Fitness is to breed longevity. I want people leaving each class feeling more capable than the day before. Our mission is to educate, motivate and improve your overall quality of life using fitness. If you leave HDF feeling accomplished and like you had fun, then I have done my job.
Author's Note: If you're having trouble viewing the video below on mobile — visit here!
https://www.instagram.com/p/Bn6X6e3Bg5n/
BarBend: Do you have any parting advice for others who may want to pursue a career as a coach or owning their own gym?
Hammerman: As far as advice, surround yourself with people who believe in your mission and want to see you succeed because you will be leaning on that army quite a bit!
BarBend: Thank you, Steph, and all the best with the new gym! 
Feature image from @stephthehammer Instagram page.