For the end of 2016, I reflect on the Strongman season and how rewarding it is to be part of sport that has brought confidence, strength, and happiness to so many people. To watch the women's division become nearly as large as the men's, with a new professional class providing real payouts, has been exciting. I got to travel the USA watching men and women from all walks of life test themselves on physical and mental challenges that help change them as people. It's a fantastic honor to design programming for athletes who won their pro card and for my rookies who just loaded their first stone.
Through all this I share my observations and education with you, the reader. Hopefully my words have inspired or changed you, made you laugh or cry, solved a problem or created a new one.
My goal is to impact, in one way or another, the world of this sport. I long for it to mature and gain the recognition it deserves as one of the most difficult contests on the planet.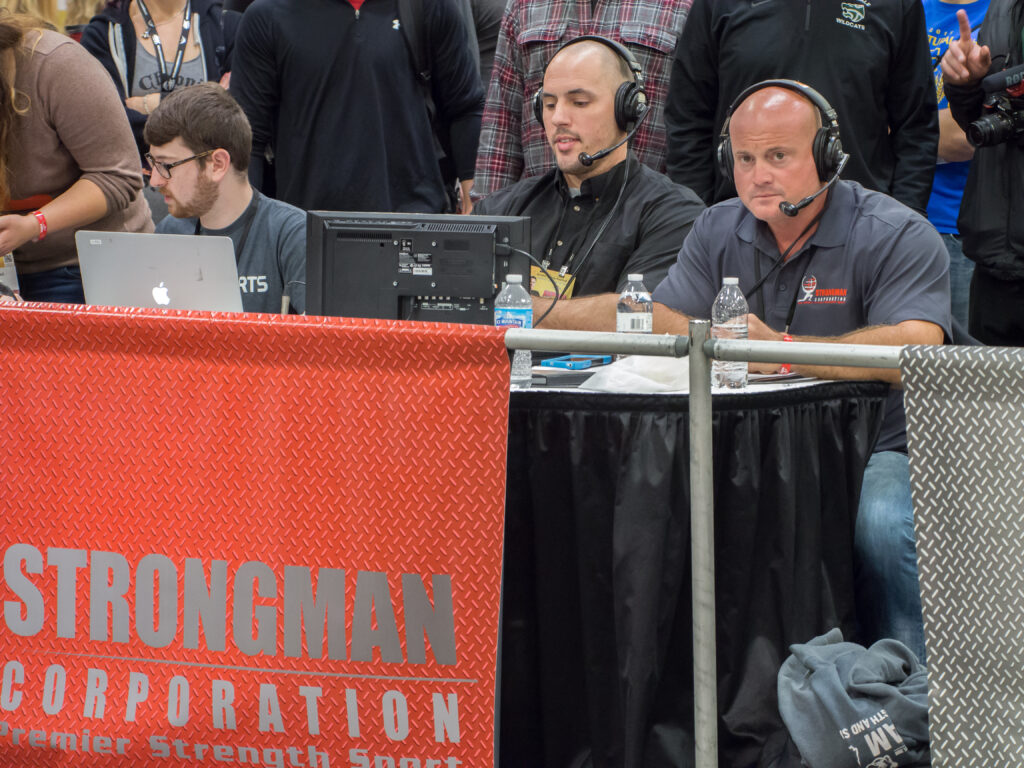 The author (far right) providing color commentary with Kyle Bixler (center) at the 2016 Arnold Classic.
My goal as a coach and educator is similar to that of the athlete; constant improvement. I strive to break new ground and develop new theories. What coach does not want to be the next Louie or Abadjiev? To have a resume built with the labors of champions is not only an achievement but an honor. To accomplish this, I spend much of my time on the direct development of my coaching skills. I would like to share with you some of the insights this work has revealed to me and how it can help you for the coming season.
I spend three to four hours each week in direct one on one conversation with a PhD of Sports Psychology discussing all aspects of human behavior and communication. Through this I have learned to become a better listener, enabling me to use that information to truly customize my programming and dialogue to fit each athlete I coach.
Each and every person I work with has a unique experience of this world and they may see things ever so slightly differently than I do. Understanding how this can affect how I speak with them has enabled me able to reach more people in a truly effective way.
I'm grateful that many I coach can be told directly what to do. This is wonderful because it is a time saver. Those students would fit well into the cold war era of Bulgarian training halls and will typically set record after record. On the flip side, there are a few that must learn by trial and error. They unknowingly have an issue with authority and will deviate from programming or goal setting.
The looser way of lifting best suits them; looser, unstructured sessions that satisfy the desire to train more than the goal to win. They can still be a champion, but must cut a new path. These are the athletes that will help me discover a new training system and possibly more effective ways to lift a weight.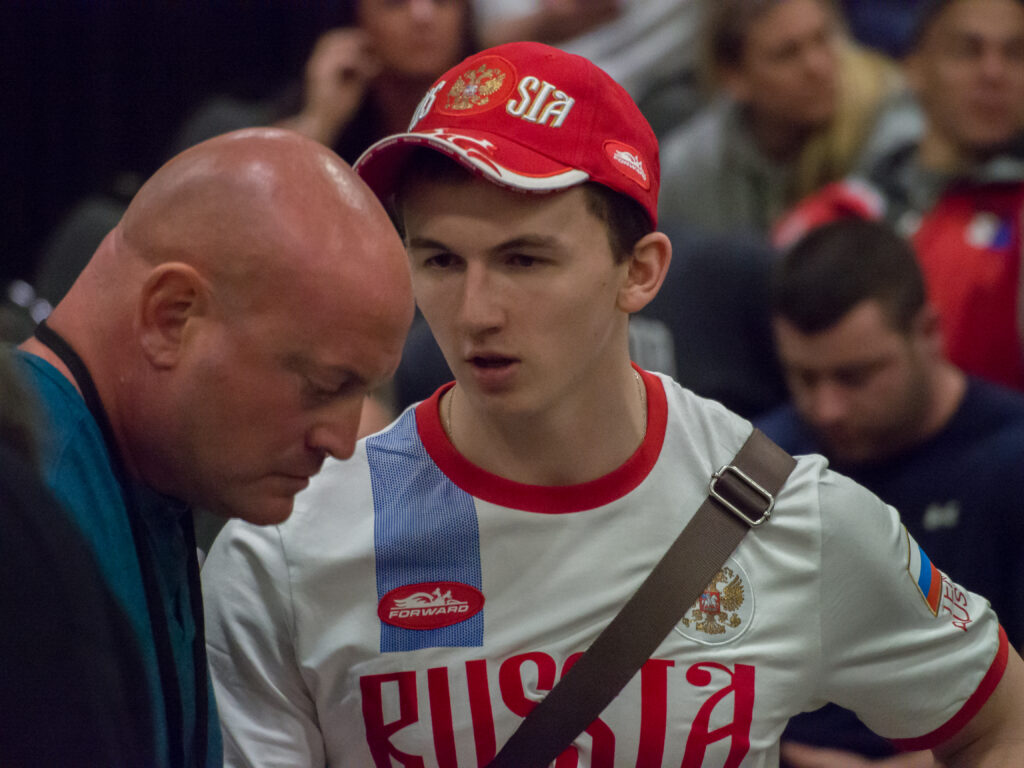 The author (left) working with a translator on Russian text at the 2016 Arnold Classic
In 2017, I suggest that you examine your response to your coach (or mentor) and how easy you make it for them to help you. How good of an athlete are you for them? Are you just a source of revenue or do you strive to be a star on the team? Having the goal and will to win is not the same as following the process.
Besides working directly with an educator, much time is spent reading articles and books. I have a goal of 20 books a year, and most of them proved to be valuable tools that impacted my thought process and my outcome of many situations. Some books are fun to read while others are difficult due to their technical nature. I would like to recommend three titles that can offer anyone some excellent insight:
Sapiens: A Brief History of Humankind

(Yuval Harari) An interesting perspective of time and culture: this book was designed to get you to ask questions about how you see the world and how we have come together as a society. It should get you thinking about what is really important to you, due to our small place in the world that has preceded us.

Extreme Ownership

(Jocko Willink).

This combat tested SEAL lays out a plan for you to take control over every aspect of your life. Smart, and well thought out this book can help you become a better athlete and person.

The NY Times article on the Biggest Loser. 

Not a book, but a wealth of knowledge on the human metabolism, extreme exercise, and absurd diets. Weight classed and open athletes should always consider their weight and health when competing. This eye opening look at your body's attempts to foil your efforts is a must read.
Although I no longer compete, I still train. It's lighter and safer, but I still perform the basic movements, attempting to find nuances I haven't noticed previously. It can be hard to be a master of refinement when you attempt to lift in a competitive mode for decades. Take more video of your lifts, dissect them with honesty and store them. Compare them week to week, year to year and study your movement patterns. The time you spend on self analysis is never wasted.
I got to meet so many of you this past season, and a highlight of this year was having so many of you introduce yourselves to me and getting to know you on a personal level. Real people lift these weights, not gods or legends. To have a name with a face makes every article more real as I am writing directly to you. We all share a common interest, and through a more familiar community we can work together to increase involvement. Make new friends this year in the sport and bring it to others. They will thank you for it.
In closing, I would like to thank all of you. Without your time, energy and commitment there would be no athletes to train or no competitions to broadcast. We are all family in iron and need each other to challenge us in our attempts to become better. May 2017 bring you a safe and personal record filled season.
Editors note: This article is an op-ed. The views expressed herein are the authors and don't necessarily reflect the views of BarBend. Claims, assertions, opinions, and quotes have been sourced exclusively by the author.