At 23 years of age, Jourdan Delacruz will make her Olympics debut at the rescheduled 2020 Tokyo Olympic Games, representing the USA in the 49-kilogram class. Originally from Wylie, TX, Delacruz trains out of Power & Grace Performance in Suwanee, GA. She first got into the sport of weightlifting by training CrossFit® methodology, which incorporates many Olympic lifts in its programming.
Delacruz currently holds nine American weightlifting records across the 49-kilogram and 55-kilogram classes and all three current Senior Pan American weightlifting records at 49-kilograms. Heading into competition at the 2020 Tokyo Olympic Games — her session is currently scheduled for July 24, 2021 — she is ranked fourth globally in her weight class by the International Weightlifting Federation (IWF).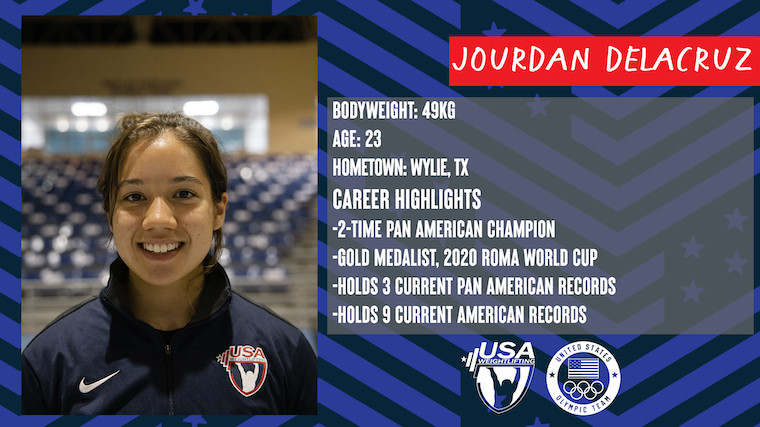 [Related: The Full 2020 Tokyo Olympic Games Weightlifting Roster]
Weightlifting Career
Delacruz has had an impressive string of performances at events within the 2020 Tokyo Olympics weightlifting qualification period. She swept gold at the rescheduled 2020 Pan American Championships, where she set all three current American and Pan American weightlifting records with the following stats:
Snatch — 89 kilograms (196.2 pounds) — American record, Pan American record
Clean & Jerk — 111 kilograms (244.7 pounds) — American record, Pan American record
Total — 200 kilograms (440.9 pounds) — American record, Pan American record
Delacruz had set the previous Pan American records at the 2020 Weightlifting World Cup, where she also swept gold and reset her previous American records. Before moving down to the 49-kilogram class, Delacruz competed at 53-kilograms as a Junior competitor — she scored silver at the 2018 Junior World Championships — and in the 55-kilogram class.
As a 55-kilogram competitor, Delacruz won the 2019 Pan American Championships, setting American records in the clean & jerk (116 kilograms) and total (207 kilograms). She also holds the American snatch record at 55-kilograms for the 91-kilogram (200.6-pound) lift scored at the 2019 Pan American Championships Trials.
In addition to holding all the Senior American records at 49-kilograms and 55-kilograms, Delacruz still holds all three Junior American records at 55-kilograms.
[Related: New ITA Report Reveals Doping Violations, Corruption, and Cover-Ups in Weightlifting]
Competition In Tokyo
Here are all the athletes competing in the 49-kilogram class at the 2020 Tokyo Olympic Games:
49-Kilogram Roster
Nina Sterckx — Belgium
Nathasha Rosa Figueiredo —Brazil
Hou Zhihui — China
Ludia Marguiela Montero Ramos — Cuba
Beatriz Elizabeth Piron Candelario —Dominican Republic
Anais Michel — France
Windy Cantika Aisah —Indonesia
Saikhom Mirabai Chanu — India
Hiromi Miyake — Japan
Marie Hanitra Roilya Ranaivosoa — Mauritius
Loa Dika Toua — Papua New Guinea
Kristina Ivanovna Sobol — Republic of China
Fang Wan-Ling — Chinese Taipei
Jourdan Delacruz — USA
The only medalist in the above roster from the 2016 Rio Olympic Games is Hiromi Miyake, who won bronze in the 48-kilogram class — new weightlifting categories were approved by the IWF in 2018. Per the IWF rankings, five of the top 10 ranked athletes in this weight class will compete at the 2021 Games:
IWF Rankings — 49-Kilogram Class
Hou Zhihui — IWF Ranked #1
Saikhom Mirabai Chanu — IWF Ranked #3
Jourdan Delacruz — IWF Ranked #4
Windy Cantika Aisah — IWF Ranked #5
Kristina Ivanovna Sobol — IWF Ranked #9
Zhihui currently holds the world record snatch and total. Chanu holds the world record clean & jerk. All three records were scored at the rescheduled 2020 Asian Weightlifting Championships. They are the following:
49-Kilogram World Records
Snatch — Hou Zhihui, 96 kilograms (211.6 pounds)
Clean & Jerk — Saikhom Mirabai Chanu, 119 kilograms (262.4 pounds)
Total — Hou Zhihui, 213 kilograms (469.6 pounds)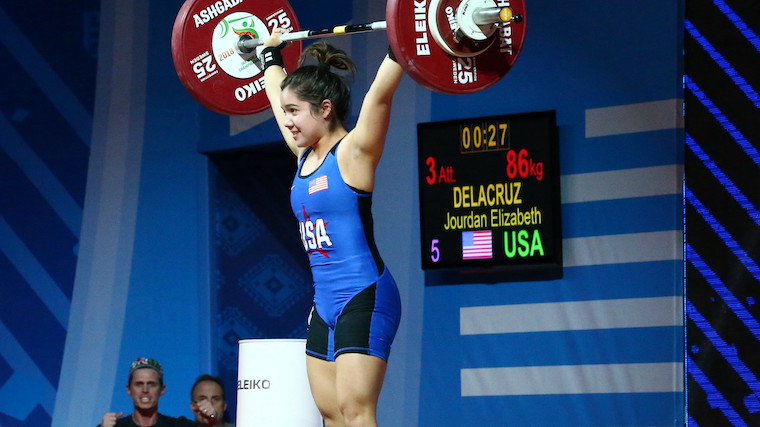 [Related: Rogers Claims Records — 2021 USA Weightlifting National Championships Results]
Onto the Olympic Games
The Women's 49-kilogram weight class will be the first weightlifting category to compete at the 2020 Games. Group B is scheduled for Friday, July 23, 2021, at 8:50 p.m. EST. Group A's session begins on Saturday, July 24, 2021, at 12:50 a.m. EST.
We will see how well Delacruz fares against the best in the world. Judging by the lifts scored previously by her competition, she will need to hit the highest total of her professional weightlifting career to reach the podium.
Note: BarBend is the Official Media Partner of USA Weightlifting. Unless otherwise specified on certain content, the two organizations maintain editorial independence. They collaborated on this article series.
Featured Image Courtesy of USA Weightlifting