Thirty-one-year-old Wesley Kitts is one of eight Americans traveling to Tokyo Japan to compete in the weightlifting portion of the rescheduled 2020 Olympic Games. Kitts, who hails from Knoxville, TN, trains out of California Strength and is coached by David Spitz.
He's a two-time Pan American Champion (2018-2019) and currently holds two American Records. The Men's 109-kilogram Group A session, which Kitts is a part of, takes place on August 3, 2021, at 6:50 a.m. EST.
Weightlifting Career
Kitts captured gold at two Pan American Championships. At the 2018 Pan Am Championships, Kitts, who was competing at 105-kilograms (this was before IWF reorganized the bodyweight categories), snatched 172 kilograms and clean-and-jerked 212 kilograms for a winning total of 384 kilos.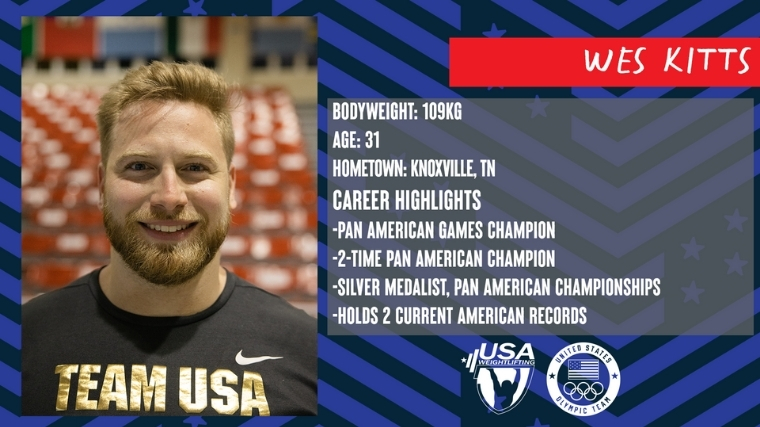 Once Kitts moved up to 109-kilograms (the weight class that replaced 105), it seems that his lifts followed suit. Here were his stats from the 2019 Pan American Championships, which he also won while setting two American Records:
Snatch — 176 kilograms (388 pounds)
Clean & Jerk — 223 kilograms (491.6 pounds), American Record
Total — 399 kilograms (879.6 pounds), American Record
At the time this article was written, those records still stand. In addition to those contests, Kitts has appeared in three Weightlifting World Championships (2017, 2018, and 2019), with his highest rank being 10th place in 2017. Though he placed 10th in 2017, Kitts' best WWC total came in 2018. Here were his stats from that event:
Snatch — 168 kilograms (370.4 pounds)
Clean & Jerk — 222 kilograms (289.4 pounds)
Total — 390 kilograms (859.8 pounds)
Before becoming a weightlifter, Kitts was an accomplished football player. He was a tailback for the Austin Peay Governors and ran for over 1,100 yards. He also played for the New York Rhinos in the National Professional Grid League. Kitts has a BS in Exercise Science from Austin Peay State University.
Competition in Tokyo
Here are all the athletes competing in the 109-kilogram class at the 2020 Tokyo Olympic Games:
109-Kilogram Roster
Simon Martirosyan — Armenia
Tanumafili Malietoa — American Samoa
Matthew Ruan Lydement — Australia
Hristo Dimitrov Hristov — Bulgaria
Ali Hashemi — Iran
Jin Yungseong — South Korea
Arturs Plesnieks — Latvia
Arnas Sidiskis — Lithuania
Arkadiusz Michalski — Poland
Timur Naniev — Republic of China
Ovez Ovezov — Turkmenistan
Aymen Bacha — Tunisia
Wesley Brian Kitts — USA
Akbar Djuraev — Uzbekistan
Simon Martirosyan is the only returning Olympian in this year's lineup. He isn't ranked in the IWF's 2021 rankings but was a silver medalist in the 2016 Olympic Games. He has also won two Weightlifting World Championships (2018 and 2019), two European Championships (2017 and 2019), and is a Youth Olympic Games gold medalist (2014).
109-Kilogram IWF Rankings
Akbar Djuraev — IWF Ranked #2
Hristo Dimitrov Hristov — IWF Ranked #5
Tim Naniev — IWF Ranked #7
Jin Yungseong — IWF Ranked #8
Arkadiusz Michalski — IWF Ranked #11
Arturs Plesnieks — IWF Ranked #13
Ovez Ovezov — IWF Ranked #17
Aymen Bacha — IWF Ranked #21
Arnas Sidiskis — IWF Ranked #27
Wes Kitts — IWF Ranked #29 (tied with Hannes Heikki Juhani Keskitalo)
Two big names are missing from this year's 109-kilogram roster — 2016 Olympic Games gold medalist Ruslan Nurudinov and Yang Zhe of China. Both Nurudinov and Zhe hold world records — the snatch for Zhe and the clean & jerk for Nurudinov. This means that runner-up at the 2016 Games and current total world record holder Martirosyan of Armenia seems to be the man to beat.
109-Kilogram World Records
Snatch — Yang Zhe, 200 kilograms (441 pounds)
Clean & Jerk — Ruslan Nurudinov, 241 kilograms (531.3 pounds)
Total — Simon Martirosyan, 435 kilograms (959 pounds)
Onto the Olympic Games
The Men's 109-kilogram weight class will be the second to last weightlifting category to compete at the 2021 Games. Group B is scheduled for Tuesday, August 3, 2021, at 12:50 a.m. EST. Group A's session begins that same day, at 6:50 a.am EST.
We will see how Kitts, who has undoubtedly improved, fares against the other 109-ers. He has some stiff competition, but anything can happen on the platform, and we'll all be tuning in to see what happens.
Note: BarBend is the Official Media Partner of USA Weightlifting. Unless otherwise specified on certain content, the two organizations maintain editorial independence. They collaborated on this article series.
Featured Image Courtesy of USA Weightlifting