Allie Wiseman, 19, is a New Jersey teenager with a remarkable and unusual story behind her journey to the national weightlifting platform.
Next week (February 24-26th), Wiseman will be among the hundreds of junior weightlifters competing in the USA Weightlifting Junior National Championships in Kansas City, Missouri.
Wiseman has persevered through many ups and downs on her quest to the national platform. In October 2015, Wiseman found herself in the hospital with a spinal disease called Transverse Myelitis. This disease causes inflammation to occur on both sides of the spinal cord, which can result in interrupted nerve signals, which can lead to pain, sensory issues, and paralysis.
The ABC 7 New York news report discussed symptoms Wiseman used to feel before her official diagnosis. Wiseman talked about how she would feel pins and needles in her feet for extended periods of time, and eventually that feeling worked its way up her legs and wouldn't go away. Eventually she decided to see someone about the issue.
After being hospitalized, Wiseman found herself struggling to walk. In some cases, this disease can leave those impacted fully paralyzed.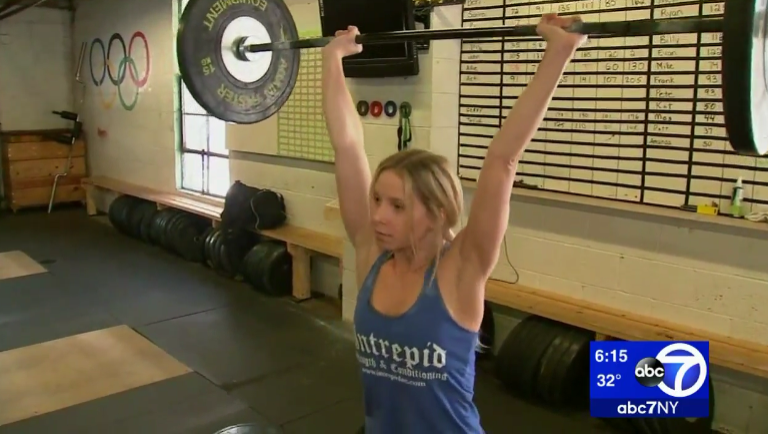 Screenshot: ABC 7 New York news report video. 
To combat her diagnosis doctors put her on a steroid treatment, which took her out of the gym for months and left her feeling weak. Post-treatment she began to build back her strength slowly with Intrepid Strength and Conditioning in CrossFit Warwick in New Jersey.
She officially made the switch from CrossFit® to Weightlifting last September. Now rewind to three months ago where Wiseman found herself in a position to qualify for junior nationals.
In order to qualify for the junior female 58kg weight class Wiseman needed a 126kg total. Her clean & jerk shared below was the lift that sealed the deal for her (qualifying with a 130kg total) and wrote her ticket to compete in Kansas City, Missouri.
The current start list has Wiseman set to compete in the female 58kg weight class for session B, in the 28th spot. She'll be competing against 31 other 58kg competitors.
A quote from ABC 7 New York's story sums up Wiseman's thoughts on weightlifting, "It's something special," she said. "It's something different. Not a lot of people I know do it. So that's what makes it special to me."
Wiseman's story is not only motivation, but moving. Her journey demonstrates how her love and perseverance for weightlifting and strength helped her overcome what may be one of the biggest obstacles she'll face in life.
Feature image from @alliewiseman Instagram page.