Territory Foods is a healthy meal delivery service that focuses on providing locally sourced meals to four territories across the United States. Their four delivery territories are San Francisco Bay, Southern California, Dallas/Fort Worth, and Washington D.C./Baltimore/Virginia.
Within their meal service, you can select from 12 options that are catered to different dietary needs. These options can assist multiple of athletes in their strength sport pursuits. In this article, we broke down Territory Food's taste, appearance, nutrition, convenience, customizability, and price.
Taste
To keep this review consistent with other in the past, we heated up the standard sized meals we received in the microwave per their instructions. The first meal we tried was a Pistachio Crusted Tuna Cakes With Fennel Apple Slaw. This was a unique dish, and I was interested to see how the tuna tasted after being heated up in the microwave.
To my surprise, it didn't have an overly fishy taste, and the texture held up really well. I liked the pistachio crushing and thought it did a good job at complementing the traditional bite tuna encompasses. Also, I liked that the tuna heated up pretty evenly, which was an initial worry I had with putting all of the food in the same container.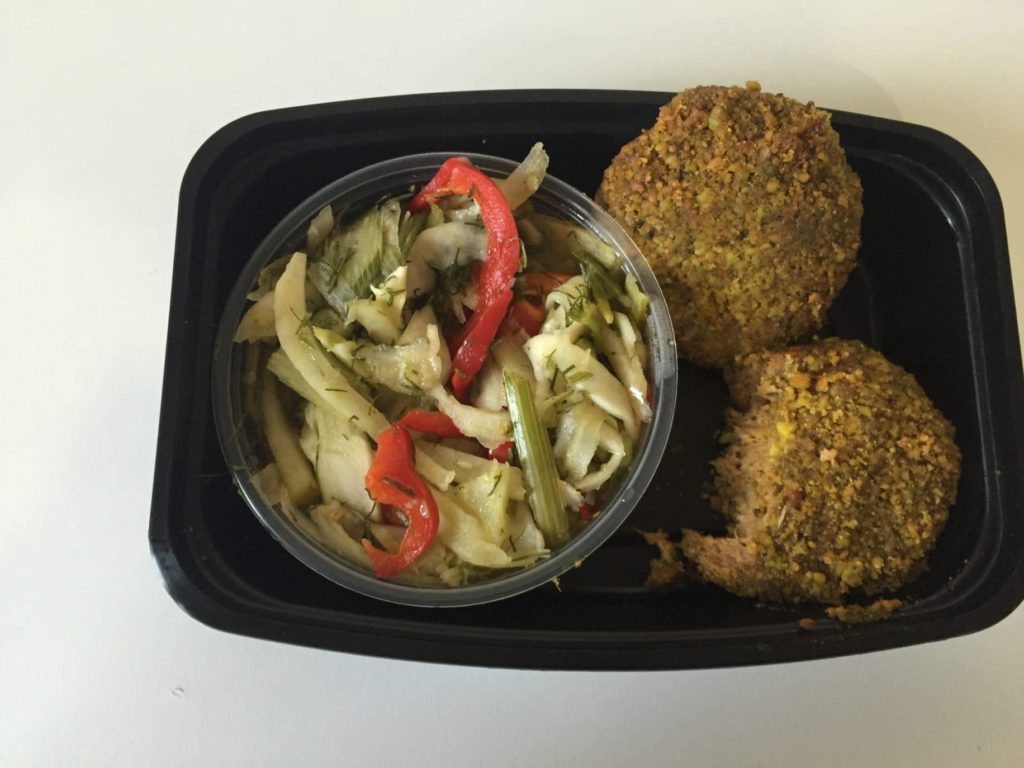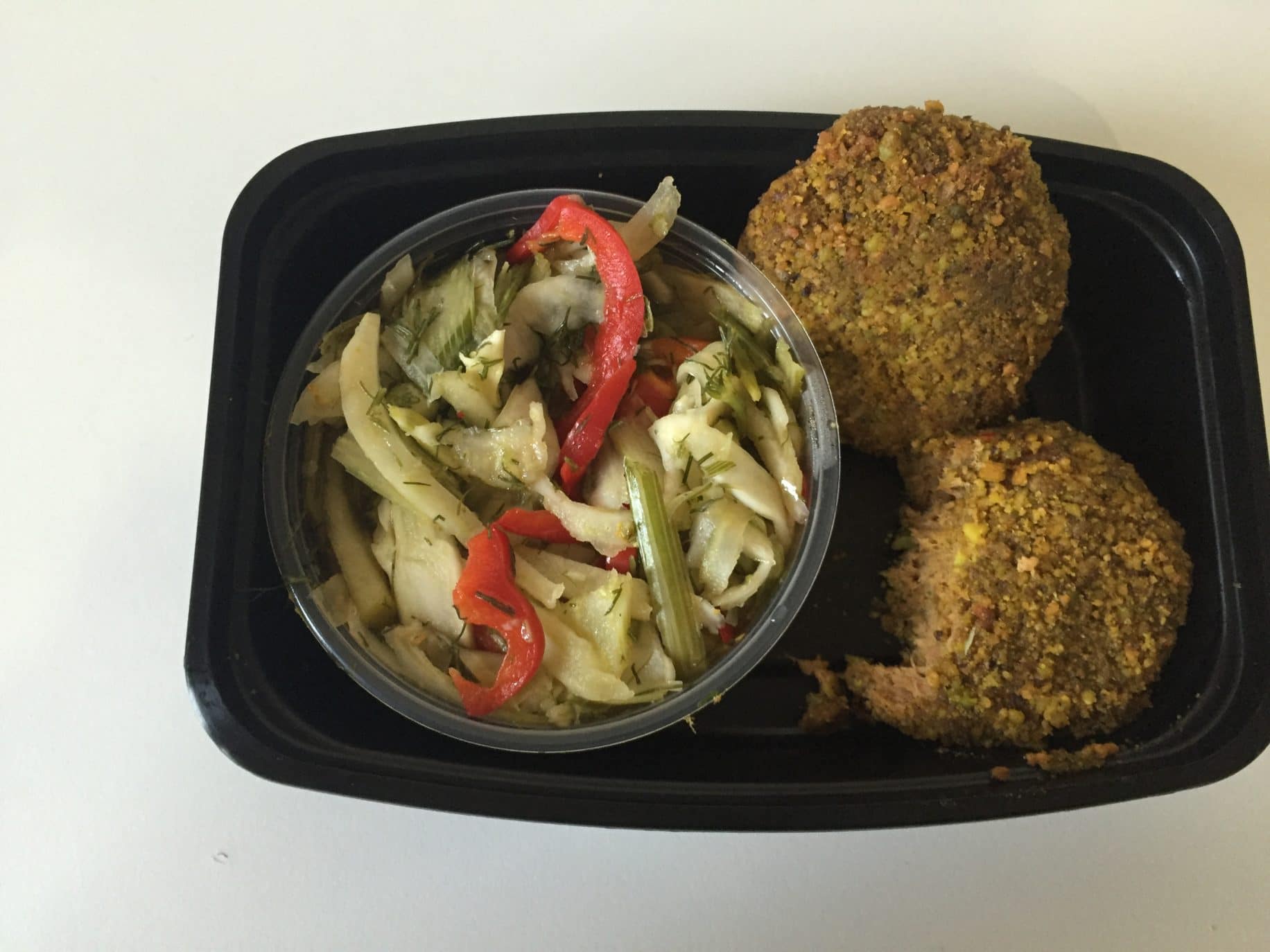 The apple fennel slaw was also fairly good. It had a sweet and savory taste, so it was nice to have in-between bites of the tuna cakes. I think I enjoyed it most because it was a good stand alone side dish that you don't get every day. One thing I'd recommend to others is to heat this dish up a little more aside from the tuna, as it comes in its own container.
[Check out our thoughts on many top Paleo Meal Delivery services here!]
The next taste test we tried was the Buffalo Chicken With Cumin Carrot Salad. I personally like a lot of bite in my buffalo chicken, so my main concern when going in was the spiciness. Their chicken's texture was really good, and I'd compare it to something you'd get from a deli, as in it didn't have that off pre-made taste. The only thing I wish the buffalo chicken had was a little extra kick, but when add the spicy mayo that comes with it the spice stands out, so it was a good compromise for those who want and don't want spice.
The cumin carrot salad was interesting. It was definitely a little more unique when it comes to pre-made delivery services. I liked this addition because it kept the calories and macros low, which is a plus for many body composition oriented strength athletes, especially those on off days. Their carrots weren't mushy and had a crunch, so even microwaved, the dish gave off the impression that it was locally/freshly made.
Territory Food Appearance
When it comes to appearance, I thought Territory Foods did a pretty good job at providing appetizing looking meals. There's always the issue of foods blending together when they're packaged in the same container, but Territory offered a solution for this in some of their packages. A few of their meals are put altogether in one, like the buffalo chicken and carrot salad, yet others have separate containers like the tuna cakes and apple fennel slaw.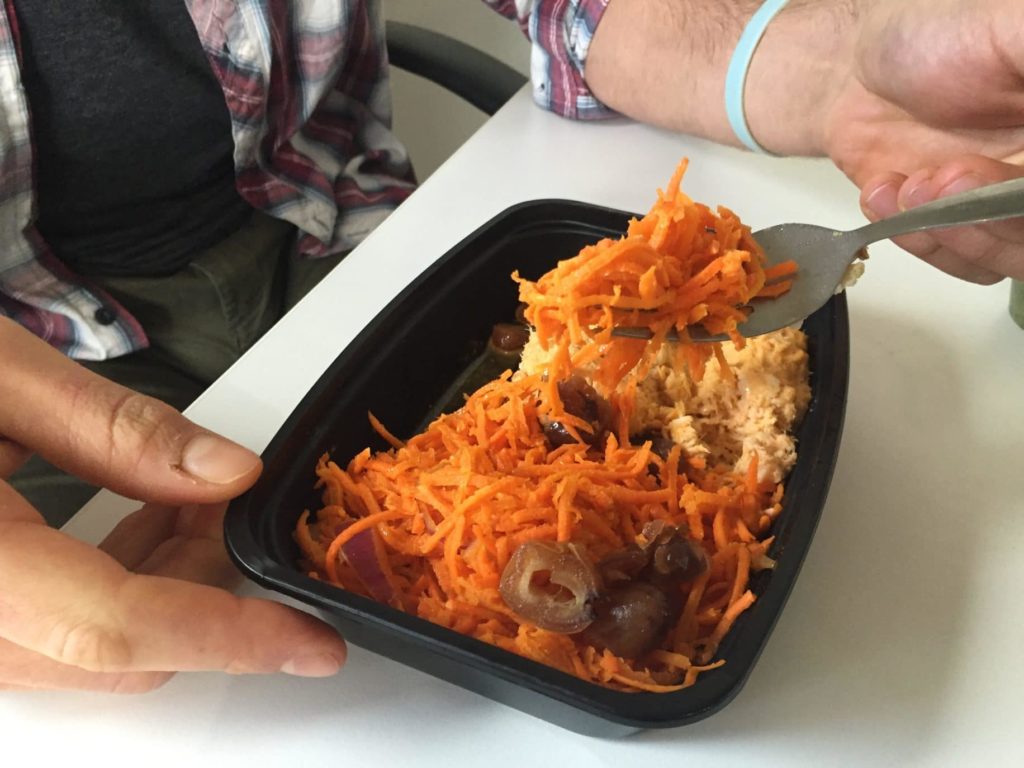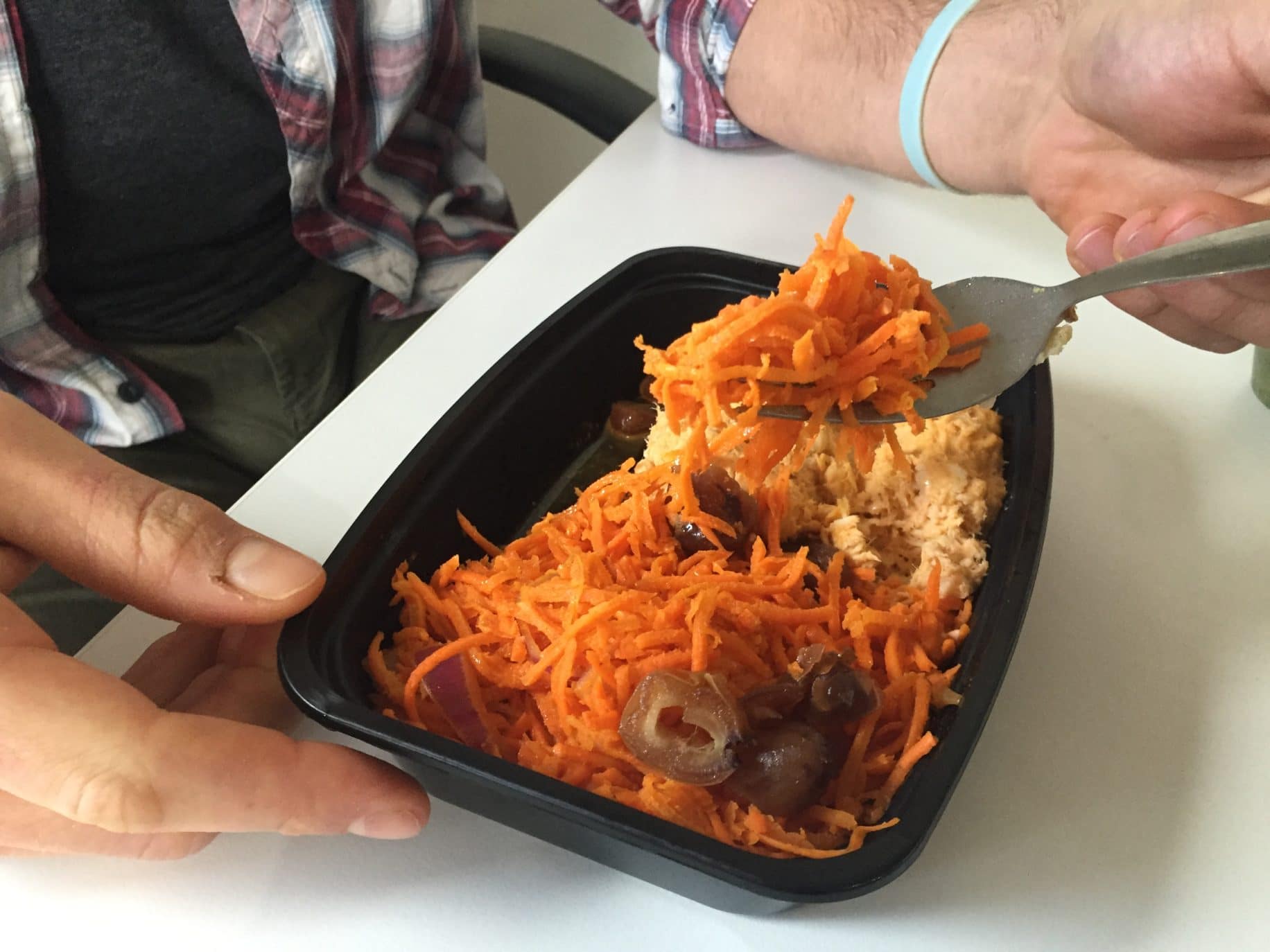 This was a positive for me, because it gave off the impression that Territory packaged meals accordingly per their taste. For example, the tuna cakes would have gotten mushy in the same package if the slaw didn't come with a separate container. I'm not a picky eater, so this characteristic doesn't bother me too much, but if you are, then Territory does a decent job at keeping certain food's tastes to themselves.
Territory Meals Nutrition
Since Territory Meals offers so many options, then they have a variety of nutrition oriented ranges for each type of category. I liked that they list all of their meal's caloric and macro content on the package. It makes it super easy to know what you're putting in your body. Also, I like that they list each meal's ingredient composition. If you're on a certain diet and chose on their categories for that reason, you won't have an issue with learning what's in your meal.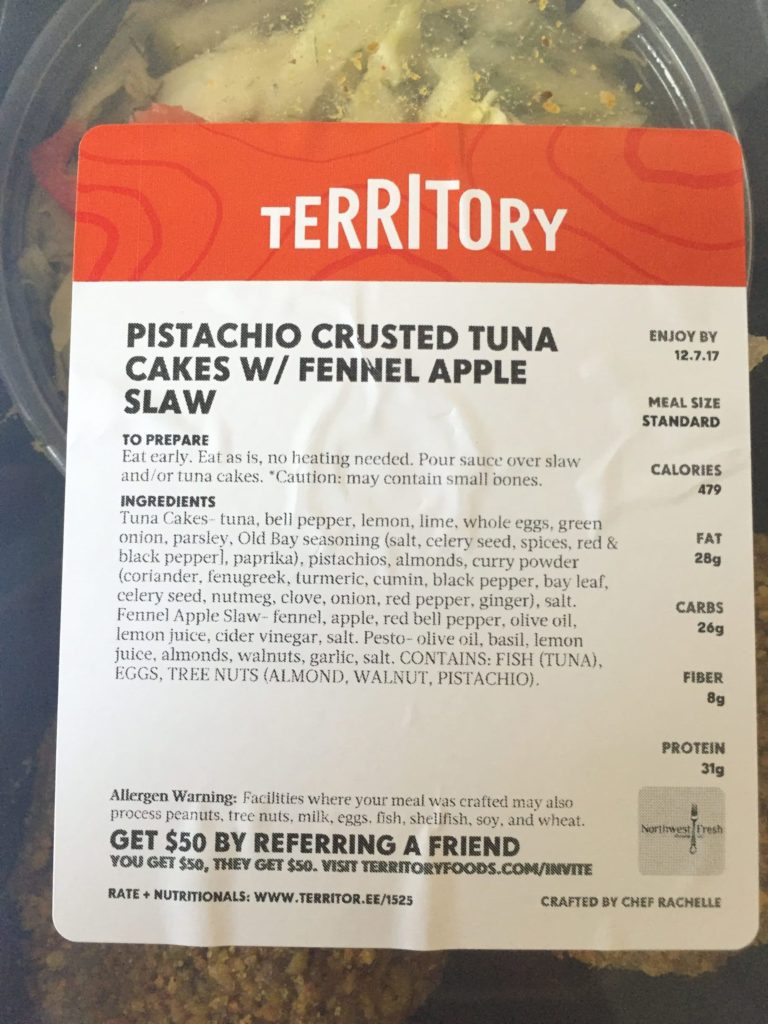 Another positive to their service's nutrition is their macro and caloric ranges. They offer three different meal sizes, and list off what you can expect from each type of meal. In addition, they offer a program that allows you to sift through a meal's macro content when you're placing your order. This made it incredibly easy to pull the exact type of meal I'd like, and hit the macro goals I needed. The only issue I have with services with ranges is for the consistent eater/dieter. If you're someone who needs a very consistent type of meal, then you'll need to invest a little more time into specially curating your delivery.
Territory Meals Calories
As mentioned above, Territory provides you with a meal's caloric content on the package. This makes it easy for those ordering a meal size based on the caloric ranges Territory provides on their site. Below are the three meal sizes and caloric ranges that make up each type of meal.
| | |
| --- | --- |
| Meal Size | Caloric Range |
| Boost | 250-450 |
| Standard | 400-650 |
| XL | 550-850 |
In terms of clear caloric totals on the package, Territory Foods does this well. But I do see a potential issue for those needing exact numbers, as their ranges can vary up to 300 calories. For someone on a diet, or needing exacts, they may find it a little more tough finding consistent caloric totaled meals.
Price
The price for Territory was fairly comparable to other meal services. Each of their meal sizes have a preset price per how much each one will cost. They're a little more expensive that what you'd pay cooking your own meal, and I'd compare them to eating out in a city for breakfast, lunch, or dinner. Check out their prices below.
| | |
| --- | --- |
| Meal Type | Price Per Meal |
| Boost | $9.95 |
| Standard | $12.95 |
| XL | $15.95 |
I feel that the best options for your money are the smaller meals, and the XL are a little pricey, especially with their varied caloric totals. The only positive to this style of meal pricing is that it's always consistent, and never confusing like some services can be when you have to order a certain amount.
Convenience
Territory Foods makes ordering pretty convenient and offer three different ordering options. You can either do early week (Mon-Wed), later week (Thur-Fri), or the full week. Meals for early week, which include the first three days of a full week are delivered Monday between the hours of 10 P.M. and 7 A.M., then the same on Thursday for later week days Thursday-Friday. I like this because meals are at your doorstep before the day begins, and you don't have to worry about them sitting out for long periods of time. To receive meals for the following week, orders must by placed by 11:59 P.M. on Thursday the week before.
Another positive about Territory is their shipping fee. If you choose to have meals delivered, then you can expect to pay a consistent $7.95 each time, which tops a lot of services that base shipping on your location. In addition, you can pick meals up at one of their 450 locations (within the four territories) to save on the shipping cost. There's only one potential issue I have with Territory's convenience, and that's for those living outside of the four areas they service.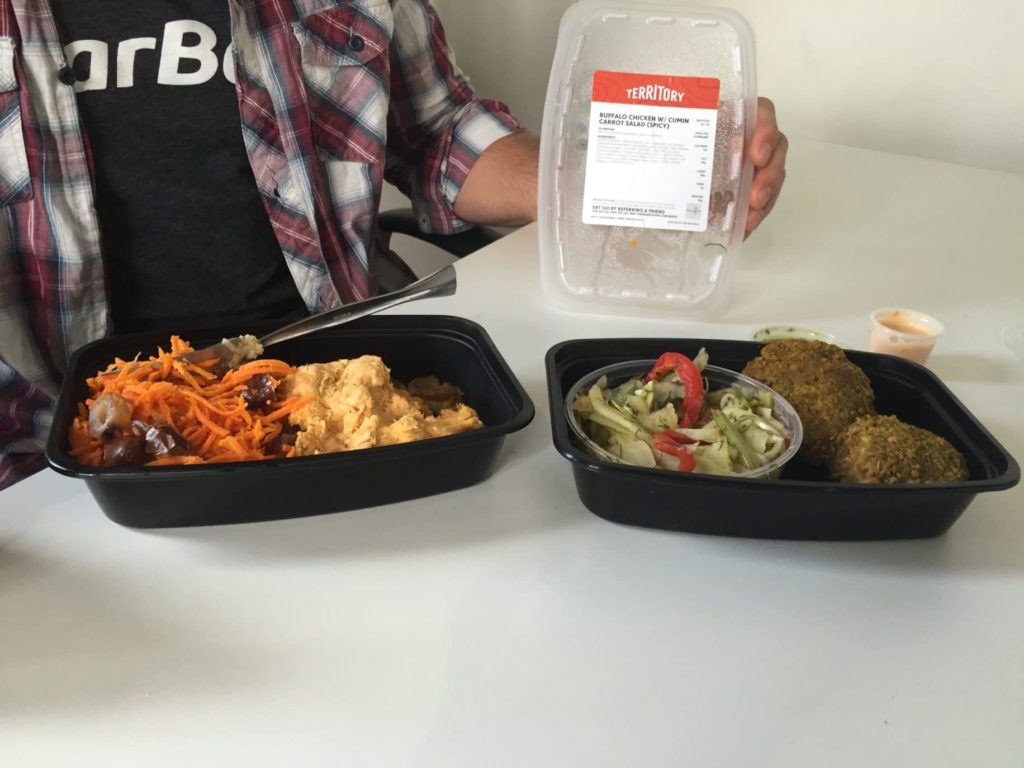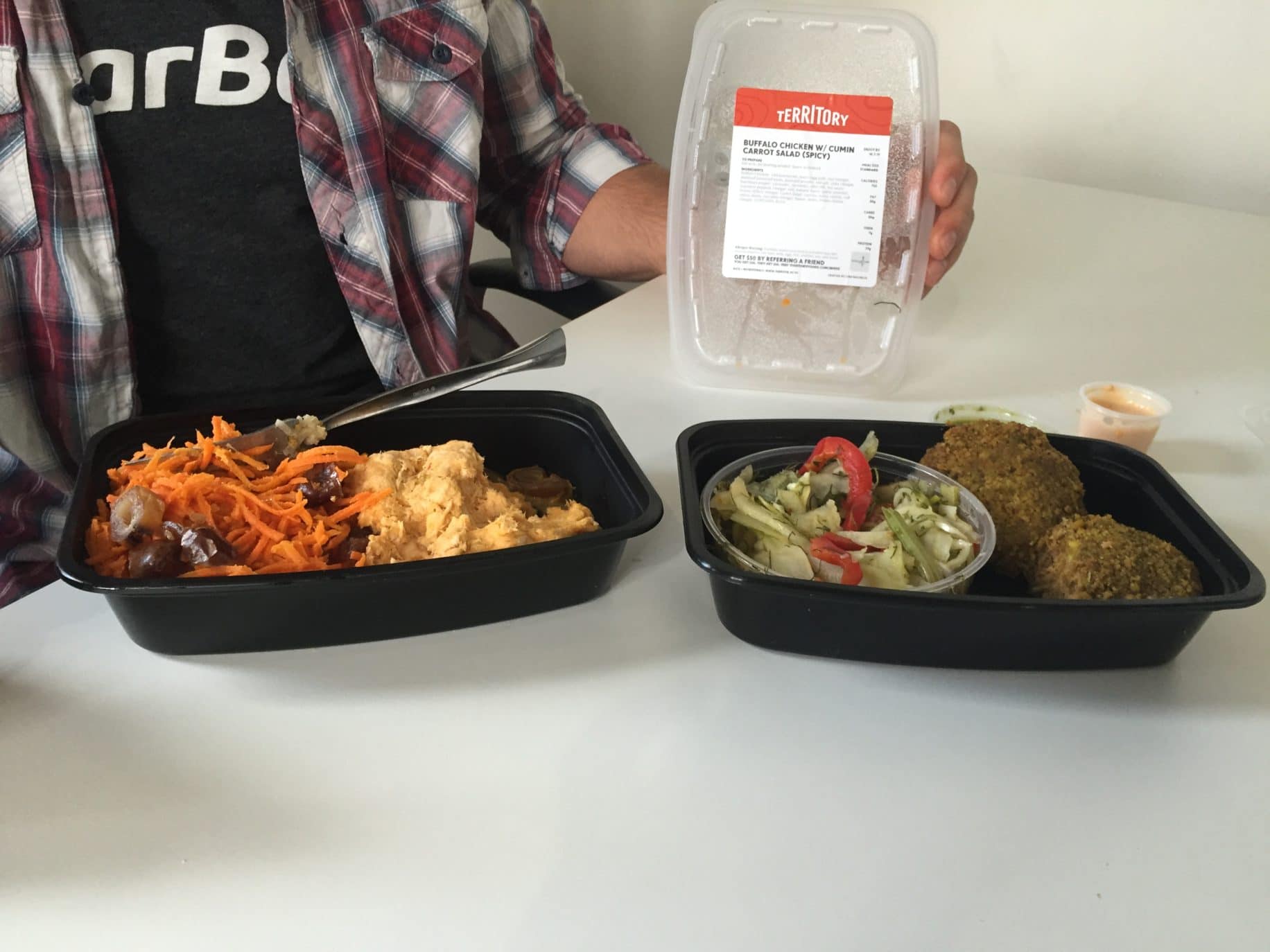 Vegetarian
Territory Foods offers a vegetarian option, along with other niche options you may want. Some of these include vegan, Whole30, new & expecting moms, and multiple other options. If you're in need of a very specific type of meal, then Territory does a good job at trying to cover your needs.
Customizability
When ordering, the menu changes regularly because Territory partners with local chefs who fresh ingredients. So whichever ingredients are in-season and match the needs of the meals, then they're used by their roster of chefs. This makes ordering enjoyable for anyone who likes to change up their weekly tastes, and likes variability in their diet. At checkout, Territory allow you to select the meals you'd like from the next week's meals.
This makes customizing your order per your tastes, macro, and caloric goals pretty easy. They also offer you the option to select ingredients you'd like to avoid, so those meals won't be an option for you to choose (takes guesswork out of the process). If you don't have time to pick meals each week, then you also have the option to let their meal customizer do the work for you. With this service, you put in details of the meals you'd like and let their program select the best fits on a weekly basis.
Is Territory Good for Weight Loss?
Yes, Territory Foods could be a viable option for those looking to lose weight. Their meal sizes make it easy for a variety of caloric total goals, and their options match multiple needs. For this reason, I think Territory Foods could be a good service for anyone wanting help with dieting and convenience.
Final Word
I liked Territory Foods for a variety of reasons, which include their food's taste, ordering process, option menu, and low shipping fee. They're a pretty good service for a variety of strength athletes, which make them a good choice for a variety of folks. The main downfall to their service is the limited availability for those who don't live in one of their four territories of service.
If you're in one of the four services Territory Foods deliver to and work with, then I think they're a good option for a variety of needs.