Percussive massage guns like the Theragun Prime and Hyperice Hypervolt 2 provide a great way to work out soreness you may experience from a long gym session — or even from a long day at the office. For those who aren't familiar with percussive massages, they're a combination of rapid and repetitive pressure applied by the attachment heads of a massage gun, mixed with vibrational therapy created by the motor. A percussive massage is a great way to loosen up any stiffness you may have in your soft tissue, and get you back to feeling your best.
While both of these massage guns have similar traits, they're also pretty different. They both offer powerful percussive massages in multiple speed settings, and include a handful of attachments so you can experience the benefits across your entire body. They're the same price, and also feature companion apps that are full of guided routines on how to properly use each massage gun. However, both companies took a different approach in the materials used, the app functions, and the overall design of their product. Let's dive into the similarities and differences between these two massage guns from Therabody and Hyperice below.
Theragun Prime Highlights
The great thing about the Theragun Prime is that you don't actually have to be an athlete to experience its benefits. The routines on Theragun's companion app range from warming up before a workout to recovering sore muscles. There are even routines for people who experience carpal tunnel, and for those who have trouble sleeping.
The "For You" tab is a great feature that provides routines based on the activities you participate in, as well as any challenges you have — both of which you input into the app upon sign-up. Plus, the app features Bluetooth capabilities, so once you select a routine, the massage gun automatically sets its speed to the optimal setting for the specific area you're working.
The attachments are some of our favorites since we feel they're more forgiving than others we've tried. They're made from a hard foam, so you'll still be able to work out your knots, but they won't hurt as bad if you hit a bone as, say, a plastic head would. The Theragun Prime is pretty light at 2.2 pounds, and we really enjoy the ergonomic handle, which is shaped to be three handles in one. However, it's worth noting that a slower speed setting might be beneficial for really sore days, and this machine can be a bit noisy when on the highest speed setting.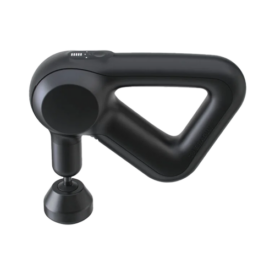 The Theragun Prime features four attachment heads that are more forgiving than hard plastic, five different percussive speeds, and a battery that lasts for two hours. 
Main Takeaways
The Theragun Prime features five different speed settings, and four different attachment heads.
The ergonomic handle acts as three handles by providing three different grip angles. This makes it easy to hold without wearing yourself out, plus you can grip it with two hands to use it on a friend.
The companion app is a great tool — it's loaded with guided routines to relieve any soreness or ailments you may experience.
Hyperice Hypervolt 2 Highlights
Similar to the Theragun Prime, the Hyperice Hypervolt 2 can be a great tool for people of all shapes and sizes. Our bodies tend to get stiff, and this massage gun can help you get back to 100 percent quickly. Just like the Therabody App, the Hyperice App is compatible with your massage gun, and provides routines to perform once you fill out your profile with your activities and needs. There's activity options for everyone, ranging from office work to outdoor sports, and our personal favorite — lifting weights.
The five different attachment heads add variety to your usage, but they're a little less forgiving than the ones that come with the Theragun Prime as these are made from a hard plastic. Despite its large design, the Hypervolt 2 only weighs 1.8 pounds, and the oval-shaped handle is wrapped in rubber to give you the best grip possible — however, you don't really have more than one way to grip. Like the Theragun Prime, the highest speed setting can be quite loud.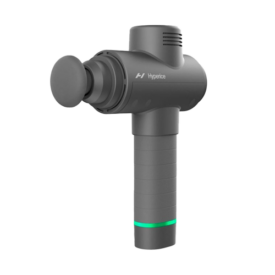 This massage gun comes equipped with five different attachments, and three different speed settings. The battery is meant to last for three hours, and it can be paired up with the companion app via Bluetooth. 
Main Takeaways
The five different attachment heads with the Hypervolt 2 allow you to focus on large and small muscle groups.
The guided routines on the Hyperice App show you the proper way to target each specific muscle group with the optimal attachment head.
The oval-shaped handle features a rubber coating to give you a sound grip at all times.
Theragun Prime vs Hypervolt 2 Video Review
Our reviews writer, Jake, puts both of these massage guns to the test during his detailed comparison video. Follow along as he breaks down everything both of these percussive massage guns have to offer, and helps you decide which one is best for you.
What Are the Big Differences Between the Theragun Prime and the Hyperice Hypervolt 2?
Both of these massage guns are pretty similar in the way they operate, but there are still some noticeable differences. These variables include the handle design, battery life, attachment heads, and companion app.
Handle Design
You'll notice the difference between the handles on both of these massage guns at first glance. The Theragun Prime has an ergonomic handle that looks almost like a triangle and offers three different angles for three different grips. The front grip is about six inches in diameter, while the other two are right at 4.5 inches in diameter. All of these grips include a rubber coating, so you can get a good handle on your massage gun in use.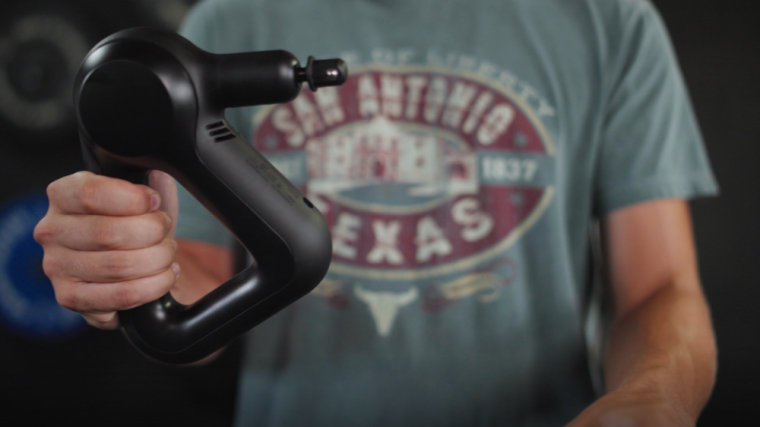 The Hypervolt 2 has a longer handle that is in the shape of an oval. It has a diameter of six inches, and it also features a rubber coat to give you the best grip possible. This longer handle might make it a little bit easier to use on your back since you can reach farther. We don't necessarily think one handle is better than the other, but we do think the Theragun Prime offers some more versatility as you have multiple grips at your disposal.
Battery Life
The battery life on these massage guns is also noticeably different, but we don't think that should sway your decision particularly.
The Theragun Prime has a battery life of two hours, and the Hypervolt 2 has a lifespan of three hours. The battery life of both of these guns will also be impacted by the speed setting you're using, and the amount of pressure you're applying to your body. Each company also shows you how much life is left in the form of LED lights, but it's a bit different.
With the Theragun Prime, you have a set of three LED lights located just above the "up" arrow that increase your speed. If all three lights are lit up, you have full power, but over time you'll notice two lights, and then one light signaling the massage gun is about to die. Once your massage gun does die, you can expect it to take about an hour and a half to fully charge.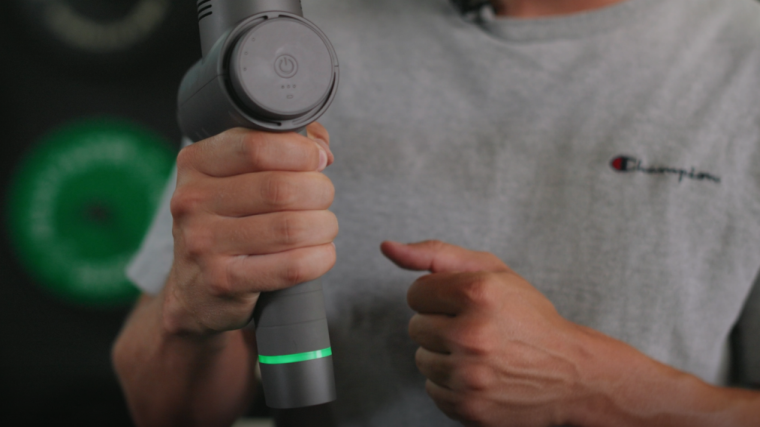 The Hyperice Hypervolt 2 features an LED light at the base of the handle that will change depending on how much battery life is left. Green signals a full charge, but over time it'll change to yellow, orange, and then red as it dies. When this massage gun dies, you should set aside three hours for it to reach its full charge.
Speed Settings
The speed settings are pretty different between these two massage guns. With the Theragun Prime, you actually have a little bit more versatility since it offers five speed settings compared to the three you have with the Hypervolt 2. Even though the Hypervolt 2 has fewer speed settings, we still found them to be effective enough during our time with it.
The way in which you adjust the speed settings is also very different. With the Theragun Prime, you have an up and down arrow above and below the power button. Simply press up or down, and you'll cycle through the settings. You'll know which setting you're on thanks to the five LED lights that are above the battery life lights.
The power button on the Hypervolt 2 actually doubles as the speed changer. Just tap the power button, and you'll cycle through the three different speeds. It also features three LED lights to the left of the power button to showcase what setting you're on.
Attachments
The attachment heads from these two companies are also noticeably different. The attachments that come with the Theragun Prime are made from a foam-like material that is more forgiving than the majority of the ones included with the Hypervolt 2 (which are made from a hard plastic). This may lead to more versatility since they shouldn't hurt as bad if you accidentally hit a bone — but they're still firm enough to loosen any stubborn knots you may have.
The dampener is ideal for sensitive areas like the neck and hands. The standard ball is an all-purpose attachment, the thumb attachment is meant for your lower back and trigger point therapy, and the cone is designed for pinpointing specific areas in your muscles.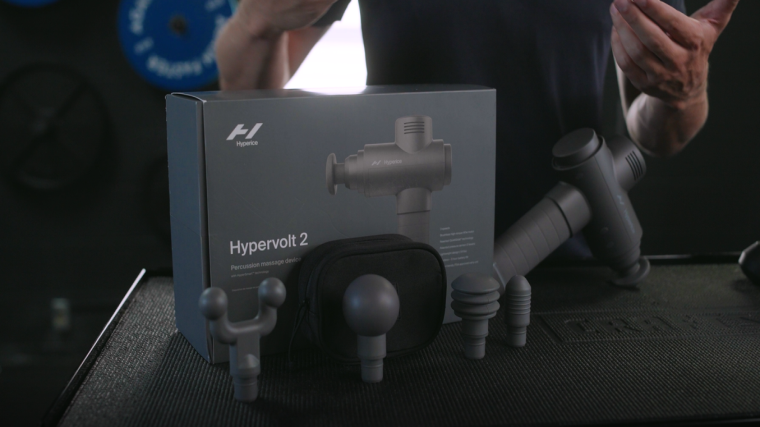 Three of the five attachments that come with the Hypervolt 2 are made from a hard plastic. The bullet is ideal for pinpointing trigger points, and deep tissue massages in your hammies and glutes. The fork attachment is great for longer muscles, such as your forearms and biceps, while the flat head is a good multi-purpose attachment for bulky muscles in your legs, chest, and back. The ball attachment is going to be a good fit for large muscle groups. Plus, it's pretty soft, so it shouldn't hurt if you accidentally hit a bone. The cushion attachment is by far our favorite, and is going to be your go-to for sensitive areas like the wrists.
Now we don't necessarily think that one set of attachments is better than the other. If attachments are going to be the make or break for you on your decision, we suggest just considering the material they're made of. Minus the cushion attachment, the Theragun Prime attachments are more forgiving than those with the Hypervolt 2. But, since the majority of the Hypervolt 2 attachments are made from a hard plastic, you might have more success in working out stubborn knots.
Companion App
We love that both of these companies provide a companion app for users to learn how to use their massage gun properly. The way each app works is fairly similar, but still not identical. Once you download the app, you'll be asked to create a profile and select any activities that you participate in. From running, to sports, weightlifitng, and even office work, there's a wide range of options available — so odds are, you'll find something that fits your needs.
Each app has a tab dedicated to routines that may suit your needs best. Each routine is guided, and shows you exactly how to position the gun, what direction to move it in, which attachment to use, and how long you should be massaging that area. You can also connect your massage gun to your phone through both of these apps. If you opt to do this, the massage gun will auto-set the speed for your routine, but you can still change it on your own if you wish.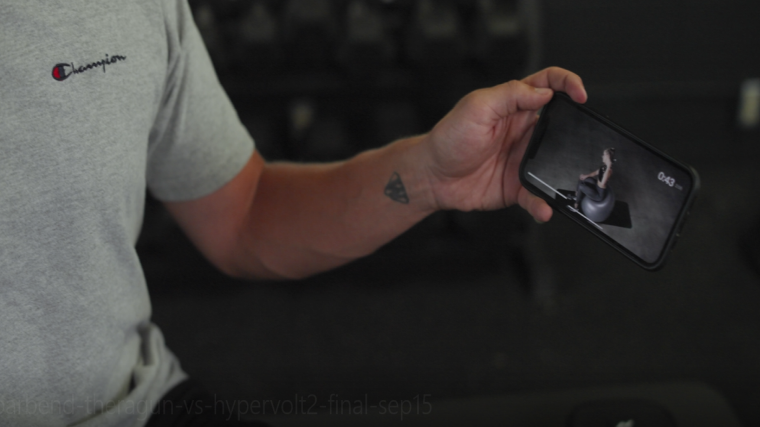 That being said, both apps do guide you differently. The Therabody app has diagrams that depict where you should place the massage gun and tell you which direction you should move in — plus, they times you to let you know when to switch locations. The Hyperice app guides you through each routine via videos. Each video still counts down, and tells you which attachment to use, and we found that seeing someone actually use the massage gun was helpful.
Both massage guns will also show you how much pressure you're applying to your muscles, but in different ways. With the Theragun Prime, you'll notice a force meter in the app that shows you the optimal force you should be using. Hyperice offers a set of lights by the power button that do the same thing.
Since both of these apps operate in a similar fashion, we don't really think one is better than the other. However, there may be more options available on the Therabody app since there's a section where you can select any ailments that you may be dealing with, such as poor sleep. Because the app is such a crucial feature with both of these massage guns, it may be best to download each one to see what they have to offer before making your decision.
Which Massage Gun is the Better Option?
While we don't necessarily think that one massage gun is necessarily "better" than the other, you certainly might. They both operate in a similar way, but as we've mentioned, they're not identical. We suggest weighing the pros and cons of both options, and making your decision on what is best for you specifically. Since they're the same price, we think the main factors to consider should be the style of attachments, the speed settings, and the companion app.
Let's talk attachments. Some people may want that extra attachment that is included with the Hypervolt 2, but remember, three of the five are made from a hard plastic. This may lean others toward the Theragun Prime, as Theragun's foam attachments are more forgiving, and shouldn't hurt as bad if you hit a bone.
Since the Theragun Prime has more speed settings, you may instantly think it's the better option of the two. However, that isn't necessarily the case. Yes, you might have some added versatility with extra speeds, but don't let that take away from the effectiveness of the Hypervolt 2 — the three settings here are also going to provide a proper massage.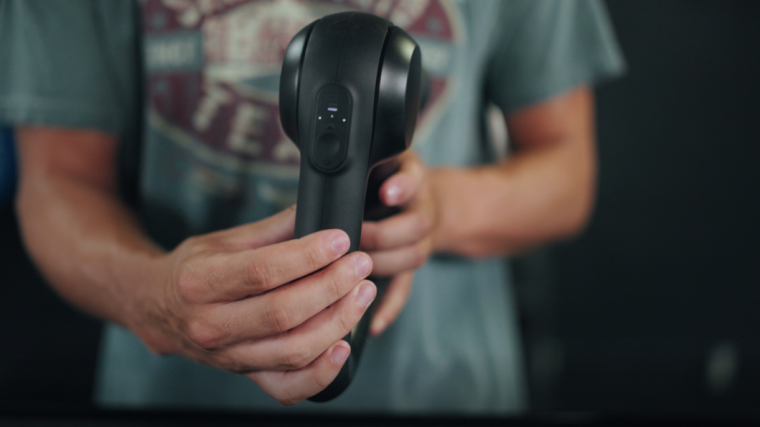 You may not originally think it would matter, but the companion app is likely going to be the biggest factor in your decision. The Theragun Prime has more options for you to select from, but some people may enjoy the videos that guide you through each routine with the Hyperice app.
In the end, only you know what's best for you. Just be sure to consider these factors in your decision making process, and one of these machines should be able to help.
Are More Speed Settings That Important?
It depends on your personal preference. Some may want the two added speeds with the Theragun Prime, but we still thought the three speeds with the Hypervolt 2 were really effective in providing relief. The highest speed on both of these massage guns is extremely similar, but you do have more in-between speeds with the Theragun Prime. If you want added versatility in the form of speeds, the Prime may be the massage gun for you. But we didn't find the fewer speeds on the Hypervolt 2 to be a setback in any way.
What Difference Do The Materials For The Attachments Make?
If it weren't for the companion apps, the attachments would most likely be the main factor in deciding which massage gun to buy. The Theragun Prime's foam attachments are definitely more forgiving, which is better for those times you're super sore. However, since the Hypervolt 2 attachments are a harder plastic, they might be better at targeting deep tissue. But this really is just an individual preference that is likely to vary from person to person.
Final Word
In our opinion, these are two of the best massage guns on the market. They both offer powerful percussive massages that can work out any stiffness that you may be dealing with. Since this form of massage increases blood flow, they're a great way to warm up before exercising, and they can also speed up recovery for sore muscles.
Be sure to consider your specific needs before deciding between these two products. Since they're the same price, the features are more of a consideration. The Hypervolt 2 has an extra attachment, and a longer battery life. However, the Theragun Prime has more forgiving attachments, more speed settings, and the companion app is more expansive. If you've considered your needs, and have the $300 to spend, we don't think either choice here will lead you astray.
FAQs
What are percussive massage guns like the Theragun Prime, and the Hypervolt 2?
A percussive massage uses a combination of rapid and repetitive pressure mixed with vibrational therapy. The motor provides the vibrations, while the attachment heads move quickly and apply enough force to work out any stiffness you may be dealing with. This may lead to more mobility on top of speeding up your muscle recovery.
Are the Theragun Prime and Hypervolt 2 better than going to see a massage therapist?
It's honestly tough to say that using a massage gun is better than going to see a specialist. However, going to get a massage even once or twice a month can be pretty pricey. So while you'll be spending more money up front on one of these massage guns, you'll save money in the long run. Plus, you'll still experience muscle relief, and you can use the gun at almost any time of the day.
How long should I use the Theragun Prime or Hypervolt 2?
Because of how powerful these messages really are, it's best to keep your usage brief. It's recommended that you don't exceed two minutes at a time since you could actually bruise yourself. That may seem like a short amount of time, but to be honest, we've found that to be all you need to reap the benefits here.