Home gyms can be a useful way to achieve a great workout without taking a step outside of the comfort of your home. Not every home gym is created equal, and to someone new to working and the home gym market, it can be a troublesome experience finding your best home gym fit.
Today, we'll look at a unique home gym that doesn't have the appearance of your standard weight stack machine. The Total Gym 1400 Deluxe Home Gym is a single piece of equipment that utilizes your bodyweight to facilitate workout. In this article, we'll break down the features, versatility, ease of use, price, and warranty for this home gym.
Key Features & Specs
The Total Gym 1400 Deluxe Home Gym has a few unique features and specs that make it different than other pieces of equipment. For starters, it's a machine that uses your bodyweight at varied heights to accommodate resistance. This can be a good thing for beginners who are just starting their fitness journey. On the other hand, it may not be enough for weathered lifters. Either way, it's a unique way to apply resistance on the body, and can be easier on the joints compared to traditional free weights.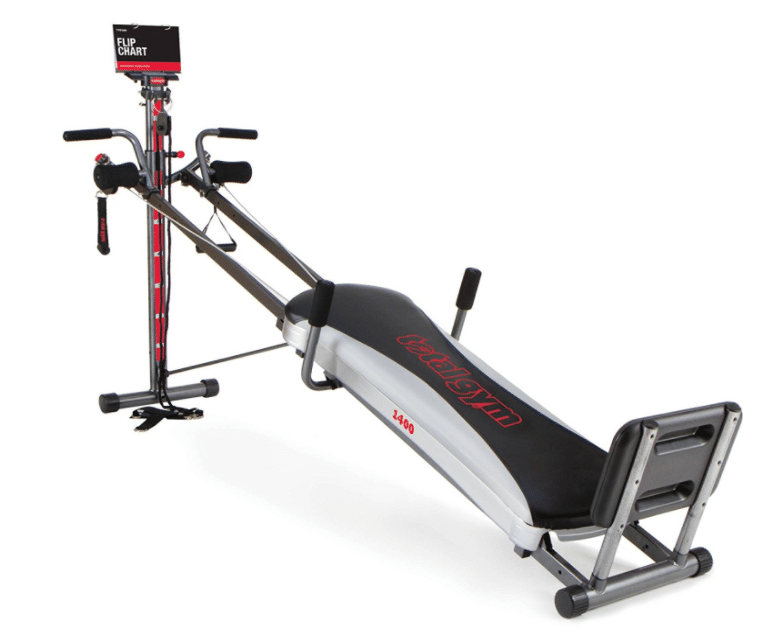 Image courtesy Amazon.com.
Another feature this machine offers is the versatility it comes with, and how it helps you achieve workouts. This one machine allows you to perform over 60 different exercises and comes with a manual and workout DVD. Both of these resources can be useful for the beginner, or someone getting accustomed to the machine. In addition, Total Gym provides a squat stand, dip bar, leg pulley, and multi-function accessory, which provides even more workout options. Keep in mind, you're limited to the versatility of this one piece of equipment.
[Looking for the best home gym for you? Read here and check out our full rundown of the top equipment for your needs!]
The final features we'll call attention to are the size of this machine and its price. In terms of size this machine does a fairly good job at saving space. It has a length of 92.5″, a width of 16″, and a height of 43.25″. For many, this could be a solid space saver if that's a major concern. The price is around $323.99, which is decent for the versatility this home gym offers. That's not incredibly expensive for a home gym, so it may not seem like such a huge commitment.
Pros
Versatile with over 60 exercises
Decently priced
Conservative size and easy to use
Cons
May not be enough for advanced lifters
Limited amount of resistance 
Only 1-year warranty
Limited maximal weight allowance: 250 lbs
Versatility
The Total Gym 1400 Deluxe Home Gym is a decently versatile piece of equipment. As mentioned above, it offers a lifter over 60 exercises, along with add on attachments to produce even more options. This exercise list is decently diverse and someone can achieve a full bodywork, or work body part specific areas.
The only downfall to this machine's versatility is the amount of resistance it can provide. There's eight levels of calibrated resistance, so it's an average amount of variability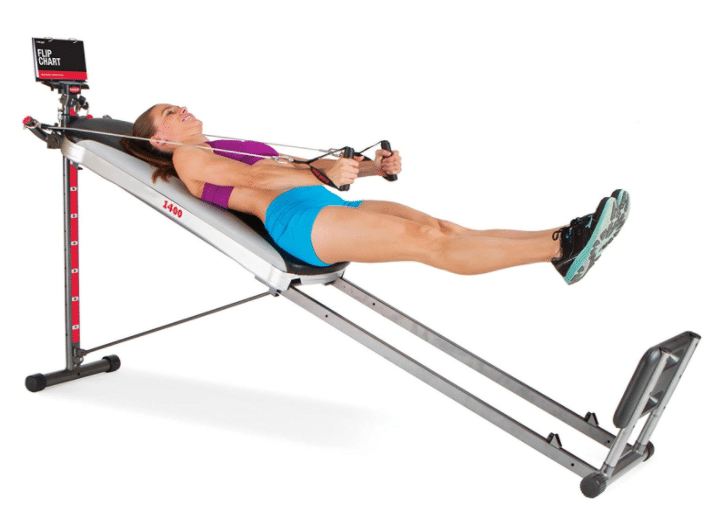 Image courtesy Amazon.com.
Below is a list of exercises and muscle groups you can target with the Total Gym 1400 Deluxe Home Gym.
Legs: Leg extension, hamstring curls, and kickbacks
Chest: Incline and seated presses
Back: Various pulldown movements 
Arms: Bicep curls, dips and tricep extensions
Core: Ab crunch, Lower ab crunch, leg lifts
Another area of versatility this machine can excel in is with its space requirements. With a length of 92.5″, a width of 16″, and a height of 43.25″ it's pretty easy to tuck away to the side of a room. Additionally, it's only 75 lbs, so it's pretty easy to move if that's a regular concern for someone.
Ease of Use
All in all, the ease of use for this machine is pretty good. It can accommodate both newer and weathered lifters, but will be most suitable for someone just starting out. There's a detailed exercise manual and a workout DVD that are decent resources for teaching movements and providing workouts. This makes it easy for a new lifter to coordinate workouts with their goals in mind.
Another area that makes this machine easy to use it how it comes delivered. Unlike other home gyms that require installment, this home gym comes fully put together, so it takes the headache of tools and manuals out of the mix.
Price
This home gym is pretty fairly priced for the versatility it offers. The average price for this home gym comes in around $323.99, which isn't a ridiculously large investment for home gym equipment. Plus, the versatility it offers and new lifter friendliness make this price increasingly more bearable. If you need something with more resistance and suitable for higher levels of fitness, then you may find a better option elsewhere.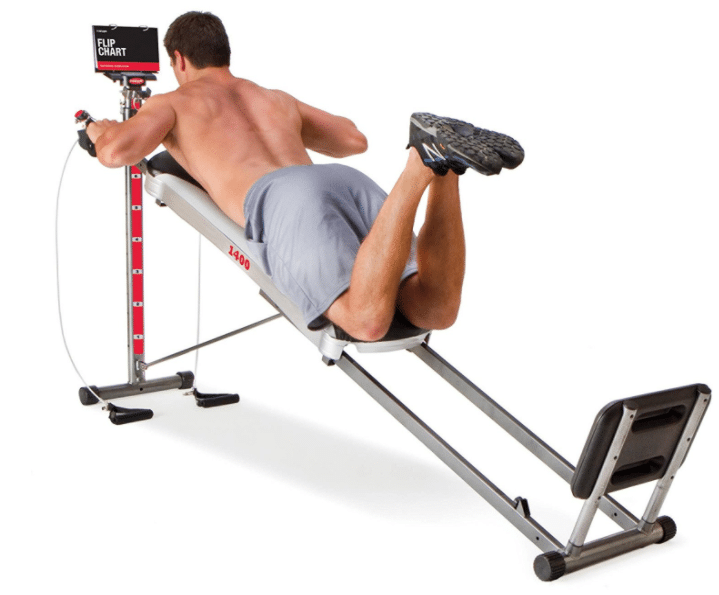 Image courtesy Amazon.com
Warranty
The warranty for the Total Gym 1400 Deluxe Home Gym is middle of the road from my experience. It comes with a 1-year manufacturer's warranty, which isn't the best for home gyms. Personally, I would worry about the long-term durability of this home gym and how long the cables will hold their initial levels of resistance. For the price, this warranty makes sense, but it's still a consideration when shopping.
Concluding Thoughts
The Total Gym 1400 Deluxe Home Gym is an option for the newer lifter, but the weathered athlete may struggle with how much resistance it offers. It's a versatile piece of equipment that's easily stored, so people who live in tight areas and don't need a terrible large training stimulus can succeed with this piece of equipment. Plus, the price isn't too crazy, so it's not an extremely huge investment for someone to make who wants an adequate home gym training tool.
If you're newer to working out, and have limited space, then I think the Total Gym 1400 Deluxe Home Gym could be a good pick for you.
Feature image courtesy Amazon.com.