If you're newer to lifting, concerned about rough hands, or partake in a strength sport that requires a lot of grip, then lifting gloves can be useful supportive strength tool for you. Often times, it will be the functional fitness, calisthenic, and bodybuilding athletes who utilize gloves, as they're the ones doing the prolonged grip work.
For this article, we'll take a deep dive look into the Trideer Lifting Gloves. These gloves are designed to be versatile, so we'll assess them in a variety of tests. In our gauntlet of five tests, we assessed how these gloves performed with: Grip, versatility, feeling & fit, construction, and price.
Grip
For grip, we perform three tests to complement multiple types of strength athletes and lifters. First, we do a rope climb for functional fitness athletes. Second, we do pull-ups to assess a glove's ability to support calisthenic movements. Lastly, we perform rows for the bodybuilder, or general fitness enthusiast.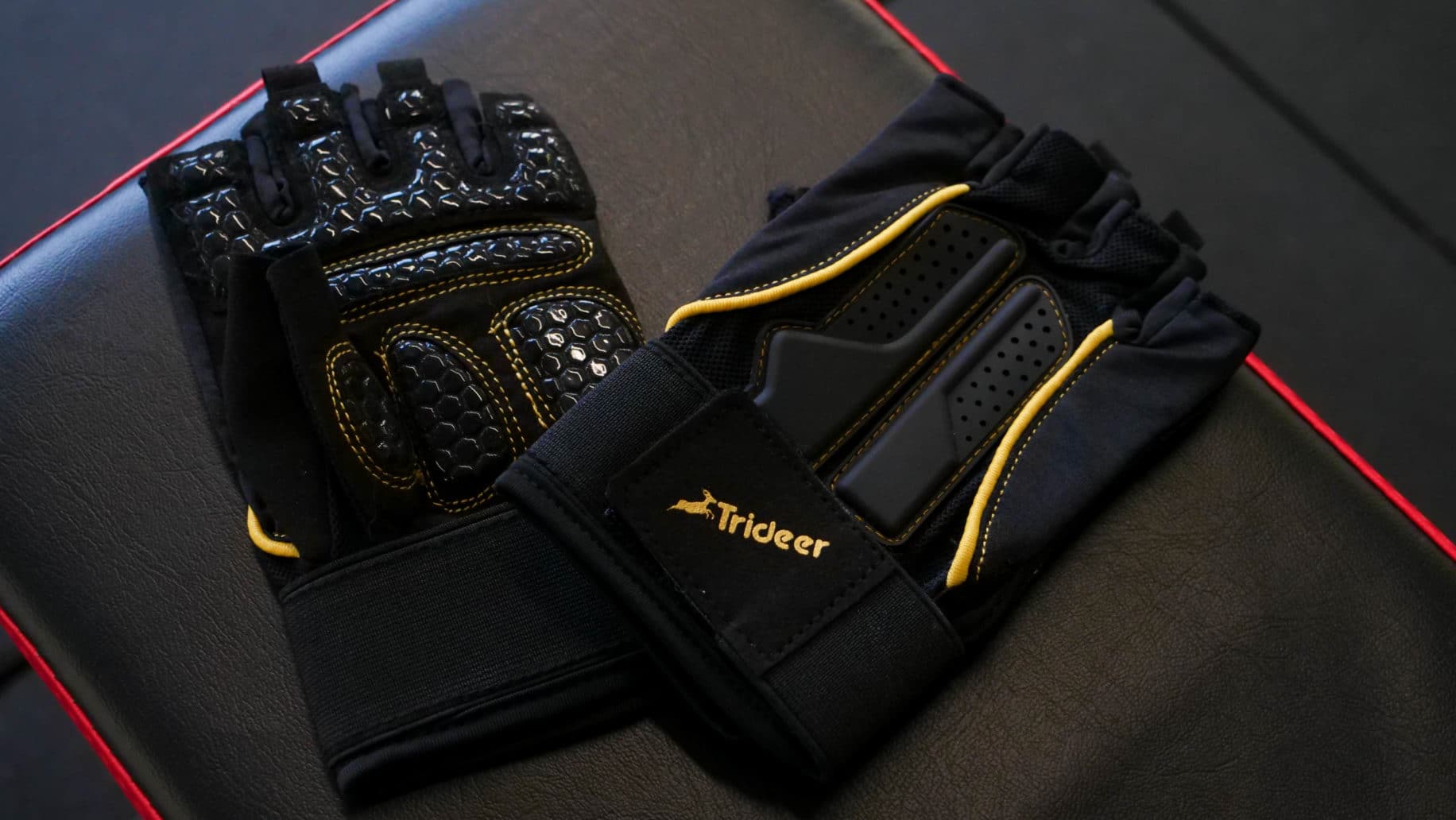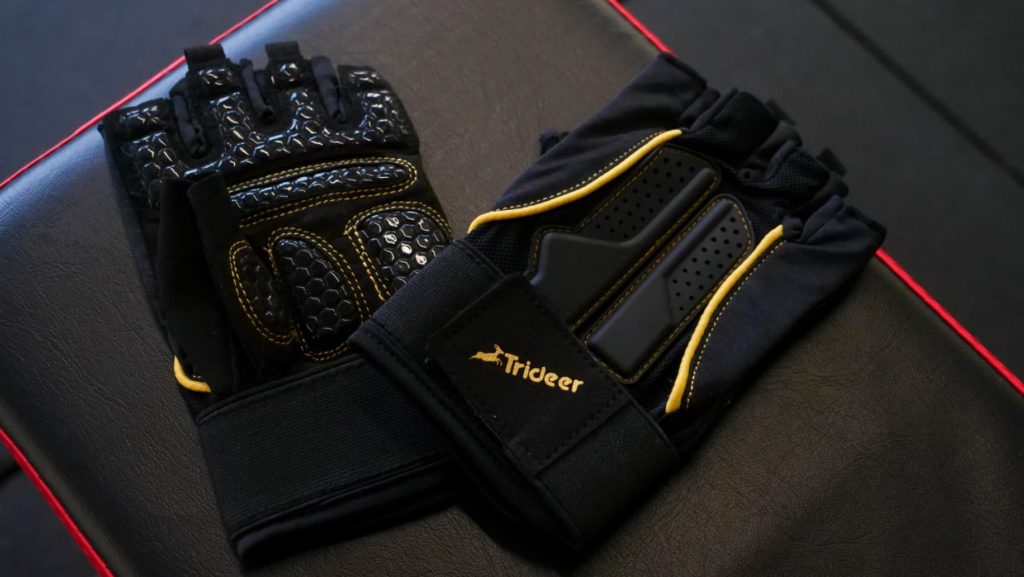 Surprisingly, these gloves handled rope climbs pretty well. It's typical to have a glove fall somewhat short on rope climbs due to the conflicting surface areas, but this glove did a pretty good job at resisting any slippage. Granted, it wasn't the more secure glove I've used on ropes, it still did a fairly good job. I liked the rubber inserts this glove offers.
On the pull-up, I think you'll be pleasantly surprised with this glove's ability to hold the metal close. The rubber inserts allow you to really squeeze a bar while not allowing any slippage, as some cloth or leather based gloves can do. I think a calisthenic athlete would like how these hold over prolonged periods of hang time.
Trideer Lifting Gloves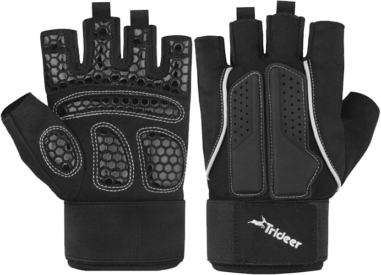 A pair of lifting gloves that provide a light support for general lifting wear and tear on the hands.
Lastly, these gloves did a decent job on the kettlebell row. This wasn't very surprising, as they performed well on the pull-up, but it's always nice having a glove work on multiple metal surfaces. The kettlebell has a slightly more rigid surface, and there was no difference in performance.
Versatility
All in all, I thought the Trideer Lifting Gloves were pretty versatile. There were really no tests they didn't perform well in, and the rubber inserts across the palm and fingers held every surface well. The rubber inserts have a cross-like tread feature and they lock in to metal tightly. I liked how there was a consistent feeling across all metal finishes, and even on the rope climb.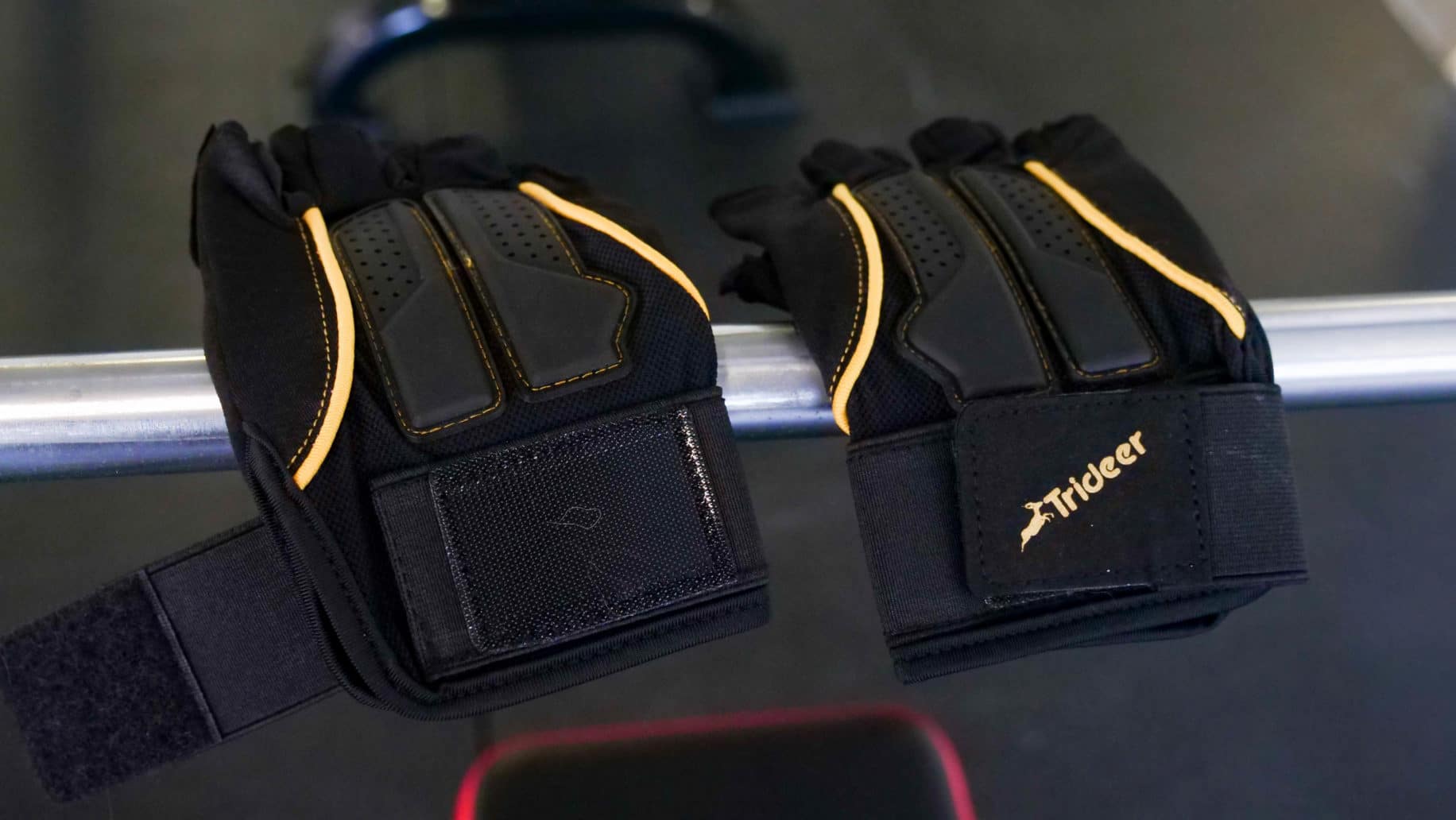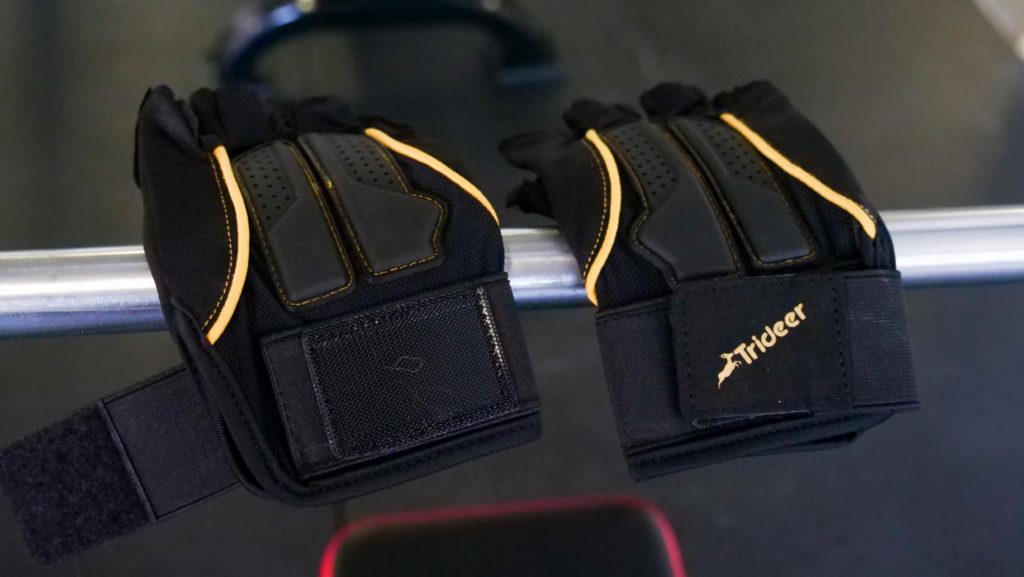 The only potential issue I could see someone having with these glove's versatility is the lack of wrist wrap. Over time, I could see this glove's velcro loosening up and decreasing their performance on movements where you need to reach up and pull, such as rope climbs.
Feeling & Fit
In terms of fit, these gloves fit pretty well. They hug the palm, fingers, and thumb tightly, so I was a fan of their ability to decrease air pockets when using them. I have a pretty meaty thumb, and it's always nice finding a glove that hugs pretty tight. The only thing I wish these gloves had were a little more rubber on the finger holes.
These gloves were a size large, and Trideer recommends this size for someone with a 7.7″ – 8.1″ palm. The circumference around my palm comes in at 8″ flat, so these gloves felt really true to size for me. Although, if you're on the lower size of the sizing, then I might go a size down to prevent premature stretching.
Construction
The Trideer Lifting Gloves are constructed pretty well and have a couple unique features. First, they provide you with a breathable, yet firm mesh material. I liked how it felt flexible and versatile, but still gave a feeling of durability. Second, they have non-slip silica gel pads that cover the palm. I was a fan of this material because it wasn't overbearing, and still provided a solid additional grip.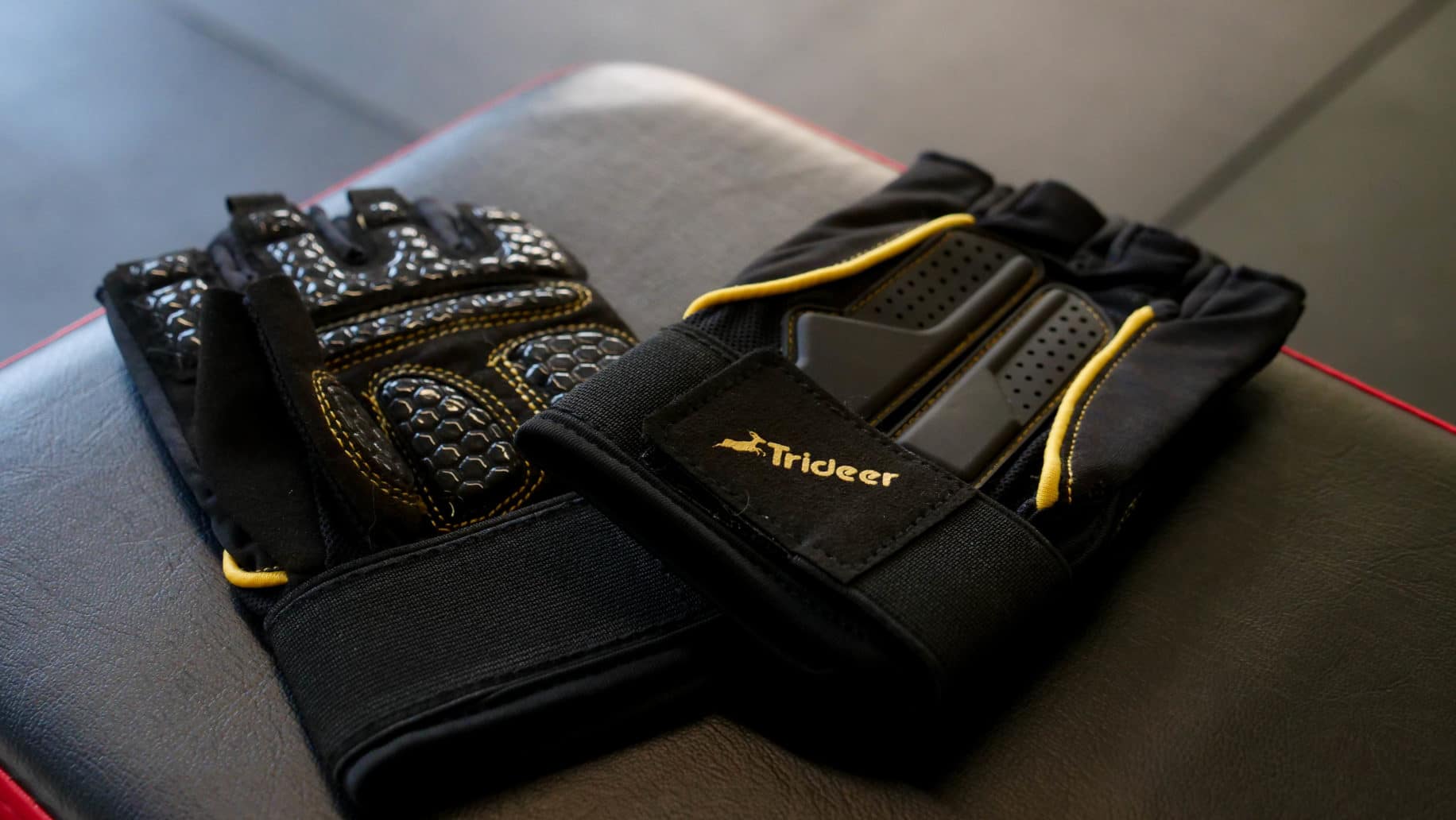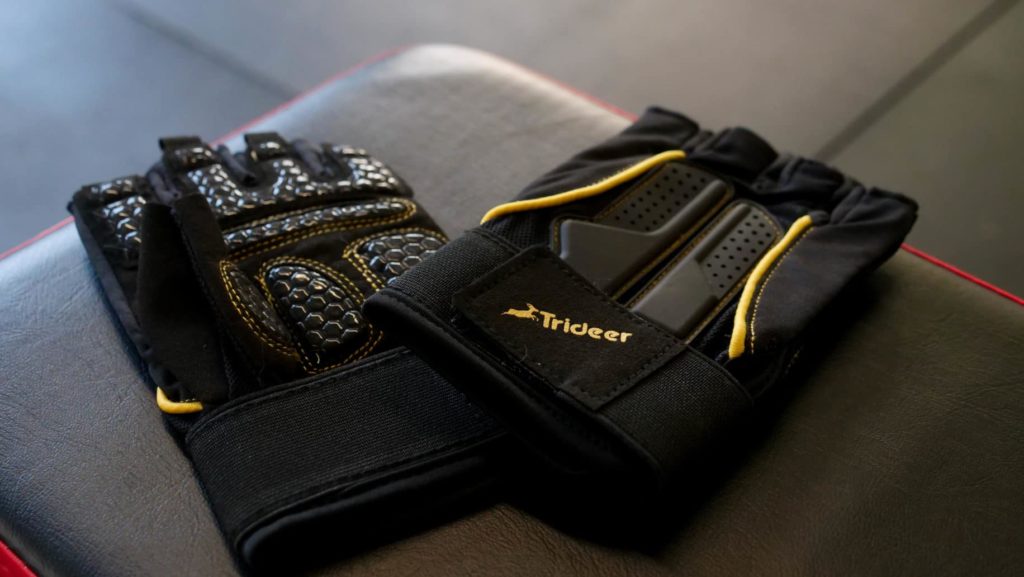 Price
The price for these gloves come in at $12.99. This price tends to be right in-line with other gloves on the market, so I can't really say they're expensive, or cheap. For what these gloves offer, I think it's a pretty good deal for the money you'd spend on them. Also, Trideer offer a year warranty and 30-day hassle free return policy.
Wrapping Up
The Trideer Lifting Gloves are simple, decently priced gloves, and offer a fair amount of versatility. I was a fan of the non-slip silica gal padding, along with the fit these gloves provide. They ran pretty true to their size and come equipped with a pretty good warranty. My only concern could be long-term durability, but with the warranty this worry is pretty negligible.
For a decently priced and versatile glove, then I think the Trideer Lifting Glove could fit your bill pretty well.