Unbroken Designs was founded by functional fitness athletes. They offer a variety of lifting equipment that caters to both the functional and dedicated strength athlete. But what they may be most known for are their unique designs and prints. I love having a little personality when it comes to my gym gear, so when we received the Unbroken Designs 4″ Blue Stealth Belt I was excited to give it a try
Something cool to note about this belt is that it's USAW (weightlifting) and IPF certified (powerlifting). That makes this belt not only unique in design, but competition ready, which is a win win for most. Since this is a cloth belt and is made for the functional athlete, my main objective was to test it with a plethora of movements.
Both power and strength movements were of my focus so I performed the back squat, deadlift, and power clean.
[Curious about the best lifting belt for you? Check out our full rundown of the top belts on the market here!]
Stability
The Unbroken Designs 4" Blue Stealth Lifting Belt was a standard nylon cloth-based belt. When pulled to full tightness around my waste it felt secure when I was in a upright posture. A common issue some can encounter with cloth belts is the issue of bending if the torso flexes or extends. To test this I performed movements that would put my torso in both of the flexed and extended posture. First, I performed a back squat with a pause at full-depth. After a few seconds I relaxed my torso and paid attention to possible caving in the front of the belt.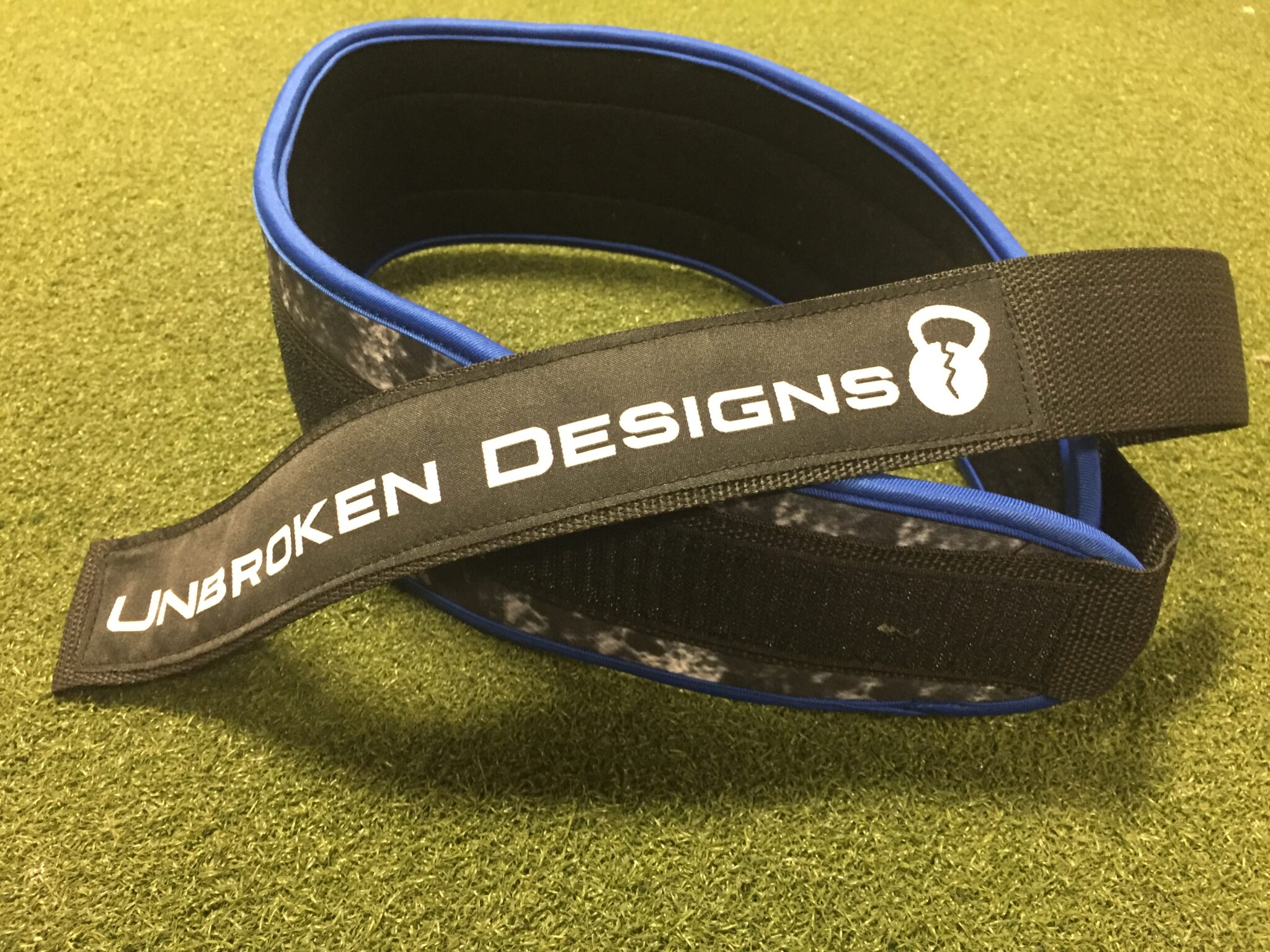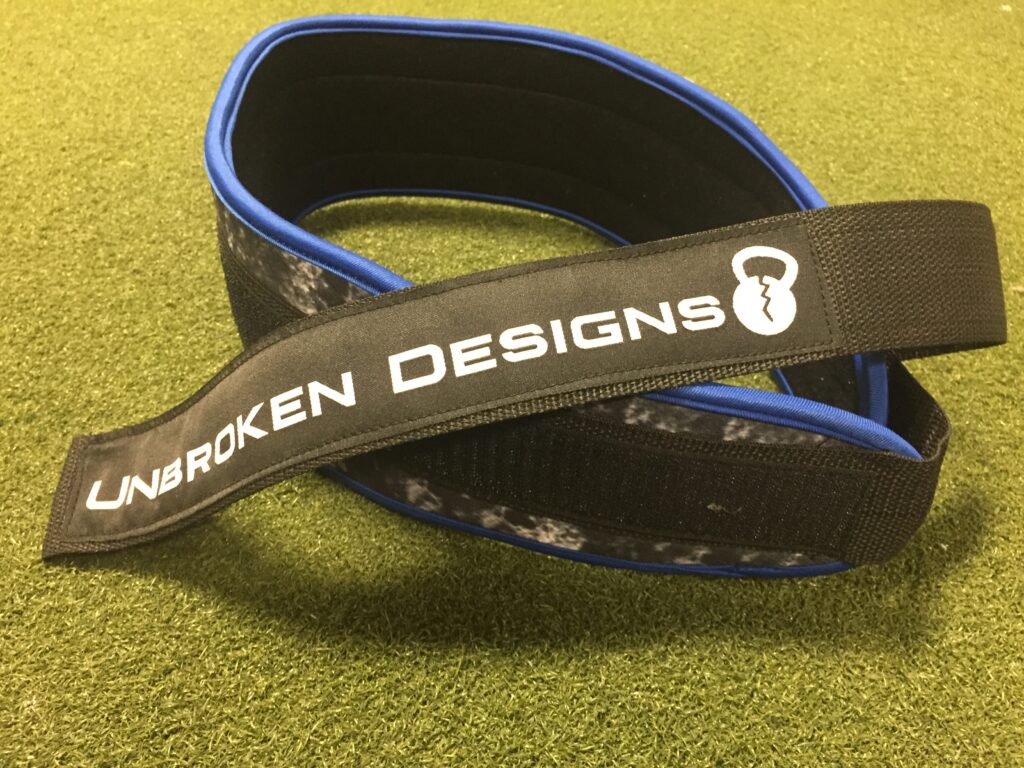 This belt held up well and kept me stable during the squat. I did notice that upon flexing my torso there was a little give, but this is to expected with most cloth belts. To test this belt's stability when going into extension, I finished my deadlifts with an exaggerated hip drive. Unlike the flexion of the torso, the belt held my core very well during extension. This was comforting since a lot of functional athletes are performing both power and strength based movements.
The power clean was possibly the most important test I wanted to perform with this style belt. A belt that's made for functional athletes (plus USAW & IPF certified) should add stability, but also not limit movement. I liked how easy it was to adjust the height of this belt on my torso. Some leather belts can feel ill-placed or uncomfortable when they're moved into different positions. This belt held me stable no matter where I positioned it on my torso. 
Comfort
When it came to comfort this belt was all around pretty solid. The nylon felt a little thinner than other nylon-based belts so it wraps the torso very well. Even upon the first use there was never a moment when I felt I hadn't used the belt before. The thinner material was easy to adjust and was forgiving on areas of the lower rib where some belts can tend to dig in. The edges of the belt are hemmed and made with a little extra padding, which also made a comfortable fit.
In addition to the softer sides, the long velcro strap made it easy to adjust the tightness to the exact point I needed during my lift. One issue that I could foresee happening for some lifters and that was noted earlier is the lack of thickness this belt has. Yes this makes a comfortable belt, but it can at a cost for some stability and security. Also, some lifters enjoy having a stiffer belt with a more rigid feel throughout the torso, which this belt didn't really have.
Material
As stated previously, the material of this belt is a nylon-cloth. These two materials are commonly used with belts, because nylon is a stronger material and cotton is forgiving on the skin. Externally the belt has a unique print, which I liked for displaying a little personality with the belt. The top and bottom of this belt has a little extra padding, which I mentioned earlier. I thought this was a unique feature that other nylon belts don't have. This made breaking the belt in a little easier than other belts I've tried and the material wasn't stiff upon first use.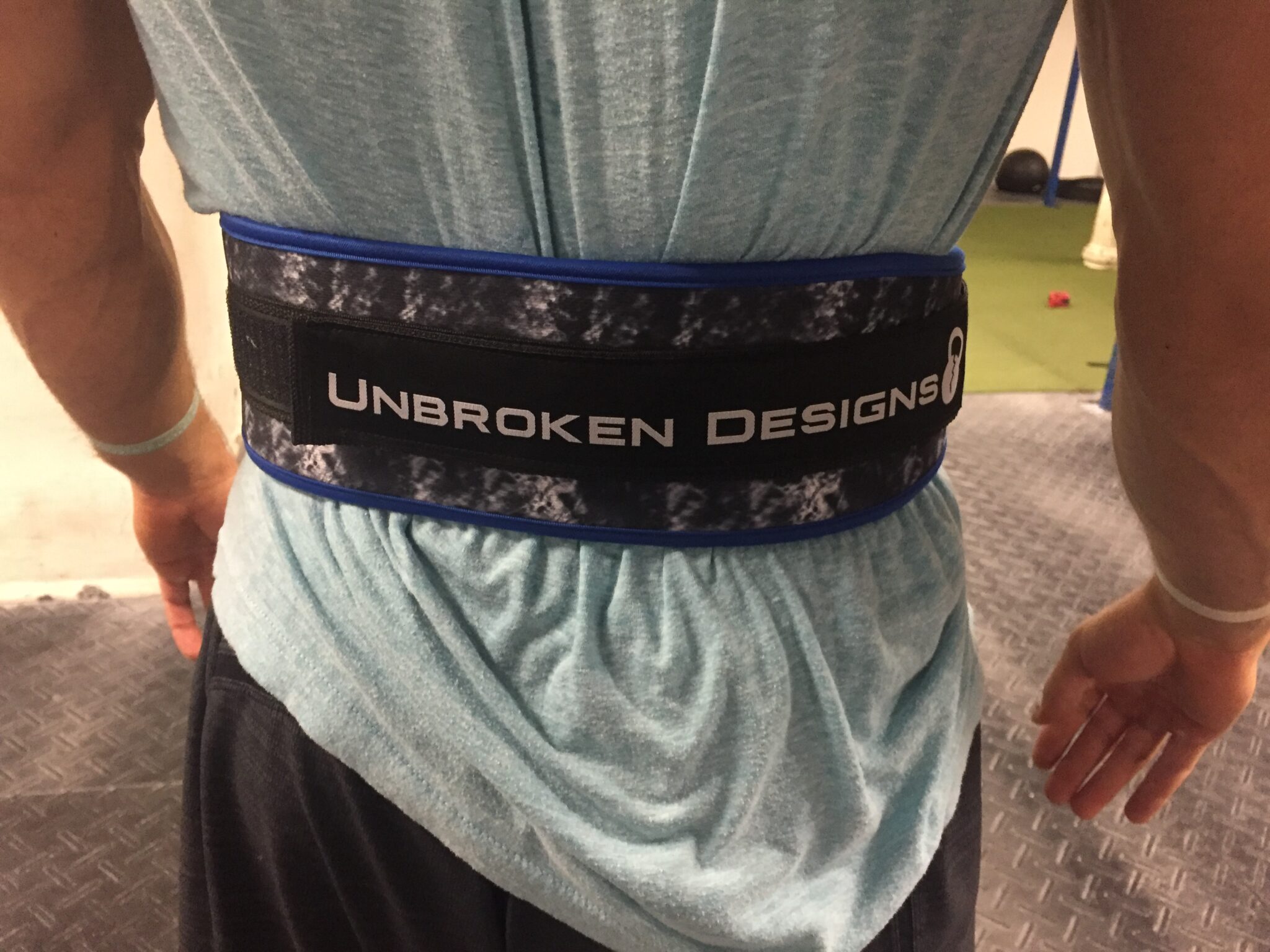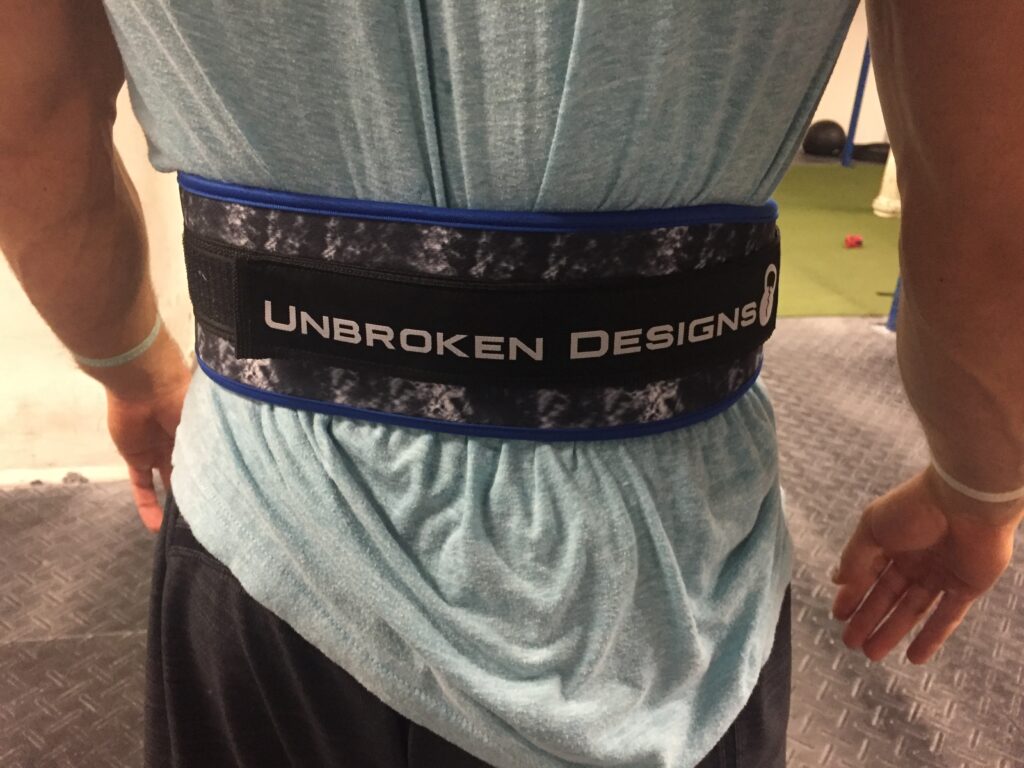 One important point to consider when considering nylon belts with a velcro strap is the strap itself. Velcro – unlike metal buckles and levers – has a lifespan. The velcro on this belt wasn't the strongest I've tried, and while it held tight, it didn't seem to have that initial grip as other velcro belts I've used. I liked that they use a metal buckle for the strap to wrap around. Although, the cloth that held the metal loop was a little loose so the buckle moved a bit. This didn't impact the immediate stability of the belt, but it's something to pay attention to when moving from different movements in lifts and WoDs.
Sizing
The sizing of this belt was medium, which is made for waist sizes of (32-36). I'm a 30-32 inch waist, and I'm currently sitting at 31 inches. I thought this belt was an okay fit, but I think I may have felt more secure with a smaller size.
This sized belt wrapped and hugged my core tight, but provided a lot of extra strap, which I personally would rather have less of.
Durability
This belt felt durable throughout the gym sessions I tried it with. The nylon, while thin in nature, showed no signs of bending or early wear and tear. There's reinforced stitching on the inside and outside, which made the belt feel compact. When I bent the belt a few times, the belt snapped back to its original shape. Like every velcro belt though, the velcro should be taken into consideration. Velcro has a lifespan and will eventually display wear and tear, if you're looking for a belt that will last you a long duration this may not be a good fit for you.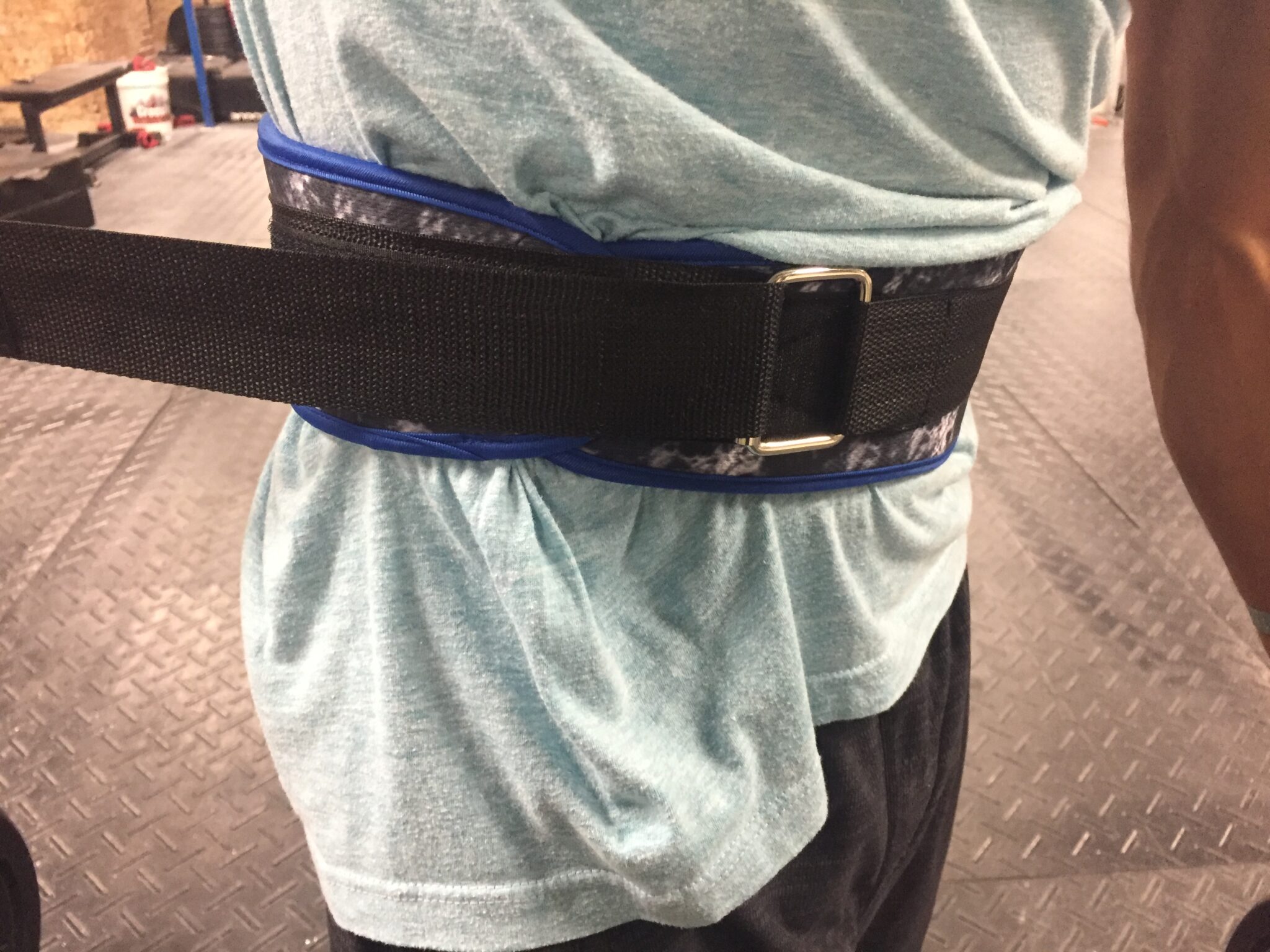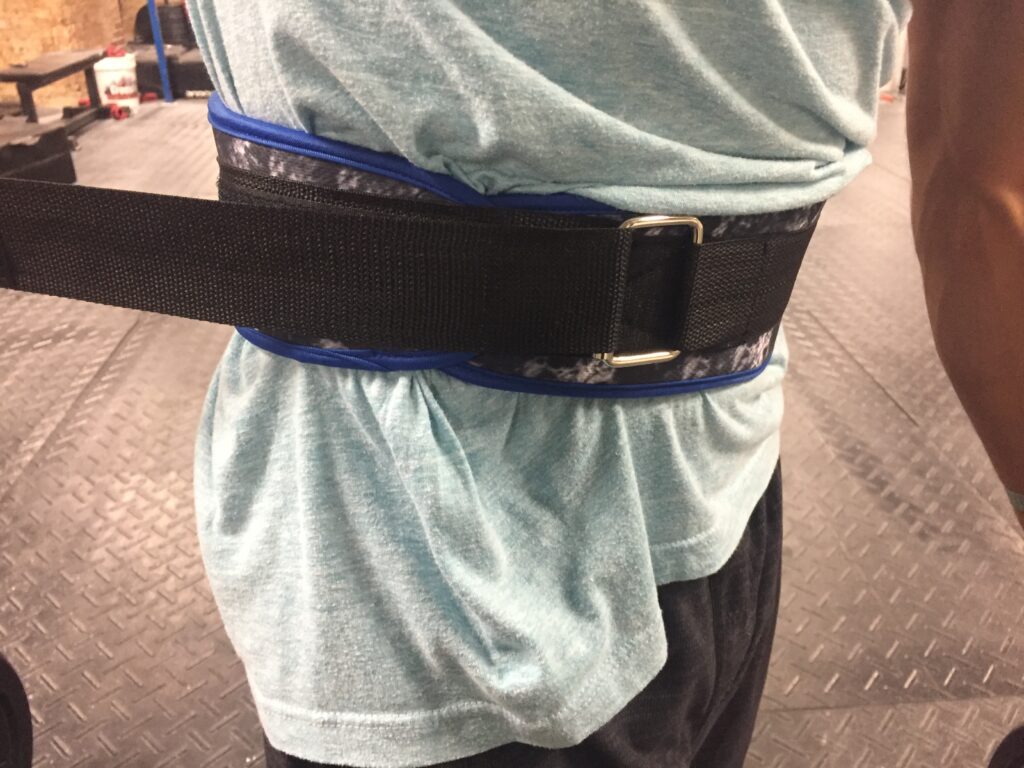 Price
The pricing for the Unbroken Designs 4" Blue Stealth Lifting belt starts around $45.00. This price point is pretty average for this style belt. For the functional athlete I thought this price was okay, but for the once-in-a-while athlete it may be a little high. For someone who needs a belt for random occasional use, then they may fare better with a less-expensive belt. On the flipside, for the athlete who uses a belt during multiple types of movements (WODs), I thought this price was fair for the features this belt offers.
Rating 1-5 (5 being the highest)
Stability: 4
Comfort: 4.3
Material: 3.7
Durability: 3.5
Price: 3
Final Word
The Unbroken Designs 4" Blue Stealth Lifting Belt is a great option for the athlete who needs a functional belt for multiple movements and WODs. There was never an issue with comfort and its thinner, light material made it easy to feel comfortable in.
Also, I really liked the print and the personality this belt. It's important to keep in mind the velcro strap and its lifespan, so if you're looking for a belt to last you a long time, then this belt may not be the right choice for you.
For the functional and recreational athlete the Unbroken Designs 4" Blue Stealth Lifting Belt performed well through the battery of tests we used.