Unbroken Designs is a company that was started by CrossFit® athletes looking for functional fitness equipment. Their supportive strength gear is designed to be useful with both WODs and other forms of lifting. Their equipment is also known for their creative prints, which definitely holds true with the "Ahoy" Leather Lifting belt. There aren't many belts on the market that have an anchor print across the belt.
When we received our Unbroken Designs Ahoy 6″ Leather Lifting Belt I was curious just how functional it was. The 6″ inch posterior was interesting to me, as this is 2″ thicker than your normal belt. My main concern and question was, "Will the 6″ be too much during power and strength movements?" To test my question about this belt's width and functionality, I used the power clean, front squat, deadlift, and back squat.
Click HERE to compare prices on this Unbroken Designs belt.
Stability
There's no question about this belt's stability in strength focused movements. The belt has a pad on the posterior that allows you to pull it tighter than a regular belt. Foam pads allow you to adjust the belt comfortably while pulling it to maximum tightness. There's contoured edges around the back, so it has maximum coverage on the torso. The front is a little skinnier, but there's a double prong buckle. Two prong buckles are a nice touch to a belt's stability on the abdomen.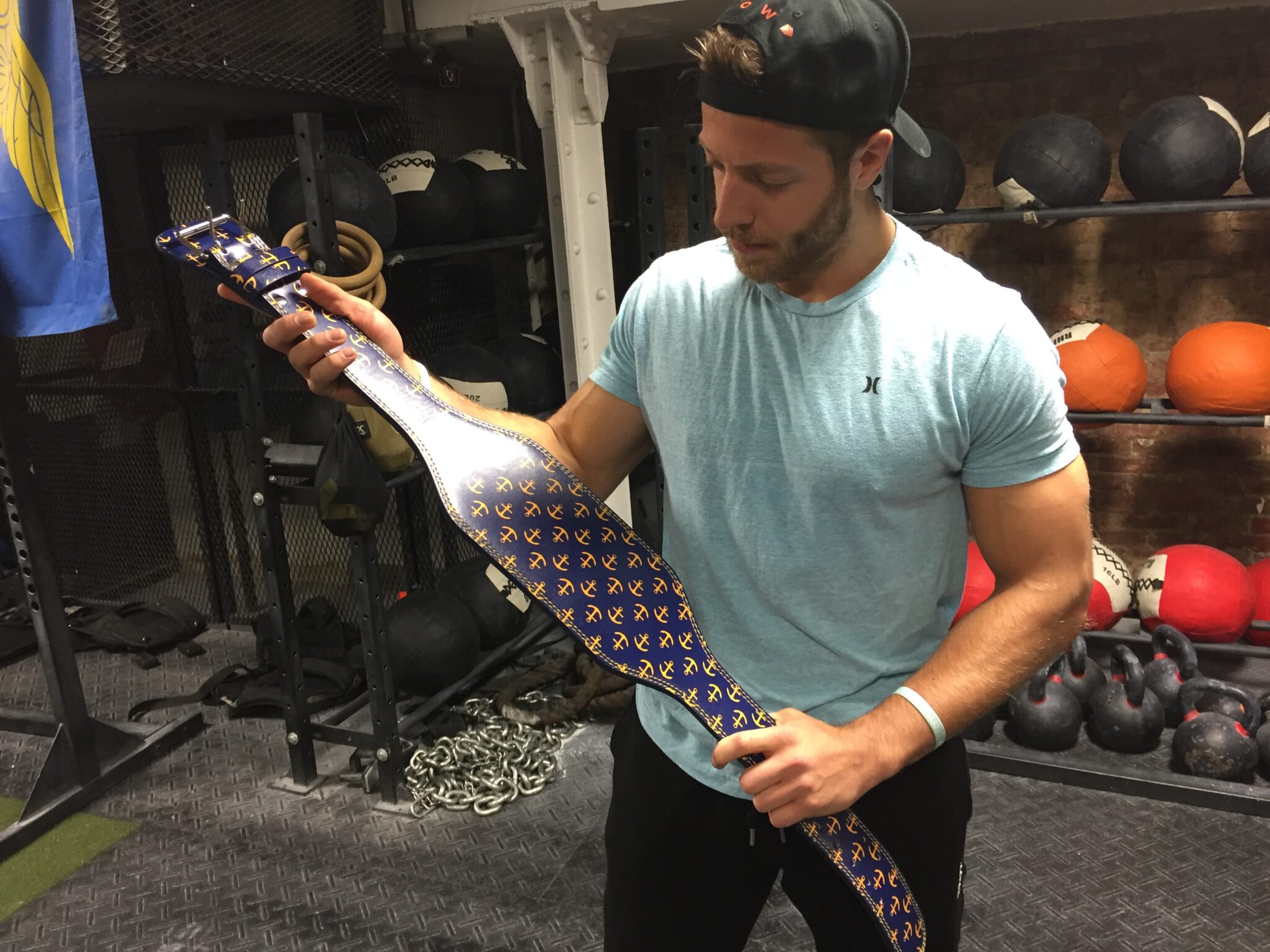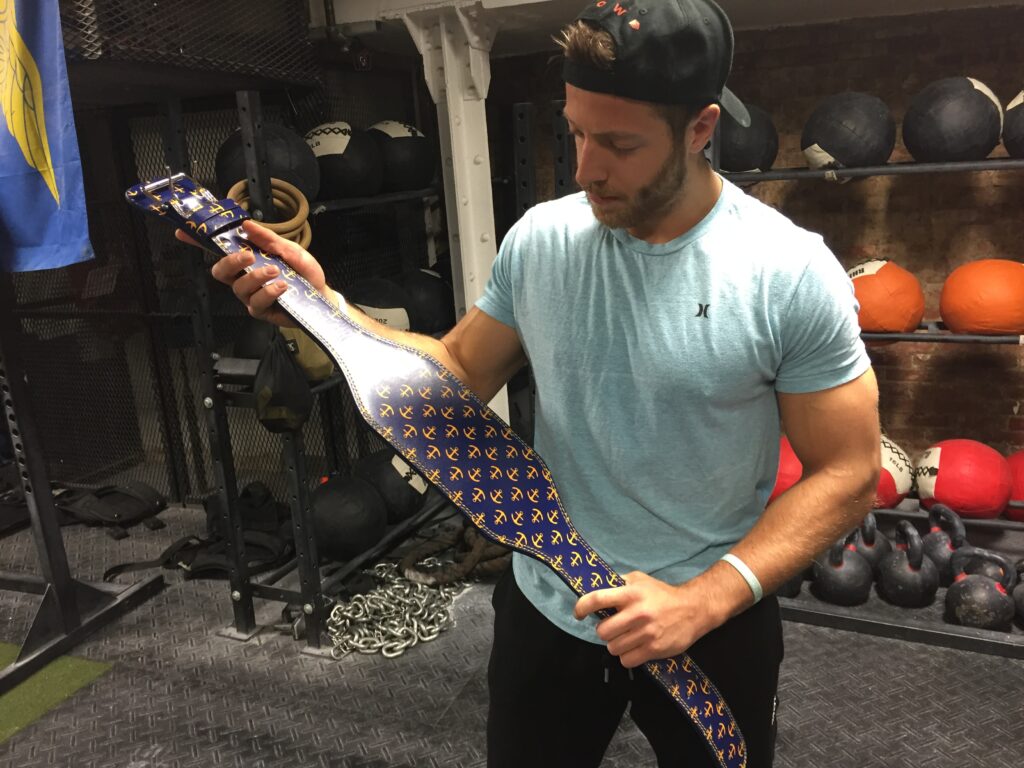 The leather Unbroken Designs uses is a little stiffer than your typical leather belt. It almost feels a little more synthetic. I think this is due to the designs they cover them in. It's most likely the design layer that give the belt its stiff feeling. Every lift I used this belt with I felt stable, and it actually felt more stable as I broke it in more. The first few lifts it was very stiff, so it didn't hug my body the way I would like a belt to.
This belt had no issue with holding my torso stable, but there was one underlying issue that I could see being a problem for most lifters. The issue I had was with the width of the belt. Yes it was stable, but it sometimes got in the way. For power movements like the clean, I wasn't a huge fan with how this belt felt. If you have a longer torso or want a belt to cover a majority of your lower back, then this belt will be a good fit. I personally like stability, but the ability to move somewhat freely, so the size was a con for me.
Comfort
There were three aspects of this belt that I liked when it came to comfort. I really enjoyed the inner portion of this belt. It's a softer cloth that felt good on the body, even if you lift shirtless. While this material was super comfortable, I did experience the belt to slide a little bit as I got progressively more sweaty. The soft cloth/leather blend wasn't very efficient at absorbing sweat.
The second thing I really enjoyed was the overlapping layer that went under the buckle. I like belts that have this overlap because it keeps metal from hitting the skin, which is good for shirtless lifters. Since this is a functional strength equipment company, I thought this addition made sense. The final aspect I enjoyed was the foam pad on the back that I mentioned earlier. It allowed the belt to hug tightly, and didn't sacrifice function for comfort.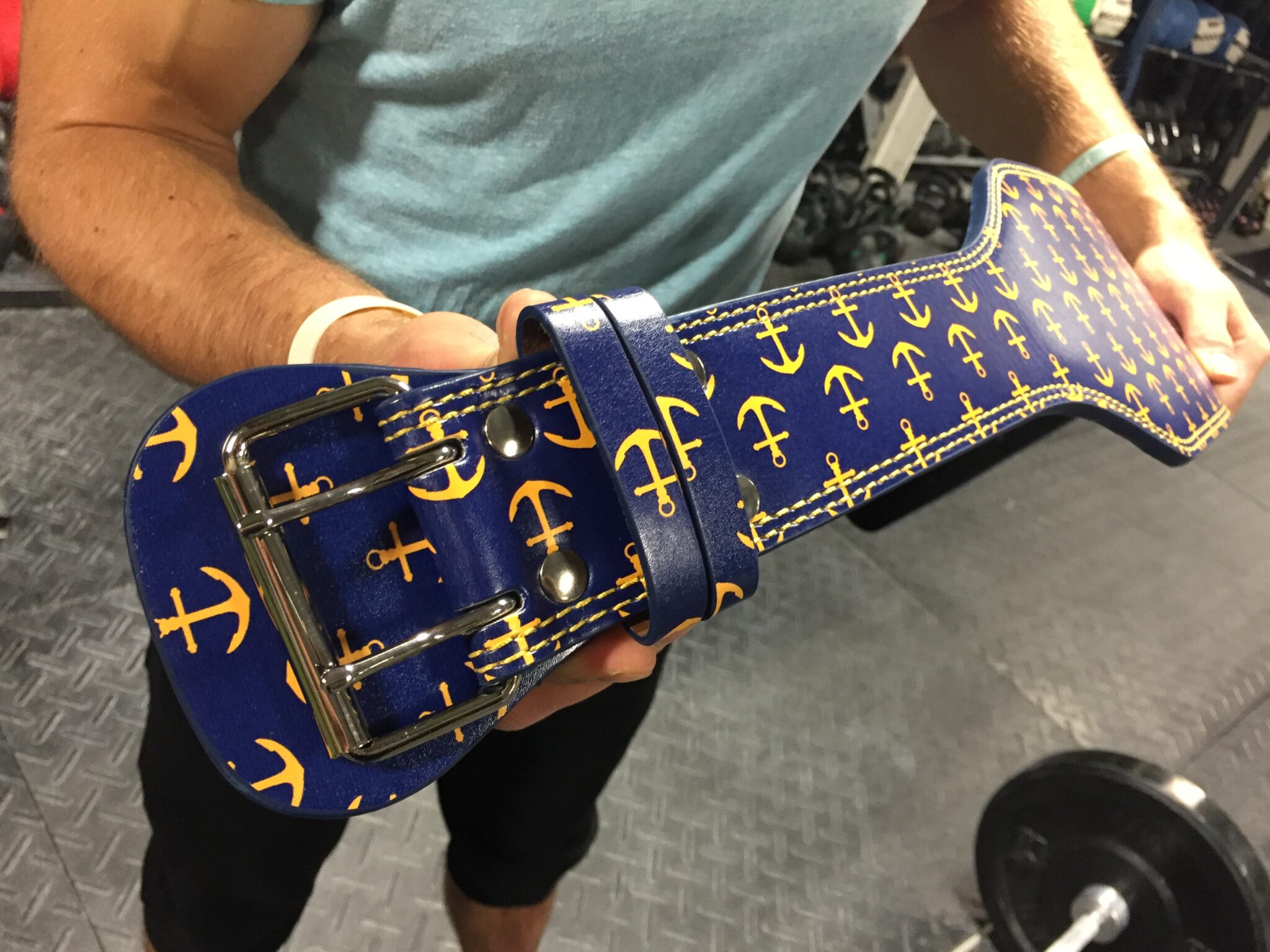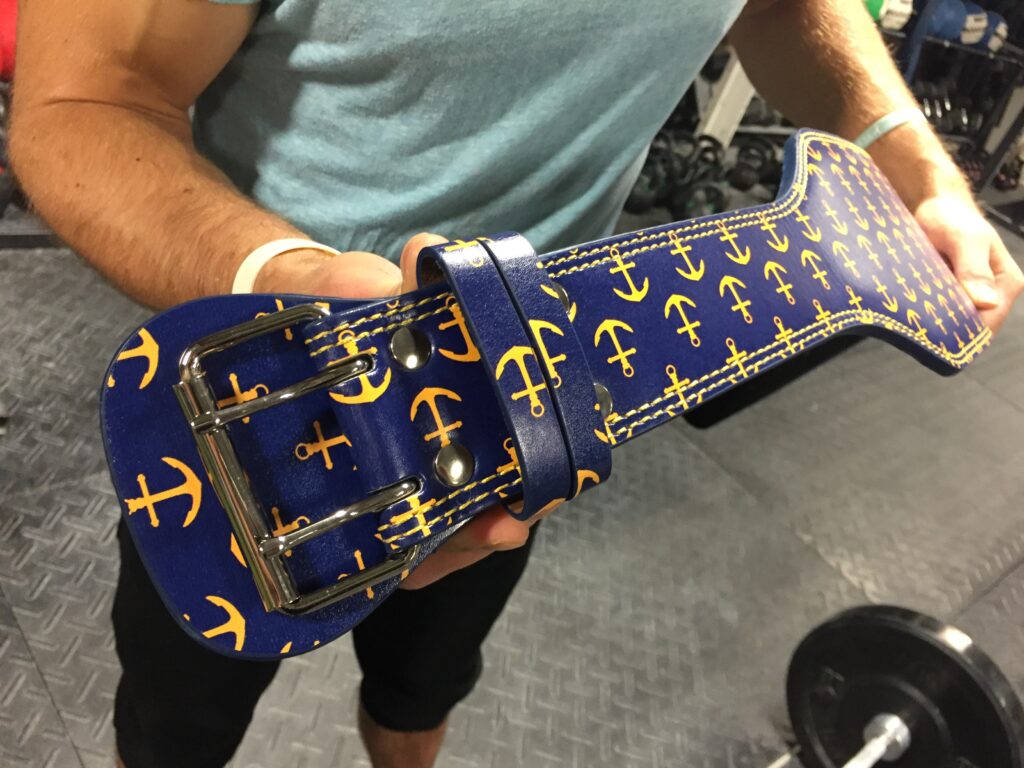 Material
This is a leather belt, so the belt as a whole was a little stiff. I thought it was stiffer than belts with similar builds to this one. As mentioned above, the leather is covered with the printed design, so I think that has to do with the initial stiffness. When you bend the belt it snaps back pretty quickly, which I kind of liked. The inner portion is a soft cloth/leather blend, which made it comfortable for regular use (over a shirt) and on the skin.
(Curious about the best lifting belt for you? Check out our full rundown of the best lifting belts here!)
I think the stiffness could be a turn off for some strength athletes. Since this belt is made for functionality, then they may not like how limited the stiff 6″ width can be. Athletes with smaller torsos should definitely keep this point in mind if considering this belt as an option.
Durability
From the lifts I had with this belt I never experienced any issues with durability. I like the steel double prong buckle, that gave the front of the belt a nice feeling of durability. Plus, two prongs will lessen the chance of metal bending if the belt moves under a heavy load. The top and bottom of the belt is enclosed by the print, so it won't fray easy, which I thought was a cool aspect.
One issue I could see arising with this belt's durability is at the strap. Most leather belts have 2-4 bolts holding the buckle in place. This belt on the other hand has overlapping layers of leather, but no visible bolts. I could see continuous heavy lifts possibly breaking or loosening the buckle overlap.
Price
The price of this belt is a little on the higher end for this style, which was $85.00. I was indifferent on the price for this belt for two reasons. I personally think it's high, but this is a specialty belt. Someone who's interested in this belt is buying it for the function and width. This belt has an extra 2″, which most belts don't have. Also, it's made for functional athletes, so finding a versatile wider belt may be an issue when shopping around.
Final Word
The Unbroken Designs Ahoy 6″ Leather Lifting Belt was definitely on the odder end of belts I've tried. I liked the feeling the inside had on the skin and torso. In addition, the double prong and extra width provided me with a stable hold, which is what one would want with a leather belt. I didn't like how the extra width was somewhat limiting. Also, the price is a little high and the durability may be a potential future issue.
All in all this belt was a solid choice for the athlete looking for a versatile belt with extra width.