Unbroken Designs is a lifting company that makes uniquely designed equipment for the functional athlete. They were founded by athletes who wanted equipment that would be great to use throughout various W)Ds. In addition, their equipment has unique and creative prints that give each piece a little extra personality.
Equipment for the functional athlete needs to support the body through multiple exercises, often in a timely manner. During a typical W)D there will be both strength and power exercises used, so equipment shouldn't limit mobility. When we received our Unbroken Designs Stars and Stripes 4″ Leather Lifting Belt, we put it through a variety of tests to gauge this versatility.
For this specific belt, we used four lifts to assess security and mobility. These lifts were the deadlift, back squat, power clean, and power snatch.
Click HERE to see the best price on the Unbroken Designs Belt.
Stability
Your typical leather belt is more secure than a cloth or nylon based belt. This belt was no exception, and it felt secure and hugged my torso tight throughout each movement. With functional and Olympic belts it's common to see a change in width from the anterior and posterior sides. Like others, the Stars and Stripes belt changed in width as the front is made skinnier to avoid pinching and limiting mobility during power movements.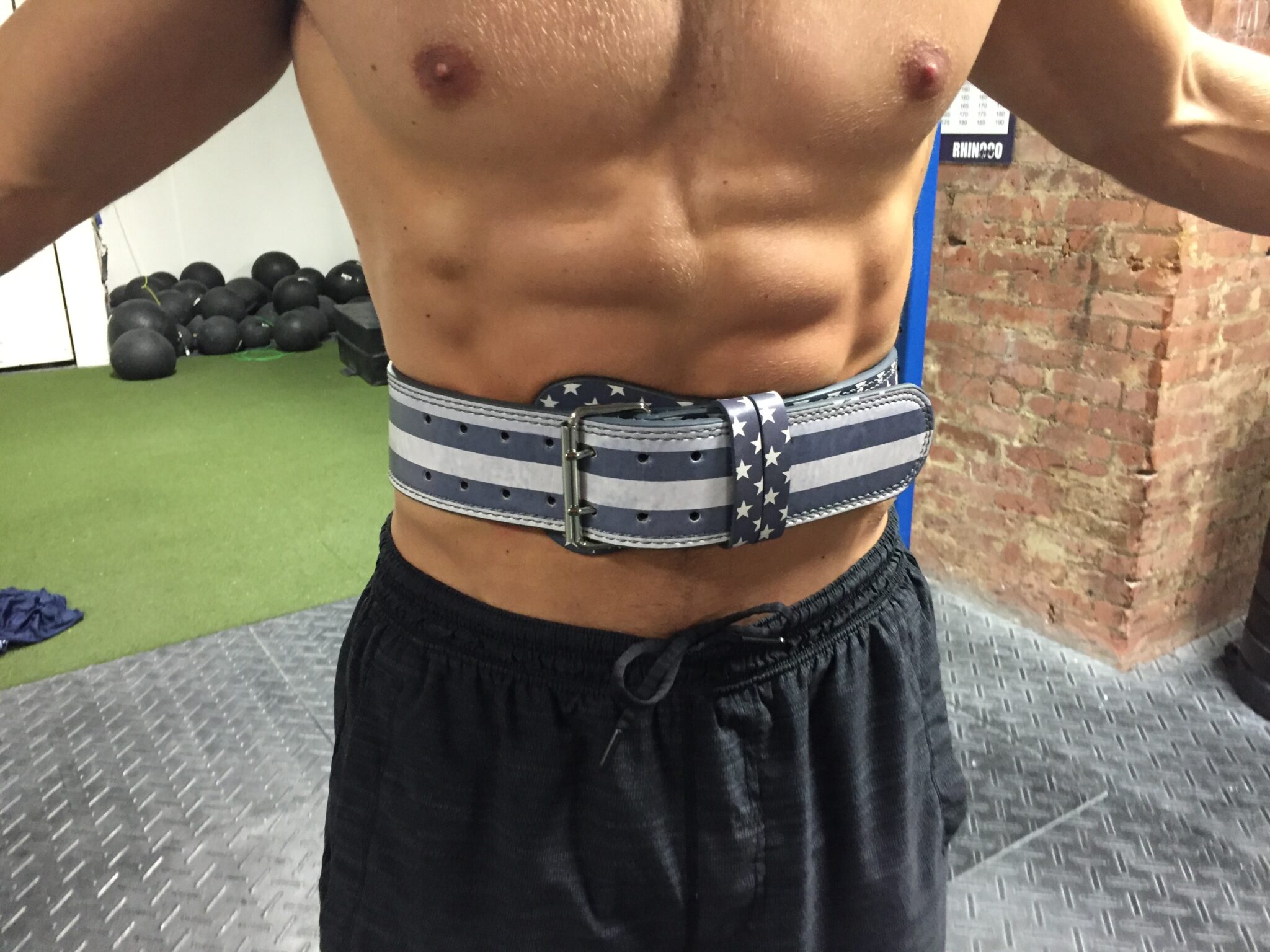 The belt hugged my body well and when I adjusted it from low to high on my torso it remained me stable. I liked the increased width on the back; it added extra stability that skinnier belts don't have. In the squat and deadlift it felt secure, but didn't hold me as tight as a typical lever or thicker powerlifting belt. When I hit the bottom of the squat I tested this belt's ability to help me maintain a strong posture. When I relaxed and moved forward, this belt held strong and kept me secure.
(Curious about the best lifting belt for you? Check out our full rundown of the best lifting belts here!)
During the Olympic movements this belt didn't limit my mobility. The front is made skinnier for this exact reason, so it was nice that I felt stable and mobile. The leather this belt uses is a little stiff, which I wasn't a huge fan of. I like when a leather belt feels secure, but has a little bend to morph around the torso better. This specific belt took a few workouts to break in and feel comfortable.
Comfort
This belt gets a mixed review from me in regards to its comfort. The leather isn't the most comfortable I've tried, but once it was broken in it felt good. It took about three sweaty gym sessions to get the leather feeling comfortable and fitting around my torso. On the positive side, this belt has a unique feature you won't find in most leather belts. The back thicker portion has an additional padding to provide extra comfort, which I really liked.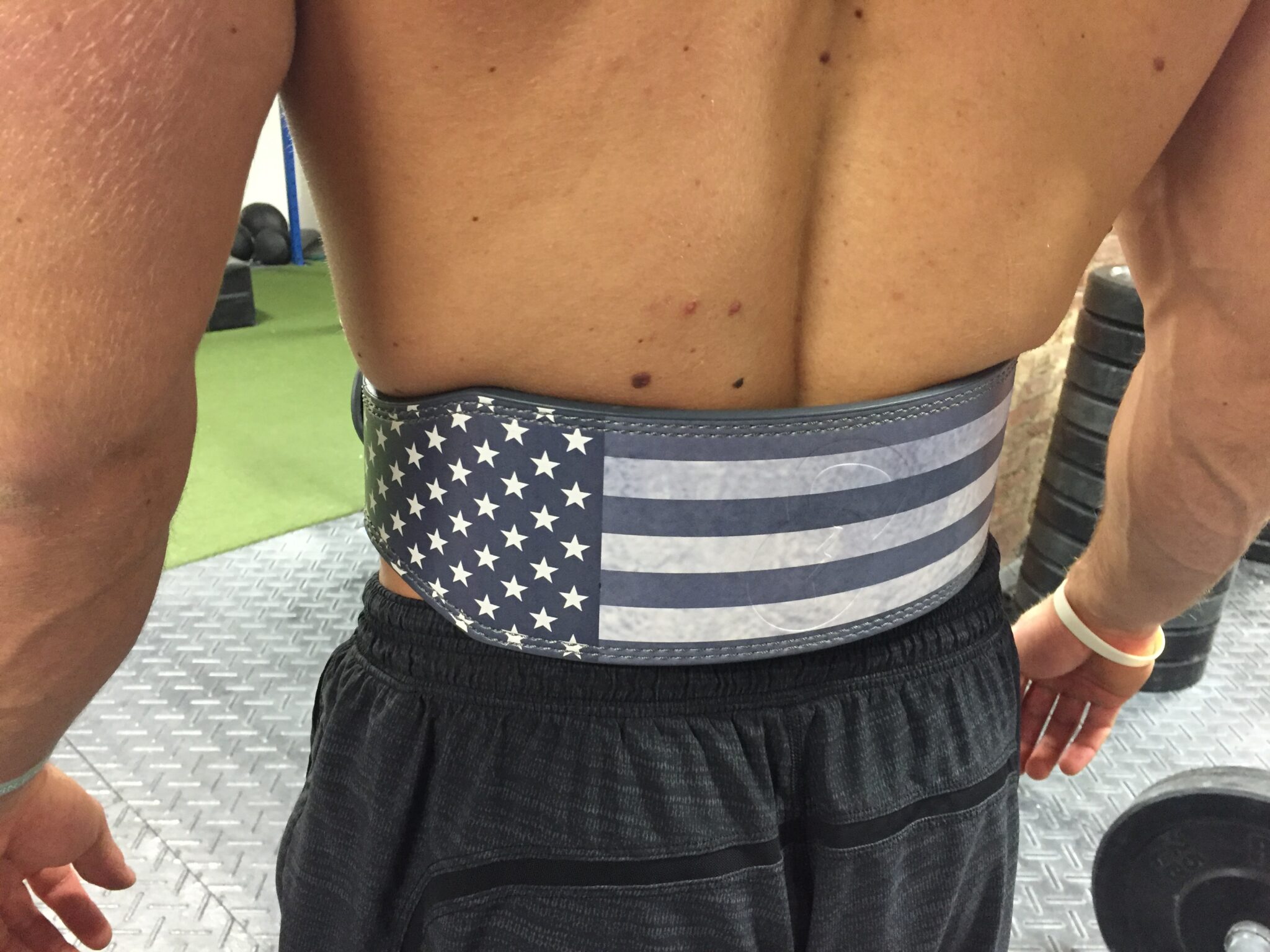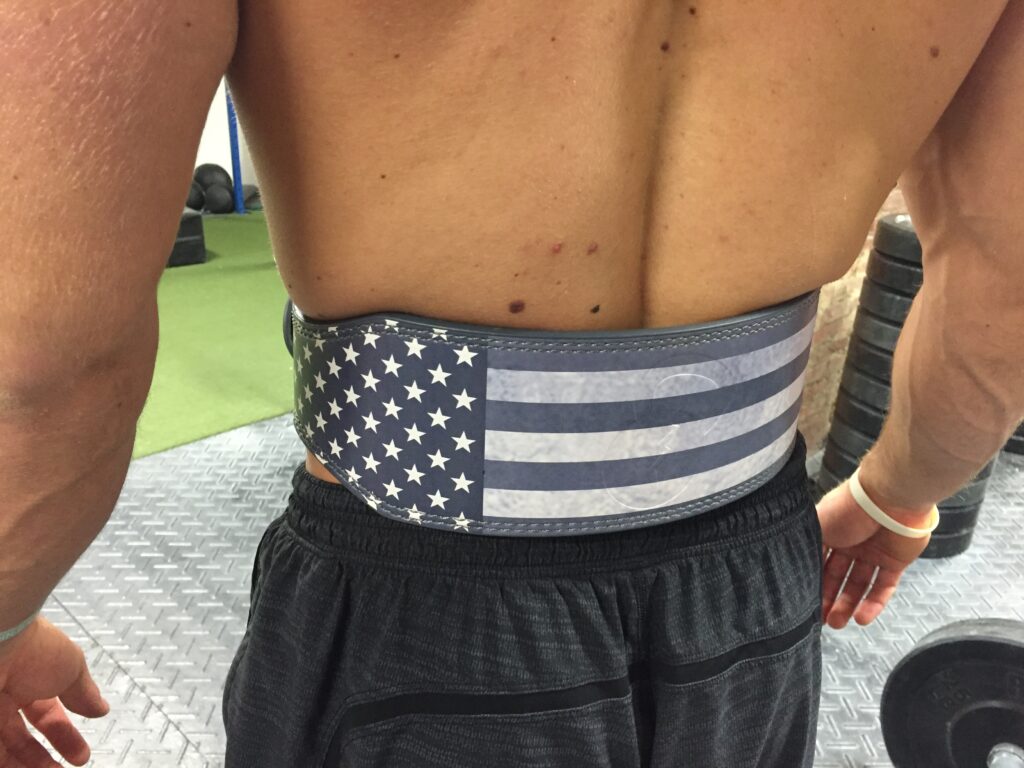 I'm going to guess the extra pad is used because this belt is for the functional athlete who will be moving it up and down the torso accordingly. No matter where the belt fell on my back, the pad made it feel comfortable. There was one issue I experienced with the foam pad. Since it's foam you can pull the belt tighter, which made it increasingly harder to get off. Although, the thickness of this belt was a positive thing. I liked that it wasn't super thick so it didn't cut into my ribs.
Material
The leather of this belt is a little stiff until it's broken in, but that can be a good thing for stability reasons. The inside of the belt is what makes this belt different in its own respect. As I mentioned in the comfort portion, this leather belt has an added pad on the back. The pad appears to have a little extra form, which was nice because I could pull the belt tighter. Although, as mentioned earlier, you sacrifice quickness of getting it on and off for the tightness.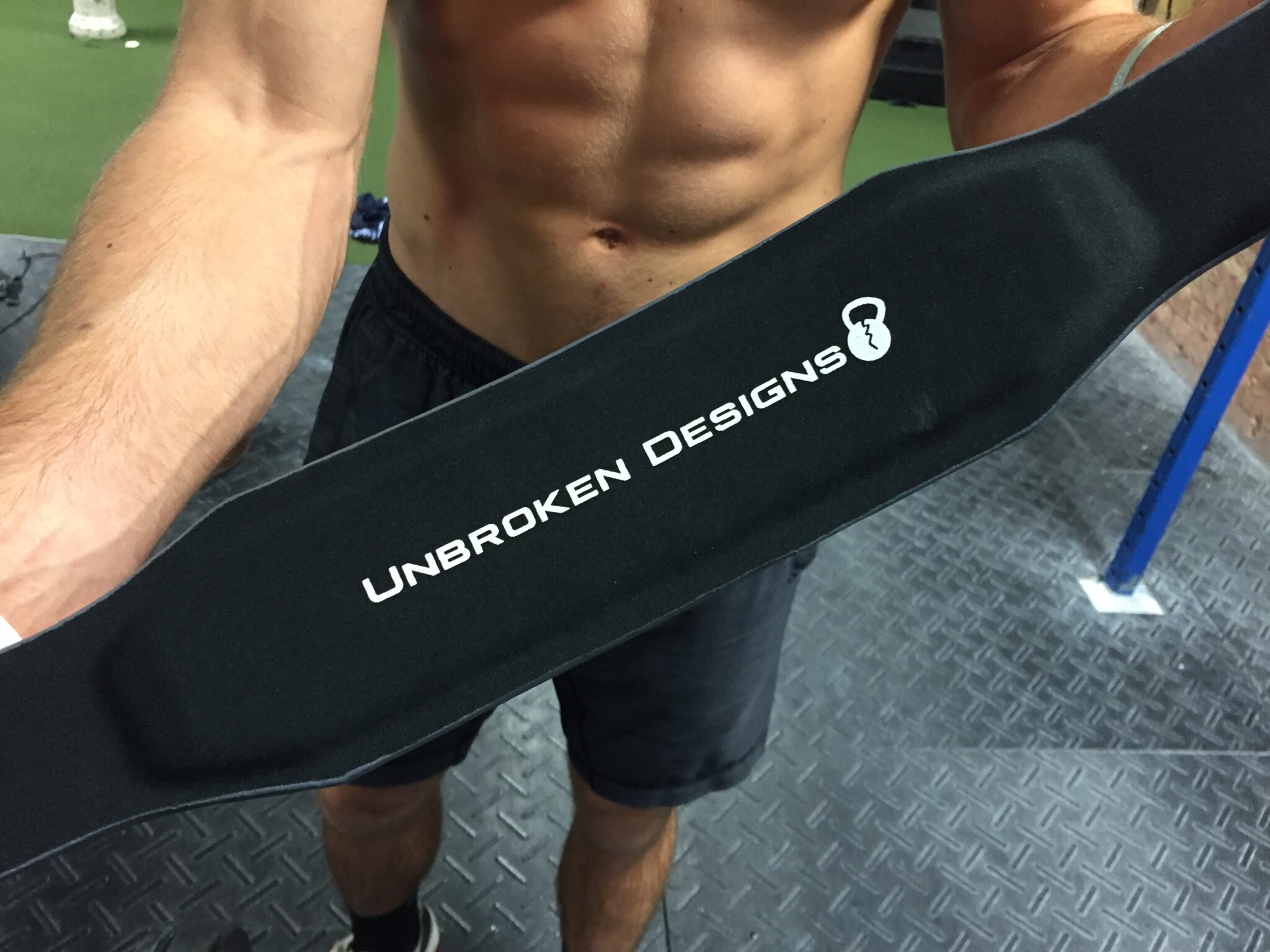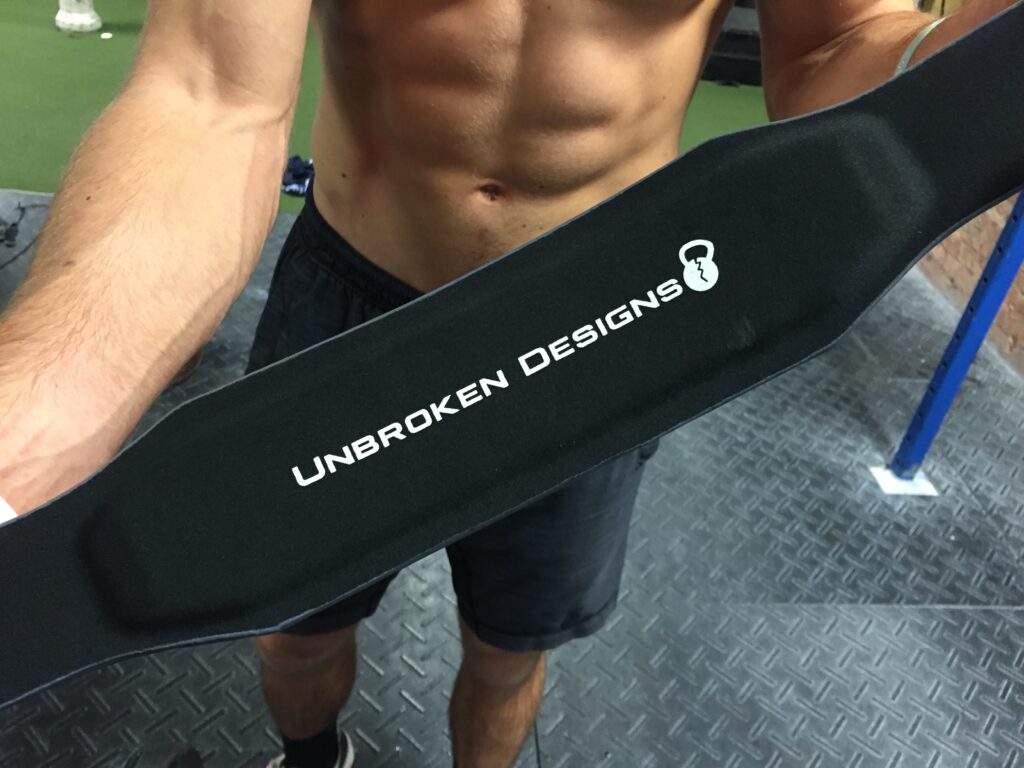 The whole inner portion of the belt is a cloth and foam base. For those who frequently lift shirtless this could be a huge plus. The cloth and foam felt great on the skin and once this belt was broken in, then it really felt snug. Under the buckle there's a ticker portion of leather to keep the metal off the skin, which was also a positive.
Durability
This belt felt durable from the times I used and lifted with it. I like the double prong metal buckle. The metal felt thick and didn't feel as though it would bend easily. The leather was stiff and light, which made it feel durable from what I experienced with it. One issue I could see lifters having is the loop that holds the metal buckle. The screws don't go trough every layer of the leather, which could present future issues with heavy use in popping open.
Price
The price of this belt is around $85.00, which is middle of the road for a leather belt. For the functional athlete who needs a stable belt and cares about comfort, then this price point may be a good fit. For the recreational lifter who needs a simple belt for once-in-awhile occasions, then they may fair with something a little cheaper. Although, for the comfort and stability this belt offers, I thought the $85.00 was reasonable. There is a little concern with durability, this may not be the best choice if you want a belt that will last a lifetime.
Final Word
When it comes to a belt I'm someone who cares about stability and comfort and the Unbroken Designs Stars and Stripes 4″ Leather Lifting Belt provided both of those. Also, for the lifter who needs a belt for a variety of movements, then this is a good fit. The inner cloth and foam provided a unique comfort that most leather belts don't have. If you're a recreational lifter who wants a simple and affordable belt, then you may not like this belt.
All in all this belt was great for its purpose, which was performing functional movements in a WOD based setting.