Functional fitness athletes and cross training shoe fans get ready, Under Armour has created their first ever cross training shoe. The Under Armour TriBase™ Reign is UA's first ever shoe designed specifically for cross training and functional fitness athletes. Heads up Nike and Reebok, Under Armour is coming in hot.
Currently, Under Armour makes a wide variety of shoes designed for different sports, but they have yet to create a cross training shoe specifically made for functional fitness athletes/CrossFit athletes. The UA TriBase™ Reign has a release date of December 26th 2018, and we've pushing their capabilities over the last two weeks. I've reviewed the market's best cross training shoes, so it was really interesting comparing this shoe's performance to models that have fourth (Metcon) and eighth (Nanos) iterations released.
Since this model is Under Armour's first swing at a cross training specific shoe, I went into this review with an open mind. In all honesty, I was a little surprised at this shoe's construction, specs, and performance and thought it was one of the best cross training shoes for agility workouts on the market.
The UA TriBase Reign features a Micro G Midsole, ripstop and mesh construction, along with Under Armour's signature TriBase outsole.
Construction
UA TriBase Reign Outer Material
Upon first impressions, the material of the TriBase Reign feels different than any other cross training shoe I've tried. The outer construction that makes up this shoe includes a ripstop material and lightweight mesh. Ripstop material is a type of woven reinforced construction (often nylon-based) that is used for durability purposes and to prevent abrasion from things like rope climbing and toe dragging that can create friction on the shoe. The material feels similar to what a slightly heavier, thinly constructed rain jacket feels like; it's firm, yet lightweight and durable.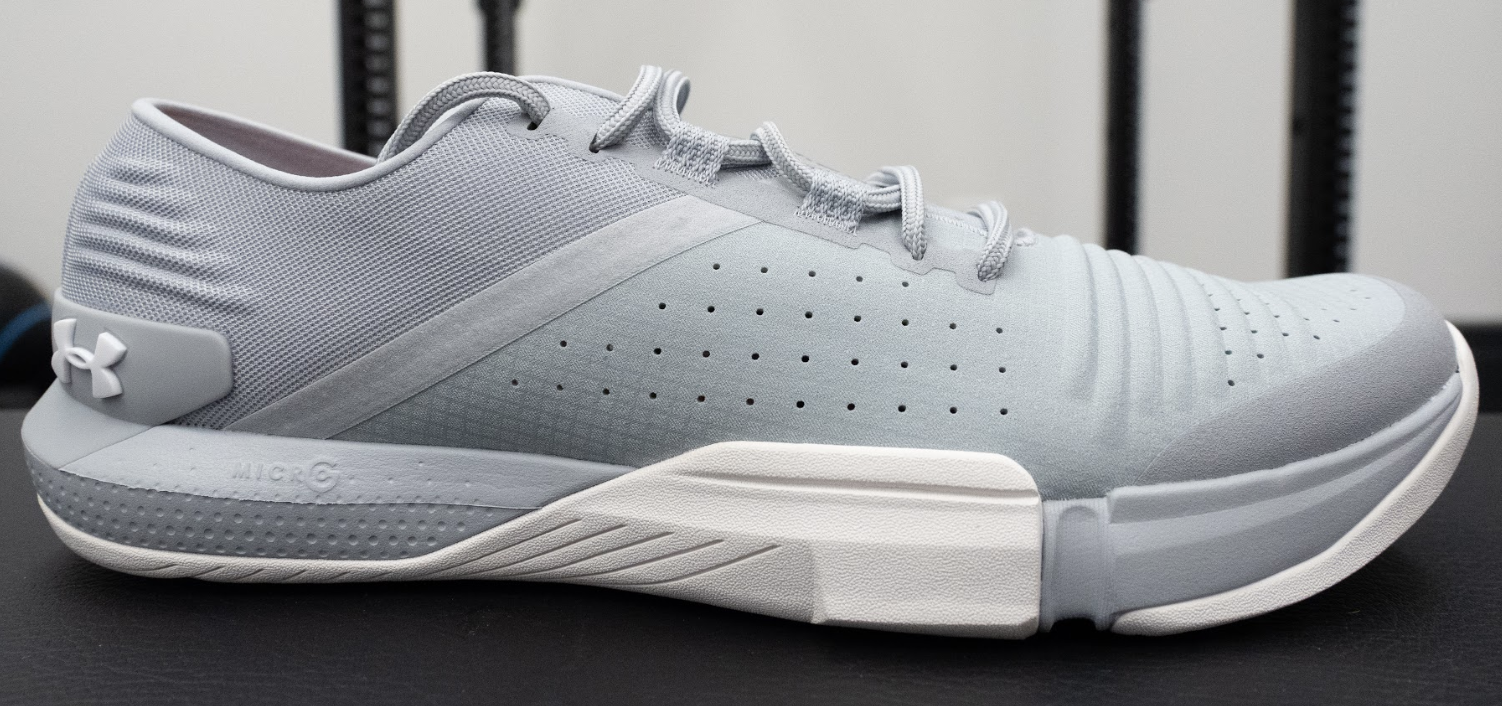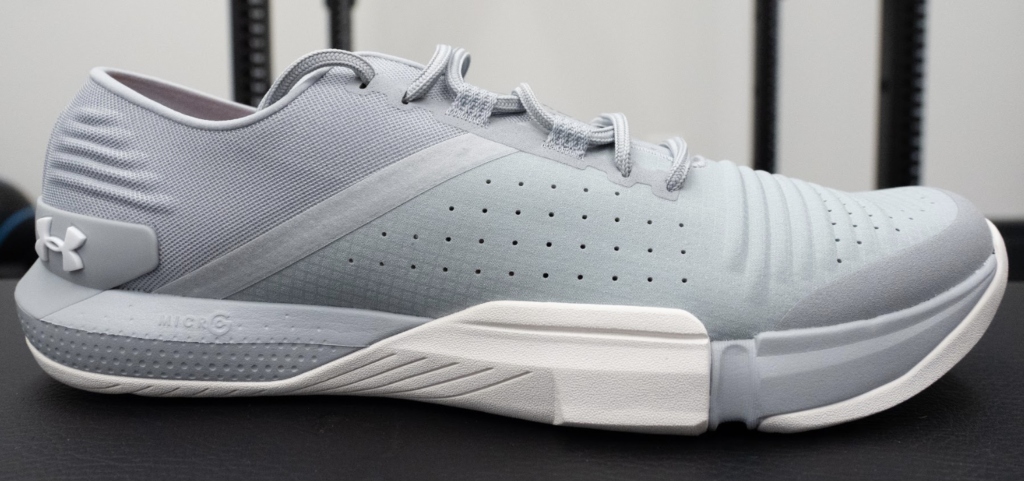 What's also interesting about this material is that there's no defined stitches on this shoe. Everything is cleanly constructed together and there are no areas where stitches could potentially fray. There's a rib-like aspect near the base of the toes, which help the toe's ability to flex, and I liked this feature personally. The bottom is a bit more stiff to break in, so this helped compensate for the break-in period (more on that in the outsole section).
Towards the mid-foot and heel, this shoe's material turns from the softer ripstop material to a slightly more rigid mesh. The material that surround the heel and mid-foot is very thin and slightly stiff. There's a reinforced layer of material that extends towards the top of the boot for the shoe. I liked this because it helped a bit with the shoe digging into my Achilles tendon. Granted, the build of this shoe is still pretty low, so that may be a problem for some users with smaller feet/sensitive heels.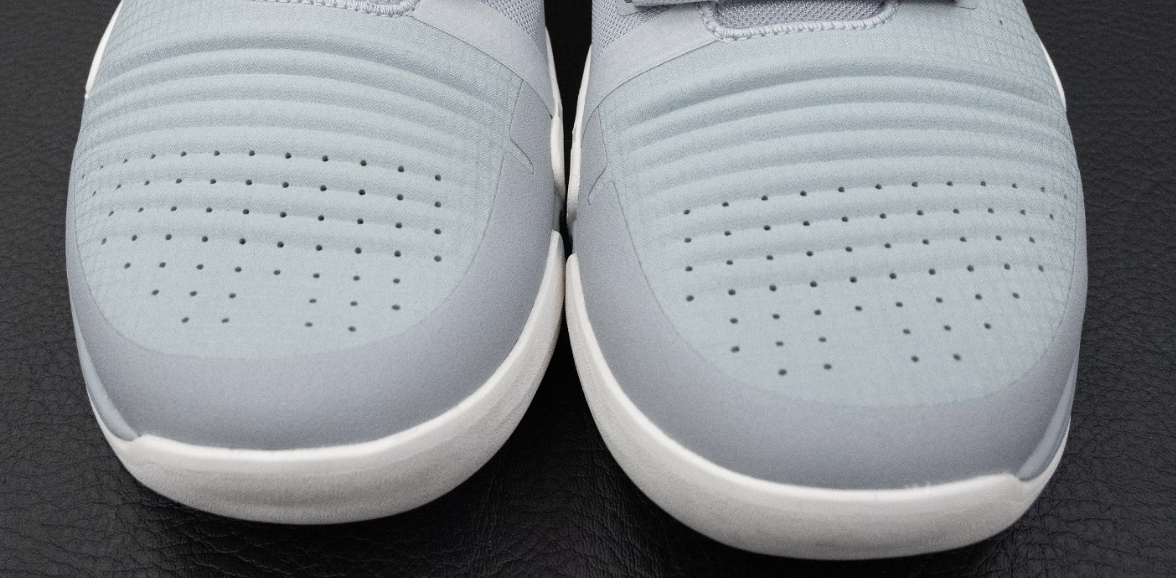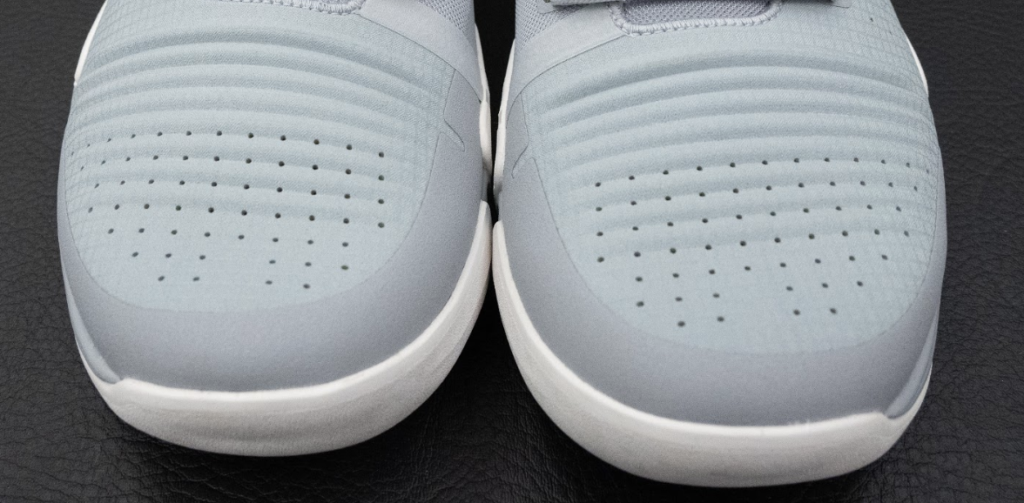 One positive that I liked about this model, and something I'm a fan of in cross trainers in general is the breathability of the material used and the design. Under Armour did a pretty good job at taking this into account and has placed smaller holes on the toe and mid-foot of this to support the foot's ability to breathe.
Mid-Foot and Heel
On the mid-foot, there are technically six eyelets that run up the mid-foot of the shoe. The eyelets of this model are very different from other cross training shoes. The bottom and top eyelets have an area where the lace enters and exits twice in the shoe, while the middle two are constructed with about a centimeter of loop material. This material on the middle two eyelets extends underneath the outer construction and connect to the base of the shoe, which was a cool sign for stability purposes.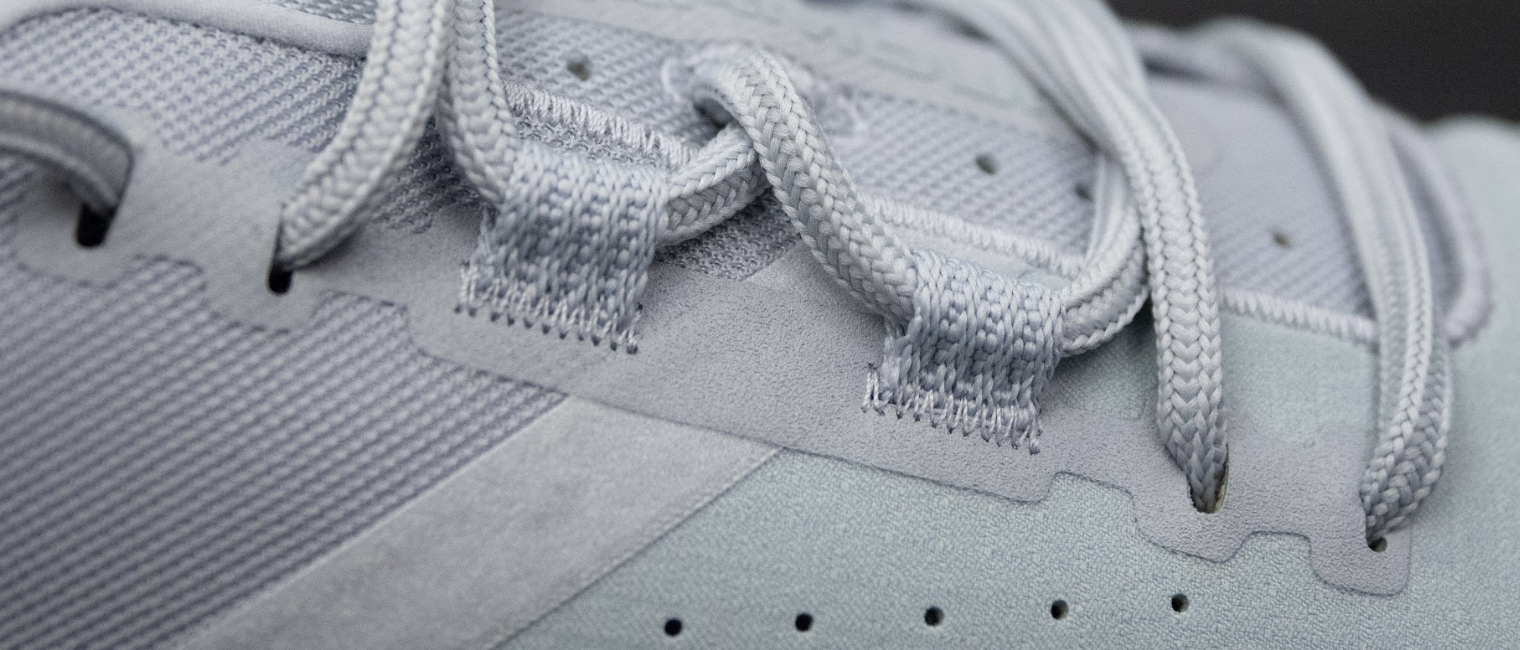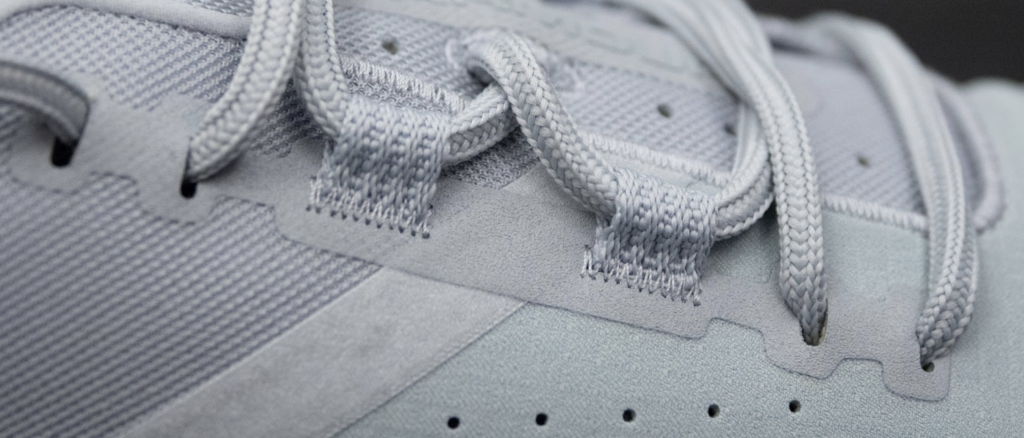 From my assessment and performance tests so far, I have two main thoughts about this shoe's mid-foot and eyelet construction. I like Under Armour's attempt to make a slightly different build from competitors, and I truly think this lacing style will be durable, especially with the beefed up material and additional eyelet holes, but there's a small problem.
The forefoot's toe box is made slightly wider for toe splay and I found that it's kind of tough to pull the shoe really tight near the forefoot with the double eyelet lacing at the bottom. I would be interested to see if the issue would fix itself with a single eyelet at the bottom because I'm a fan of the wider toe box for lifting purposes.
Alright, onto the heel, aka the area of cross training shoes most get concerned with. The offset of this model is 2mm, and the heel of this shoe has a reinforced plastic material on the external portion towards the bottom of the heel for additional support. It doesn't sit as high as others on the market, but it did a fairly good job at providing that stable-esque feeling on the heel.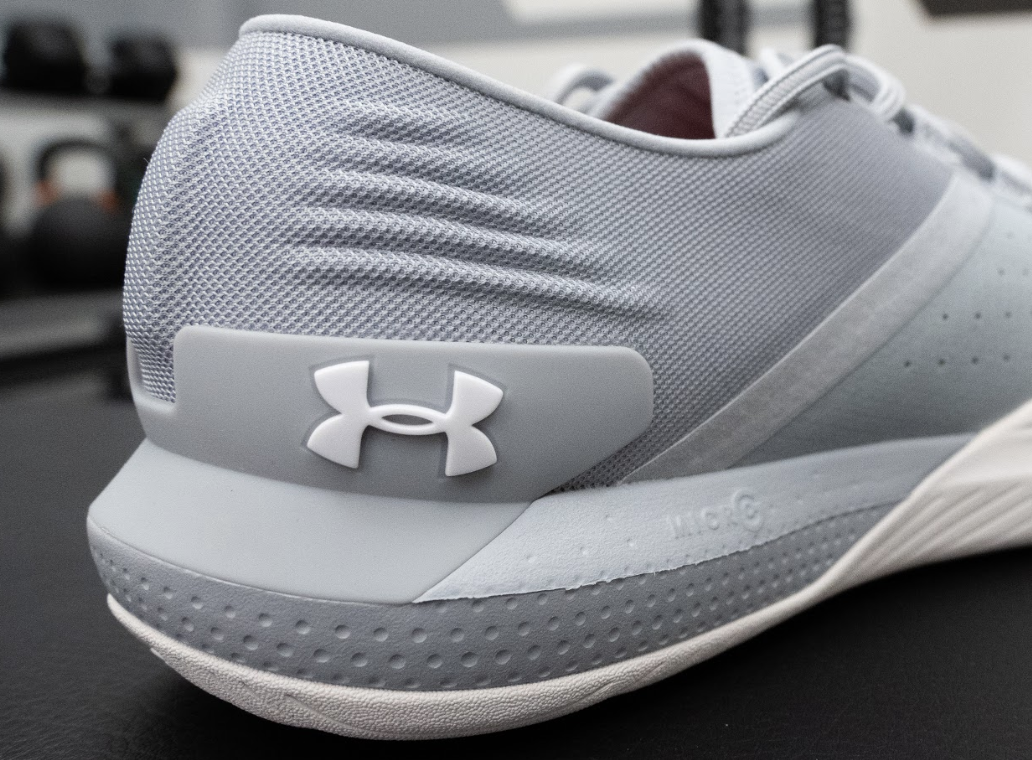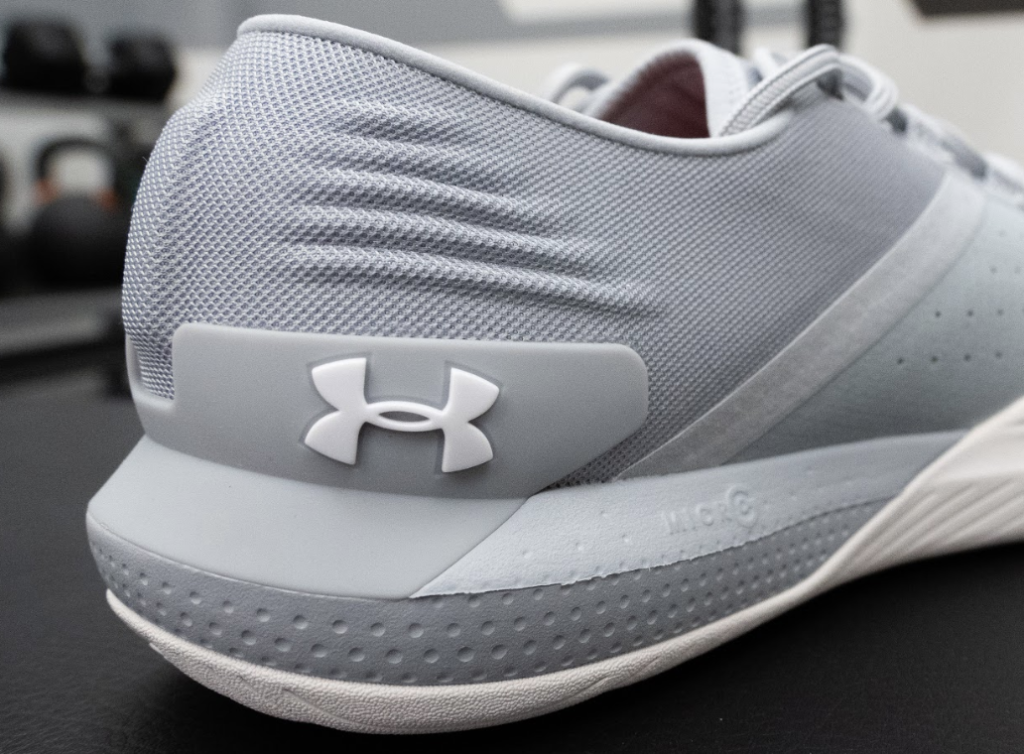 This shoe is very low-cut in design and has an internal heel cup that provides another layer of support outside of the plastic portion. Granted, it only extends up a few inches from the base of the shoe, so the top portion of the boot is pretty flexible. In respects to overall stability, this heel functioned fine and there were really no lapses in the support it provided, but I did find one potential issue. If you lack ankle stability, then the low-cut design of this model may be problematic for you.
Midsole
The midsole of this model is pretty interesting compared to the other cross training models I've tried. There's a lot of material on this shoe's midsole, and I'm still not sure how I feel about that. Towards the heel, Under Armour has included their Micro G Foam. This foam is used by Under Armour to provide their models with a low to the ground feeling with additional responsiveness. These might be the most reactive cross training shoes I've tried, they feel a bit more "bouncy" compared to others I've worn.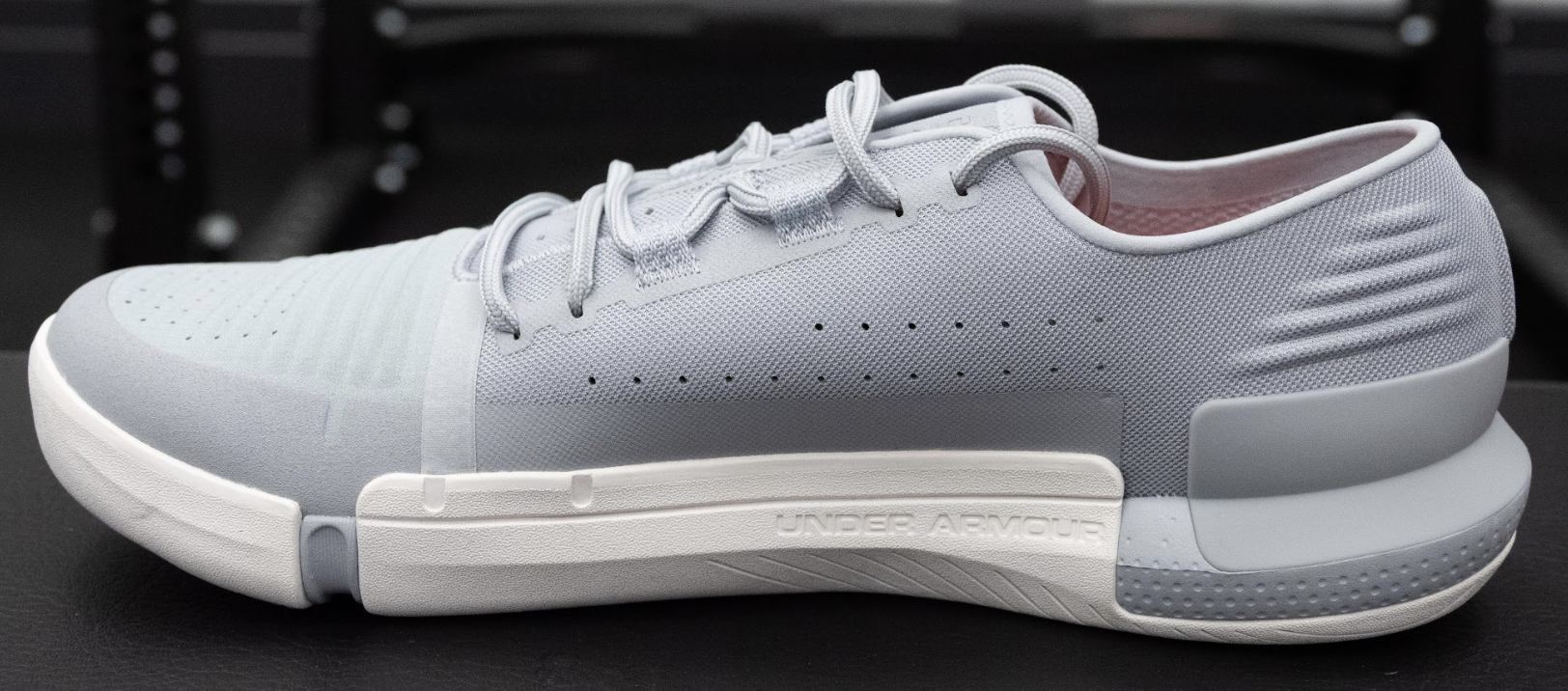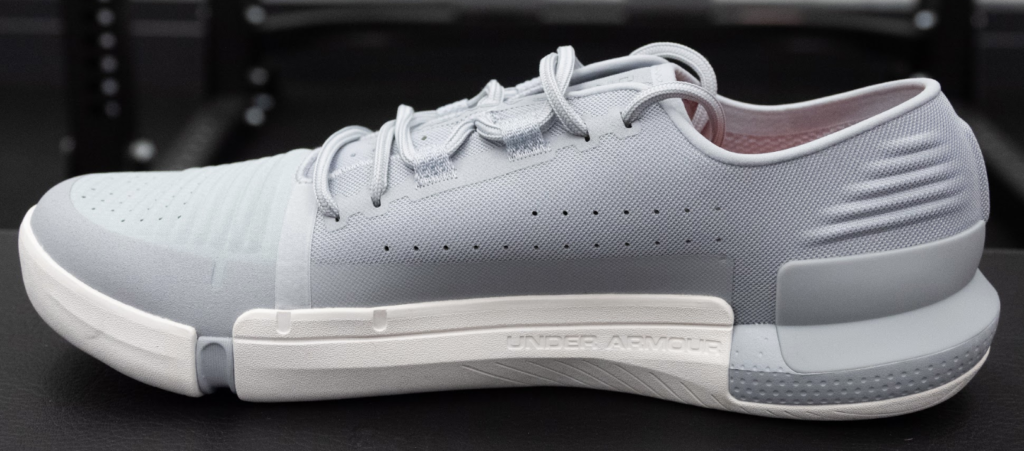 On the mid-foot, the TriBase Reign's outsole extends up a bit higher over the midsole, which is a design feature to support things like rope climbs, and a bunch of cross trainers provide similar construction features. In my opinion, this construction feature is neutral for me. I like the idea and amount the material that extends up on the shoe, but it does look little blocky on the medial side, although, that's just a cosmetic gripe I have. In respects to the shoe's construction purpose it fairs perfectly fine.
Towards the toe, there's a similar foam midsole layer under the base of the toes, then the extended rubber outsole that covers the tops of the toes. I'm always a fan of the extended outsole that covers the width of the toes compared to a lip. In my opinion and experience, I think the toe of this model will be pretty durable overtime and resistant to early lipping from toe dragging movements.
Outsole
The outsole of this model is one the main construction features really worth noting. This shoe's outsole features UA's TriBase construction, which is so important it's in the name of the model. In UA's press release they state that the TriBase technology allows the foot to maneuver with ease through three areas of flexibility. There are flex grooves around the toe that promote upward and downward movement, while the TriBase sides are supposed to help with torsional flexion.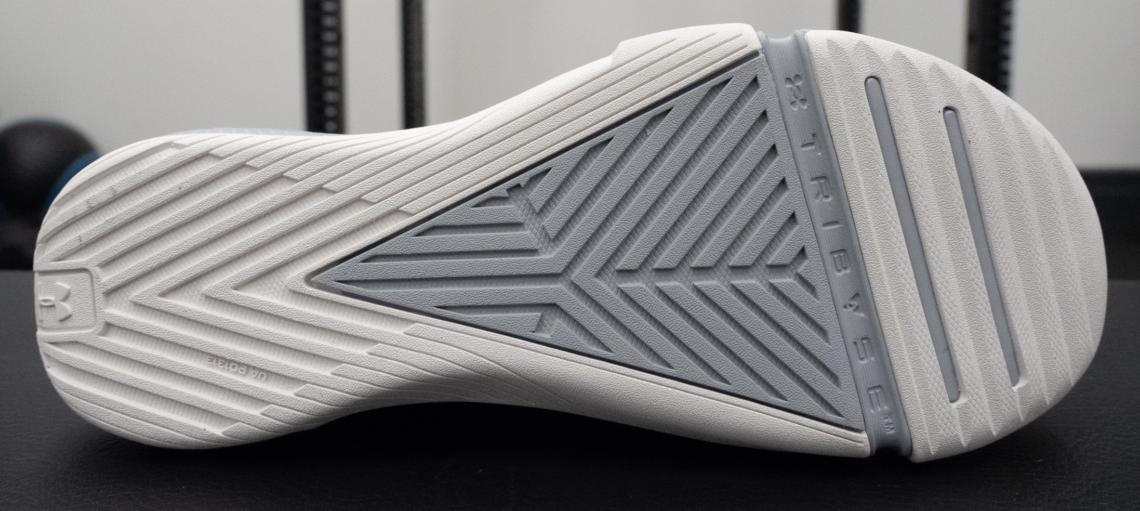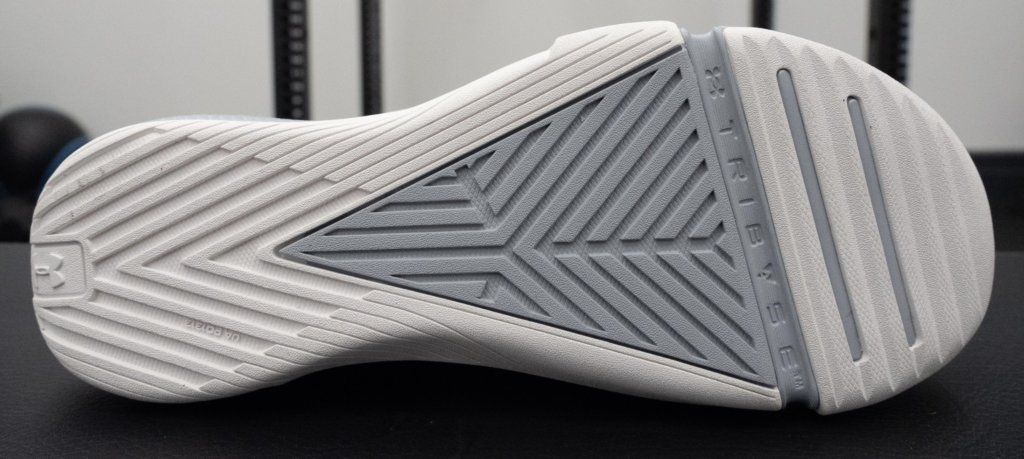 Outside of the TriBase material, this shoe has a textured rubber base that provided a fair amount of grip on both rubber gym floors and outside pavement. This is definitely a nice perk for someone who wants this shoe for indoor and outdoor workouts. On the toe, there's a wave-like texture that's used to promote the foot's ability to grip the floor under weight.
Performance
In respect to performance, there were three details that I really wanted to assess with this model (and I'm still assessing as we speak!). First, how does this shoe's outsole and midsole compare to the most stable options on the market. Second, does this shoe's outer construction breathe well and provide a good sense of long-term durability. Lastly, how is this shoe on a daily basis outside of the gym? Can it be worn as a day-to-day shoe and workout shoe?
Below, I've included a table of consistent test I (we) do on all of our cross training shoes. As of right now, I've performed all of these, and I'm still putting these shoes to the test. Since they're a newer model, and a first model at that, it's tough to say how these shoes will hold up in regards to gym performance in a year from now, although, I have some starting thoughts below.
| | |
| --- | --- |
| Movement Test | Rating + Note |
| Back Squat (Up to 315 lbs) | 8.3/10 — Decently Stable, Limited-No Compression |
| Box Jumps and Side Shuffles | 8.7/10 — TriBase Provided Good Grip & Low-Cut |
| Sprints (HIIT Workout) | 8.6/10 — A Little Wide/Blocks On the Toe |
| Walking to Work | 8.5/10 — Comfortable, Reactive, and Breathable |
UA TriBase Reign Performance Perks
In terms of performance perks, there were two things I think Under Armour did exceptionally well with this model. For starters, I though the Micro G Foam midsole and TriBase outsole were a unique combination that provided adequate support under weight. They were certainly not the most stable I've tried, but they performed well enough to where I'd recommend them for the recreational athlete. Second, the material was lightweight and reactive, which is big for the versatility of this shoe. I felt comfortable running, jumping, and walking around in these shoes.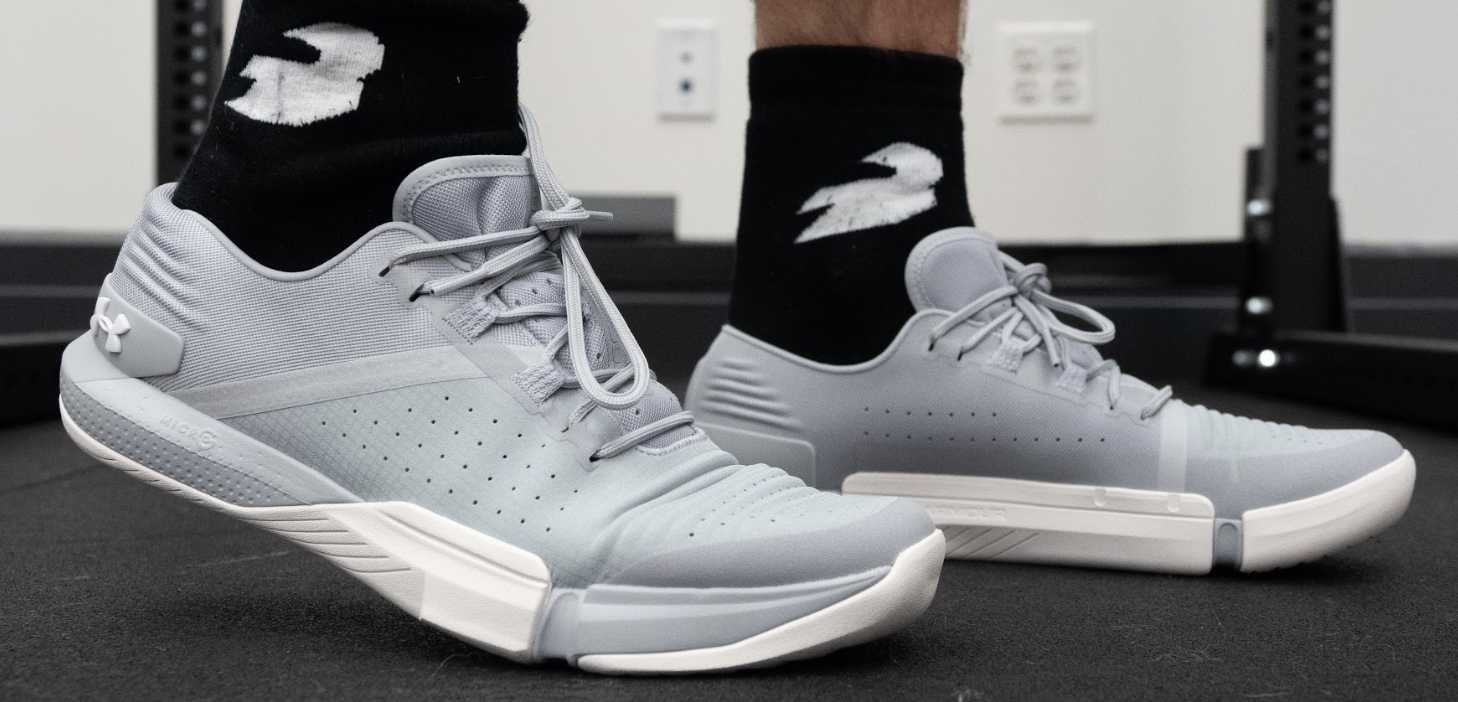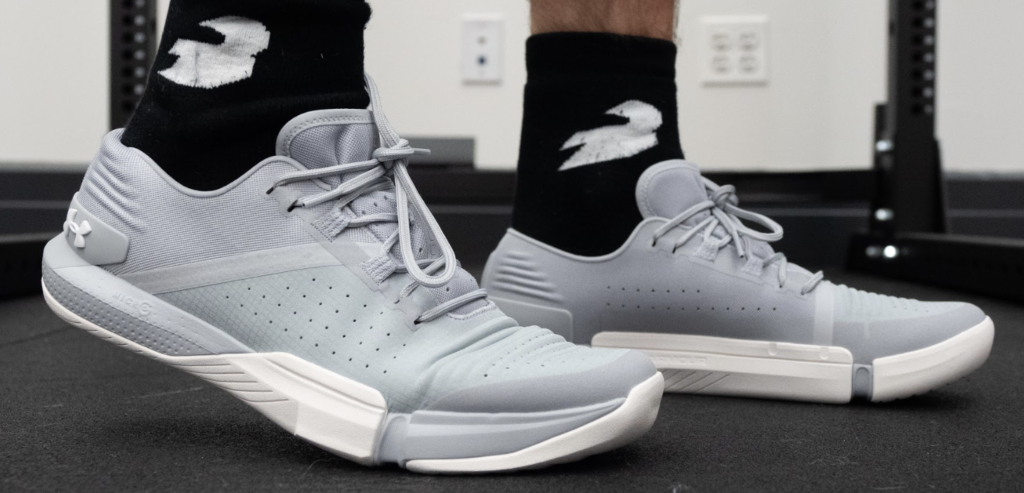 UA TriBase Reign Performance Concerns
Onto the concerns, I have one slightly bigger issue and one smaller with this model and it's going to come down to an individual's needs in a shoe. The bigger issue is how low-cut this model is. The heel didn't bother me so much, but I think it could easily dig into the Achilles tendon for athletes with smaller feet who enjoy wearing low socks. Since the material is skinner and slightly more rigid, it's not as forgiving as a padded cloth/mesh, which means there's going to be a longer break-in period. My smaller concern has to do with the bottom lace tightening, which I mentioned above in the construction.
UA TriBase Reign Durability Thoughts
This shoe is brand new, so it's really tough to provide a lot of information about the durability that comes along with this model. What I can do is provide objective thoughts on the construction and activities performed in this shoe that extend off other models I've tried. I think the outer construction will hold up just fine with the ripstop material, and the outsole has a strong pretty rubber that doesn't feel like it will peel off easily. My only real durability concern has to do with the thinner low-cut heel maintaining its stable nature over long periods of time.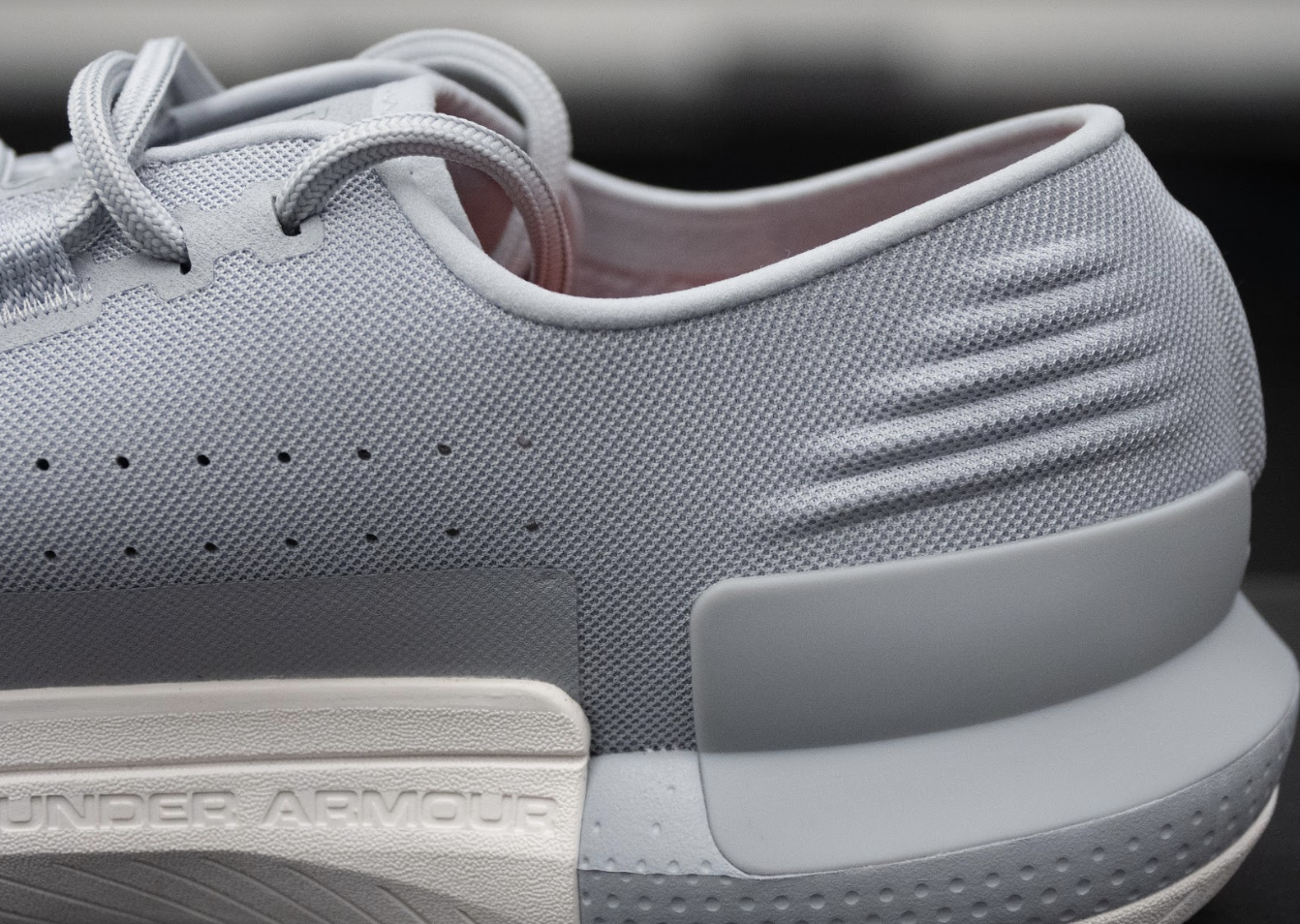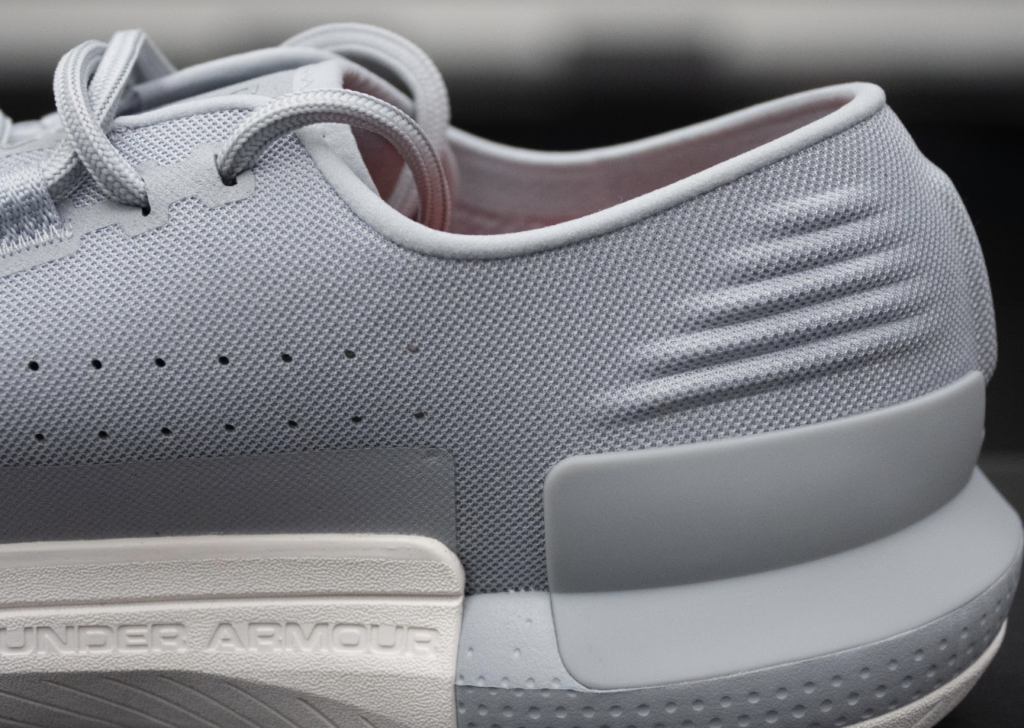 UA TriBase Reign Price
The asking price of this model comes out to $120.00, which is right inline with other newer cross training shoes on the market. It's not the most expensive, but it's definitely not the most cheap. In regard to price, I'd compared this model's purpose and design to the Nike Metcon 4 and Reebok Cross Nano 8 Flexweave. Based off of those shoes, I think this price is decently fair for this model. It's designed for heavier lifts and versatility and it performed pretty well on a day-to-day basis, so it has more functions that solely working out.
Wrapping Up
All in all, I think the Under Armour TriBase Reign did an okay job in its performance and construction assessment. I think the shoe itself is far from perfect in regards to its construction potential, but it definitely has a lot of things going for it. In respects to performance, I was a little surprised at how well this model held its own. It didn't perform up to the standards of a weathered cross trainer, but it came out of the gates swinging and I tip my hat to Under Armour for this first cross training pass.
If you're feeling daring and want to try something brand new to the cross training market, then I don't think you'll go wrong with the UA TriBase Reign. It's a solid model for the recreational athlete.