We receive free products and receive commissions through our links. See
disclosures page
.
Actor, comedian, and burgeoning fitness icon Kevin Hart spent four years developing his new nutrition product and instead of going the way of whey protein or pre workouts, he decided to formulate a multivitamin. Not just any multivitamin, of course, but one that he calls,
A complete collection of high quality essential nutrients and goal-driven proprietary blends to help fuel your hustle.
Indeed, it's not your average multi. It has a wide range of vitamins and minerals, sure, but there are also three proprietary blends intended to improve hormones and metabolism, nitric oxide production, and workout recovery. Here's what we thought.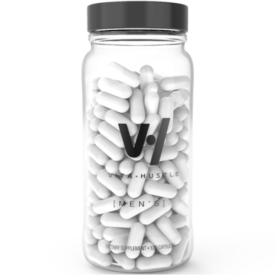 It's not just packed with vitamins and minerals. VitaHustle also has three unusual blends that may deliver antioxidant, anti-inflammatory, and performance boosting properties.
VitaHustle Nutrition and Ingredients
Vitamins and Minerals
There are a lot of them here: 23 vitamins and minerals, which is pretty much all of them. For most, you're getting at least 100 percent of the recommended daily intake.
Here's the full list with the percentage of your recommended daily intake that you'll get in a four-pill serving:
Vitamin A (as retinyl palmitate and beta-carotene): 83%
Vitamin C (ascorbic acid): 278%
Vitamin D (as cholecalciferol): 250%
Vitamin E (as D-Aplpa Tocopheryl Succinate): 133%
Vitamin K (as Menatetrenone): 67%
Thiamin (as Thiamine HCl): 167%
Riboflavin: 154%
Niacin (as Niacin and Niacinamide): 138%
Vitamin B6 (as Pyridoxine Hcl): 294%
Folate (as Calcium 5-Methyltetrahydrofolate): 100%
Vitamin B12 (as Methylcobalamin): 625%
Biotin: 1000%
Pantothenic Acid (as D-Calcium Pantothenate): 200%
Calcium (as Calcium Carbonate and Calcium D-Glucarate): 20%
Iron (as Ferrous Gluconate): 50%
Iodine (as Potassium Iodide): 100%
Magnesium (as Magnesium Oxide): 30%
Zinc (as Zinc Bisglycinate Chelate): 136%
Selenium (as Selenium Citrate): 127%
Copper: (as Copper Bisglycinate Chelate): 222%
Manganese (as Manganese Bisglycinate Chelate): 87%
Chromium (as Chromium Nicotinate Glycinate Chelate): 343%
Molybdenum (as Molybdenum Citrate): 167%
Then there are the three proprietary blends, which don't specify the amount of each ingredient they contain.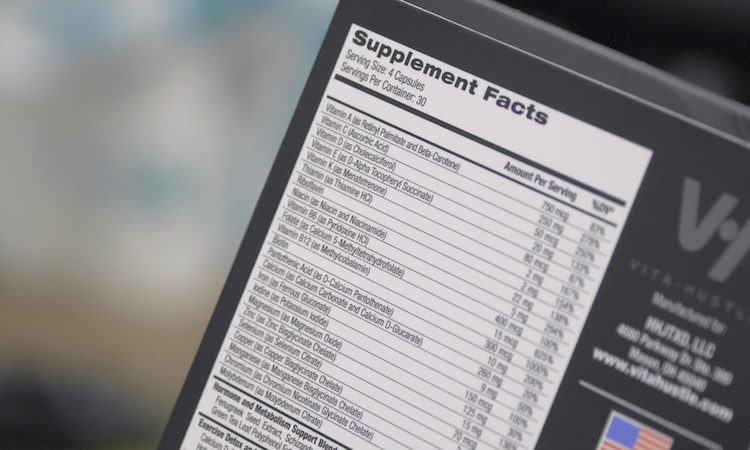 Hormone and Metabolism Support Blend (375mg)
Fenugreek Seed Extract, Schizandra Fruit Extract, Oligonol® (Lychee Fruit and Green Tea Lead Polyphenol Extracts), Tongkat Ali Root, Saw Palmetto Berry
Exercise Detox and Recovery Blend (333mg)
Calcium D-Glucarate, Rosemary Leaf Extract, Ginger Root Extract, Holy Basil Leaf Extract, N-Acetyl L-Cysteine, Milk Thistle Seed Extract
S7™ Nitric Oxide Booster (50mg)
Green Coffee Bean Extract, Green Tea Leaf Extract, Turmeric Root Extract, Tart Cherry, Blueberry, Broccoli, Kale
Additional Ingredients
There are also three ingredients that don't have recommended daily intakes: boron (1mg), vanadium (as Vanadyl Sulfate, 10mcg), and DeltaGold® (a mixed tocotrienol blend made from annatto).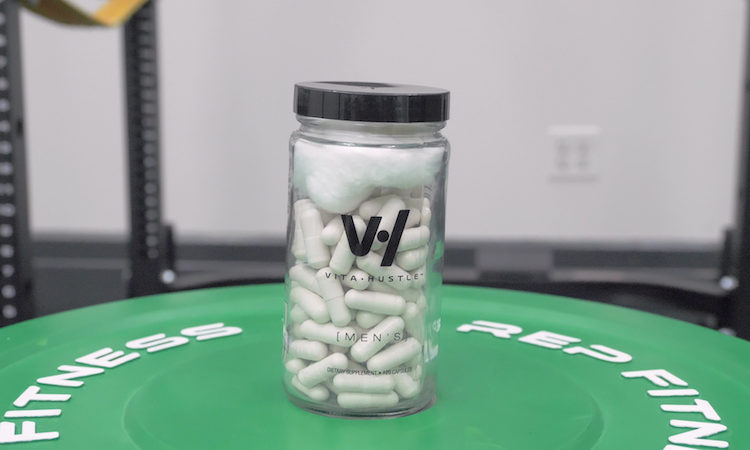 VitaHustle Benefits and Effectiveness
The vitamins and minerals are plentiful and well dosed. I'm an especially big fan of the fact that there's 250 percent of your daily vitamin D and 67 percent of your vitamin K. These are nutrients that the average person tends to be low in, and they appear to act synergistically to improve bone health.(1)
It's also worth noting that the minerals are mostly chelated, which means they've been combined with amino acids to form complexes. There's some evidence that this improves their absorption, which is a nice touch.(2)
The Vanadium probably isn't that useful: it's usually dosed at 100 times the amount found in this product to help with glucose sensitivity.(3) The additional tocotrienols from the DeltaGold appear to have antioxidant and possibly neuroprotective properties, which we liked.(4)
So what about the proprietary blends? A huge downside of the product is that we don't know the dosages of each ingredient, but we do know the weight of the blends and that each ingredient is included in the order of its prominence in the blend. (So there's more of the first ingredient than the second, and so on.)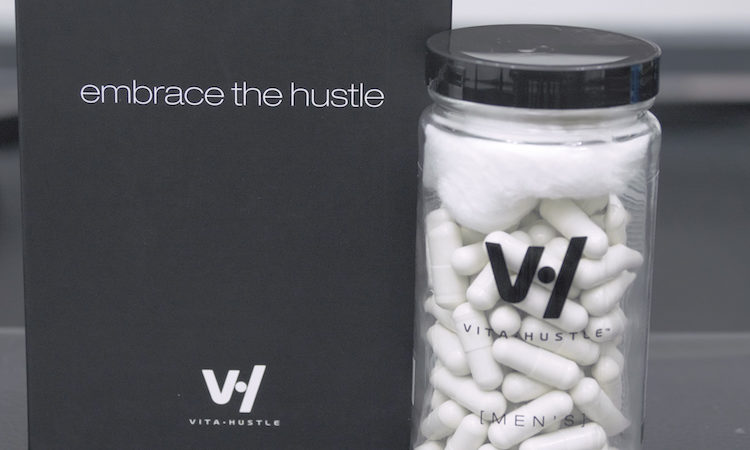 Hormone and Metabolism Support Blend (375mg): I will say that i'm not totally convinced of the dosage, here. For instance, most research on fenugreek extract is in the area of 500 milligrams to several grams, saw palmetto is usually about 200 milligrams, and so on.(5) But most of these ingredients have their links to testosterone production so all of them together may act synergistically.
Exercise Detox and Recovery Blend (333mg): This blend is tricky because it emphasizes the word 'detox' which doesn't really mean much. Normally it's a way to say that it supports liver health and the milk thistle seed extract has some links with that, but it's worth remembering that the most popular studies suggest taking at least 500 milligrams per day.(6) On a similar note, rosemary extract has antioxidant and anti inflammatory effects but is usually dosed at 250 milligrams, ginger root extract is normally like a gram or two, and so on.(7)(8)(9) But again, most of these ingredients have anti inflammatory effects so they may well work in concert to produce this effect.
S7™ Nitric Oxide Booster (50mg): This is intended to help boost nitric oxide, which is meant to enhance blood flow and help you deliver oxygen and nutrients to your muscles. This is why many pre workout supplements call themselves nitric oxide boosters. S7 is a product from a different company, VDF Futureceuticals, and they actually got a study published in Free Radical Research that found it increases NO production by 230 percent.(10) Now, that research hasn't been replicated, but still that's promising.
[Check out our full list of the best men's multivitamins!]
VitaHustle Price
VitaHustle emphasizes the subscription model: if you sign up for a monthly shipment, they take 20 percent off the cost.
If you just want a one-off purchase of a one-month supply, that'll be $45 to $55, or about $1.67 per day. Subscribe and it drops to about $1.33 per day. You can get a similar discount if you buy three bottles at a time.
VitaHustle Pros & Cons
Pros
Wide variety of nutrients
May improve workout performance
Contains extra antioxidants
Cons
Proprietary blends
Some ingredients may be underdosed
Not organic or vegan friendly
The Takeaway
There's a lot to like here. It's made with a ton of quality control: the facility is NSF certified and it's guaranteed to be free from most major allergens, including wheat, soy, tree nuts, and eggs. There's just about all the vitamins and minerals you need, most of the minerals are well absorbed, the nitric oxide booster seems to work pretty well, and there's a range of other ingredients that appear to help reduce inflammation.
I wasn't crazy about the fact that the blends are proprietary, and the I wasn't really sold on the Hormone and Metabolism Support Blend, but overall I really liked VitaHustle. It goes the extra mile to provide benefits beyond your standard multi. 
References
1. van Ballegooijen AJ, et al. The Synergistic Interplay between Vitamins D and K for Bone and Cardiovascular Health: A Narrative Review. Send to Int J Endocrinol. 2017;2017:7454376.
2. Goff JP. Invited review: Mineral absorption mechanisms, mineral interactions that affect acid-base and antioxidant status, and diet considerations to improve mineral status. J Dairy Sci. 2018 Apr;101(4):2763-2813.
3. Halberstam M, et al. Oral vanadyl sulfate improves insulin sensitivity in NIDDM but not in obese nondiabetic subjects. Diabetes. 1996 May;45(5):659-66.
4. Ahsan H, et al. Pharmacological potential of tocotrienols: a review. Nutr Metab (Lond). 2014 Nov 12;11(1):52.
5. Maheshwari A, et al. Efficacy of FurosapTM, a novel Trigonella foenum-graecum seed extract, in Enhancing Testosterone Level and Improving Sperm Profile in Male Volunteers. Int J Med Sci. 2017 Jan 10;14(1):58-66.
6. Loguercio C, et al. Silybin and the liver: from basic research to clinical practice. World J Gastroenterol. 2011 May 14;17(18):2288-301.
7. Baba S, et al. Absorption, metabolism, degradation and urinary excretion of rosmarinic acid after intake of Perilla frutescens extract in humans. Eur J Nutr. 2005 Feb;44(1):1-9.
8. Zick SM, et al. Phase II study of the effects of ginger root extract on eicosanoids in colon mucosa in people at normal risk for colorectal cancer. Cancer Prev Res (Phila). 2011 Nov;4(11):1929-37.
9. Black CD, et al. Ginger (Zingiber officinale) reduces muscle pain caused by eccentric exercise. J Pain. 2010 Sep;11(9):894-903.
10. Nemzer BV, et al. Oxidative stress or redox signalling – new insights into the effects of a proprietary multifunctional botanical dietary supplement. Free Radic Res. 2018 Mar;52(3):362-372.