VYBE is a company that focuses their attention on building quality percussive massage tools. They make handheld devices and also have products geared towards the feet and ankles. In the percussive massage therapy market, VYBE is somewhat known for their massage guns that provide a high power massage.
In this VYBE V2 review, I put that to the test and assessed the VYBE 2's performance, construction, and much more. VYBE markets this product as not necessarily being the most quiet, but certainly one of the more powerful options out there. After careful comparison to other models, I definitely agree that this massage is not the most quiet, but it certainly packs a lot of power into a small handheld device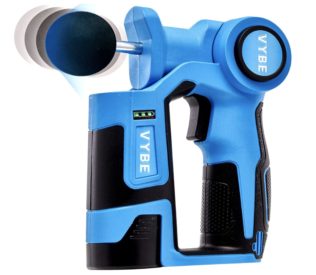 The VYBE 2 Massage gun comes with three interchangeable heads and provides the body with a powerful percussive massage!
Who Should Buy the VYBE V2
Budget friendly lifters looking for additional recovery tools.
The lifter that wants a massage gun that comes with plenty of power.
Trainers that need an ergonomic handle for massaging clients.
Who Shouldn't Buy the VYBE V2
Apartment living lifters that need a quieter model to not annoy their neighbors.
Those that want a longer warranty for their product.
Price
The VYBE V2 massage gun has a price point that sits around $149.99. Compared to other massage guns on the market, this is definitely one of the more wallet-friendly options out there.
For those that truly want a percussive massage therapy tool and want to save a little bit of coin, then the VYBE V2 might be worth checking out. Just note, some of the features like the louder motor might not be worth the price if the massage gun doesn't fit into your lifestyle.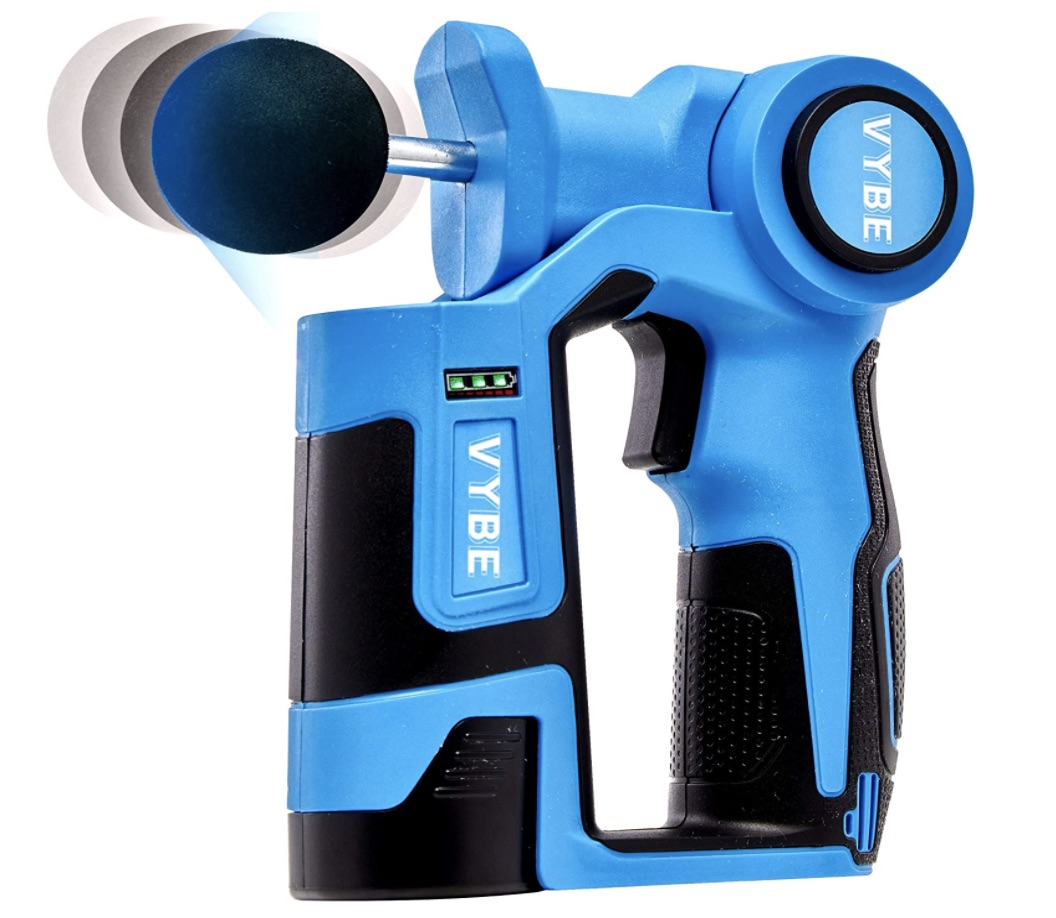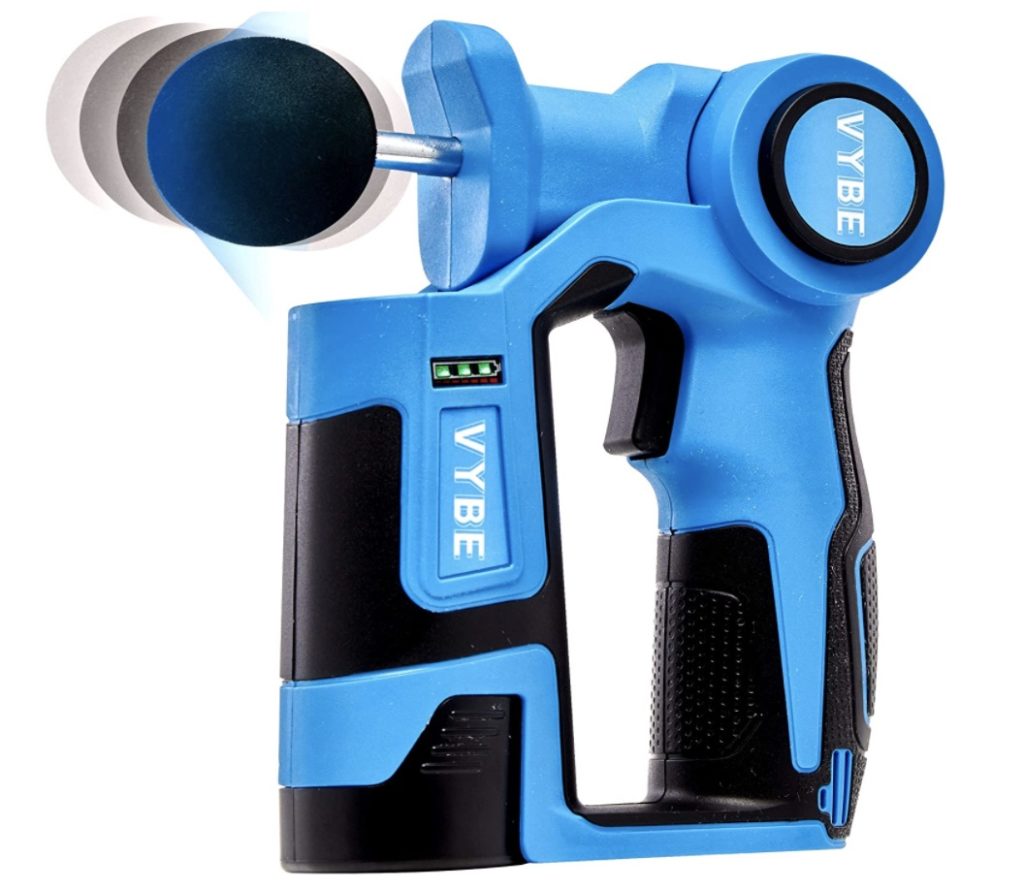 Performance
The best way to describe the VYBE V2's performance is that you get what you pay for. This massage gun is budget friendly, which can be both a good and bad thing. In my opinion, it's a good thing in terms of performance for two key reasons.
First, this massage gun packs a lot of punch, so for anyone that wants a massage gun to really dig into their body, then this is a good bet for the price. This massage gun worked great for digging into the glutes and quads after a tough training session and has three different heads and can perform 6 different speeds. Second, the handle is ergonomic and the head rotates, so it's easy to hold no matter what angle you're working from, or if you're working on clients.
Conversely to the price being good for performance, there are also a couple drawbacks. The motor is loud and it is certainly not an ideal option for folks like myself that live in quiet and small apartment buildings. Another drawback to the price is that the warranty for this product is not as great as some of the other pricier options on the market.
Overall, I like this gun for what it has to offer and the price tag, but it's worth keeping in mind that it is a budget friendly massage gun and that comes with some drawbacks.
Build Quality
The VYBE V2 is built fairly well. The plastic outer construction feels sturdy and doesn't feel rickety when the massage gun is working at its max speed and power. The rotating head doesn't shift too much despite having more movement than the traditional massage gun. Basically, it doesn't move or shift when moving it around and adjusting speeds, which was a concern I had going into this review.
The motor itself is loud and hits 60-80 decibels when working at moderate and max speeds. It's a pretty noticeable difference compared to the massage guns that have quiet technology built in to their motors.
Features
The VYBE V2 comes with a few distinct features that are worth keeping in mind before purchasing. Check them out below!
6 Different speeds
3 Interchangeable tips
Up to 60 lbs of percussive pressure
Ergonomic handle
Head of gun rotates
2 Interchangeable batteries
About 2-hours of battery life
Carrying case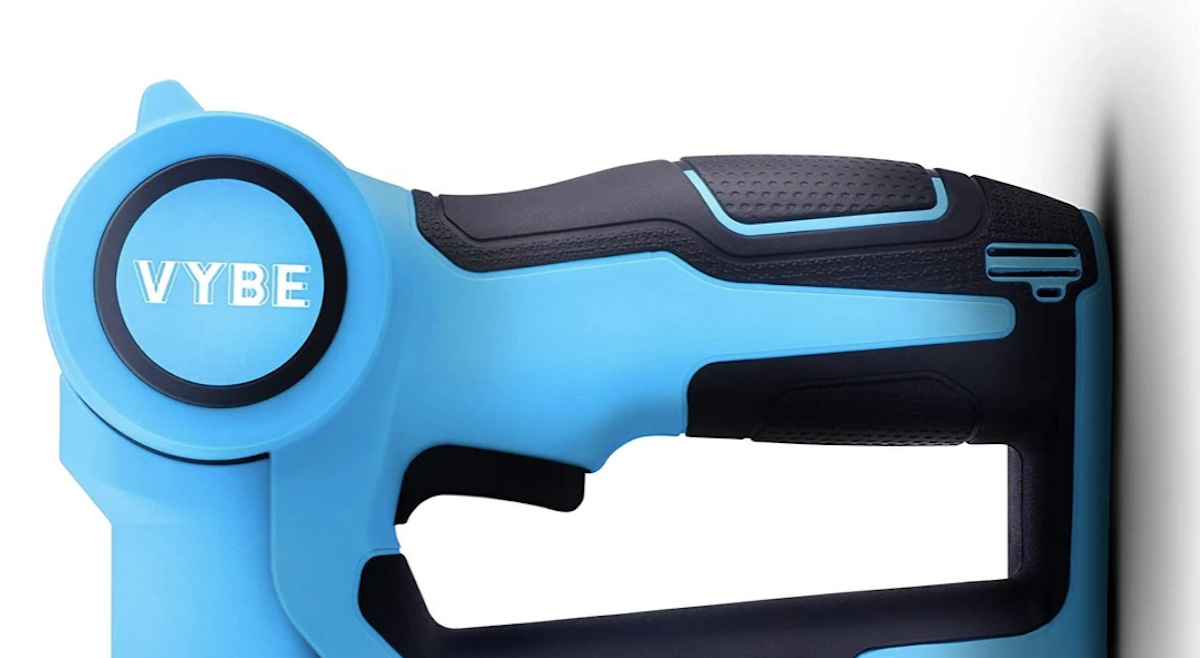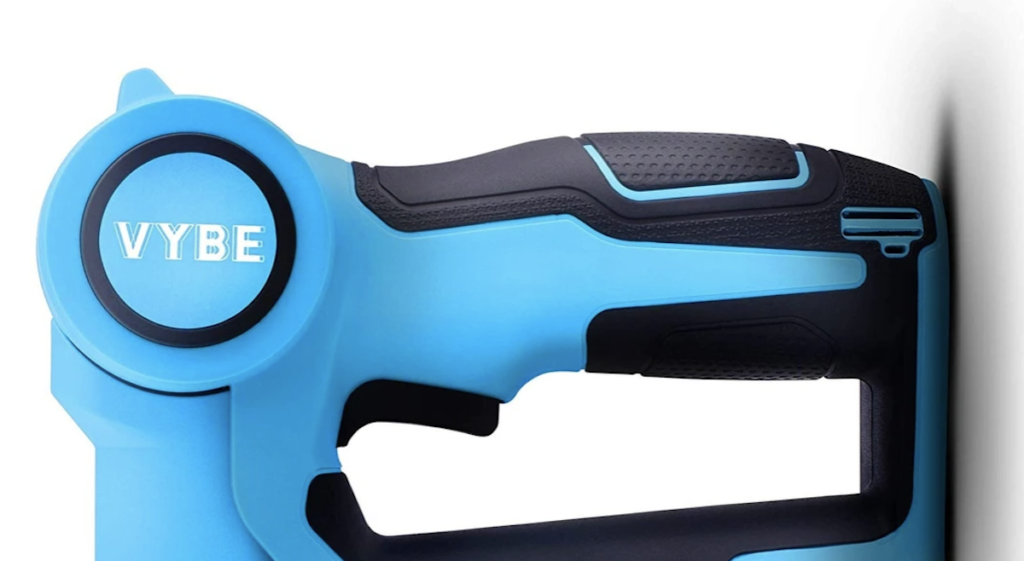 Specs
Here are a few notable hardware specs that come with the OPOVE M3 Pro.
500-2,400 Strokes per minute.
Lithium batteries.
Total Weight: 3.5 lbs
Places to Buy
If you're trying to buy the VYBE V2 massage gun, then check out either VYBE's site or Amazon. If you visit Amazon, then you'll likely find a coupon that will also take off a little part of the overall cost.
How Massage Guns Can Help Recovery
When it comes to massage guns, you'll see a lot of different opinions on them. Some lifters say pass on them due to their price, however, that doesn't help answer the question, "Do they actually have benefit?"
Now obviously that's a loaded question, but at the end of the day massage guns can provide some benefit for recovery and training. Percussive therapy, the style of massage provided by massage guns, is useful for assisting with mobility and recovery efforts. Manual therapy has continuously been suggested to be beneficial for athletes when it comes to prep, performance, and recovery. In fact, this 2008 study pointed out that a lot of research and practical users under appreciate the benefits that massage can have on athletic performance. (1)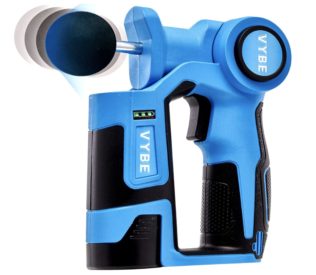 The VYBE 2 Massage gun comes with three interchangeable heads and provides the body with a powerful percussive massage!
VYBE Information
VYBE is a company that has its roots deeply seeded in the world of recovery. They offer various percussive handheld massage guns and even have products designed for the feet and ankles.
Warranty Information
If you purchase a VYBE V2 massage gun, then you'll have to contact VYBE's team for warranty sign up and additional information.
Returns and Refunds
If you're unhappy with your VYBE product, then reach out to their customer support team within 30 days of purchase.
Contact Information
The VYBE support team can be reached at their company email address, which is: [email protected]
FAQs
Does VYBE offer a warranty?
Yes, but you have to register products for it by reaching out to their company through VYBE's website!
How strong is the VYBE V2 massage gun?
From VYBE's site, they state that the VYBE V2 massage gun can provide up to 60 lbs of percussive pressure.
Is the VYBE V2 versatile?
Overall, the VYBE V2 massage gun is pretty versatile for targeting various body parts. It comes with three different heads and has 6 speeds that range from 500-2,400 strokes per minute.