Crash Crucible isn't the most well-known event on the CrossFit circuit, but it is run at a very high level by J.R. Howell of CrossFit Crash in Spartanburg, South Carolina. This year's installment, which ran from Sept. 30 to Oct. 2, 2022, featured one notable wrinkle — it used Z-Scoring.
Z-Score is a relatively new scoring system that data analyst and CrossFit statistician Tyler Watkins has been a proponent of throughout the majority of this last year. Its goal is to reward athletes more accurately with points based on performance, not placement, in each workout. Watkins publicly backed the idea on the Morning Chalk Up in 2021. It received both praise and criticism from the community. But ultimately, you won't know if you don't try, so Howell and Watkins teamed up to test this system at a higher-level event.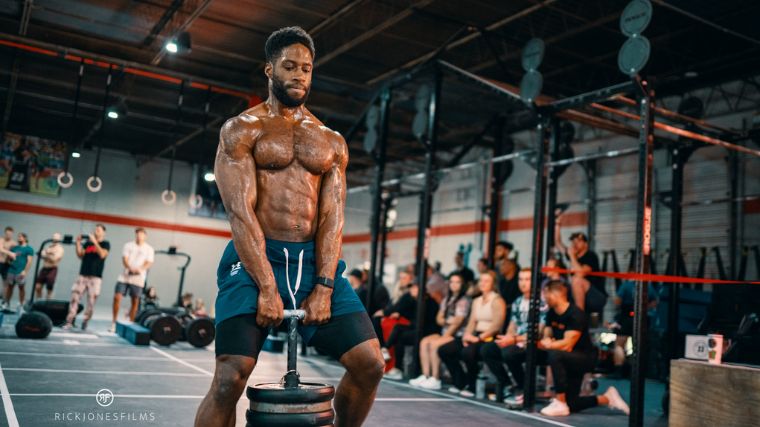 [Related: 3 Baseball Statistics That Could Change How CrossFit Tracks Performance]
Howell and Watkins have been popping up in the CrossFit space over the past year and a half. Howell placed seventh at the CrossFit Games in 2021 in the Masters 35-39 division but is perhaps more well known recently for accurately foreseeing many of the programming nuances planned by the new CrossFit Games programmer Adrian Bozman on an episode of the Sevan Podcast.
Watkins, who has also appeared on multiple CrossFit podcasts and has contributed to various sites, is in the pursuit of establishing a new fantasy platform, Lawnchair Leaderboarding. However, Z-Score's development brought these two men together for Crash Crucible this year.
Z-Score Explained
Traditional scoring systems in CrossFit reward a fixed amount of points per placement. The Z-Score allows for variable scoring based on the athlete's performance relative to the rest of the field. A second-place finisher will always score more points than a third-place finisher. However, the gap between the two athletes, regarding reps or time, will impact how big the scoring differential ends up being on the leaderboard.
For example, if athlete A beats athlete B by one second or one minute and no one else comes between them, they would traditionally receive four points per placement regardless. Using Z-Score, if athlete A finishes one second behind athlete B, the margin of separation on the leaderboard will reflect how close those athletes were on the field of play.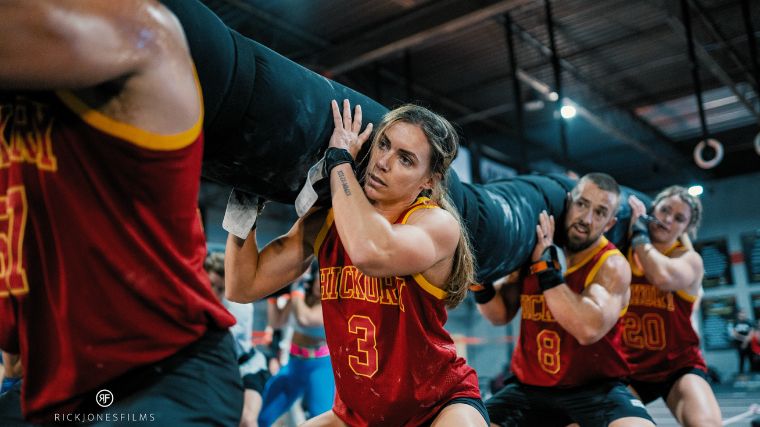 [Related: The Best Cross-Training Shoes for Agility, CrossFit, and More]
One of the big fears in doing anything new is how people will respond to it. Watkins and Howell took the initiative to put their scoreboard on local-comp.com, highlighting the points awarded to each athlete and their placement in that workout.
This is a nice feature since almost anyone looking at the leaderboard will immediately have questions about how fractional points are distributed. It also helps validate the system in certain ways.
Here are three significant takeaways from using the Z-Score in competition:
The men's overall leader had all finishes in the top 10, with six of the seven finishes being sixth or better.
Finishing in a specific place didn't always yield the same number of points.
When it was close (second and third on the women's side were separated by less than a point), there were workouts in which the spread, based on relative performance, had to be different.

Second place: 1st/ 1st/ 2nd/ 2nd/ 5th/ 8th/ 15th
Third place: 1st/ 1st/ 2nd/ 4th/ 6th/ 14th/ 18th
"Z-Score requires the programmer to be more knowledgeable than ever to be sure that each test can specifically test for and expose athletes as it needs to throughout a multiple-day competition," Howell said of the Z-Score post-competition to BarBend over the phone. "Workout structure, format, and how it is scored (for reps, for time, etc.) is vital."
There is certainly a lot more to be explored on this topic, but it's refreshing to see someone try it. Based on conversations we've had with those at the competition (competing or otherwise, including athletes), there seems to be room for Z-Score to be refined and improved.
Runner's Reaping Example
In this event at Crash Crucible, which featured handstand walking over an obstacle course, drag rope double unders, and ascending weight cleans, there ended up being a four-way tie for first amongst the women (netting each athlete 100 points) with the fifth-place finisher earning 99.40 points.
In terms of how that event played out on the competition floor, this iteration of Z-Score may have awarded the fifth place finisher too many points; this is where Howell's quote about accuracy in not just programming, but the structure of workout, format, etc., comes into play.
Although there may have been some things Watkins and Howell would have done differently in the build-up, these nuances wouldn't be unearthed unless Z-Score was attempted in a real competition.
2022 Crash Crucible Recap
CrossFit Mayhem Independence athletes Luke Parker and Alexis Johnson both competed this weekend. Parker started in a bit of a deficit after day one, but that was only because Hudson Fricke had a clean sweep of event wins that day.
Parker would go on to separate himself from the field as the weekend wore on. He joins prestigious company, along with Jayson Hopper (2020) and Tayler Self (2021), as Crash Crucible champions. Fricke would stay strong in second, while Semifinal athlete from this past season, Lee Sharum, edged out former Games athlete Marquan Jones for third.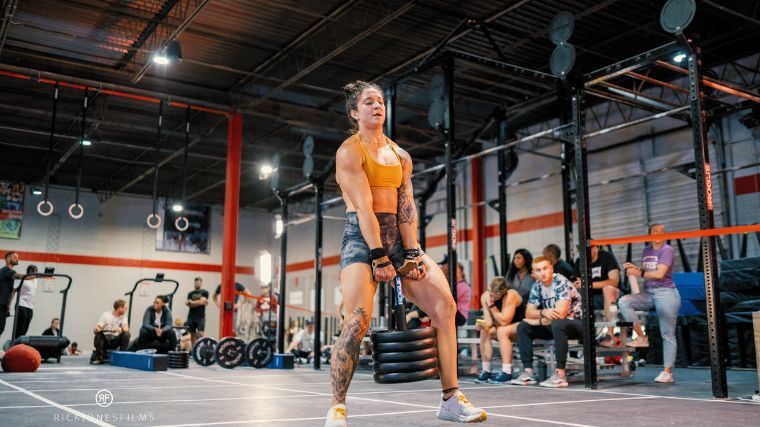 [Related: The Best Barbells for CrossFit, Weightlifting, Deadlifts, and More]
Johnson, like Parker, was behind early in the competition. Ellie Hiller got off to a hot start beating all the men and all the women in the uniformly programmed swim/GHD workout. Ultimately, though, Shaylin Laure, another team athlete from this season, came out on top (though her season was cut short when a member of her team, CrossFit Shoofly Storm Squadron, failed a drug test following the Semifinals). Much like Parker for the men, Laure was the class of the women's field, eventually separating herself from Johnson (2nd), Hiller (3rd), and the rest of the field.
Note: Howell and his team also kept track of the scores using the more traditional system. The first points you see are from the Z-Score; the second set of points are from the traditional system. The traditional points weren't available for teams.
Men's Top 5
Luke Parker (CrossFit Mayhem) — 617.13 |664
Hudson Fricke (Southern Moon CrossFit) — 588.70 |601
Lee Sharum (Camel City CrossFit) — 574.46 | 601
Marquan Jones (CrossFit Roseland) — 564.40 |592
Daniel Kuc (Unaffiliated) — 559.95 | 586
Women's Top 5
Shaylin Laure (CrossFit Shoofly) — 618.32 | 596
Alexis Johnson (CrossFit Trivium) — 570.36 | 594
Ellie Hiller (CrossFit Laminin) — 569.57 | 553
Emily Beroth (12th State CrossFit) — 543.67 | 516
Madeline Helms (Electric City Fitness Co.) — 539.38 | 460
Teams Top 5
The Grit Haus (Grit Haus) — 574.57
No End Performance (Crash) — 433.49
Hickory Hoosiers (CrossFit Enapay) — 410.91
Crash Teal (Crash) — 349.88
Old Buns (Crash) — 333.58
Wrapping Up
Howell and his team at Crash typically organize great events and successfully attract high-level athletes. He is also known for pushing forward in programming and challenging athletes in creative and new ways.
By bringing in Watkins and the Z-Score for 2022, Howell and co. added another wrinkle for athletes to consider, and many of them said that the scoring crossed their minds during workouts. Knowing that not just winning, but winning by more, has a net negative effect on the field is something athletes haven't had to think about in the past.
The takeaway: Although Z-Score itself likely needs to evolve in some ways, it also encourages athletes to fight through the finish line instead of coasting in.
Featured Image: Rick Jones (@r1ckjones on Instagram)