From June 15-17, the athletes competing in the 2021 World's Strongest Man battled through triple-digit temperatures in Sacramento, CA, for a shot at the ultimate title in strength sports. And so far, Tom Stoltman from the United Kingdom has asserted his dominance amongst a 10-man roster that includes the likes of four-time WSM winner Brian Shaw, 2020 WSM podium-finisher JF Caron, and Tom's older brother Luke.
During day four (day one of the Finals), competitors took on three unique events — the Giant's Medley, Titan's Turntable, and the iconic Keg Toss. Tom Stoltman has tied Mariusz Pudzianowski — the winningest WSM champion in history with five titles to his name — for the largest lead in a WSM Finals with a seven-point lead (headed into the Keg Toss). Pudzianowski achieved this feat twice, once in 2003 and once in 2006.
Currently, Tom Stoltman is leading the group with Shaw in tow. Check out the results from all three events below.
2021 World's Strongest Man Finals Standings
Tom Stoltman — 28.5
Brian Shaw —

23

Maxime Boudreault —

18.5

Konstantine Janashia — 18
Luke Stoltman —

17

JF Caron (T-6) —

13

Adam Bishop (T-6) —

13

Eythor Ingolfsson Melsted (T-6) —

13

Trey Mitchell —

12

Bobby Thompson —

9
Related: 2021 World's Strongest Man Results and Leaderboard
Giant's Medley Results
The Giant's Medley had athletes carry a 970-pound Super Yoke 10 meters before transitioning to a 772-pound Frame Carry, which they ran 15 meters with. Stoltman, who could very well win the whole competition, literally ran away with the event by clocking in a time of 18.36 seconds.
Konstantine Janashia got second, and American Brian Shaw — who is fighting for his fifth WSM title — claimed third. Everyone but Eythor Ingolfsson Melsted of Iceland finished the medley.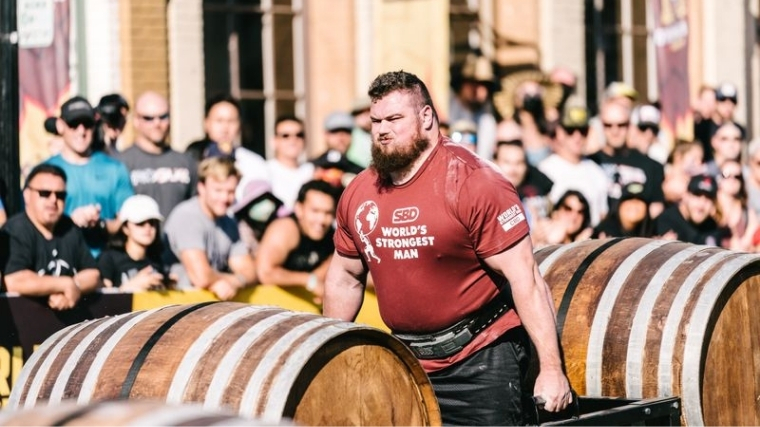 Related: 2021 World's Strongest Man Giant's Medley — Results and Recap
Tom Stoltman —

18.36 seconds

Konstantine Janashia —

20.31 seconds

Brian Shaw —

20.53 seconds

Luke Stoltman —

20.72 seconds

JF Caron —

21.31 seconds

Adam Bishop —

22.39 seconds

Bobby Thompson —

25.06 seconds

Maxime Boudreault —

31.43 seconds

Trey Mitchell —

45.61 seconds

Eythor Ingolfsson Melsted —

12.75 meters
Titan's Turntable Results
A 30-ton J.W. Bowker locomotive (built in 1875) was positioned on a wooden slab with a pole extended out. Athletes had to push the pole in a circle for 30 meters for time. Tom Stoltman once again smoked the competition. He logged the quickest time by six seconds (over American Trey Mitchell). Eythor Ingolfsson Melsted rose from the bottom of the rankings to secure a three-way tie for seventh with a time of 52.83 seconds.
And Brian Shaw, who dominated the qualifying stage (so much so that he purposefully bombed the Pickaxe Hold and still won his group) placed in the middle of the pack.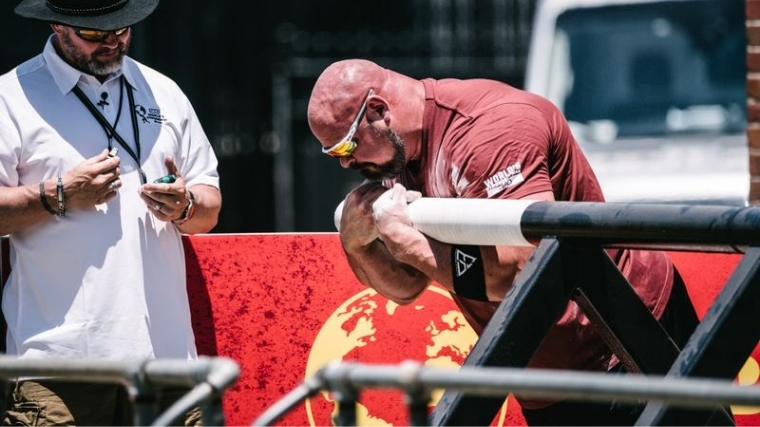 Related: 2021 World's Strongest Man Titan's Turntable — Results and Recap
Tom Stoltman — 46.89 seconds
Trey Mitchell — 52.34 seconds
Eythor Ingolfsson Melsted — 52.83 seconds
Maxime Boudreault — 55.16 seconds
Luke Stoltman — 55.94 seconds
Brian Shaw — 56.73 seconds
Adam Bishop — 57.78 seconds
JF Caron — 57.84 seconds
Konstantine Janashia — 60.15 seconds
Bobby Thompson — 62.31 seconds
Keg Toss Results
Each strongman was given up to three attempts to launch a 15-kilogram (33-pound) keg over the bar. Those who were successful advanced to the next round, where the bar was raised. Here were the heights:
Round One —

Six meters

Round Two —

6.75 meters

Round Three —

7.26 meters

Round Four — 7.5 meters
Round Five — 7.75 meters
According to WSM, the world record headed into the event was 7.25 meters, set by Brian Shaw in the 2016 WSM qualifying stage. At that same event, 2018 WSM champion Hafthor Björnsson scored a 7.15-meter keg toss. Well, Shaw broke his own record (three times) with a 7.26, 7.5, and then a 7.75-meter keg toss to win the entire event.
6.00 Meters
6.75 Meters
Bobby Thompson

JF Caron

Adam Bishop

Luke Stoltman

Eythor Ingolfsson Melsted
7.26 Meters
7.5 Meters
Maxime Boudreault

Tom Stoltman
7.75 Meters
On to Day Five
There is one more day of competition before the 2021 World's Strongest Man is crowned. Here is the event lineup for tomorrow (June 20):
Final — Day Two (June 20, 2021)
Featured Image Courtesy of World's Strongest Man