Event six was yet another workout in Dubai that challenged the elite athletes' work capacity with a fast clock. A combination of cleans, front squats, and shoulder-over-heads saw Fabian Beneito Selles ascend to the top of the standings for the third time in the competition.
Matilde Øyen Garnes got her first taste of gold in this event, though it was a narrow one. Less than a second separated her from runner-up Emily Rolfe. Check out the results, workout, and event highlights below:
Event Six Results — "Heavy Handed"
Men's Results
Fabian Beneito Selles — 4:02.35
Brent Fikowski — 4:09.13
Giorgios Karavis — 4:11.91
Aniol Ekai — 4:17.44
Moritz Fiebig — 4:24.25
Alex Kotoulas — 4:38.78
Jonne Koski — 4:42.21
Luke Đukić — 4:45.06
Michal Wesolowski — 4:48.65
Reggie Fasa — 4:58.75
Briant Guillaume — 5:01.82
Victor Hoffer — 5:08.56
Javier Gonzalez — 5:10.78
Vladimir Sechin — 5:11.28
Nikita Yundov — 5:32.00
Lazar Đukić — 5:35.47
Luka Vunjak — 6:28.47
Damián Martínez Satorres — 6:59.58
Khan Porter — Withdrew
Simon Mäntylä — Withdrew
Women's Results
Matilde Øyen Garnes — 4:38.62
Emily Rolfe — 4:39.50
Andrea Solberg — 4:44.84
Karin Freyova — 5:06.06
Manon Angonese — 5:08.45
Claudia Gluck — 5:20.25
Freya Moosbrugger — 5:31.63
Oihana Moya Oliver — 5:43.12
Jamie Simmonds — 5:45.94
Aimee Cringle — 5:46.48
Lena Richter — 5:50.72
Ella Kanona Wunger — 5:59.59
Seher Kaya — 6:04.17
Valentina Magalotti — 6:12.66
Hanna Karlsson — 6:18.09
Aoife Burke — 6:38.00
Maria Längfors — CAP + 167
Dana Paran — CAP + 152
Valentina Rangel — CAP + 129
Tayla Howe — Withdrew
[Related: 2022 Dubai Fitness Championship Event 4 Results — Lazar Đukić Bounces Back, Hanna Karlsson Triumphant]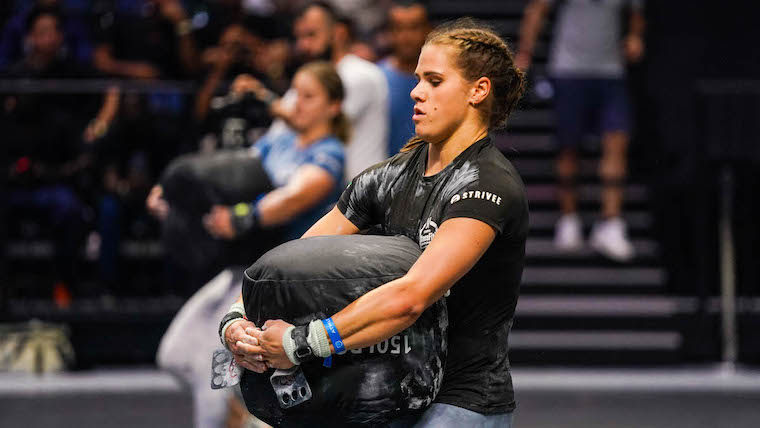 [Related: 2022 Dubai Fitness Championship Event 5 Results — Claudia Gluck and Fabian Beneito Selles Open Day 2 Victorious]
Event Six Workout — "Heavy Handed"
For time:
75 Heavy Rope Double Unders
100-foot Sandbag Carry — Men: 200 pounds | Women: 150 pounds
100-foot Sandbag Carry — Men: 200 pounds | Women: 150 pounds
75 Heavy Rope Double Unders
Seven-minute time cap.
Event Six Highlights
Fabian Beneito Selles continued his ascent up the leaderboard with his second-straight event win and third overall. He and Brent Fikowski exchanged the lead during the event, with Beneito Selles holding a slight lead after the second set of sandbag carries, beating Fikowski to the jump rope.
Beneito Selles had little issue with the heavy rope double-unders and finished in 4:02.35, seven seconds ahead of Fikowski, who placed second. Beneito Selles' win moved him to second on the overall leaderboard after starting the day in seventh. Fikowski remained in the overall lead.
Giorgos Karavis won the opening heat with a time of 4:11.91, placing him third, followed by Aniol Ekai and Moritz Fiebig in fourth and fifth, respectively.
For the women, it became a two-person race. Emily Rolfe and Matilde Garnes went back and forth throughout. Both women got to the jump ropes first, and it was a sprint to the finish as Garnes edged Rolfe by less than a second for her first event win of the competition.
Rolfe's second-straight top-five finish moved her into a podium spot with two events left. Andrea Solberg won the opening heat with an impressive time of 4:44.84, finishing nearly a minute before any other woman in her heat.
Karin Freyova continued to build on her overall point lead, placing fourth in the event, her fourth top-5 finish in six events. Manon Angonese recovered from an equipment malfunction with her jump rope to start her heat to take fifth. Due to that error, she was able to redo the event with the men's heat and finished ahead of three men in that heat with a time of 5:08.45.
Featured image via Patrick Clark.