The third and final day of the 2022 Dubai Fitness Championship (DFC) started on Sunday afternoon inside the Coca-Cola Arena with a full slate of events. Four events were in tap, giving the athletes plenty of points to chase after a podium spot.
Interval workouts have been a staple of five-time "Fittest Man on Earth" Mathew Fraser's training, and he has incorporated that into his HWPO programming. So when he collaborated with the DFC organizers for an event, it was only natural to include such a workout in the competition.
Event Five Results — "Fast Like an Oryx"
This triplet pushed the heart rate throughout the three and half minute workout, with a built-in one-minute rest. Controlling that heart rate throughout four rounds is crucial. The shuttle runs build it up while the burpee box jumps spike it. The dumbbell thrusters test how long you can go while redlined.
Men's Results
Fabian Beneito Selles — 63 reps
Jonne Koski — 62 reps (T-second)
Aniol Ekai — 62 reps (T-second)
Luka Vunjak — 60 reps
Alex Kotoulas — 56 reps
Luka Đukić — 52 reps
Javier Gonzalez — 50 reps (T-seventh)
Lazar Đukić — 50 reps (T-seventh)
Victor Hoffer — 50 reps (T-seventh)
Brent Fikowski — 49 reps (T-10th)
Reggie Fasa — 49 reps (T-10th)
Briant Guillaume — 48 reps
Moritz Fiebig — 46 reps
Vladimir Sechin — 45 reps
Damián Martínez Satorres — 44 reps
Michal Wesolowski — 42 reps
Nikita Yundov — 40 reps
Giorgos Karavis — 33 reps
Khan Porter — 13 reps
Simon Mäntylä — Withdrew
Women's Results
Claudia Gluck — 52 reps
Lena Richter — 51 reps
Jamie Simmonds — 49 reps (T-third)
Oihana Moya Oliver — 49 reps (T-third)
Emily Rolfe — 47 reps
Aoife Burke — 46 reps
Valentina Magalotti — 45 reps
Matilde Øyen Garnes — 43 reps
Karin Freyova — 41 reps (T-ninth)
Seher Kaya — 41 reps (T-ninth)
Hanna Karlsson — 40 reps (T-11th)
Manon Angonese — 40 reps (T-11th)
Freya Moosbrugger — 38 reps
Andrea Solberg — 36 reps (T-14th)
Maria Längfors — 36 reps (T-14th)
Ella Kanona Wunger — 34 reps
Dana Paran — 33 reps (T-17th)
Valentina Rangel — 33 reps (T-17th)
Aimee Cringle — 32 reps
Tayla Howe — 15 reps
[Related: 2022 Dubai Fitness Championship Event 3 Results — Karin Freyova Victorious, Luka Đukić Joins the Winner's Circle]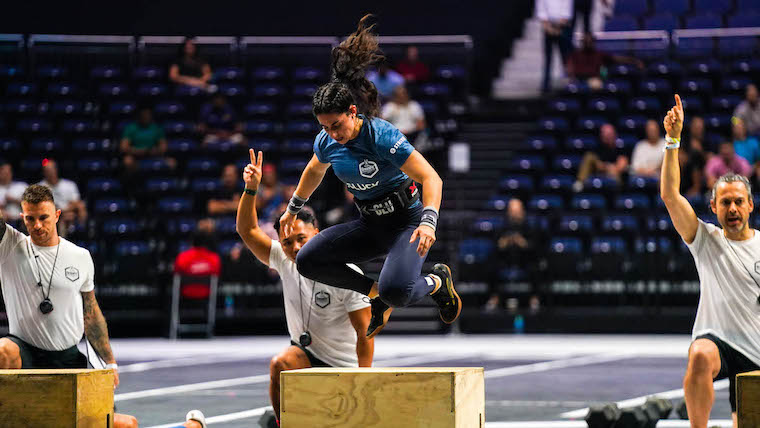 [Related: 2022 Dubai Fitness Championship Event 4 Results — Lazar Đukić Bounces Back, Hanna Karlsson Triumphant]
Event Five Workout — "Fast Like an Oryx"
Four sets — 2:30 on, 1:00 off. Buy-in each round:
10 Shuttle runs
10 Burpee box jumps
Men: 24-inch box | Women: 20-inch box
Followed by:
First 40 reps: Men: 70-pound dumbbells | Women: 50-pound dumbbells. Rep 41 through the end of workout: Men: 50-pound dumbbells | Women: 35-pound dumbbells.
Men's Event Highlights
Young Spaniard Aniol Ekai jumped out to the lead from the start and was the first athlete to make it to the 50-pound dumbbells, and he appeared to have the event win in hand. However, the experienced athletes had something to say on the matter.
Fellow Spaniard Fabian Beneito Selles kept working till the final buzzer. At the same time, Ekai stopped to celebrate with five seconds remaining, not knowing Selles had caught, and eventually passed him by one rep. In fact, Games veteran Jonne Koski also caught up with Ekai and tied him with 62 reps.
Serbian Luka Vunjak won the first heat with 60 reps, good enough for fourth, followed by Alex Kotoulas to round out the top five.
Claudia Gluck became the first woman to win an event from the first heat as she finished with 52 reps. With a target on her back, she had to watch the final heat try to beat her.
Kiwi Jamie Simmonds gave it a shot but came up three reps short and finished third, tied with Oihana Moya. CrossFit Oslo's Lena Richter pushed Gluck during the opening heat and finished with 51 reps to earn her runner-up honors. Emily Rolfe placed fifth with 47 reps.
The competition will be live-streamed on the Dubai Fitness Championship YouTube channel. Stay tuned to BarBend's event coverage and results page to keep up-to-date on the happenings of the 2022 Dubai Fitness Championship.
Featured image via Patrick Clark.