The Final of the 2022 World's Strongest Man (WSM) got underway on May 28, 2022, with the first three of six events that will ultimately determine the 2022 WSM champion. The day opened with the KNAACK Giant's Medley won by Mitchell Hooper, who continues his awe-inspiring WSM debut.
The second event of the day was the Car Deadlift for reps, where 2020 WSM Oleksii Novikov showed he is not interested in leaving anything on the field. The last event was one of immense technique — the return of the Flintstone Barbell, which saw Novikov as the first winner of the event since Gary Taylor in 1995. Here are the results at the end of Day Four:
2022 World's Strongest Man Day 4 Leaderboard
Oleksii Novikov — 28 points
Tom Stoltman — 26.5 points
Martins Licis — 20 points
Mitchell Hooper — 19 points
Trey Mitchell — 18 points
Brian Shaw — 16.5 points
Luke Stoltman — 15.5 points
Maxime Boudreault — 11.5 points
Gabriel Rhéaume — Six points
Eythor Ingolfsson Melsted — Four points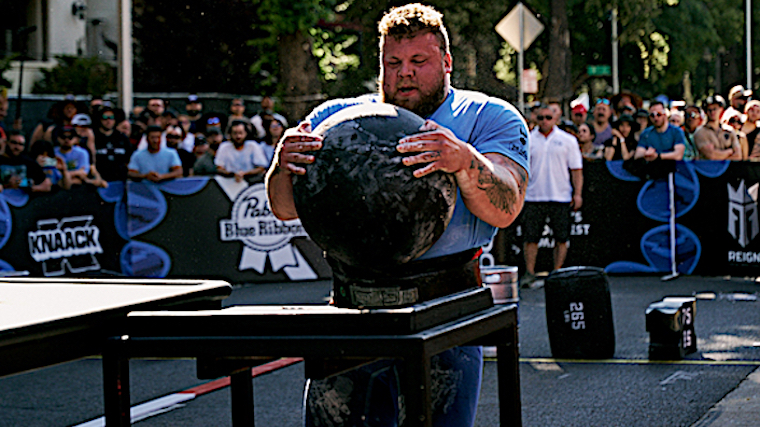 [Related: 2022 World's Strongest Man Results and Leaderboard]
KNAACK Giant's Medley Recap
The 10 finalists were tasked to carry two KNAACK boxes filled with 125 kilograms (275.6 pounds) each halfway down the 20-meter course (back-and-forth twice) and then carry a 455-kilogram (1,000-pound) super yoke the rest of the way.
Mitchell Hooper — 21.96 seconds
Tom Stoltman — 24.75 seconds
Oleksii Novikov —24.86 seconds
Luke Stoltman — 28.72 seconds
Martins Licis — 30.6 seconds
Brian Shaw — 30.78 seconds
Trey Mitchell — 32.54 seconds
Gabriel Rhéaume — 33.87 seconds
Maxime Boudreault — 34.11 seconds
Eythor Ingolfsson Melsted — 37.61 seconds
Hooper continued his miraculous WSM debut with his fourth event win of the competition, besting the reigning WSM champion Tom Stoltman in their heat. Novikov posted a fast time that seemed faster in person and Luke Stoltman continued his cool and collected approach with a respectable time to finish in the upper half of the leaderboard.
Several of the heavy hitters were not as smooth on the transition to the 1,000-pound yoke and therefore didn't move it as quickly as initially anticipated. Licis, Shaw, Mitchell, and Boudreault hemorrhaged some points by losing valuable seconds.
Car Deadlift Recap
The Deadlift was for max reps of a 360-kilogram (795-pound) Jeep in the 60-second time cap.
Oleksii Novikov — 15 reps
Tom Stoltman — 13 reps (T-second)
Trey Mitchell — 13 reps (T-second)
Mitchell Hooper — 12 reps (T-fourth)
Martins Licis — 12 reps (T-fourth)
Brian Shaw — 12 reps (T-fourth)
Maxime Boudreault — 10 reps
Luke Stoltman — Nine reps
Eythor Ingolfsson Melsted — Eight reps (T-ninth)
Gabriel Rhéaume — Eight reps (T-ninth)
There was a distinct advantage given to the athletes that lifted later in the lineup for the Car Deadlift as they knew the number of reps they had to beat. Although Mitchell took a commanding lead with 13 reps, Tom Stoltman knew it was the number to hit and matched it. Novikov blitzed past it with a super sharp technique that left no space for mistakes.
Likewise, while Hooper was unable to match Novikov's mythical performance, he was capable of hitting 12 reps to tie Licis and Shaw. Hooper knowing that 12 was a threshold to match compelled him to grind extremely hard for his final rep. Boudreault competing earlier in the lineup may be a cumulative detriment for him in rep-based events as he is compelled to set the bar rather than eclipse it.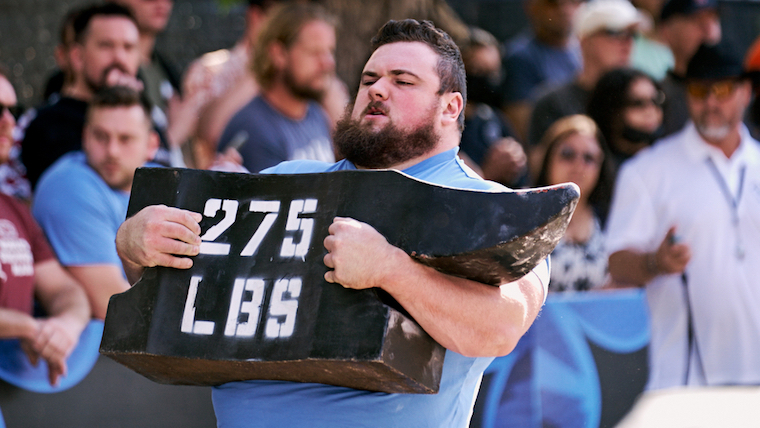 [Related: 2022 World's Strongest Man Final Predictions]
Flintstone Barbell Recap
The format for this event was in rounds. Each athlete attempted the opening weight of 175 kilograms (385 pounds). Those who locked out the weight successfully advanced to the next round until a winner was crowned. The weight increments increased to the following weights in order: 190 kilograms (420 pounds), 200 kilograms (440 pounds), 212 kilograms (470 pounds), 221 kilograms (490 pounds), and 230 kilograms (510 pounds).
Unanticipated seventh and eighth rounds were added. The former was 240 kilograms (529 pounds), and the latter was 246 kilograms (542 pounds).
Oleksii Novikov — Eight rounds — World Record | 246 kilograms (542 pounds)
Tom Stoltman — Seven rounds
Martins Licis — Six rounds
Trey Mitchell — Four rounds (T-fourth)
Brian Shaw — Four rounds (T-fourth)
Maxime Boudreault — Four rounds (T-fourth)
Luke Stoltman — Four rounds (T-fourth)
Mitchell Hooper — Three rounds
Eythor Ingolfsson Melsted — Two rounds (T-ninth)
Gabriel Rhéaume — Two rounds (T-ninth)
The story at the end of the Flintstone Barbell event was the immaculately sharp split-jerk technique employed by Novikov to smash the world record. Gary Taylor's previous world record of 463 pounds that stood for 27 years was broken four times throughout the event — in order by Luke Stoltman, Licis, Tom Stoltman, and ultimately Novikov.
The Throne Awaits
The final day of the 2022 WSM contest features three events: the Bus Pull, the Reign Total Body Fuel Power Stairs, and the Atlas Stones. Tom Stoltman is still very much in contention to potentially retain the WSM title with his signature event, the Atlas Stones, still to come — he would be the first strongman to win back-to-back titles since Shaw won his fourth in 2016.
It won't be an easy path back to the crown for Stoltman as he sits 1.5 points behind Novikov. However, it appears to be a two-man race for the title heading into the final day as Licis sits 6.5 points behind Tom Stoltman.
Featured image courtesy of Joe Martinez/World's Strongest Man