There are seven IFBB Pro League contests being held at different locations across the Western Hemisphere. One of them is the 2023 Miami Muscle Beach Pro-Am show in Miami, FL, on Saturday, June 3, 2023.
This contest in the Sunshine State will host athletes in the Men's Physique, Bikini, and Wellness divisions. Each of the three contest winners will qualify to compete at the 2023 Olympia in Orlando, FL, on Nov. 2-5, 2023.
2023 Miami Muscle Beach Pro-Am Rosters
The rosters for all three contests are below, as shared on the IFBB Pro League website:
Men's Physique Division
Daniel Ammons (USA)
Vitor Chaves (Brazil)
Victor Manuel Ramirez Chavez (Costa Rica)
Andre Ferguson (USA)
Juan Manuel Gochez (USA)
Brett Mario Jackson (USA)
Xavier Jamie (Puerto Rico)
Dennis Kloster (USA)
Jean-Pierre Marshall (USA)
Lamar S. McNeal-Smith (USA)
Renato Menezes (Brazil)
Hosea Murphy (USA)
Maxime Parisi (France)
Ramses Rams (Spain)
Steven Rogers (USA)
Edward Romero (USA)
Justo Scott (USA)
King Stevenson (USA)
Deke Walker (USA)
Bikini Division
Belen Altamirono (USA)
Lara Baigorria (USA)
Romina Basualdo (USA)
Sophia Bernard (USA)
Alina Bogacheva (Kyrgyzstan)
Taylor Crowell (USA)
Rebecca Flachner (USA)
Claudia Garcia (USA)
Violeta Garcia (USA)
Nicole Hermanson (USA)
Janine Herrera (USA)
Lauren Kralovec (USA)
Marina Maliden (Israel)
Laura Martinez Manrique (USA)
Sandra Roxana Merlo (Argentina)
Chris Nicole (USA)
Cristobalina Pajares (Spain)
Angely Rojas (USA)
Gavi Soni (USA)
Marisol Sosa (USA)
Sierra Swann (USA)
Shey Webb (USA)
Marisa Woo (USA)
Wellness Division
Anna Banks (Poland)
DeShondra Brown (USA)
Johanna Calcano (USA)
Lili Dong (USA)
Joanna Jean (Canada)
Antonia Liliana Licciardi (Italy)
Pernille Mindahl (Denmark)
Yami Patridge (USA)
Vanina Alejandra Pikor (Argentina)
Tefani Sam Razhi (USA)
Kimberly Riley (USA)
Clara Sella (Italy)
Edna F. De Souza (USA)
Tatiany Vaillant (USA)
Simara Walter (Brazil)
[Related: How to Train Bodybuilding Once Per Week (and Make It Count)]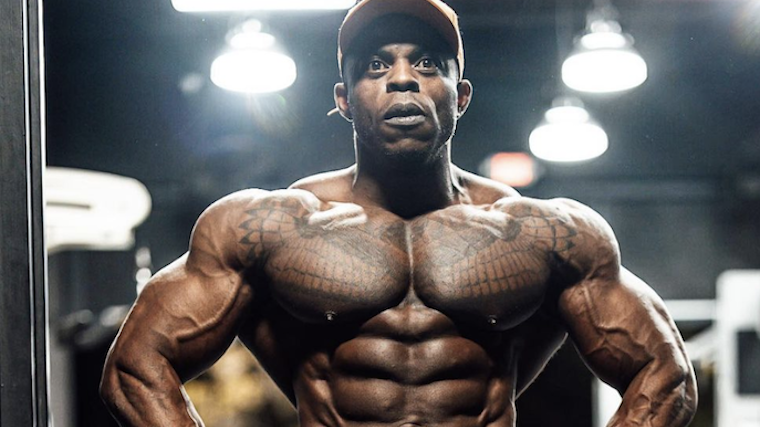 [Related: CrossFit Athlete Kristi Eramo O'Connell On Balancing Weight Training and Running]
Men's Physique Athletes to Watch
Below are the potential standouts in the Men's Physique division:
Andre Ferguson
Ferguson is a three-time Arnold Classic Men's Physique champion, and he's placed as high as second on the Olympia stage. He has 16 wins since turning pro in 2014, making him one of the winningest athletes in the division's history.
Ferguson will have to win this show to qualify for the Olympia, but he's considered a favorite to do just that.
Daniel Ammons
Ammons has already qualified for the 2023 Olympia, thanks to his win at the 2023 Palmetto Classic Pro show in Columbia, SC. If he wins in Miami, it would block Ferguson from the 2023 Olympia for the time being.
Ammons competed in the 2023 New York Pro, where he placed fourth behind winner Ryan Terry.
Vitor Chaves
Chaves was second to Terry at the 2023 New York Pro, his only contest so far in 2023. Chaves was 13th at the 2022 Men's Physique Olympia, and he won that year's DC Pro show.
View this post on Instagram
The comparisons between Chaves and Ammons or Ferguson will make the decisions tough for the judges. There could be others in the final callout, but Chaves will almost certainly be in that mix.
Bikini Athletes to Watch
Below are the potential standouts in the Bikini division:
Sierra Swann
Swann has locked in the 2023 Bikini Olympia lineup thanks to winning the 2023 Optimum Classic Pro earlier in the season. That was her only competitive appearance of 2023 until now.
View this post on Instagram
Competing in this show gives Swann another opportunity to gauge her progress and get feedback from the judges. If she wins, one fewer athlete will advance on to the 2023 Olympia.
Romina Basualdo
Basualdo competed in two shows in 2023 before this contest. She won the 2023 Grl Pwr Championships to qualify for the 2023 Olympia and placed third at the 2023 Pittsburgh Pro in May.
Basualdo and Swann will likely be compared early and often during this show. If Basualdo wins, it would be her 10th career victory.
Janine Herrera
Herrera has two wins already in 2023, but they were both in the Masters division. As an Open competitor, she placed fourth at the 2023 Grl Pwr Championships and 10th at the 2023 Klash Series Pro. She could be a factor in the Open of this show as well if she peaks properly.
Other Notes
All three of these divisions are also a part of the 2023 Toronto Pro Supershow, taking place on Sunday, June 4, 2023, in Toronto, ON, Canada. Ten IFBB Pro League divisions and pro qualifying events comprise that show.
There is a Men's Physique show at the 2023 Musclecontest International Bahia Pro show on June 3, 2023, as well as a Bikini division show at the 2023 Musclecontest Nevada State Pro contest in Las Vegas, NV, on the same day.
Featured image: @vitorchavespro on Instagram