Day one of the team competition at the 2023 TYR Wodapalooza came to a close under the lights in a jam-packed Flagler stage on Friday evening. Unlike the previous events of the day, this one required a lot of synchronization between the three team members in four staple CrossFit movements, first in ring and bar muscle-ups, then in squat cleans and snatches.
[Related: 2023 TYR Wodapalooza Results — Elite Individuals and Teams]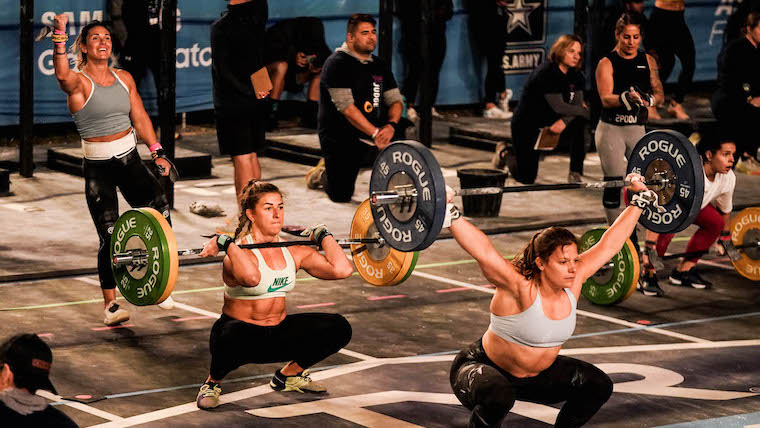 [Related: Best Ski Erg Workout for CrossFit for Every Experience Level]
Team Event Three — "Sync-up & Squat"
For time; 30-20-10 reps of:
Cleans — Men: 205 pounds | Women: 145 pounds. Snatches — Men: 165 pounds | Women: 115 pounds.
Women's Team Results
Team BPN — 11:13.88
All American Girls —11:54.59
The Girls — 12:18.25
A.K.A. Humble Killers — 12:21.39
GOWOD Girls — 12:38.09
The Dottirs ft. MOB — 13:03.29
Invictus — 13:14.16
Queens of the North — 13:25.87
Misfits with Lady Bits — 13:36.22
Med Girls — 13:36.91
Men's Team Results
Team GOWOD — 10:51.87
Canadian PB&J — 11:15.55
King B.K & Friends — 11:36.46
Zeus & The Dogs — 11:49.25
The Boyz — 11:59.37
Team Panchik — 12:11.13
Mayhem Avengers — 12:14.84
The Three Wizards — 12:20.89
Training Culture Team — 12:36.87
Omnia — 12:47.52
[Related: 2023 TYR Wodapalooza Individual Event 6 Results — Paige Powers and Ricky Garard Claim First Career Major Competition Titles]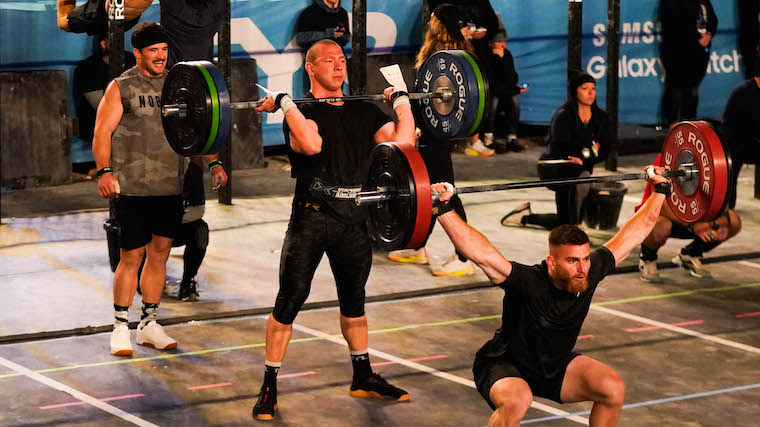 [Related: The Key to Nailing Split Squat Form]
Women's Event Three Highlights
"Team BPN" ended Day One with another strong performance. They took the overall lead into the final day of competition via their first event win. Gabriela Migała, Laura Horvath, and Jamie Simmonds had no issues with the workout's skill, weight, or synchronization. They won with a time of 11:13.88.
The "All American Girls" were their closest competitors. They finished nearly a minute behind at 11:54.59. "The Girls" bounced back from Event Two for their second top-three performance of the day, ranking third at 12:18.25
Men's Event Three Highlights
The top two finishers in the final Day One event featured the top-four finishers in the Individual competition that concluded less than 24 hours prior. Individual runner-up Roman Khrennikov led "Team GOWOD" to their first event win of the day, with a time of 10:51.87.
The consistency of "Canadian PB&J," consisting of Individual bronze medalist Patrick Vellner, fourth-place finisher Brent Fikowski, and Jeffrey Adler put them into the overall lead at the end of Day One. They recorded their third top-three event finish at 11:15.55 for the silver. "King B.K & and Friends" crossed the finish line 20 seconds behind them to rank third.
Featured image via Patrick Clark.