The final event of Day Two at the 2023 World's Strongest Man (WSM) contest was the "Stone-Off." The runner-up and third-place finisher in each of the five Qualifying Groups went head-to-head, lifting a series of six Atlas Stones weighing 140 and 200 kilograms over a bar until one strongman no longer could.
As a reward for ranking higher, the runner-up of each group lifted second in each heat — the loser is determined by whoever fails a lift first, even if both athletes lift an equal number of stones.
[Related: 2023 World's Strongest Man Live Results and Leaderboard]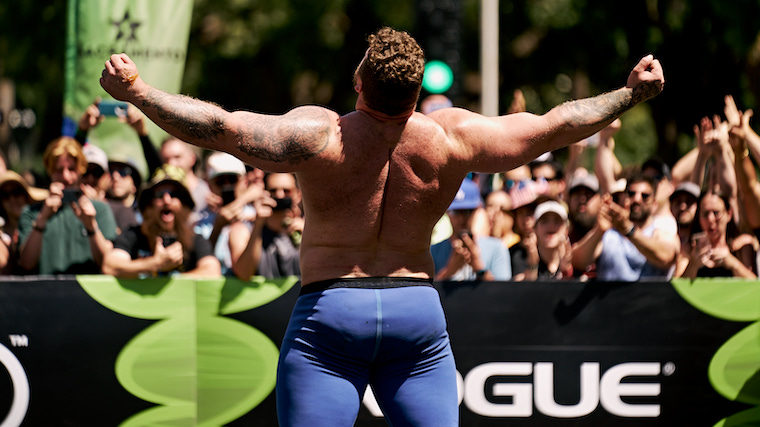 [Related: Cardio for Strongmen and Strongwomen to Supercharge Your Conditioning]
2023 World's Strongest Man Stone-Off Results
Below are the results for each Stone-Off:
Tom Stoltman def. Bobby Thompson
Bobby Thompson had to lift first against the defending WSM champion, Tom Stoltman. A more challenging combination of circumstances is likely unthinkable for the American. Stoltman is arguably the best stone lifter on the planet (he holds the Atlas Stone world record for both max lift and for time), has a significant height advantage of seven inches — which matters with a bar at a fixed height of just over four feet — and Stoltman lifts second.
View this post on Instagram
On the third stone, Thompson missed his first attempt as his right hamstring gave out on his second — an injury that was alluded to during his final log lift in the Log Ladder on Day One. He struck a split on the stone from his injury, and Stoltman helped him off the stage. Stoltman will defend his WSM title in the Final.
Luke Stoltman def. Gavin Bilton
This matchup paired two strong lifters, and the advantage was likely to play a huge factor. Betting odds would likely favor Stoltman, but they wouldn't be confident odds.
The first stone went over smoothly. Bilton vaulted the second to Stoltman, who gave it right back. Bilton basketballed the third to Stoltman, who rebounded it in return.
View this post on Instagram
The fourth stone posed no issue for either man. Bilton cleared the fifth stone with poise only to be matched by Stoltman. Bilton cleared the sixth stone, as did Stoltman, and the real battle began.
Bilton showed his first sign of fatigue with a slight slip on his second attempt on the sixth stone. Stoltman showed no signs of slowing down. Bilton looked like, with enough time, he could have cleared the final stone again. However, there wasn't enough on this day, and the curtains closed on Bilton's 2023 WSM.
Mathew Ragg def. Aivars Šmaukstelis
Šmaukstelis is historically strong on stones, but Ragg was a mystery on the WSM stage and had the advantage. They both made easy work of the first stone.
Šmaukstelis launched the second stone over the bar, and Ragg rolled it back over in kind. The third stone cleared, and the crowd settled in for a grindy matchup. Stone four offered no defense for either strongman. Stone five was a quick hurdle before a tacky adjustment and an attack on stone six by Šmaukstelis.
Ragg cleared stone six, but Šmaukstelis had another in reserve. Ragg wasn't yet done, and Šmaukstelis wasn't either. A fourth lift by Šmaukstelis tested the rookie, who met the challenge.
Šmaukstelis dropped on his fifth attempt after his left hamstring gave out. Ragg advances to his first WSM Final in his debut performance.
Brian Shaw def. Rauno Heinla
Heinla versus Shaw is similar to Thompson's uphill battle against Tom Stoltman — all the same disadvantages were present, including Heinla having to lift first. Still, Heinla could be seen asking for the sixth stone to be adjusted, suggesting he anticipated the battle going deep into reps on the final stone.
The first two stones posed no issue for either man. Heinla arced the third stone over the bar, and Shaw remained business as usual in demeanor. Easy lifts for both men on stone four, and Heinla continued to prove his grit on stone five. A big first clearance on stone six by Heinla was returned by Shaw.
View this post on Instagram
A second lift by Heinla on the sixth stone revved up the crowd. Shaw was not to be undone, and the battle continued. Heinla hit a hat trick on stone six. Shaw's third looked identical to his first.
Heinla, incredibly, scored a fourth rep. Shaw remained stoic in his return. Heinla converted a fifth rep, and Shaw maintained the pressure. Heinla is unreal — a sixth rep was good! A sixth rep for Shaw was good! The seventh rep was too much for Heinla, and the advantage propelled an impressive Shaw to his 15th consecutive WSM Final.
Evan Singleton def. Eythor Ingolfsson Melsted
The major difference in this matchup is Ingolfsson Melsted's experience. This is Singleton's debut in the Stone-Off, whereas the Icelandic strongman reached the Final in 2021 and 2022 via the Stone-Off. However, Singleton had the advantage of lifting second, so it was expected to be a grindy pairing.
Skipping to the real battle, both men cleared the first five stones with relative ease. They each scored a first rep on stone six, and the battle was on.
A near slip by Ingolfsson Melsted on the second rep was narrowly avoided but corrected on the follow-up third rep. Ingolfsson Melsted failed his fourth rep, and Singleton converted his first WSM Final.
Featured image courtesy of World's Strongest Man