When it comes to weightlifting shoes Adidas is one of the bigger brand names you'll see athletes reach for. They have multiple models on the market and frequently update their shoe's colorways and improve their designs. Two popular models among both weathered and newer strength athletes are the Adidas AdiPower and the Adidas Powerlift 3 models.
Both of these shoes contain Adidas' similarities, but also have a few stark differences. For a newer athlete, these differences may be too subtle to notice. So in this article, we'll compare the Adidas AdiPower and Powerlift 3.1 in relation to their weight, heel height, security, durability, and price.
Weight
Adidas AdiPower
The Adidas AdiPower has a weight of 16.2 oz, which is average for your standard lifting shoe. It's lighter than some of the heavier models like the Adidas Leistung II, but it's also not the lightest on the market. For many, 16.2 oz will be a good weight to provide them with a stable feeling shoe without much variance in shoe turnover speed (heavy shoes can take longer to adjust to).
[Looking for your perfect lifting shoe? Check out our Best Lifting Shoes Review!]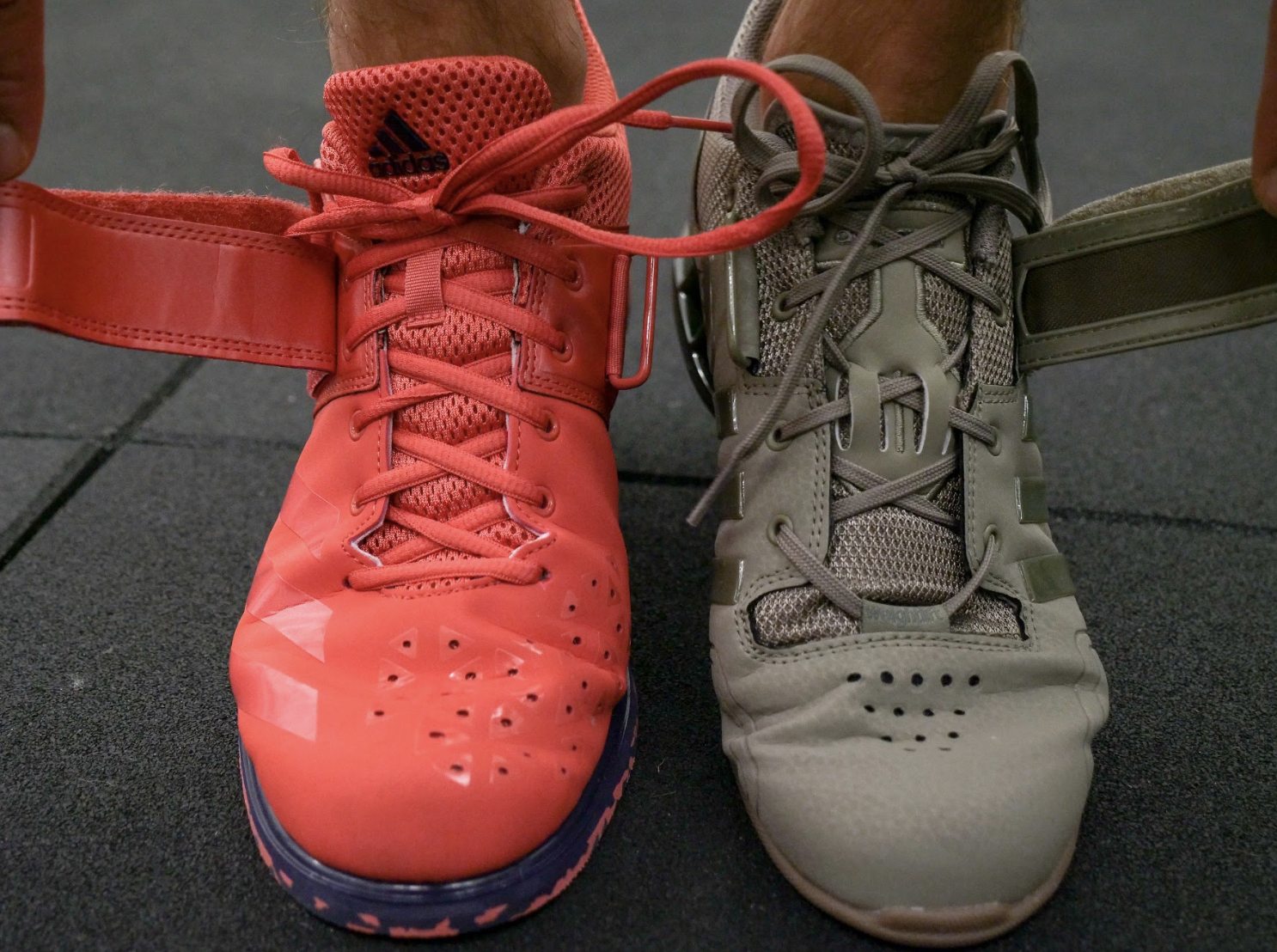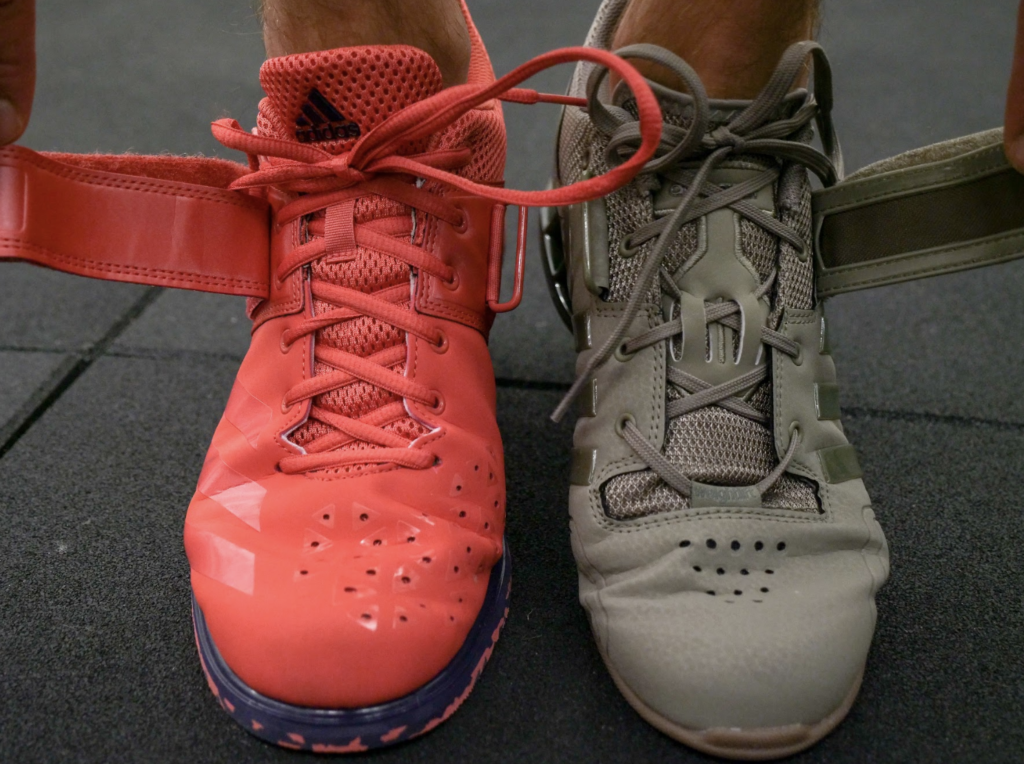 Adidas Powerlift 3.1
The Adidas Powerlift 3.1 is slightly lighter than the AdiPower model and weighs around 15 oz. This is a weight comparable to other crosstraining and tennis shoes, so there will be even less adjustment from other shoe's weights if this your first pair of lifters (depending on what you previously used). For many, this weight will be nice because you can perform many activities in them, as opposed to heavier shoes being slightly more limited.
[Want a deeper look? Read our in-depth review of the Adidas Powerlift 3.1.]
In reality, 16.2 versus 15 oz will be so minimal that most athletes won't feel much of a difference with the shoe's weight alone. For this reason, we feel both shoes win the weight battle.
Winner: Tie 
Heel Height
Adidas AdiPower
The effective heel height for the Adidas AdiPower shoe is .75″. This is the average of most weightlifting shoes on the market, and will be a good size for most. In terms of performance, a .75″ heel will work for the majority of athletes who need a heel to lift on, and don't have specific performance and anthropometric requirements.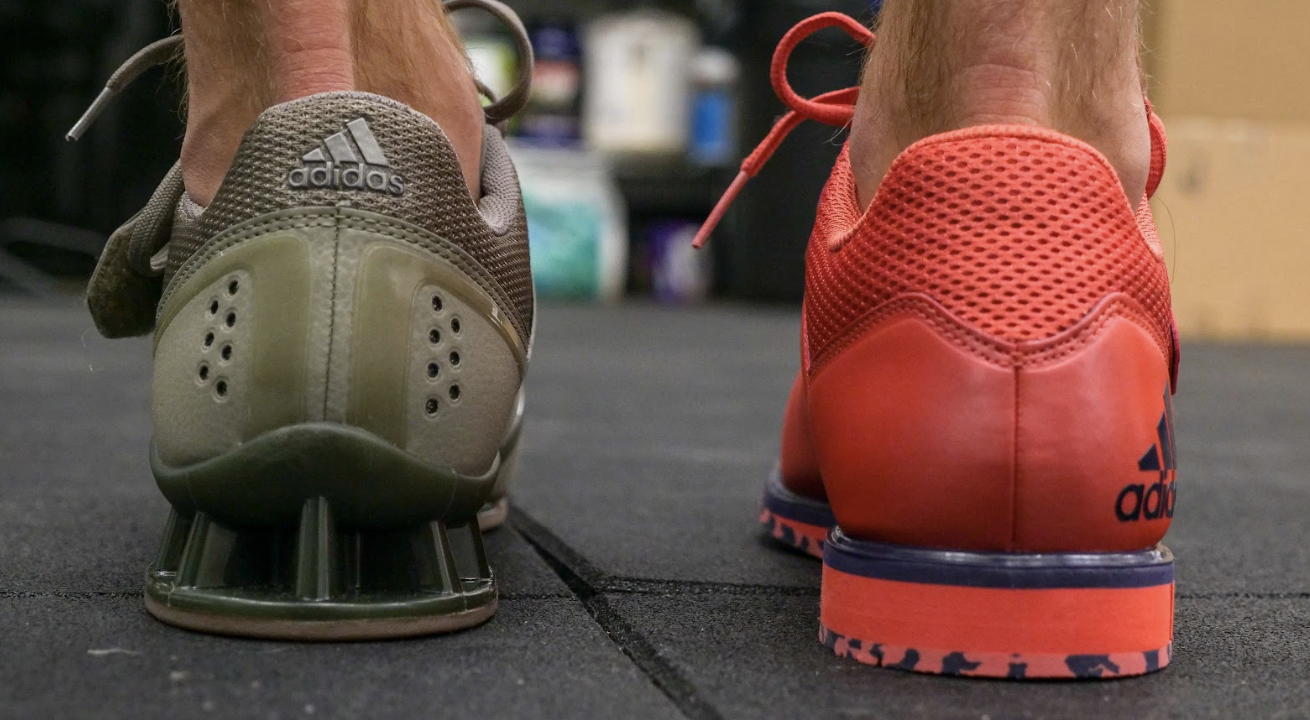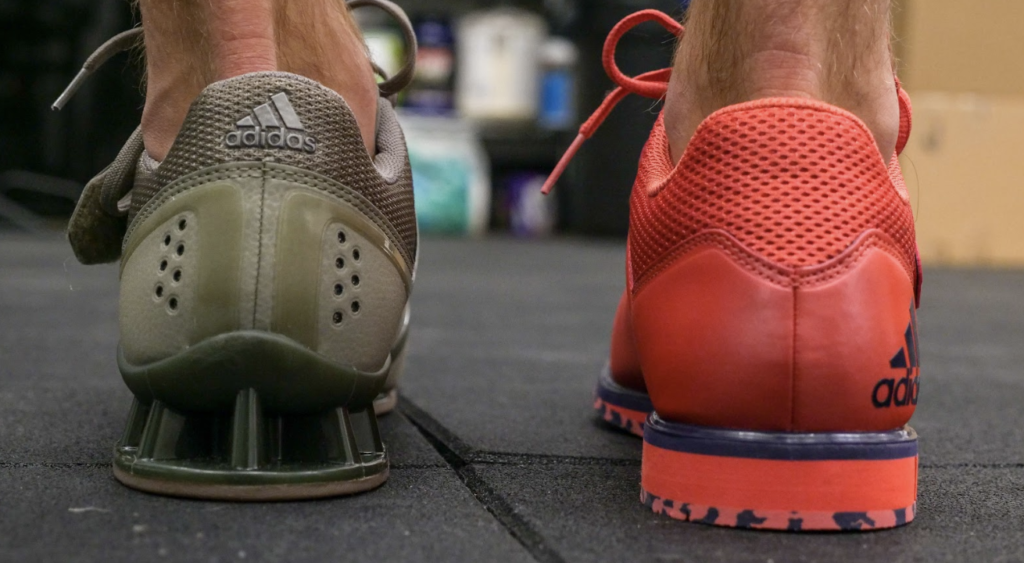 Adidas Powerlift 3.1
The Adidas Powerlift 3.1's effective heel height is slightly less than the AdiPower and comes in at .6″. For lifting shoes, this is on the lower end of heel heights, so it comes with both benefits and negatives. A lower heel will be easier to adjust to, and be easier for low-bar squatter to utilize, but it can also be too low for those needing a higher heel to sit back on.
For heel height, we're taking the AdiPower as the winner because a .75″ heel will be the best match for a majority of lifter, and tends to be the industry standard.
Winner: Adidas AdiPower
Adidas Adipower

A consistent weightlifting shoe that offers the Adidas TORSION System through the mid-foot with a .75" TPU based heel.
Shoe Security
Adidas AdiPower & Adidas Powerlift 3.1
The security of both of these shoes is very similar with the upper foot strap. This single strap lays on top of the tongue and covers the top of the laces. A lot of athletes like the placement of the strap here because it provides additional support for the ankle during ankle dorsiflexion.
While these shoes aren't the most secure on the market, they definitely do an adequate job at maintaining security for the shoe for most athlete. For this reason, we feel they're evenly matched when it comes to shoe security alone.
Winner: Tie
Durability
Adidas AdiPower
The Adidas AdiPower model get mixed reviews when it comes to durability. Some athletes have had their models for years, while others feel they can breakdown somewhat easy. These shoes are constructed with a mix of mesh and PU coated leather, so they take a few lifts to break in.


[Take a deeper look at the Adidas AdiPower with our in-depth shoe review!]
The PU coated leather does a good job at resisting abrasion and premature scratches from bumping into things at the gym. Their heel is composed of TPU plastic, which is a durable lightweight material often used in weightlifting shoes.
Adidas Powerlift 3.1
Similar to the Adidas AdiPower, the Adidas Powerlift 3.1 is also composed of a leather and mesh mixture. The difference is the leather used, as the Powerlift 3 has a lighter leather, which won't be as resistant to abrasions. In addition, this shoe has a high density EVA heel. This type of heel is resistant to compression, but isn't as durable as TPU heels, so long-term users may experience heel breakdown quicker in the Powerlift 3 compared to the AdiPower.
Winner: Adidas AdiPower
Adidas Powerlift 3.1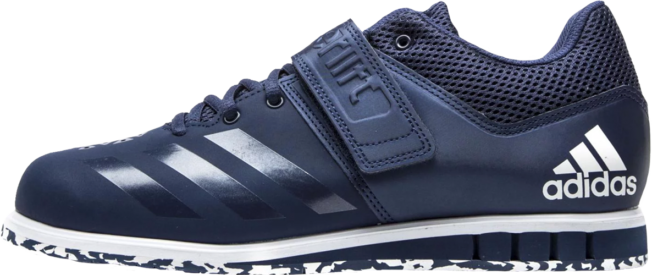 A lightweight versailte lifting shoe with .6" heel made of high density EVA foam.
Price
Adidas AdiPower & Adidas Powerlift 3.1 Price
The price points of these shoes will vary pretty greatly. Both shoes have new colorways regularly released for each, which can be more expensive than older models (colorways). In addition, both of these shoes have been on the market for a while, so prices will often vary between sites depending on where you're looking. Below are the shoe models, along with their encompassing price ranges.
| | |
| --- | --- |
| Adidas Shoe Model | Warranty Specs  |
| Adidas AdiPower | $101.00 – $200.00 |
| Adidas Powerlift 3 | $58.00 – $99.00 |
If price is your only concern, then your best bet will be the Adidas Powerlift 3. This model has a wide variance of price, and multiple colorways, so you can most likely save money and find a colorway that matches your wants.
Winner: Adidas Powerlift 3
Overall Winner: Adidas AdiPower
But wait, doesn't the AdiPower cost more? How could it be the winner? In terms of performance and overall shoe specs, the Adidas AdiPower takes the cake. It's slightly more durable, has higher quality construction, and a heel height that matches a variety of needs. If your main concern is saving money, then go with the Adidas Powerlift 3.1. But keep in mind, in most cases you can find discounted AdiPowers, so the price difference isn't as large as many think.
For those looking for a higher quality shoe that will more often than not last them years in the gym, then opt for the Adidas AdiPower and pay a tad more.