Adidas weightlifting shoes continue to stand among some of the top choices for strength athletes. In recent years, we've seen Adidas pump out multiple reiterations of their most popular shoe choices including the Powerlifts, AdiPowers, and Leistungs. These three models are similar in their "lifting shoe" nature, but differ pretty greatly when it comes to actual construction.
For this article, we'll be comparing the Adidas AdiPower and Leistung 16 II, which are two popular shoe choices for strength athletes, and especially weightlifters. Both of these shoes contain similar specs when it comes to construction, but have a few defining features that make them unique.
[Love Adidas weightlifting shoes? Check our in-depth Adidas Leistung 16 II and Adidas AdiPower reviews and find your perfect fit.]
We'll compare each shoe head-to-head in weight, heel weight, security, construction, and price. Then, we'll dictate a winner within each category, and pick a best overall winner.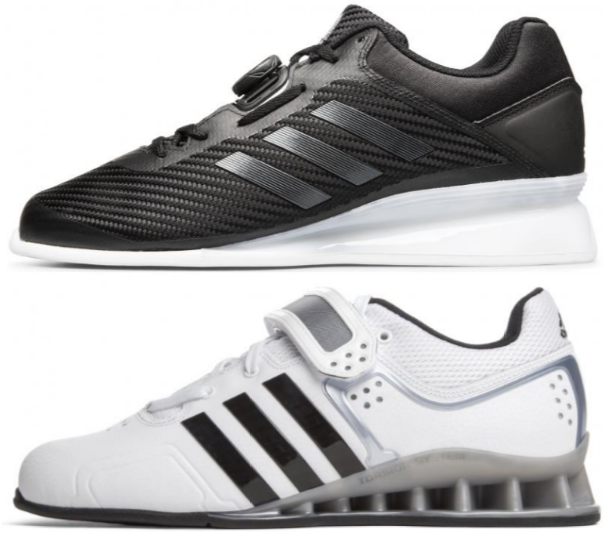 Image courtesy Roguefitness.com.
Adidas Leistung 16 II vs. AdiPower Weight
Adidas Leistung 16 II
The newest Leistung has a recorded weight of 17 ounces. This weight for a weightlifting shoe can be described as middle of the pack. Athletes with overly active feet will typically favor a shoe that's slightly heavier, like the Leistung. And while it's not as light as an Inov-8s or the Nike Romaleos 3s, it's still a decently versatile weight.
Adidas AdiPower
The Adidas AdiPower has a weight of 16.2 ounces. These shoes have been around for a few years, and athletes use them for both weightlifting, powerlifting, and occasionally functional fitness workouts. Their weight is slightly lighter than the Leistung, and side by side their weights are barely noticeable.
Yet, for the sake of versatility and a proven track record. We feel that the AdiPower takes the win for our weight specific comparison.
Winner: Adidas AdiPower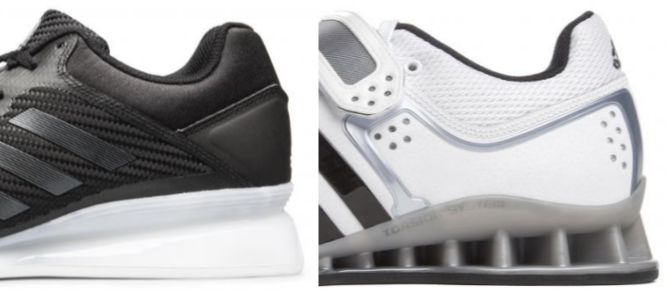 Image courtesy RogueFitness.com
Heel Height
Adidas Leistung 16 II
One defining feature that sets this shoe apart from other lifters is their 1 inch (24.8 millimeter) heel height. The lifting shoe norm is .75 inch, so the one inch heel is often something an athlete looks for specifically.
Weightlifters are typically the athletes that will reach for one inch heels for a few reasons. A higher heel can help an athlete maintain upright postures better, while also sitting under the bar quickly and comfortable. In our Leistung 16 II review, Estonian 105kg weightlifter Mart Seim pointed out, "I think this model allows me to be a little fast under the bar."
[Check out our full in-depth review of the Adidas Leistung 16 IIs.]
Adidas AdiPower
The heel height of the Adidas AdiPower is .75 inches, or 20.1 millimeters. This is a much more comfortable heel height for a majority of athletes, and won't require as specific anthropometric needs. Athletes with short and long limbs can both benefit from a heel height of .75 inches.
When it comes to head-to-head heel comparison, it's difficult to call a winner. The Leistung 16 II is much more needs specific, while the AdiPower offers a little more versatility. For this reason, we have to call it a tie.
Winner: Tie
Security
Adidas Leistung 16 II
The Adidas Leistung 16 II utilizes a BOA lacing system to ensure evenly distributed full foot security. There's a knob on the mid-foot that can be turned to tighten the shoe in combination with the shoelaces. A lot of lifters who've tried BOA lacing systems either tend to love or hate them, and it usually comes down to the volume you're doing every workout.

Image courtesy Roguefitness.com. 
James Wright Jr. stated in our Leistung 16 II review that, "The BOA system needs to be re-vamped as it needs tightening every few sets."
Adidas AdiPower
The security of the Adidas AdiPower is much more traditional with the single strap lying over the upper tongue. This provides the ankle with additional support, and keeps the shoe from feeling overly heavy on the foot, as in there's no frills to the security system.
[The Adidas AdiPower continues to be a top choice for strength athletes. Interested in a pair? Read our full review here.]
Time has proven that a single strap is often enough security for many athletes, but the BOA system does provide an even full foot security. For pure security purposes, we feel the BOA in the Leistung takes the cake.
Winner: Adidas Leistung 16 II
Image courtesy Roguefitness.com. 
Durability
Adidas Leistung 16 II
These shoes are composed of a woven synthetic material, which give them a harder external feeling, but still provide a fair amount of flexibility. In addition, the Leistung model has a soft leather that cover the heel cup, so it provides a stiffer, yet comfortable feeling around the posterior foot.
[Check out our best lifting shoes roundup]
Adidas AdiPower
The AdiPowers are made of a combination of mesh and PU coated leather. This leather takes a few lifts to break in, but does a fair job at resisting scratches from metal and other surfaces. Also, the mesh makes this shoe flexible in the right areas, such as the tongue, yet makes the shoe feel durable around the heel and toe box.
Both of these shoes contain a TPU heel, which is a hard plastic that's designed to be resilient to compression, early degradation, and abrasions. The heels on these shoes will last a while, so we feel their durability come in at a tie.
Winner: Tie 
Price
Adidas Leistung 16 II
The price for the Adidas Leistung 16 II is around $224.99, which is a little on the high end for a lifting shoe. But, these shoes have a very specific design and offer very specific specs. For the athlete interested in BOA lacing and one inch heels, then this shoe's price is fair for the specific asks.
Adidas AdiPower
The Adidas AdiPower's price varies pretty greatly depending on the color scheme and source you purchase them from. Some models cost $125.00, while newer models (color schemes) can range from $179.00 and $200.00. Either way, these shoes are fairly priced for the lifter who needs a somewhat versatile shoe to last them a while.
Winner: Adidas AdiPower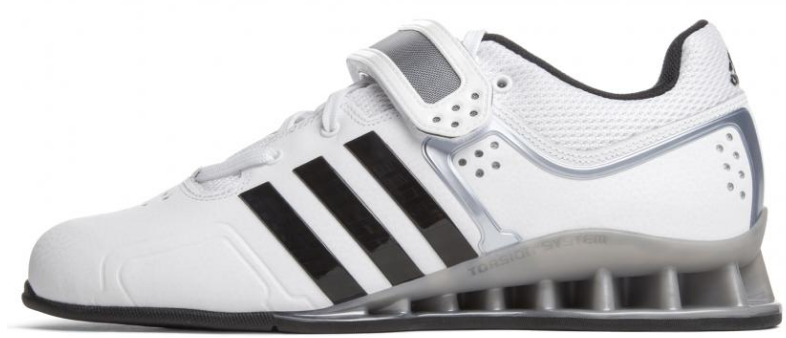 Overall Winner: Adidas AdiPower
Both of these shoes are beneficial for a variety of reasons, and a lot of these reasons will come down to a strength athlete's specific asks. We feel the AdiPower is a little more versatile in its construction, so it will work best for a wide variety of athletes. Additionally, they're a little less expensive, and offer multiple signs of durability, which truly sealed them their spot as our overall winner choice.
If you're deciding between these two shoe models, then ask what would benefit your lifting style and strength sport best.