Alive! Once Daily Women's Ultra Potency is a women's multivitamin that is made by the well-known vitamin company Nature's Way. This multi claims to offer an ultra-potency blend that "helps to support bone health, daily energy, eye health, heart health, and immune health."
We decided to take a closer look.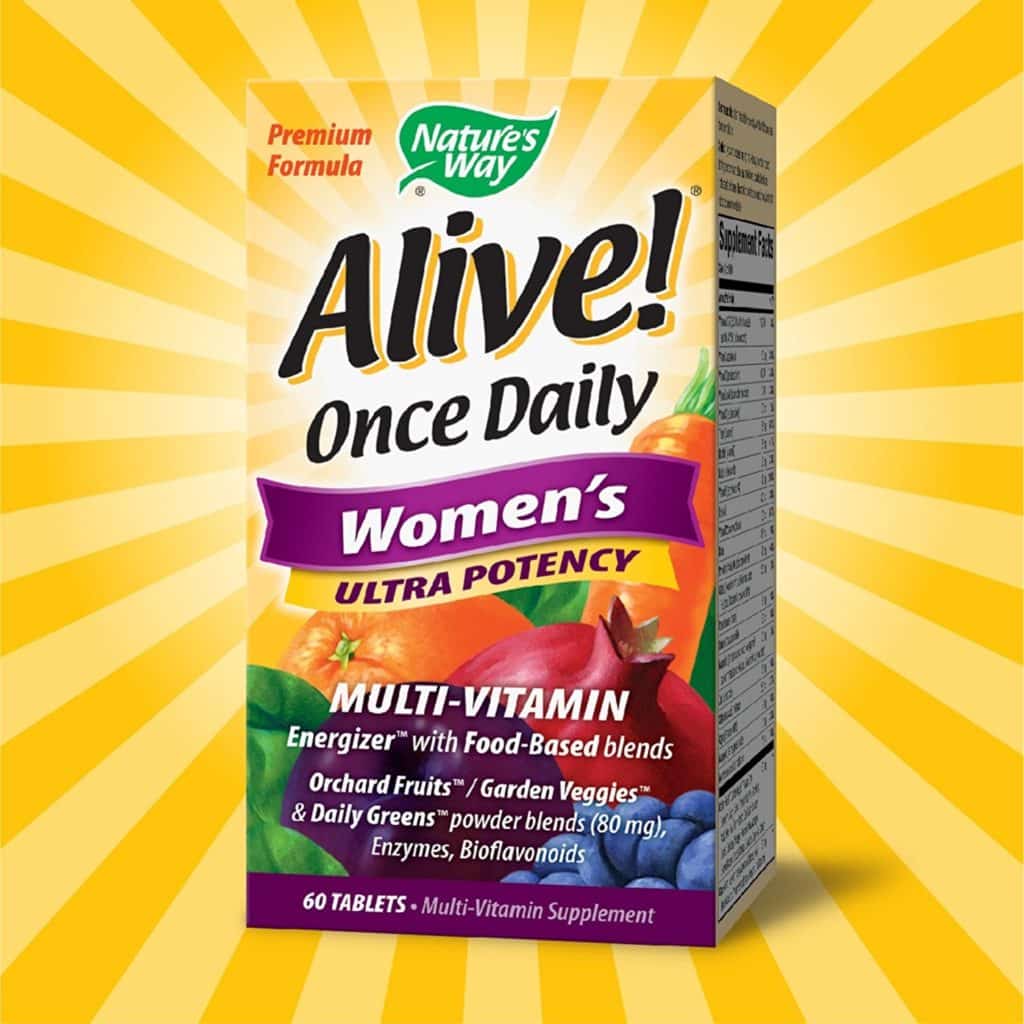 Alive! Once Daily Women's Ultra Potency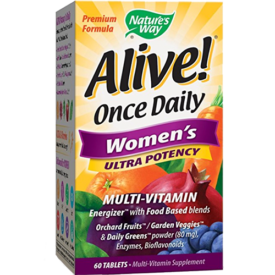 Alive! Once Daily Women's Ultra Potency
This multivitamin contains a wide variety of vitamins and minerals to easily meet women's daily recommended needs.
Ingredients
Alive! Once Daily Women's Ultra Potency has 60 ingredients (woah!) including 22 vitamins and minerals, 12 digestive enzymes, 14 greens, and 12 organically grown mushrooms. Of these ingredients, the supplement offers 100% of your recommended daily values for 20 vitamins and minerals, and 200% (or more) of your recommended daily values for 12 vitamins and minerals.
Note: Multivitamins shouldn't be seen as replacements for a healthy diet or medication. It's always a good idea to talk to your doctor before beginning a new fitness, nutritional, and/or supplement routine. Individual needs for vitamins and minerals will vary.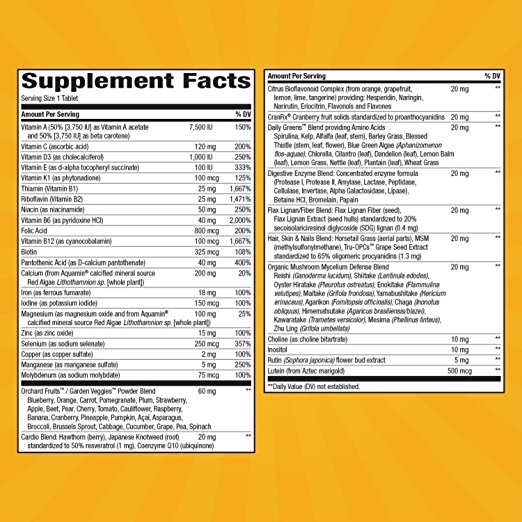 Below, we highlight some the ingredients in Alive! Once Daily, including the ones we deemed as being particularly important or unique to a women's multi.
[Check out our list of the best women's multivitamins HERE.]
Vitamin D3 1,000 IU
Vitamin D is involved in almost everything we do like building proteins and enzymes, boosting the immune system, and fighting inflammation, all of which are integral to athlete recovery. Because it's hard to get the right amount from food, you have to get the rest of your daily needs through sun exposure (which is tricky during the winter) and supplementation. Alive! offer 250% of the daily recommended dose.
Biotin 325 Mcg
Let's be clear. This is a lot of Biotin (108% of your daily values) for a multi. Biotin is good for luscious locks and it has been shown to boost nail health. While good dietary sources of biotin include tomatoes, romaine lettuce, carrots, onions, cabbage, cucumber, cauliflower, and mushrooms, getting enough may be tough for picky eaters.
Calcium 200 Mg
While 200 Mg is only 20% of our daily values, it's actually rare to see it in a multivitamin.
Iron 18 Mg
If you crave burgers or steak during that time of month, it may be because you're low in iron. Being low in iron is especially common in women who are PMSing, vegans, vegetarians or premenopausal. For optimal absorption, it's best to get iron with Vitamin C.
Magnesium 75 Mg
Low levels of calcium and magnesium (which often go hand in hand) are notorious for sparking sugar and salt cravings. Low magnesium levels in particular are known for upping those chocolate cravings. And while a serving of chocolate protein powder is really NBD, a chocolate bar a day may not be.
Zinc 15 Mg
The mineral tends to be low in older people and anyone under a lot of stress. Which, (hello!) is basically everyone. And because as good as exercise makes us feel, it's still a stressor, athletes in particular tend to be deficient. Not enough zinc may dull your taste buds, which ups the chances that you'll add sugar or salt to your food. Plus, the mineral isn't super easy to find (though it's in some animal sources like oysters, crab, liver, and dark chicken meat), so getting 15 Mg (or 100% daily values) is a total pro.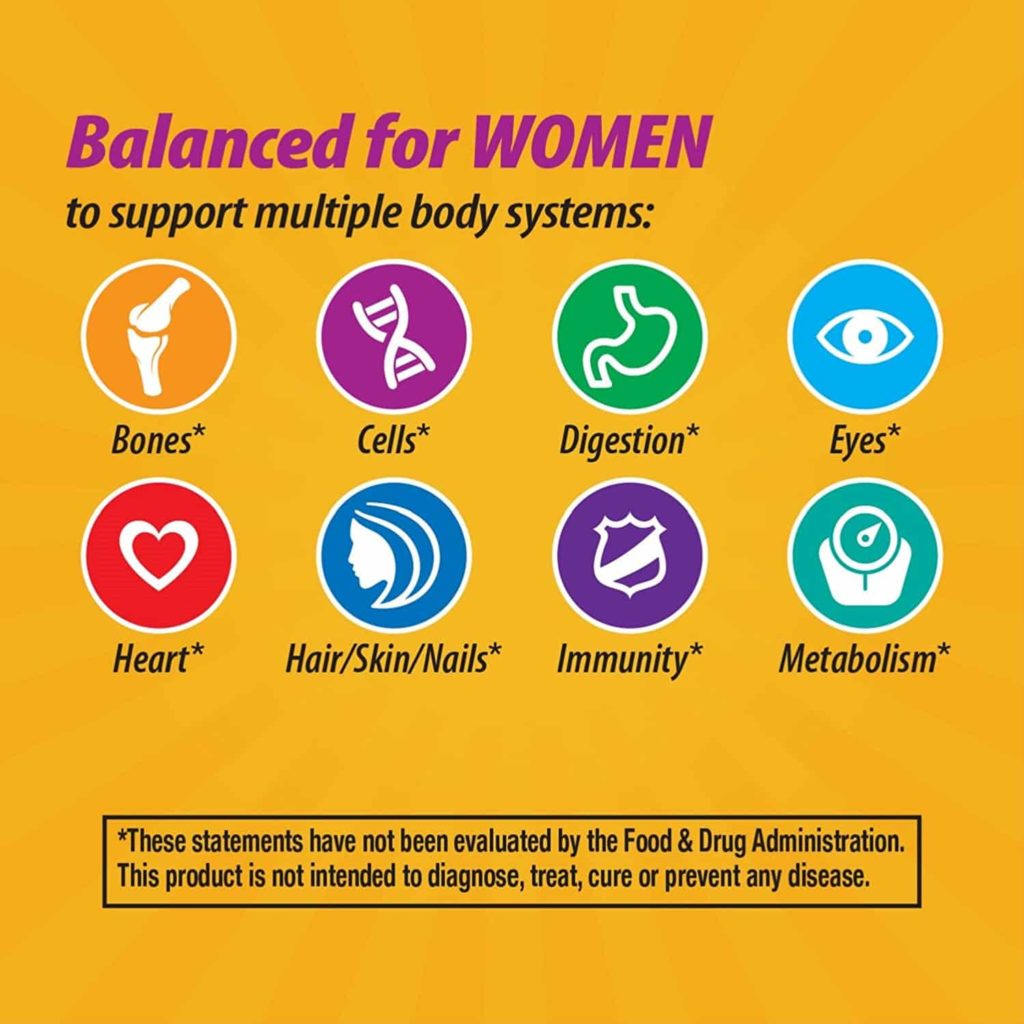 Copper 2 Mg
You don't need much copper. In fact, 2Mg is 100% of your daily values. But because it aids in bone, nerve, and skeletal health, being deficient can lead to things such as fatigue, arthritis, always feeling cold, muscle soreness, joint pain, and stunted growth. Don't panic, if you eat enough calories a day, you're probably getting adequate copper.
Orchard Fruits™ & Garden Veggies™ Powder Blend 60 Mg
If you're wondering what the heck this is, according to the Nature's Way website it's a blend of Blueberry, Orange, Carrot, Pomegranate, Plum, Strawberry, Apple, Beet, Pear, Cherry, Tomato, Cauliflower, Raspberry, Banana, Cranberry, Pineapple, Pumpkin, Açaí, Asparagus, Broccoli, Brussels Sprout, Cabbage, Cucumber, Grape, Pea, Spinach. For you, that means a solid dose of phytonutrients. And phytonutrients supplements may be helpful for people who don't get enough fruits and veggies.
Cardio Blend 20 Mg
According to the ingredient list, this cardio blend contains: Hawthorn (berry), Japanese Knotweed (root) standardized to 50% resveratrol (1 mg), Coenzyme Q10 (ubiquinone). While the first two ingredients listed lack research showing that the may affect our cardiovascular health or performance, anytime CoQ10 shows up in a multi we consider it a plus because levels of it decrease as we age.
Citrus Bioflavonoid Complex 20 Mg
The label reads, "from orange, grapefruit, lemon, lime, tangerine and providing: Hesperidin, Naringin, Narirutin, Eriocitrin, Flavonols and Flavones". All of which are basically plant compounds that may have antioxidant and anti-inflammatory effects (like other phytonutrients).
CranRx® 20 Mg
Wondering what this is? The label says, "Cranberry fruit solids standardized to proanthocyanidins", which may support urinary health.
Daily Greens™ Blend 20 Mg
This ingredient sounds like something you might order at Juice Press. But it's actually a blend of Amino Acids, Spirulina, Kelp, Alfalfa (leaf, stem), Barley Grass, Blessed Thistle (stem, leaf, flower), Blue Green Algae (Aphanizomenon flos-aquae), Chlorella, Cilantro (leaf), Dandelion (leaf), Lemon Balm (leaf), Lemongrass, Nettle (leaf), Plantain (leaf), Wheat Grass. Daily Greens™ is part of Drink Daily Greens, another health-focused company. It was tricky to find out much info on this ingredient on either the Drink Daily Greens or Nature's Way websites, but here is what we know: the product is USDA organic certified, kosher certified, and non-GMO project certified.
Digestive Enzyme Blend 20 Mg
Digestive Enzymes break down the food we eat food into amino acids, fatty acids, cholesterol, simple sugars and nucleic acids. This particular digestive enzyme blend contains Concentrated enzyme formula (Protease I, Protease II, Amylase, Lactase, Peptidase, Cellulase, Invertase, Alpha Galactosidase, Lipase), Betaine HCl, Bromelain, and Papain. This ingredient is notable for people who eat high fiber diets, are lactose intolerant, have pancreatic insufficiency, or struggle with indigestion.
[They aren't magic pills but they may be more useful than you think — check out our list of the best women's fat burner supplements.]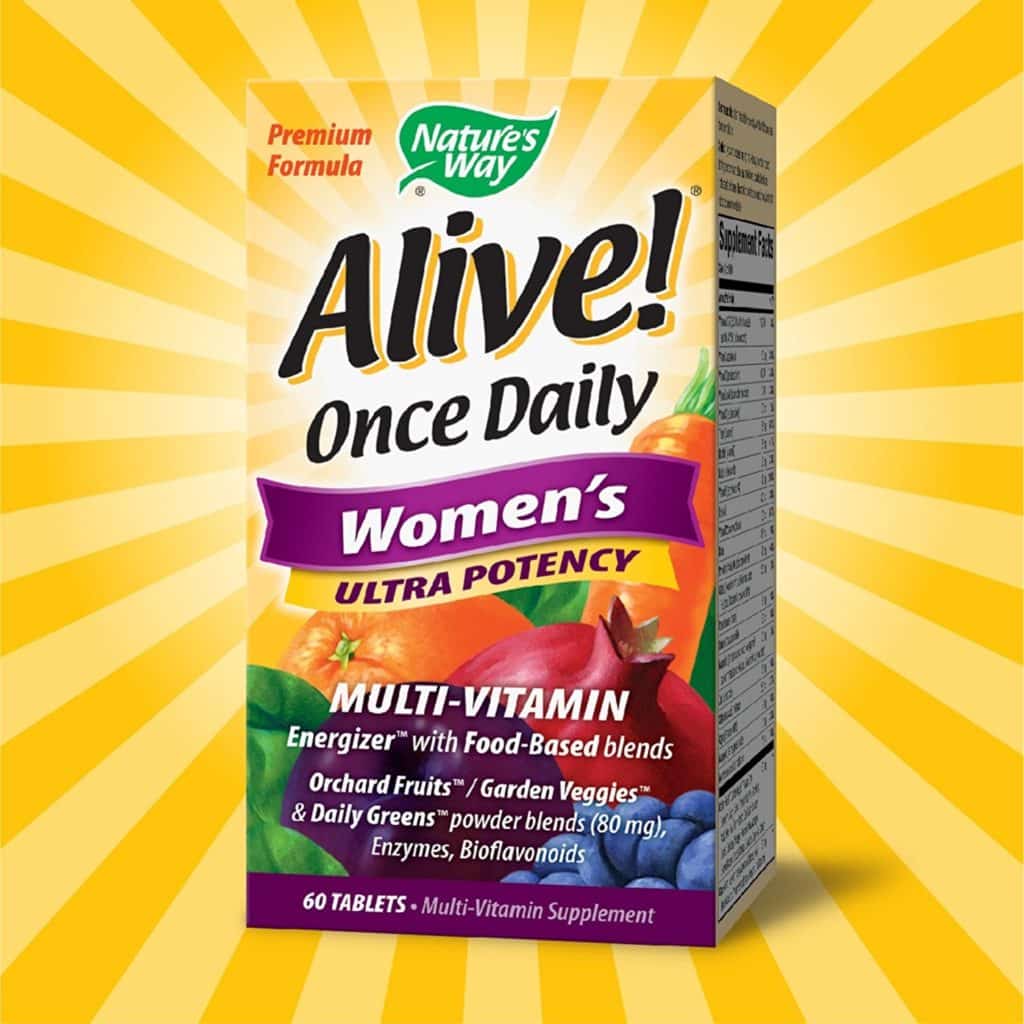 Hair, Skin & Nails Blend 20 Mg
It's not surprising to see ingredients promising hair, skin, and nail health in a women's multi (that's how a lot of brands differentiate their women's products). This blend contains Horsetail Grass (aerial parts), MSM (methylsulfonylmethane), Tru-OPCs™ Grape Seed Extract standardized to 65% oligomeric procyanidins (1.3 mg). Horsetail grass is an herbal supplement that is sometimes suggested for brittle nails, but research is lacking. MSM is important in collagen production, which may reduce the appearance of cellulite and improve skin hydration, suggesting that there may be something behind its inclusion.
Other ingredients include:
Vitamin A 7,500 IU

Vitamin C 120 Mg

Vitamin K 100 Mcg

Thiamin 25 Mg

Riboflavin 25 Mg

Niacin 50 Mg

Vitamin B6 40 Mg

Folic Acid 800 McG

Vitamin B12 100 Mcg

Pantothenic Acid 40 Mg

Iodine 18mg

Selenium 250 mcg

Manganese 5 Mg

Molybdenum 75 Mcg

Flax Lignan/Fiber Blend 20 Mg

Choline 10 Mg

Inositol 10Mg

Rutin 5 Mg

Lutein 500 Mcg
It's also worth noting that the vitamin contains cellulose, stearic acid, sodium croscarmellose, magnesium stearate, silica, hypromellose, and glycerin which help give the pill it's shape and flavor, which don't add nutritional value.
Alive! Once Daily Women's Ultra Potency Benefits and Effectiveness
As an active women in my mid-twenties, I'm always looking for the latest and greatest supplements and gadgets to boost my health. But what's that saying? What's old is new again. This time around, I decided to try a less expensive product that's been around for a while: Alive! Once Daily Women's Ultra Potency.
At first, I wasn't impressed. The process of taking the pill isn't great: it's large, a little smelly, and made me burp when I took it the first day without food.
When I unscrewed the cap for the first time, I immediately noticed that the pills are large (almost an inch in length). Think the size of your fingertip, pinkie toe, or length of a bottle cap. Seriously, when I poured one into my hand the first morning my roommate exclaimed, "that's freaking huggggeee". Good news is that swallowing pills has never been an issue for me, so the size didn't bother me but it could be for you.
But I wasn't overwhelmed by the smell of fish, the way I usually am for multivitamins. That's because Alive! doesn't contain any Omega 3's or Omega 6's which typically have a oceanic scent (I eat a ton of avocados, salmon, and almonds which all contain omega 3's, so the absence was NBD for me). That said, the pill smells a little like old lettuce (or a garbage disposal that needs to be run)… but more mild. Which I prefer to the scent salmon skin.
And I'll be honest, they don't taste great. The first day I took my pill before breakfast and got weird bubbling pill-burps. So after that I took them after eating a collagen protein bar and swallowed them down with my coffee. They didn't affect my digestive system at all (hoorah!).
What stands out to me the most about Alive! Once Daily Women's Ultra Potency is that they didn't upset my stomach. And that's saying something because my stomach has reacted poorly to supplements containing iron in the past. Perhaps it's because the pill only contains 18 Mg of iron (which is 100% of daily values, but still low compared to some multi's) or perhaps it's because I took the pill with food to keep the burps at bay. But either way, I was thrilled it didn't cause a belly-ache.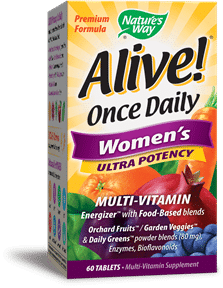 After reading other reviews of the products, I expected Alive! Once Daily Women's Ultra Potency to increase my energy levels because one women said, "These may not be fun gummy or chewable vitamins, but the amount of energy they give me is so worth it." while another noted " These actually give me energy!". But, alas, it's just a daily multivitamin, not a pre-workout or cup of coffee, and I didn't feel any noteworthy effects. That said, I didn't feel worse after taking them (and I have with certain multivitamins in the past).
I was also thrilled that I didn't feel like I was flushing all the nutrients in the pills down the drain. A quick science lesson: When it comes to vitamins, how well we're able to absorb nutrients, matters a lot. If we can't absorb the nutrients, we end up flushing them down in a puddle of bright yellow or orange urine. But according to my pee-color, my body may have actually been able to absorb the vitamins in Alive!. That's because my pee color didn't change (though, I will admit that the smell did). A few reviews on Amazon mentioned that the pill turned their pee neon yellow, so this may not be the case for you.
A potential downfall of this product is that it includes a few blends of ingredients which are not well researched. However, many products in the supplemental market are not well researched, so this should not come as a surprise.
Alive! Once Daily Women's Ultra Potency Price
It comes out to about 20 cents a day. $1.40 per week. $6.00 per month. That's how inexpensive this multivitamin is. Seriously, a $10 bottle offers 50 servings.
The Takeaway
I think that this product is a great deal, and it's among least expensive multivitamins I've tried. And it has 60 different ingredients, 32 of which offer 100 to 200 percent recommended daily values. Given the price and ingredient content, I don't see many drawbacks in incorporating this vitamin into your wellness routine.
The only downsides are the size, taste and smell, which are less-than-pleasant. My recommendation: if you go for this multi, swallow it with a flavored beverage or coffee and eat it with food, as is recommended.
Images courtesy Nature's Way