Amazon! They're the biggest online retailer in the world (take that, Alibaba) and the third most valuable publicly traded company after Apple and Microsoft. They can make anything they want! They could just start making oil derricks or cloning dinosaurs if they wanted to, but their next product has been announced — they're coming for your FitBit.
Amazon's new fitness tracker has been named Halo, and it's not only got a lot of curious new features, it's also missing a curious old feature: the screen. It has no screen. (It communicates with your phone through Bluetooth instead.)
Actually, there are a few popular features it doesn't have:
A screen
GPS
Wi-fi
Cellular radio
Fall detection
It does track heart rate, but Amazon hasn't confirmed it tracks Heart Rate Variability (HRV)
Alexa integration
OK, that last one isn't exactly industry standard but for those concerned about a Halo/Alexa/Amazon/New World Order global takeover, Amazon has explicitly said the Halo doesn't talk to Alexa, isn't part of your Amazon account, and won't integrate with other fitness apps like Apple Health. (At least, not at launch.)
So what does it have? Buckle up (the wrist strap that is lol) and take a walk through the Halo. For starters, it's got:
Accelerometer (which measures how fast you're, you know, accelerating)
Temperature sensor
Heart rate monitor
LED indicator light
2 microphones, for a "voice tone feature"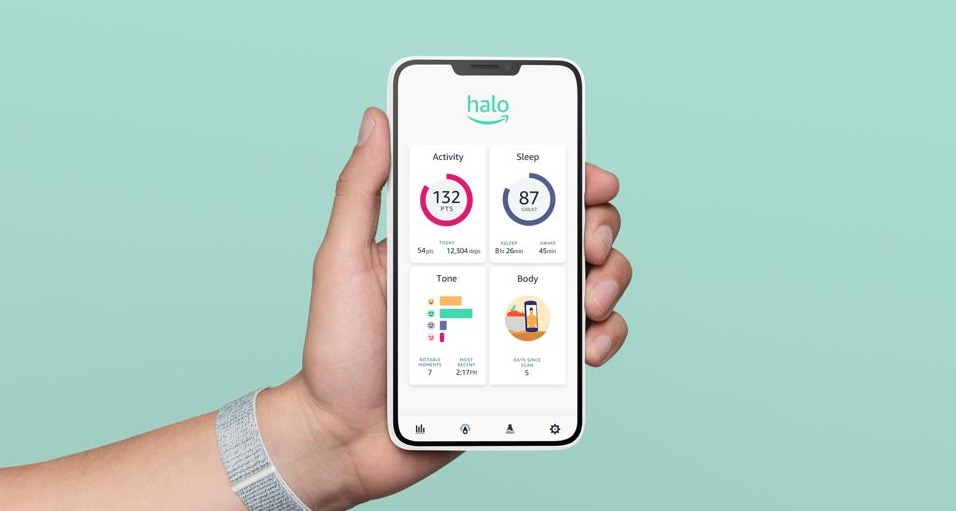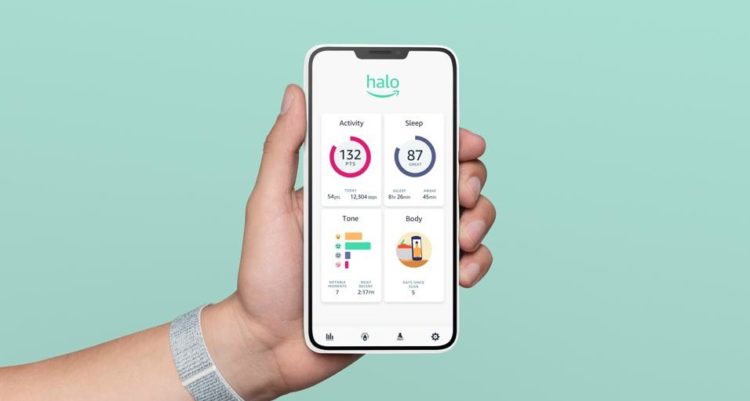 Amazon Halo's Voice Tone Feature
A what? Yes, the app is always listening to your voice to determine your emotional tone. Are you hopeful, hesitant, bored, apologetic, affectionate, confused, happy, elated? These are the actual names of actual states the Halo can detect by tracking your heart rate and temperature, sure, but also your voice, and it gives you an alert if you sound out of line.
The goal being, as CNET puts it,
to help guide a wearer to deliver better tones of voice and speaking styles, almost a vocal form of posture.
You can switch that feature off, though.
What else does it track?
Your sleep quality
Your steps
The intensity and duration of exercise
Your cardio fitness (but on a weekly basis, not daily, so it allows for rest days)
Your body fat
The body fat aspect is getting a lot of attention because you use your phone to take photos of said body and the Halo uses machine learning to judge your fat levels — Amazon correctly notes that scales that claim to track your body fat are really unreliable.
Curiously, it won't allow the slider to show "dangerously low levels" of body fat, nor will it allow kids under 18 to use the feature, in an attempt to avoid encouraging body dysmorphia.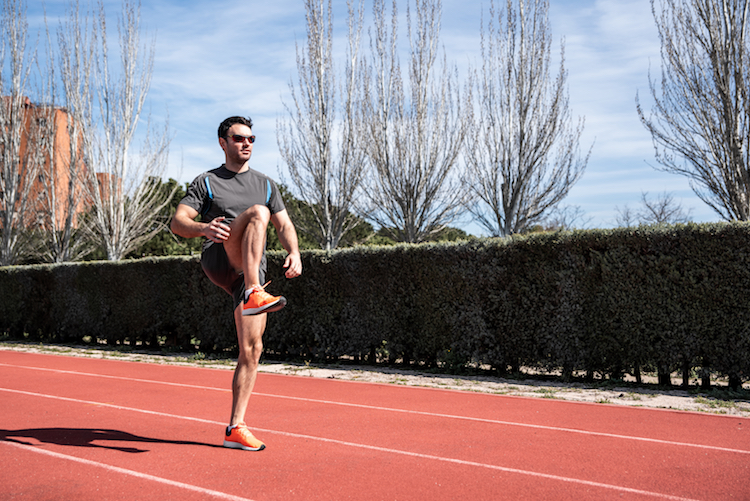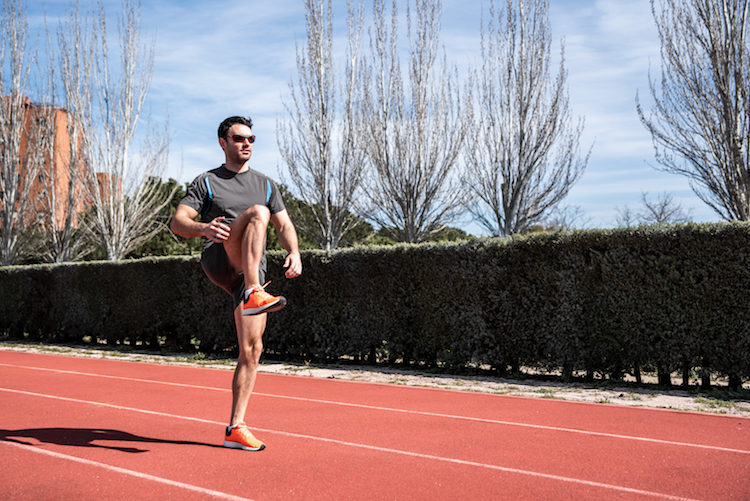 The Fitness Tracking
If your activity isn't walking or running, you'll need to manually enter what kind of activity you're taking part in. Overall, it seems more geared at helping average folks move more than it is for helping advanced athletes fine tune the perfect program.
That said, Halo has an app (it's $3.99 a month and if you don't use it, it'll just do basic activity and sleep tracking) and it has partnerships, or "labs" with Mayo Clinic, Headspace (the meditation app), Weight Watchers (a.k.a. WW), Aaptiv (the home workout streaming service), and other organizations that will give you regular experiments and challenges.
The Halo is available in three colors, will be available in more than ten, works with Android and iPhone, the app is $3.99 a month, for now the strap and a six-month membership is $64.99, and the strap will be $99.99 once the early access period ends and it's actually available for purchase.
The day when you'll be able to actually put the Halo on your wrist is… unclear. The release date for their Huge Deal activity tracker hasn't been released. Cool marketing, Amazon!
Featured image via Amazon