We receive free products and receive commissions through our links. See
disclosures page
.
Manufactured in Finland, Ambronite straight up says that it's "the most complete meal replacement available" and contains "everything your body needs." Those are some pretty serious claims, and they're extra hard to fulfill given that Ambronite doesn't contain any added ingredients. One hundred percent of the ingredients are sourced from whole foods; there's no ascorbic acid to increase the Vitamin C, no molybdenum to increase the B12, nothing like that.
Instead, there are 18 "real food" ingredients that provide over forty nutrients. Besides the admittedly impressive nutrition profile, the company says this product can help you increase productivity, maximize training, lose weight, and achieve a host of other goals. It's been endorsed by a few big names in the health and fitness industry and we had to take a look.
This product is available in four flavors. Here's what we thought of the "Delicious Berries" variety.
Ambronite Drinkable Supermeal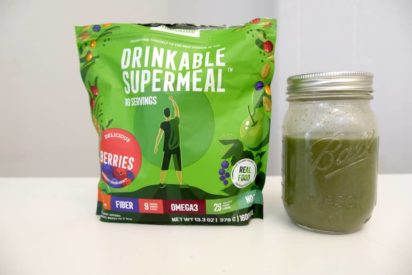 Ambronite Drinkable Supermeal
This meal replacement contains 24 grams of protein, fiber, and nutrients to keep you energized all day.
Ambronite Drinkable Supermeal Nutrition
One scoop has 160 calories: 10 grams of protein, 17 grams of carbohydrates (3 grams of fiber, 5 grams of sugar), and 6 grams of fat (1 gram of saturated fat).
Then there are the micronutrients. There are 26 vitamins and minerals listed here, which is a solid spread. Here they are, with the percentage of the recommended daily intake contained.
Vitamin A: 5%
Vitamin C: 8%
Calcium: 8%
Iron: 8%
Vitamin D: 15%
Vitamin E: 7%
Vitamin K: 30%
Thiamin: 15%
Riboflavin: 10%
Niacin: 12%
Vitamin B6: 8%
Folate: 12%
Vitamin B12: 12%
Biotin: 3%
Pantothenic Acid: 5%
Phosphorus: 10%
Iodine:12%
Magnesium: 30%
Zinc: 8%
Selenium: 10%
Copper: 8%
Manganese: 30%
It's worth noting that Ambronite suggests 1 scoop as a snack, and if you want more of a "meal replacement" then you should use three scoops. Of course, that will triple all the macro- and micronutrients you'll get.
Ambronite topped our list of the 10 best meal replacements of all! Find out why here.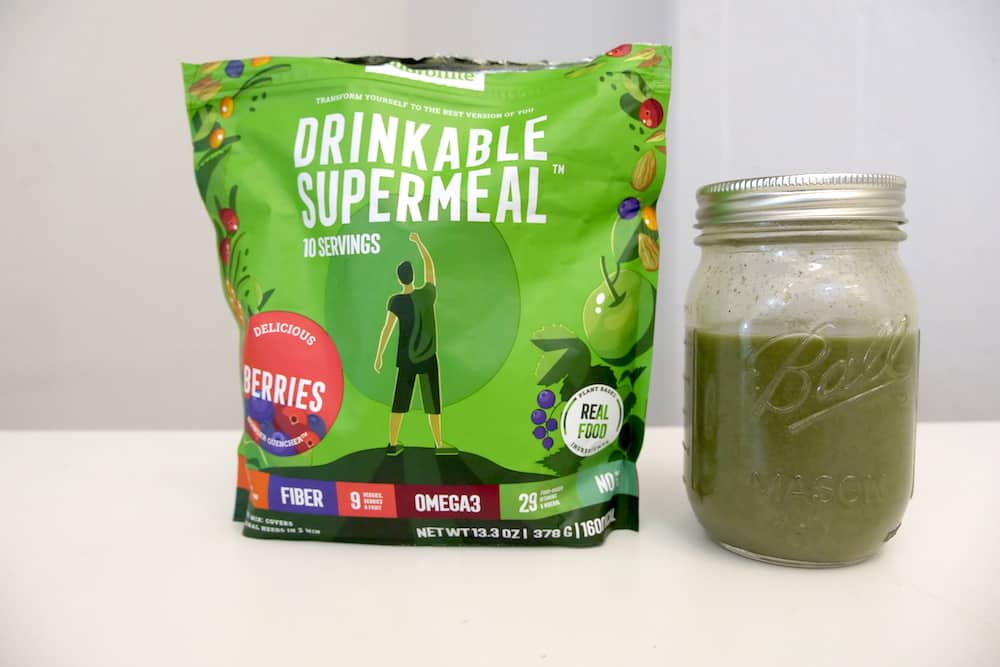 Ambronite Drinkable Supermeal Ingredients
There are just eighteen ingredients here: oat protein, almond, oats, apple, coconut sugar, oat fiber, nettle leaf, spinach, flaxseed, chlorella, spirulina, cranberry, bilberry, black currant, sea buckthorn, nutritional yeast, mineral salt, guar gum, and natural flavors.
Ambronite Drinkable Supermeal Benefits & Effectiveness
When taking this as a meal replacement (as in taking three scoops at a time) there winds up being a pretty solid amount of all the nutrients listed. There really are a ton of micronutrients for a product that has no added ingredients. I also noticed that this tends to be higher in nutrients that are harder to get through whole foods. For example it's pretty high in magnesium and Vitamin K, but pretty low in Vitamin C.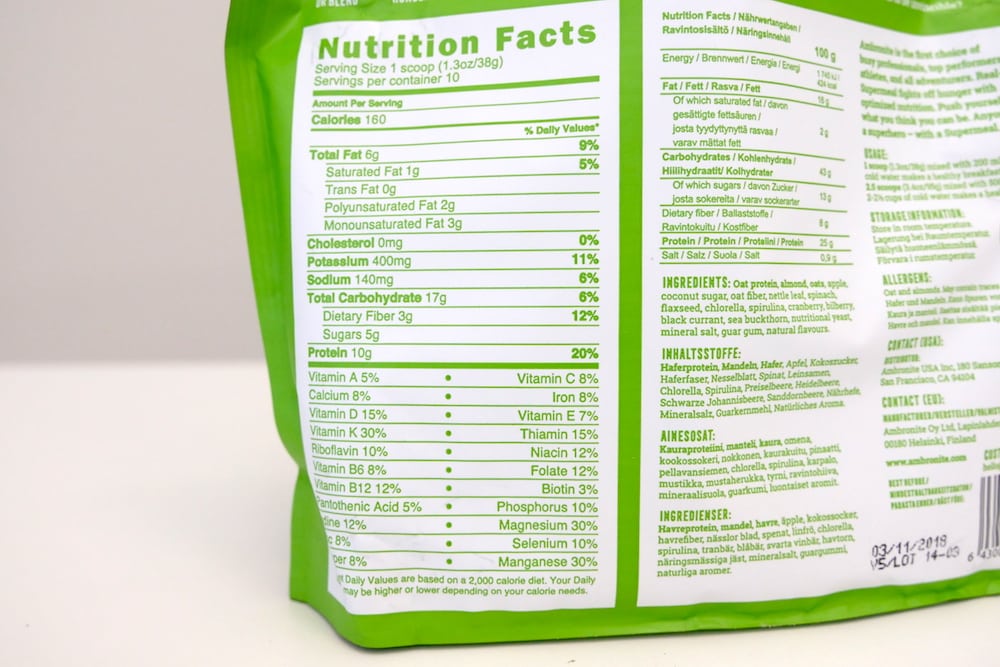 This is a great meal replacement when compared against other products. But because it makes the claim that it contains everything the body needs, it needs to be held to an extremely high standard. Does it really have absolutely everything?
It comes pretty close. It is important to note that there's no choline or chromium on the nutrition label, which may be important for the health of your nervous system and blood sugar levels. A bigger problem is that Ambronite puts "Omega 3" in large letters on the front of the bag. The omega-3 fatty acids in the product appear to mostly come from flaxseed, but it's worth pointing out that flaxseed contains ALA, a plant-based omega-3 that the body has to convert to EPA and DHA, the kinds of omega-3s found in fish. Some ninety percent of it is lost during that conversion process, so it's important to note that this isn't a substitute for fish.
Finally, there aren't any probiotic bacteria or digestive enzymes in this product, which a lot of people like included with meal replacements because of potential digestive health benefits.
But I'm being extra picky because the product says it has everything the body needs. That's an unreasonably high standard. Judged against other meal replacements, this is an outstanding product.
Ambronite Drinkable Supermeal Price
There are a lot of options for pricing. Ambronite really likes it when you subscribe for a shipment every month or two, and you may find the ordering process frustrating if you just want to try one bag.
If you do subscribe, it's $70 for 3 bags ($2.33 per serving). The more you buy, the cheaper they get —12 bags are $245 ($2.04 per serving).
If you want just a one off shipment, 3 bags are $80 ($2.67 per serving). So, let's say the average serving is $2.50. That's a pretty decent price for a meal replacement shake, but remember that you're expected to have three scoops if you want an actual meal replacement and not just a healthy snack. Obviously, that triples the price to a pretty unreasonable level.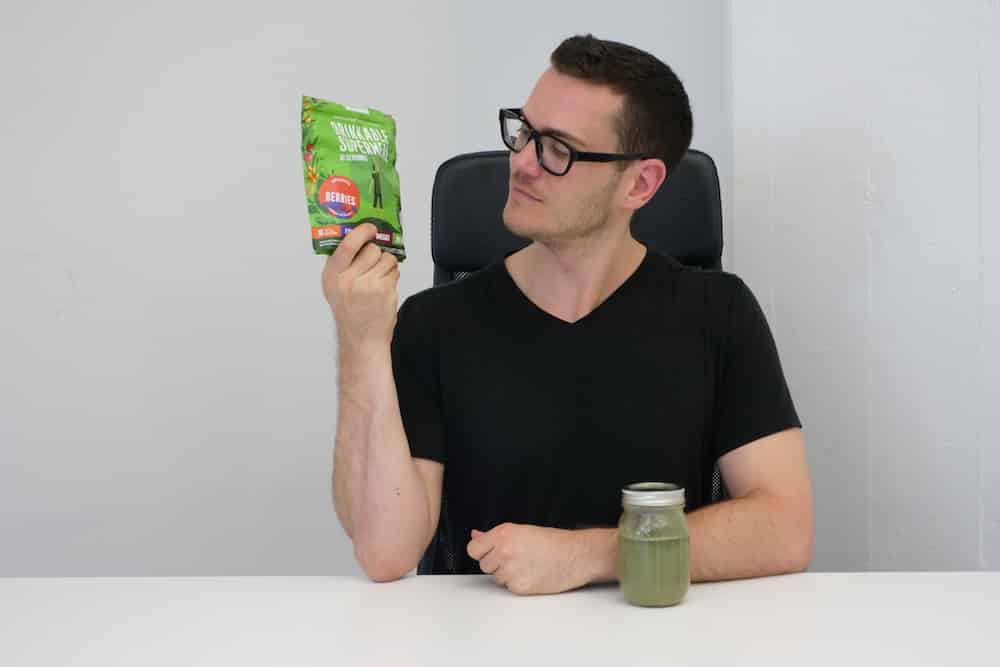 Ambronite Drinkable Supermeal Taste
I was pleasantly surprised by the Delicious Berries flavor, which tasted surprisingly creamy for a vegan product. I'd say it tasted like fruits of the forest flavored yogurt that has been watered down a little.
The Takeaway
The promise that this has "everything the body needs" rankled me, but if we ignore that aspect of the marketing then this is a decent product. The range of nutrients is exceptional and the taste is great.
I would have liked some probiotics and it's worth emphasizing that it's not all that much nutrition if you don't consume two or three scoops, which makes it an expensive product. But if you're happy to do that, this is a good way to get your nutrients.
Ambronite Drinkable Supermeal
Per Serving: $2.30