Fret not the artificial sweeteners! A 2023 review in Critical Reviews in Food Science and Nutrition has concluded that zero-calorie sweeteners might actually be helpful for reducing fat mass. More specifically, the findings of the review were that the "consumption of artificial- and stevia-based sweeteners may lead to a reduction in body weight, fat mass, and free fat mass." (1)
On Sept. 6, 2023, Dr. Layne Norton took to his YouTube channel to publish a video wherein he dissected the analysis' findings and what it could mean for those with a bit of a sweet tooth on their fitness journeys. Check it out below:
[Related: Iain Valliere Announces Retirement From Competitive Bodybuilding]
Editor's note: The content on BarBend is meant to be informative in nature, but it should not be taken as medical advice. The opinions and articles on this site are not intended for use as diagnosis, prevention, and/or treatment of health problems. Talking to your doctor before beginning a new fitness, nutritional, and/or supplement routine is always a good idea.
To quell the doubts of those who are skeptical about whether one study is enough to support non-nutritive sweeteners and their impact on fat loss trends, this review is a meta-analysis of human randomized control trials, meaning that they are tabulating the findings of many studies to determine the most likely outcomes.
As Norton put it, the literature does suggest that those who consume zero-calorie sweeteners achieve more weight loss, on average, than those who don't. Accepting these findings is more reliable through human randomized control studies, as the randomization process removes bias to allow for a broader, and likely more accurate, view of what effects non-nutritive sweeteners have.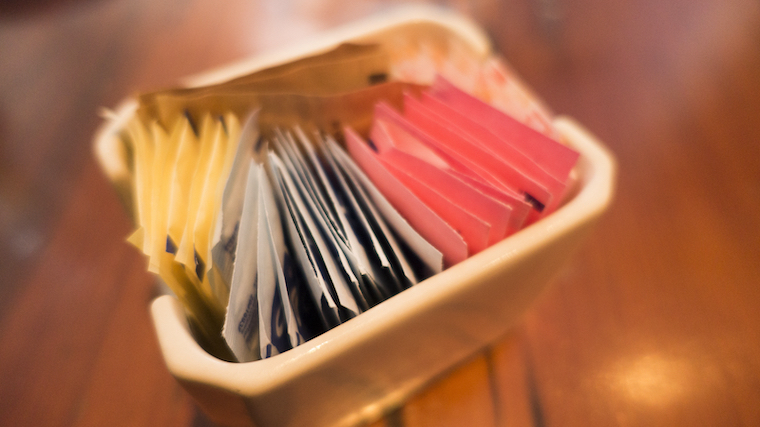 The caveat that Norton posed of the meta-analysis is that the data showed that those who used artificial sweeteners also saw reductions in fat-free mass and loss of fat mass. There isn't necessarily a correlation between artificial sweeteners and loss of lean tissue, as these studies did not specify if the participants underwent routine resistance training during the duration of the study.
Norton suggested that, more often than not, losing weight without resistance training will typically result in fat-free mass loss as well. The artificial sweeteners are, therefore, unlikely to cause the loss of lean mass. Rather lean tissue loss is a by-product of weight loss.
The takeaway: non-nutritive sweeteners, such as Stevia, appear to cause fat loss when used as a substitute for sugar-based sweeteners. It is not a miracle; zero-calorie sweeteners can help curb cravings for sugar, leading to the consumption of fewer calories. Ultimately, it seems safe to use artificial sweeteners as a tool for fat loss.
Reference
Movahedian, M., Golzan, S. A., Asbaghi, O., Prabahar, K., & Hekmatdoost, A. (2023). Assessing the impact of non-nutritive sweeteners on anthropometric indices and leptin levels in adults: A GRADE-assessed systematic review, meta-analysis, and meta-regression of randomized clinical trials. Critical reviews in food science and nutrition, 1–18. Advance online publication. https://doi.org/10.1080/10408398.2023.2233615
Featured image via Shutterstock/Mirror-Images