"Clean energy and hydration fuel" is the promise from Ascent, the all natural supplement company that has released a pre workout that's remarkable in its simplicity.
This is the first pre workout we've seen that doesn't have the same ubiquitous ingredients as its competitors such as beta alanine, creatine, or citrulline. But the product has gathered a lot of steam among athletes and it's promoted by several big name CrossFit® competitors.
We tried it out and found that it's a good option for athletes who are wary of artificial ingredients and unusual sounding chemicals: it's mostly just caffeine, whey, and sodium.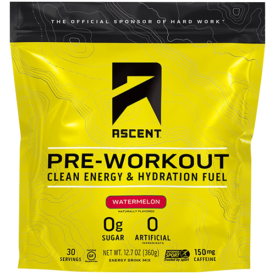 Ascent keeps things simpler than most pre workouts, focusing just on protein, caffeine, and electrolytes.
Ascent Pre Workout Nutrition
One scoop contains 40 calories: 5 grams of protein, 5 grams of carbohydrates (2 grams of sugar , no fiber) and no fat or cholesterol. There are 150 milligrams of caffeine per serving.
For electrolytes, there's also 250 milligrams of sodium (11 percent of the RDI).
[Don't miss our complete list of the best pre workouts!]
Ascent Pre Workout Ingredients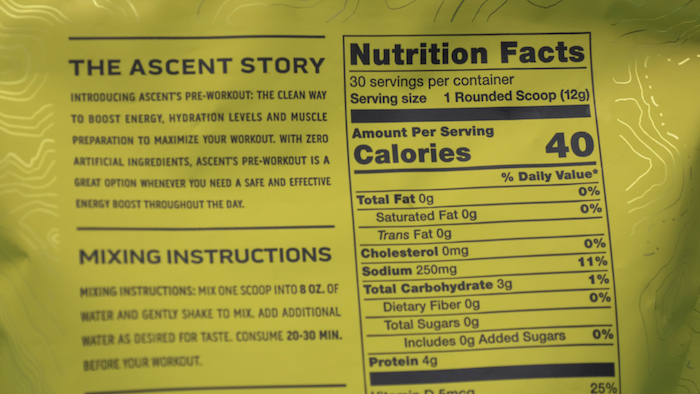 Whey protein isolate, natural flavors, organic cane sugar, citric acid, sodium citrate, malic acid, coffee fruit extract, stevia leaf extract, sunflower lecithin.
It's worth emphasizing that there are no artificial ingredients or soy in here.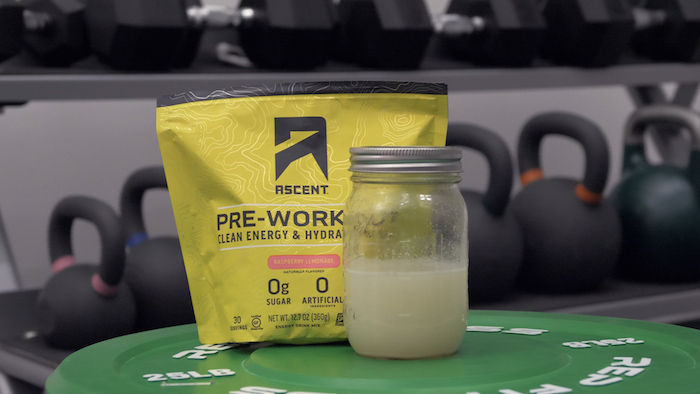 Ascent Pre Workout Benefits & Effectiveness
It's unusual to have any protein in a preworkout at all, but Ascent put in whey isolate as the first ingredient, which is pretty high in leucine, the amino acid responsible for muscle protein synthesis.(1)
[Interested in supplementing leucine? Check our list of the best branched chain amino acid supplements.]
The caffeine content of 150 milligrams is somewhat on the lower side for a preworkout, which are usually over 200 milligrams and sometimes reach 400 milligrams. Note that according to the USDA, a small cup of coffee has 95 milligrams while a tall (355ml) coffee from Starbucks has about 235 milligrams. So I'd say this product isn't crazy high or crazy low in caffeine and could be a good option for those who don't love the hyper stimulated feeling that can accompany some preworkouts.
That's also true given the lack of other preworkout ingredients. Almost every competitor contains beta alanine, which is linked to improved endurance, or creatine and citrulline, which are linked to improved power.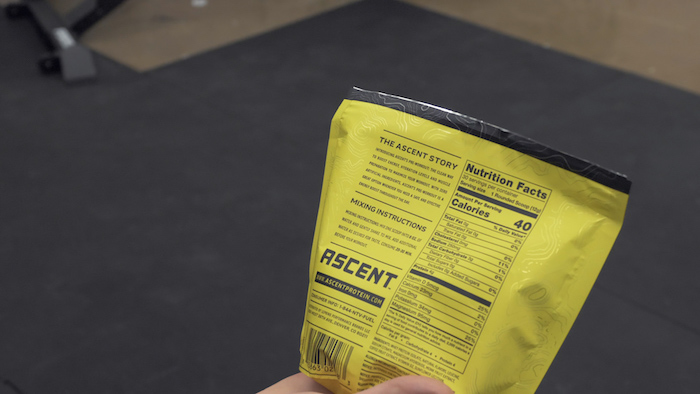 Instead, Ascent focuses on caffeine and sodium. The 250 milligrams of sodium might be good news for athletes, as sodium is very important for hydration and muscle function. Note that a liter of sweat contains roughly 900 milligrams of sodium so depending on your workout, you may still need to find other sources of the stuff. Nonetheless, it's a welcome addition.
Finally, it's important to note that this product is tested by Informed Choice, a third party testing service that ensures there are no banned substances. This may make it extra useful for competitive athletes.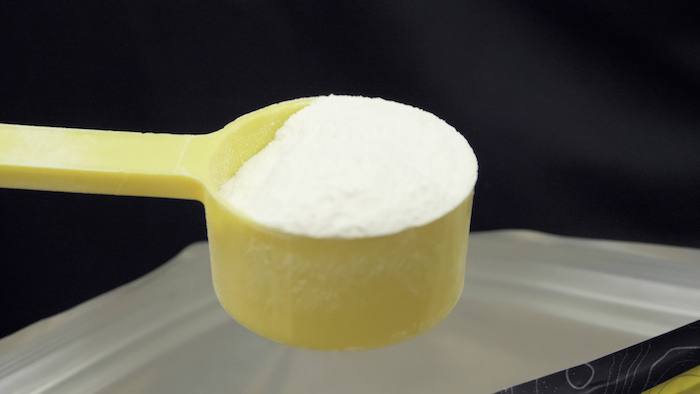 Ascent Pre Workout Taste
I tried the Raspberry Lemonade flavor and loved it.
I was a little wary of a dairy-based lemon flavor, a combination that's easy to get wrong, but the flavor came out tasting like a slice of lemon meringue with a couple of raspberries on top. The lemon flavor is stronger — common in naturally flavored supplements — but it went down a treat.
Ascent Pre Workout Price
One bag costs between $30 and $40 for 30 servings, so it comes to roughly $1.15 per scoop.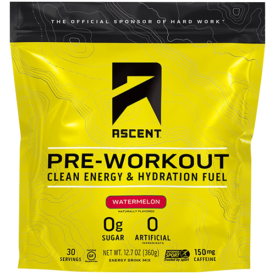 Ascent keeps things simpler than most pre workouts, focusing just on protein, caffeine, and electrolytes.
The average pre workout is usually between 80 cents and $1 per serving, so this is a pretty normal price. Of course, it lacks most of the ingredients you would normally find in a pre workout, but the natural approach, the whey, the electrolytes, the third party testing, and the moderate caffeine amount may make that price worth it to some consumers.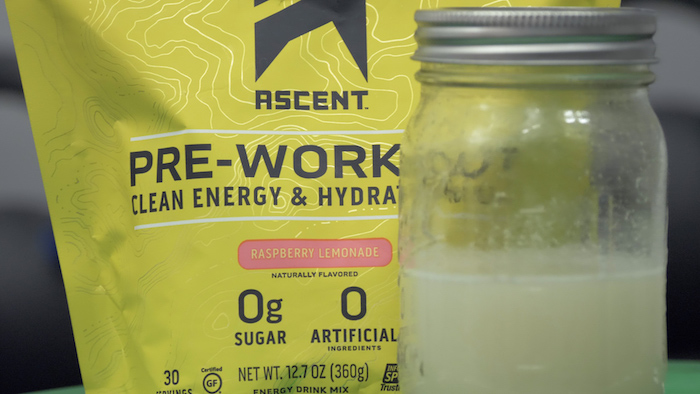 Ascent Pre Workout Pros and Cons
Pros
No artificial ingredients
Contains extra electrolytes
Free from gluten and soy
Informed Choice certified
Tasty
Cons
Doesn't contain most standard pre workout ingredients
Made on equipment that processes egg, fish, shellfish, peanuts, soy, wheat
No information about leucine content
Lower in caffeine than the average pre workout
Overall, we liked this product. The fact is that the long, scientific names you usually see dotting the ingredients lists of pre workouts can scare off a lot of people. We're definitely not saying that beta alanine or citrulline are bad for you, but they are unfamiliar to the average person. Ascent did a great job targeting people who just want a boost before a workout without overcomplicating things: caffeine, a bit of protein, and some sodium for hydration. If that's up your alley, this is a good buy.
Reference
1. Norton LE, et al. Leucine content of dietary proteins is a determinant of postprandial skeletal muscle protein synthesis in adult rats. Nutr Metab (Lond). 2012 Jul 20;9(1):67.
Ascent Pre Workout
Per Serving: ~$1.15