In statistics, the Bayesian field of probability refers to the degree of belief in the occurrence of an event. The Bayesian curl is named for its statistical significance — there's a high probability that you aren't using it to grow your biceps when you really should be.
Okay, okay, that's not really the origin of its name. Why it's called the Bayesian curl is unknown and, frankly, unimportant.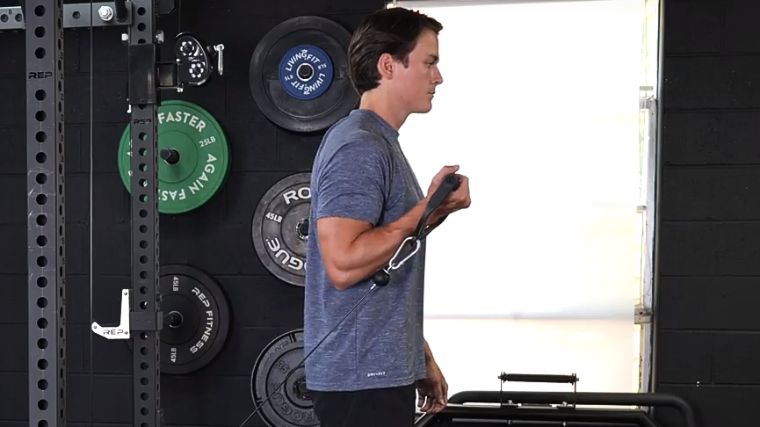 However, if you're a gym rat on the prowl for bigger arms and stronger biceps, there's a high probability that you're leaving gains on the table by not performing the Bayesian curl.
How To Do the Bayesian Curl
Before you get started, know that the Bayesian curl and the Bayesian cable curl are synonymous. It's also sometimes called a behind-the-back curl. To perform this exercise, you'll need access to an adjustable cable station.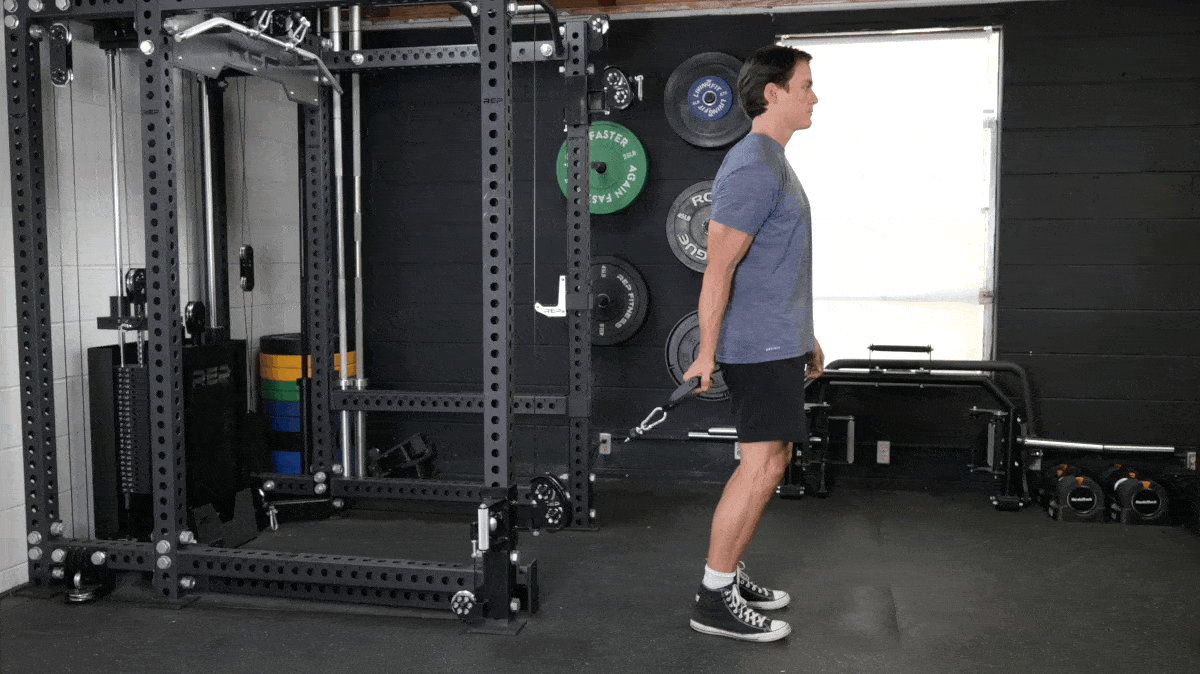 [Read More: The 15 Best Shoulder Exercises For Building Muscle]
Step 1 — Set an adjustable cable to its lowest height and fasten a single-handle attachment to the carabiner.
Step 2 — Grab the handle with your working arm and turn around so you're facing away from the cable station.
Step 3 — Take a step or two away from the cable, allowing your arm to be drawn back behind your torso at about a 45-degree angle relative to the floor.
Step 4 — Suspend your upper arm motionless and bend at the elbow, curling the weight with your biceps. Hold your free arm out to the side or place it on your hip for stability.
Bayesian Curl Variations
There's only so much you can do to adjust the Bayesian cable curl. However, if you want to put a new spin on it you can try out some of these variations:
Bayesian Hammer Curl
[Read More: 5 At-Home Workouts for Strength, Muscle Growth, Power, and More]
Set a cable station to its lowest setting close to the floor and fasten a single rope attachment to the carabiner.
Grab the end of the rope, turn and face away from the cable, and take a step forward. Allow the cable to pull your arm behind your body.
With your upper arm tucked tightly to your side and your palm facing your midline, bend at the elbow and curl the weight with your biceps.
Resistance Band Bayesian Curl
[Read More: Perfect the Pallof Press for More Core Strength and Stability]
Get ahold of a light-to-medium-tension resistance band or ribbon band and tie it securely around a stable structure close to the floor.
Wrap the free end of the band around the fist of your working arm and take a few steps forward.
Allow the band to draw your upper arm behind your body. Then, curl your elbow with your biceps.
Bayesian Curl Alternatives
There are plenty of reasons why you may not be able to work the Bayesian curl into your strength training routine: The cable stations could be busy, it may place stress or discomfort on your shoulders, and so on. In such cases, go for one of these alternatives instead:
Incline Dumbbell Curl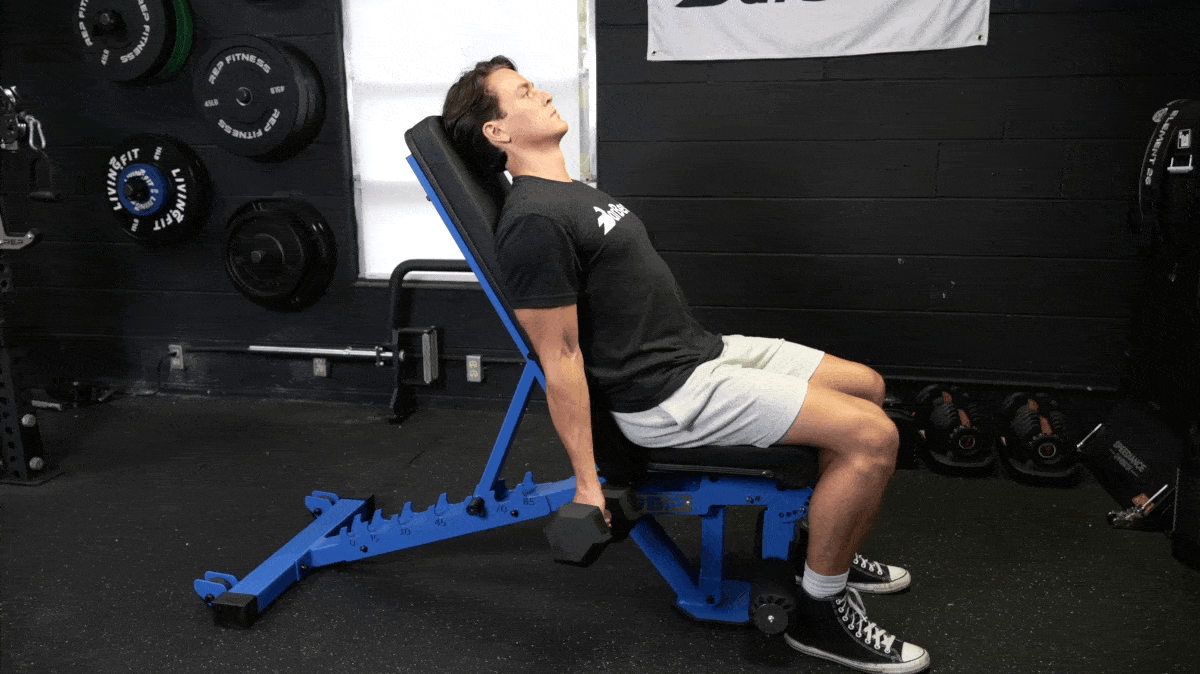 [Read More: Do the Incline Dumbbell Curl to Double Down on Your Arm Gains]
Set an adjustable weight bench to a 45-to-60-degree angle and then sit down on it with a pair of dumbbells in your hands.
Sit back and allow your arms to hang freely downward. Supinate your wrists by rotating your palms such that they're pointing forward.
Hold your upper arm motionless and bend at the elbow, curling the weights up as high as possible with your biceps.
Drag Curl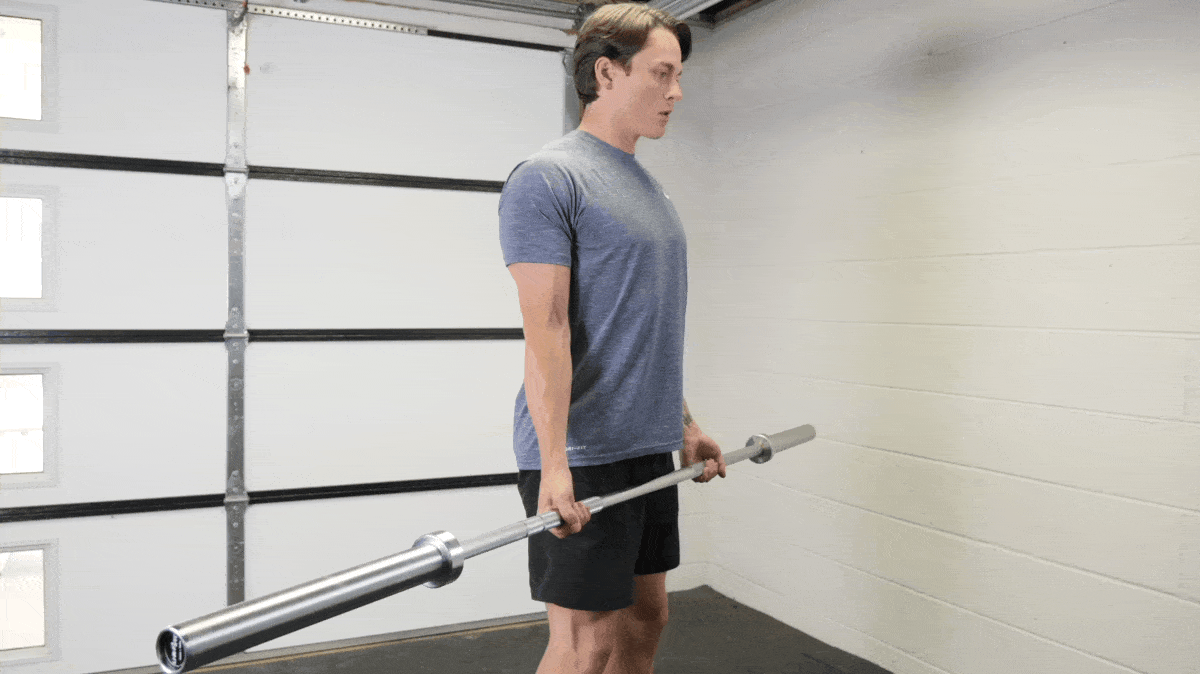 [Read More: How to Do the Spider Curl for Bigger, Better Arms]
Stand upright with a straight barbell or pre-loaded cambered bar held down in front of you. Take a hip-width stance.
From here, brace your core to engage your abdominal muscles and prepare to curl the weight.
Initiate the drag curl by pulling your elbows backward behind your torso, "dragging" the weight gently up your torso as far as you can without shrugging your shoulders.
Who Should Do the Bayesian Curl
If you're on the fence about the Bayesian curl, you need to consider its utility first and foremost. As a cable biceps exercise, the Bayesian curl is meant to provide consistent mechanical tension and a direct, effective stimulus to your arms.
Beginners
When you're just starting out in the gym, it can easily feel like the weight room is your oyster. There are so many options to choose from and the best part (mostly) is that it doesn't matter that much how you dedicate your time as long as you're working hard.
In fact, as a beginner gymgoer, you should prioritize fun and sustainability above all else. That means experimenting with and dedicating yourself to movements that you find enjoyable. That's how you build real long-lasting exercise habits.
[Read More: How to Do the Concentration Curl for Bigger Biceps]
So, try the Bayesian curl out for yourself. It has a relatively straightforward, easy-to-learn technique. If you enjoy it and find it easy to progress with, it belongs in your workout program.
Bodybuilders
For bodybuilders, the mechanisms of muscular hypertrophy are the guiding principles that influence every aspect of your training. Put simply, to bulk up and build muscle, you need exercises that absolutely thrash the body parts you're trying to grow.
Hypertrophy depends significantly on creating lots of mechanical tension. (1) That is, applying lots of physical stress to the muscle itself. The Bayesian curl shines here because it compromises your leverages and makes light weights feel heavy, since your arm is drawn behind your back, stretching your biceps out. The cable itself also provides constant resistance, ensuring that you're challenging your arms from start to finish.
Bayesian Curl Sets and Reps
There are a bunch of different ways to program the Bayesian cable curl, from pyramid sets to drop sets to high-rep protocols for developing muscular endurance. Here are a few of your options:
For Muscle Growth: Do 3 to 4 sets of 8 to 12 repetitions with a moderate weight.
For Muscular Endurance: Try 2 to 3 sets of 15 to 20 repetitions with a light weight and limited rest times.
Benefits of the Bayesian Curl
The Bayesian curl is one of the most unique — and undervalued — biceps curl variations out there. In fact, its setup and design afford the Bayesian curl several benefits you really can't get anywhere else.
Unparalleled Mind-Muscle Connection
The technique of the Bayesian cable curl is phenomenal for cultivating a real mind-muscle connection with your biceps. Why? Unlike many other curls, in the starting position of the Bayesian, your biceps are already placed under stress since your arm is drawn behind your body.
That posture plus the constant mechanical tension of the cable are a double-whammy. You should experience a substantial muscular contraction and really feel the burn during Bayesian curls, even from your first repetition or two.
Easy To Perform
There's something to be said for convenience in the weight room. If you're not a morning workout person and can't hit the gym in the off hours, you'll generally have to contend with and work around other patrons.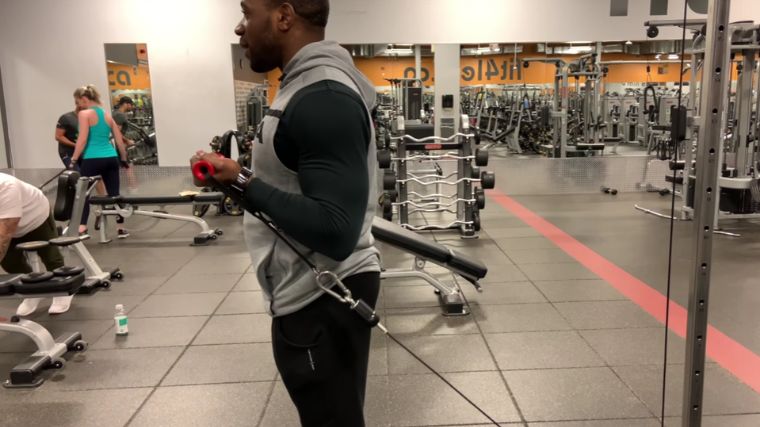 In a busy gym, you may not have access to your favorite equipment at all times, such as a barbell, EZ-bar, or the right pair of dumbbells. However, you can usually find a cable station somewhere. All you have to do is drop the fixture down to the floor and you're off to the races with the Bayesian curl. No muss, no fuss.
Long-Length Tension
There's a growing body of scientific evidence behind the idea that placing tension upon the muscle in a lengthened position is one of the best ways to guarantee muscle growth. (2)(3)
This is really where the Bayesian curl excels. Your biceps muscle attaches to both your elbow and shoulder joint. Drawing your arm behind your body stretches your biceps at the shoulder, while straightening your elbow stretches it at the other end. As such, the Bayesian curl places load on your biceps when it is fully lengthened for an unparalleled muscular stimulus.
Muscles Worked by the Bayesian Curl
The Bayesian curl is a biceps isolation exercise, but that doesn't mean it is the only muscle involved at any given moment. Here's the rundown:
Biceps
Your biceps brachii originates on your scapula, or shoulder blade, and runs down your upper arm to connect onto your forearm past the elbow. This is precisely why exercises like the Bayesian curl, which manipulate shoulder angle, are especially useful for targeting the long head of the biceps in particular.
Shoulder
The Bayesian curl requires you to hold your shoulder in isometric hyperextension — motionless and behind your torso. There's nothing intrinsically wrong with this position, but it does test the integrity of your glenohumeral joint a bit.
The small muscles surrounding your shoulder capsule need to contract together to hold your arm in place. You may also notice some tension on the anterior deltoid, even though it isn't working during the Bayesian curl.
Core
The Bayesian curl is typically performed as a unilateral exercise, one arm at a time. Single-limbed movements require more robust core activation and engagement than bilateral exercises, since the resistance doesn't fall neatly across your midline.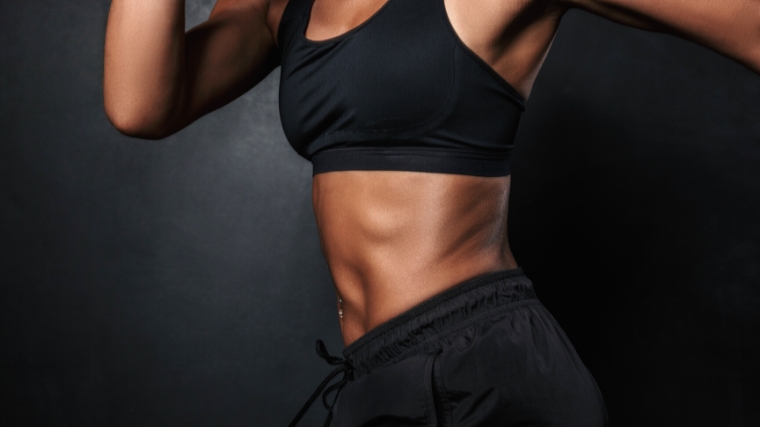 [Read More: Learn the Cable Crunch to Build Yourself a Strong, Supportive Core]
As such, you can expect the Bayesian curl to challenge your abdominals and obliques a bit. When you perform the curl, contract your core to avoid tilting from one side to the other.
Common Bayesian Curl Mistakes
The Bayesian curl may be a single-joint arm exercise, but that doesn't mean nothing can go wrong. Steer clear of these common errors if you want to make the most out of the movement.
Moving Your Upper Arm
The key to success with the Bayesian curl is isolating your biceps and not letting your shoulders take over. To achieve this, your upper arm needs to remain motionless the entire time. This fixes your shoulder in place and prevents you from using your front deltoids to assist with the curl.
Standing Too Far Away
To really stretch your biceps during the Bayesian curl, your upper arm needs to be behind your torso. However, the Bayesian curl isn't a mobility exercise, and you don't need to emphasize this too much by standing several feet away from the cable.
Your upper arm should be, at most, at a 45-degree angle relative to the floor. If you have restricted shoulders or find the exercise unwieldy, try standing a bit closer to the cable station.
FAQs
Still unsure about the Bayesian curl? No biggie. Here are a few common questions and answers about the exercise.
Is the Bayesian curl safe for my shoulders?
Yes! There's no reason that you can't hold your arm behind your body. If you have the range of motion, you can train it. Of course, you should consult with a medical professional if you have a local injury that may affect your exercise habits.
What muscle does the Bayesian curl work?
The Bayesian curl works your biceps brachii, one of your primary elbow flexors. It achieves this by stretching the biceps at both ends as you stand with your arm held behind your body and curl your elbow against the constant resistance of the cable.
References
Schoenfeld B. J. (2010). The mechanisms of muscle hypertrophy and their application to resistance training. Journal of strength and conditioning research, 24(10), 2857–2872.
Pedrosa, G. F., Lima, F. V., Schoenfeld, B. J., Lacerda, L. T., Simões, M. G., Pereira, M. R., Diniz, R. C. R., & Chagas, M. H. (2022). Partial range of motion training elicits favorable improvements in muscular adaptations when carried out at long muscle lengths. European journal of sport science, 22(8), 1250–1260.
Schoenfeld BJ, Grgic J. Effects of range of motion on muscle development during resistance training interventions: A systematic review. SAGE Open Medicine. 2020;8. doi:10.1177/2050312120901559