Ricky Garard returned to the elite CrossFit competition stage at the 2021 Dubai CrossFit Championship to a bronze-medal finish after serving a four-year suspension for doping. His second contest was the 2022 Wodapalooza competition from Jan. 13-16, 2022, at Bayfront Park in Miami, FL. However, on the opening day of the competition, Garard took to his Instagram page to announce his withdrawal due to suffering from food poisoning the night before combined with breathing issues sustained following a stint of COVID-19 two weeks prior.
Here is what Garard wrote in an Instagram Story (seen in the photo below) regarding his withdrawal:
"After being hit hard by COVID two weeks ago and still struggling to breathe properly in training as it is, to now having food poisoning the night before Wodapalooza, it kills me to do this as I'm not one to go out without a fight, but unfortunately, me and my team have decided the safest option for my health and longevity is to withdraw from the competition."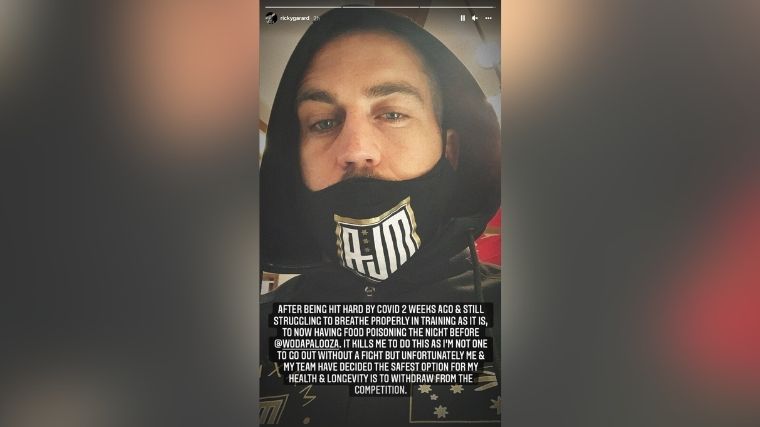 [Related: Julius Maddox Attempts To Match Eddie Hall's CrossFit WOD "Isabel" World Record]
2022 Wodapalooza
The 2022 Wodapalooza contest features six events across four days of competition for elite individual competition. Age Group, Teen, Team, and Adaptive divisions are also competing in Miami. The prize purse in 2022 is the largest in Wodapalooza history with the winners of the Men's and Women's elite individual divisions taking home $100,000 each.
View this post on Instagram

All four days of the competition are being live-streamed on the Loud and Live Sports YouTube channel for free. The reigning Men's champion Patrick Vellner is competing to defend his title. It is guaranteed for a new champion to ascend in the Women's division as the reigning champion, five-time Fittest Woman on Earth® Tia-Clair Toomey-Orr is not present in Miami as she was competing with the Australian National Team at the 2022 BMW International Bobsleigh & Skeleton Federation (IBSF) World Cup in Sigulda, Latvia on Jan. 2, 2022, and the 2021/22 Europa Cup in Innsbruck, Austria on Jan. 8, 2022, in hopes of earning a spot at the 2022 Winter Olympic Games in Beijing, China.
Featured image: @rickygarard on Instagram