There are expressions we commonly hear and think nothing of their meaning. One phrase you tend to hear less frequently is "To die on this hill."
In the world of Kettlebell Sport, it's par for the course.
While speaking with Denis Vasilev, I found a calm, collected man, excited to tell his story but humble in his delivery. It would lessen the impressiveness of his goals, if you didn't understand how great his achievements really were. His memory, tack sharp for details and dates, was always ready to share a video link, if it was available. The pride Vasilev has for his career wasn't measured by simple wins, but by World Records, World Championships, and superhuman feats of strength, grit, and will.
Vasilev, arguably one of the greatest athletes in the history of Kettlebell Sport, is the standard that many lifters aspire to. In his career, he has won 11 Russian Champions, 10 World Championships, and, since 2009, has never lost a competition he entered.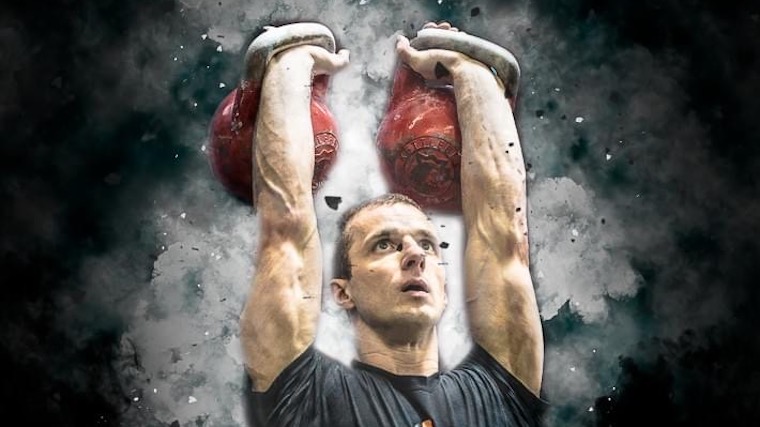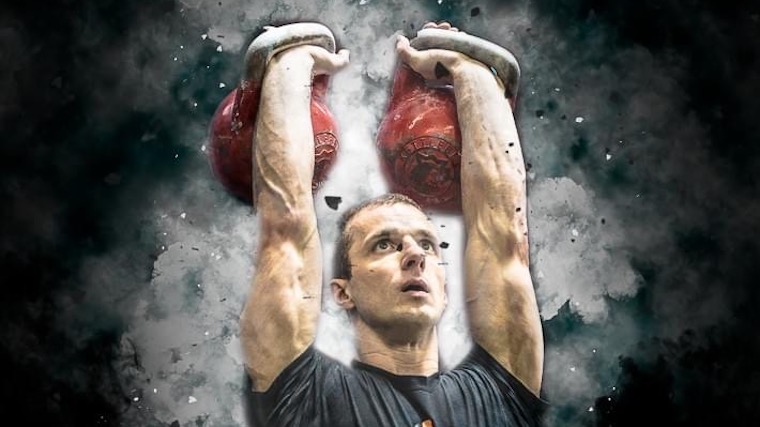 Kettlebell Sport is a strength-endurance sport, where athletes typically will perform one of two events for a 10 minute period of time, without setting the weight down. You can perform the Long Cycle event (the clean & jerk) or the Biathlon (a 10 minute jerk set, followed by a 10 minute snatch set, with only one hand switch, about a half hour later). The goal is to reach as many reps as possible in that allotted time, without setting the weights down. Once they touch the floor, you're done.
The professional division, which Vasilev competes in, lift with 32kg kettlebells. Any athlete lifting at this division must find a quiet place inside themselves, when every instinct calls out to drop the bells and stop.
To better understand how a record-breaking world champion is made, you start at the beginning.
The Foundation
Vasilev was born in 1983, in the city of Belgorod, Russia, to a medical family.
"Nobody in my family were athletes. My entire family are all doctors and they wanted me to be a doctor as well, and were worried that I would fail my exams by spending all my time in the gym."
But Vasilev was always drawn to movement and sport, and after his family moved to Kaliningrad, he started karate at age six, then moved into boxing, soccer, and kickboxing. "I started taking sports before I was even in school."
He began training several days a week from age seven. The fiery desire to win was stoked and just years later he competed in the Russian sport of Hand-to-Hand combat, where he achieved Candidate for Master of Sport and won the title of Champion of the City in his age group.
"This was ultimately what gave me the desire to compete. I weighed more than the boys my age, so my fights were with older children, and it was harder, but it made me aware early on that the only way to be better at something was to compete with someone better than I was."
Later, he was introduced to a teacher in his school who was recruiting for the kettlebell team tryouts.
"Without much understanding of technique, I completed 25 jerks and 25 snatches with the 24kg kettlebells and was asked to join the team."
At 18, Vasilev reached the rank of Candidate for Master of Sport in 2001 in biathlon (Jerk and Snatch events), which compelled him to move up to the professional weight of 32kg kettlebells, where he achieved his first ranking of Master of Sport for biathlon, in 2005, with 93 jerks and 98 snatches (142 points). Shortly after, Vasilev left his hometown and moved to St. Petersburg, where he decided to take time off of his Kettlebell Sport career to focus on powerlifting and bodybuilding.
The Coach of Champions
In 2007, two years after his hiatus from competing in Kettlebell Sport, Vasilev decided to compete again. By this point he had achieved his Master of Sport rank, but had not won any major competitions. Vasilev knew something was missing, which he didn't have in his previous years competing in Kettlebell Sport: a proper coach.
"I was lucky and got the phone number from a friend for Sergey Rachinsky, who people called 'The Coach of Champions.' I called him and told him I wanted him to coach me, but he basically said 'No' – that I would have to work as a trainer for a while first, so he could watch me. Eventually he took me on, but the competing season had just ended."
A special event held at the end of the year popped up with a large purse of money and the potential to make a name for his new student.
"This was a Strong Sport competition, where we performed the Long Cycle for five minutes with two 40kg bells, rather than a ten minute set with two 32kg bells. This event had no weight classes and I was up against much larger athletes, but my time powerlifting made me strong."
He didn't just win; he destroyed the competition. With a coefficient standard applied to the scoring, Vasilev's 37 reps at 83kg bodyweight made him the undisputed champion, even beating Ivan Denisov – one of the strongest and most undefeated athletes in the history of the sport, who had completed 40 reps weighing 120kg.
[Related: Kettlebell Sport Champion Kim Fox Is the Most Dominant Strength Athlete You've Never Heard Of]
Breaking Records
To reach a goal, you need to be focused, disciplined and motivated by something. Vasilev, having surpassed so many goals, has this down to an art form. He spent years focusing on simply achieving his goal of 90 reps in Long Cycle with 32kg bells, but once he hit that he moved on to something greater: 100 reps.
In the history of the sport, only three men have achieved this: Vasily Ginko with 105 reps, Ivan Denisov with 116 reps, and Denis Vasilev with 101 reps.
"In 2015 I was scheduled to fly from St. Petersburg to give a seminar in the Vancouver Open, where I would do a small demonstration lift for 5 minutes. My coach told me to do 5 minutes at 10rpm and then set the bells down, for 50 reps, fly back and then we would hit the 100 reps at the White Knights KB Championships in St Petersburg, which was the following week."
It was Vasilev's first time visiting Canada, and a delay processing his Canadian visa to travel nearly cost him the flight. The night before, he got word from a clerk that his visa was ready, and would be ready for him to pick up the next morning when it was delivered from Moscow.
"I had nearly given up hope until the clerk ran out the door to deliver the visa to me. I sped to the airport with only moments to catch my flight! I made the flight, and even ran into my American friends at the event, so it was already a victory for me and something felt right about that day."
Despite his coach telling him to perform an easy half set, Denis was filled with an energy that fueled him. He started his set with a 10rpm pace and by minute 5, when he was supposed to bow out and save his energy for the Russian Championship the following week, he kept going. When the clock finished counting down the last of the 10 minutes, Vasilev had completed 101 repetitions of Long Cycle with two 32kg bells, shattering the record for his weight division.
"I was supposed to fly back to Russia and do the 100 reps at the White Knight competition a week later. So, when I arrived, I went to the competition, did 100 reps exactly. It kicked my ass and it took several months to recover. As soon as I cleaned the bells I thought, 'Holy hell, what have I just done?'"
Coming To America
Many of us work toward a goal. Perhaps trying to break your deadlift PR or reach that sub 4 minute Fran? For others, their achievements are greater than their goals ever were and they set new standards for their lives. In 2017, Vasilev finally made a decision to move to America, which was something he had dreamt of since he was a child.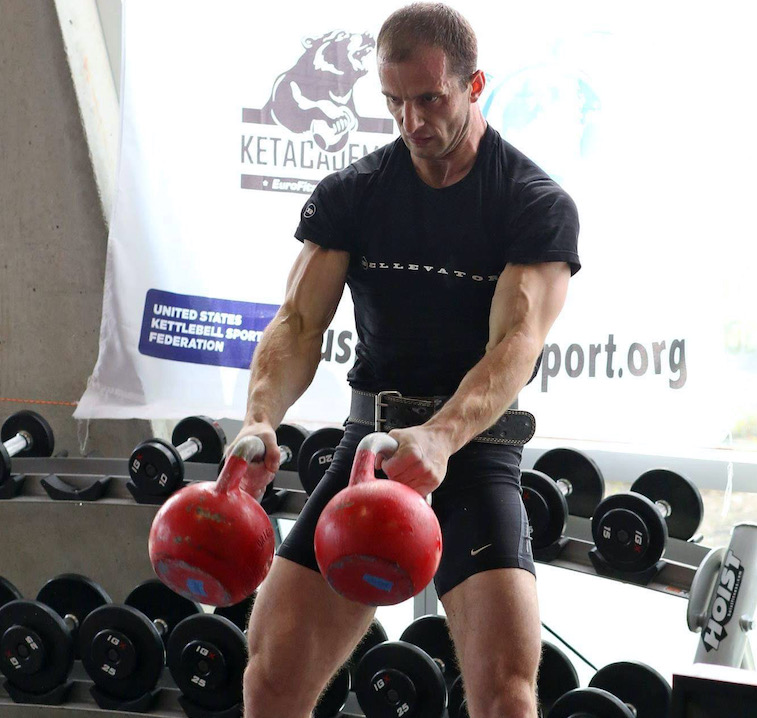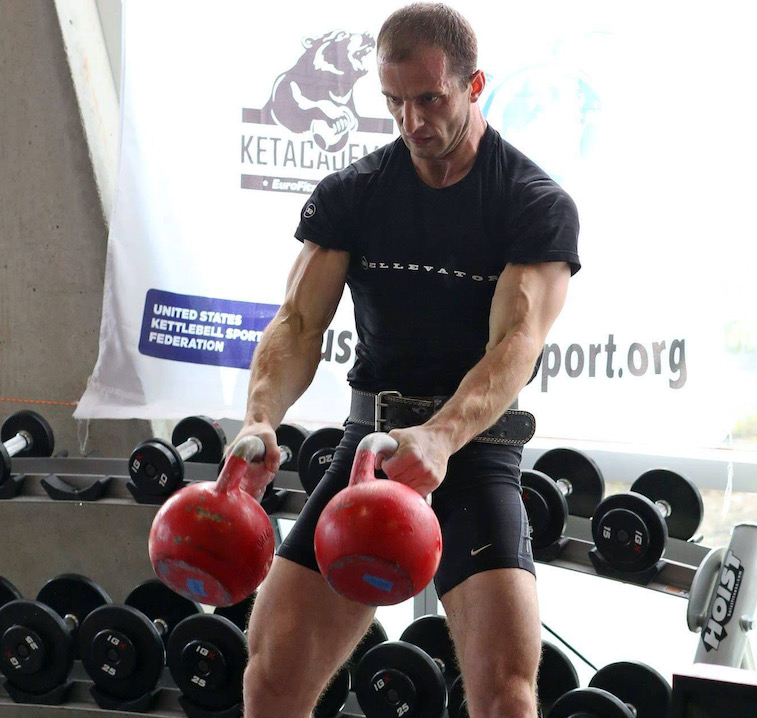 "I saw Terminator 2 when I was nine years old and it made me want to come to California. I knew it so well from movies, but had never seen it in person and was always curious what it was like."
With the help of his friend John Buckley, the owner of the Orange Kettlebell Club, in Oakland, California, Vasilev now had a new home, a new job, and a new chance to create new goals in this new land. Now, one of the strongest advocates for the sport in America, Vasilev works tirelessly to educate and inspire others with his videos on social media and his coaching.
Dying on the Platform
Failure is often said to be the foundation that we build our achievements upon.
"I have never in my career or life done something that left me feeling regret or shame, but before I hit the 101 reps, I had never felt like I had done my best. My entire life I felt like I could do better. In my head I am always losing, imagining some embarrassing moment, and this always scared and motivated me not to fail in front of my family. This fear of embarrassment was like a train that pulled me through my career."
And with the achievements he has made in his career, Vasilev has no interest in stopping or slowing down. He plans to continue competing professionally until he is 40, and then he will drop to the semi-pro division of 28kg bells, and continue to lift until he physically can't.
This is his legacy, his life; this is the hill he has climbed and will die on, like a true champion.
Images courtesy of Denis Vasilev